Tallahassee, Florida, is the state capital situated on the Florida Panhandle. A cultural gem, Tallahassee has many institutions paying homage to Florida's history. Tallahassee offers a variety of diverse natural and cultural activities worth visiting. Attractions include the Museum of Florida History, The State Capital—with a 22-foot observation deck of the city—and the Alfred B. Maclay Gardens State Park. Many of these activities are free or for a small fee, making a trip to Tallahassee not only fun but affordable. From parks to landmarks, restaurants, museums to sporting activities, Tallahassee is worth putting on your list of Florida destinations. Read on to discover the best things to do in Tallahassee, Florida, and get inspired for your next getaway!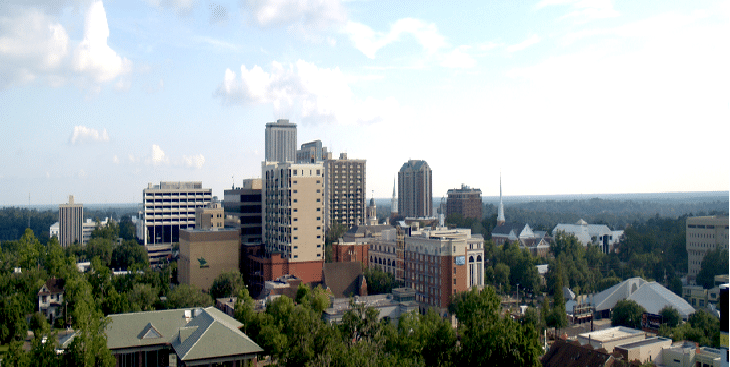 1. St. Marks National Wildlife Refuge
St. Marks National Wildlife Refuge is an incredible resource for nature lovers, or for people who simply want to get outside and go for a run. With a welcoming visitors center that greets you upon arrival, learn about all that St. Marks has to offer. An education center, a protected migratory bird area, and lighthouse all grace this tract of land that is over 17,000 acres. One of the oldest wildlife refuges in the United States, do not miss St. Marks.
2. Florida State University 
Florida State University is a wonderful place to come for a stroll, taking in the campus' beauty, or to stop and explore all that the campus has to offer. Check out the campus library, take in a game at the football stadium, or snap selfies by the campus' famous fountain. Florida State University gives a glimpse into college life in Florida and is centrally located near the Railroad Arts District, and many restaurants and hotels. 
3. Tallahassee Antique Car Museum
The sun and coastlines of Florida make it a great place to be a car enthusiast. Tallahassee celebrates Florida's love of automobiles with their Antique Car Museum. Check out vintage rides, muscle cars, concept cars, and trucks. Additionally, Tallahassee Antique Car Museum has a Batmobile, for all the Batman lovers in the crowd. The collection spans beyond cars, including memorabilia and historical artifacts. Kids young and old alike will love the fun of Tallahassee Antique Car Museum. 
4. Tallahassee Museum
Tallahassee Museum is more than an indoor experience, so be prepared to bring your jacket and walking shoes. This 52-acre plot of land includes a working historical farm from the 1880s, and native flora and fauna. Children will adore the Jim Gary's 20th Century Dinosaurs, and Tree to Tree zipline. Perhaps better categorized as a nature museum with outdoor education opportunities, Tallahassee Museum is interactive and exploratory.
5. Mission San Luis de Apalachee
Mission San Luis de Apalachee brings to live the historic time of Spanish Florida. Once the Western Capital of Spanish Florida in the 1700s, Mission San Luis now recreates life then. Come to see the actors who reinvent this time and place, complete with reconstructed buildings that replicate what the Mission would have looked like. Live demos and workshops such as candle making are offered daily. 
6. Alfred B. Maclay Gardens State Park
The beautiful former estate of Alfred B. Maclay, touts two short nature hikes, the shores of Lake Hall, and hundreds of vibrant flowers. A perfect place to relax and unwind, Alfred B. Maclay Gardens has peak blooming season from January 1 to April 30th. Come for the Bald Eagle nesting season, which begins in early October. Or plan to spend your Halloween at the garden's Trunk or Treat! 
Located in downtown Tallahassee, Cascades Park is a new addition to the ever-improving city. With a range of activities including concerts, The Imagination Fountain for kids to splash in, and miles of walking trails. Designed to respond to floodwaters when heavy rain strikes, Cascades Park is not only a great place to get fresh air, but also an important investment for the local environment. 
8. Museum of Florida History
Florida has a rich history which spans from Native people to Spanish influence, up to the current day. Whether you are interested in Florida's role during the Civil War or want to admire the 35th Annual Quilt Show, you'll find it at the Museum of Florida History. Also visit the Knott House Museum, a historic home that was restored and is in downtown Tallahassee. 
9. St. Marks Lighthouse
This 80-foot lighthouse set on St. Marks National Wildlife Refuge, is a gorgeous landmark. The second oldest lighthouse in Florida, it is possible to take a short tour to enter and explore the lighthouse. Only open the first consecutive Friday and Saturday of the month, be sure to plan accordingly. Having survived hurricanes and wars, this lighthouse is a true wonder to behold. 
10. Florida Historic Capitol Museum
The former building of Florida's capital, the Florida Historic Capitol Museum was built in 1902 and turned into a museum after the completion of the renovation in 1982. The museum covers events that have shaped Florida's past, as well as showing chambers of the House of Representatives, Supreme Court, and Senate. The classically styled dome is especially beautiful to visit.
11. Lake Ella and Fred Drake Park
Lake Ella was once used to water cattle, but has been modernized and now serves the Tallahassee community for recreation. A walking path, as well as frequent events such as Food Truck Thursdays at the park, make it a wonderful destination. There is also a shopping and arts district surrounding Lake Ella, making relaxation abundant in various forms.
12. Doak Campbell Stadium
Known as the Seminoles' stadium, Doak Campbell Stadium hosts football and soccer games, holding more than 80,000 people at capacity. A beloved staple in Florida University culture, come for a game or simply visit and take a walk around the stadium. Doak Campbell Stadium was first named after Doak Campbell—the university's president from 1941-1957. It is also lovingly called Bobby Bowden Field after the football team's most famous coach who helped to popularize the game during his coaching years from 1976-2009. 
13. Railroad Square Art District
Railroad Square Art District is Tallahassee's creative side of town, complete with small shops, entertainment, and art studios. Come for the First Friday Gallery Hop, held once a month, or check the website for the on-going events that happen in gallery spaces. Tallahassee's commitment to supporting artists and local businesses shows in the Railroad Square Art District, and is centrally located in downtown Tallahassee makes it that much easier to get to this unique neighborhood.
14. New Capitol Building
The operating home of Florida's current state government, The New Capitol Building can be visited in downtown Tallahassee on weekdays. Certainly a modern look, the 22-story building towers over the city. Take a hike to the observation deck some 307 feet above the entrance of the capitol, and gaze out on Tallahassee. Living history can be found at the New Capitol Building, and since it's free, everyone should have a look!
15. Saint Marks Trail
Saint Marks Trail was once used to haul timber through the Tallahassee area but now has been resurfaced to be a bike trail. 16 miles of trail runs from inner Tallahassee to the coastal town of St. Marks, making it a lovely day adventure. Hike, bike, or run, or for equestrian-enthusiasts, follow the parallel path designated for horses. Bring a picnic, or plan on eating some of the fresh and delicious seafood available at St. Marks. Also, be sure to stop at San Marcos de Apalache Historic State Park when you reach St. Marks.
16. Tom Brown Park
Tom Brown Park is an excellent place for humans and furry friends alike. With disc golf, sand beach volleyball, nature trails, and a dog park, Tom Brown Park makes it easy to spend time getting fresh air. 225 acres, this massive green space is set on the eastern side of the city. Mountain bike trails, a playground area for children, and frequent events held here all add to the charm of Tom Brown Park. 
17. Dorothy B. Oven Park & House
Dorothy B. Oven Park & House is a historic home with an expansive yard known for its seasonal blooming camellias. Available to rent for special occasions, the house also has public access. The garden grounds are free to explore, and the estate is especially lovely to explore during the Christmas season when lights are on display.
18. JR Alford Greenway
A unique nature area, JR Alford Greenway spans 800 acres of pastures, wetlands, and walking trails, including a birding sanctuary. Come to stretch your legs, or look for rare migratory birds overhead. JR Alford Greenway is known for the wooden bridge that looks out onto the lake, providing a scenic view. JR Alford Greenway also connects to the Lafayette Heritage Trail, giving even more room to play. 
19. Apalachicola National Forest
Apalachicola National Forest is the largest national forest in Florida, with lakes, wetlands, and natural springs. Go for a drive on the Apalachee Savannahs Scenic Byway, or explore natural wonders like the Leon Sinks Geological Area. Hikers will rejoice in this section of the Florida National Scenic Trail, however, be warned—many sections of the trail may have you in waist-deep water.
20. Grove Museum
The Grove Museum offers an incredible, free opportunity to explore Florida's history from slavery to the civil rights. The antebellum house was originally built by slaves in the 1830s. The home then went on to be the home of progressive Florida Governor Leroy Collins, who championed the end of segregation in the 1950s. Never an easy topic, the complex history of slavery and race in the state of Florida is gracefully address at Grove Museum.
Conclusion
Tallahassee, Florida, offers a variety of activities that range from a walk in the great outdoors to a chance to learn about the deep history of Florida. Being the capital city, Tallahassee holds opportunities like a visit to the old or new capitol buildings, as well as other significant buildings to Florida's past. Alternately, Tallahassee also has living gems like the Railroad Square Art District and the thriving campus life Florida University provides. Come to Tallahassee and discover all this beautiful city has to do!