West Palm Beach lies across Lake Worth Lagoon from its neighbor Palm Beach in southern Florida. The city has many great beaches, including Ocean Reef Park, an excellent snorkeling spot with a boardwalk through the dunes. Juno Beach is the best place to watch the sunrise and is popular for fishing, swimming, and surfing. Head to John D. MacArthur Beach and State Park where two miles of spotless, deserted beach awaits. Go swimming or surfing or just relax on the sand with a picnic.
The park also offers hiking trails where you can see the local protected fauna and flora. Head to Peanut Island, a manmade island is perfect for snorkeling. Here lies President John F. Kennedy's underground Cold War bunker and while the bunker is not open to the public, the island is still great to explore. In downtown, art lovers will appreciate the Norton Museum of Art, with varied exhibits of American, Chinese and European art. Theater, concerts, and opera are on the cards at the nearby Kravis Center for the Performing Arts.
A great range of shopping, dining, and nightlife is available in the Clematis Street and CityPlace districts of West Palm Beach. Scroll below to find out the top 20 best restaurants in West Palm Beach. Eating at one of the best restaurants in West Palm Beach are one of the many reasons to visit this incredible city…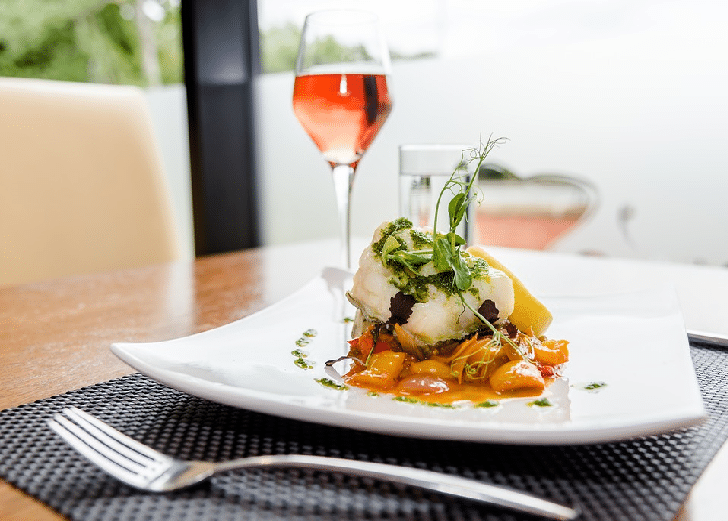 1. Agora Mediterranean Kitchen
If you want to know the best restaurants in West Palm Beach, you might visit Agora, get a fresh taste of the Mediterranean with a Turkish slant in this Northwood, West Palm Beach restaurant. Dishes are crafted from locally sourced, fresh ingredients and are full of flavor. Lunch and dinner are available here and vegetarians and vegans are well catered for. Choose from a delightful array of soups, hot and cold mezes, salads, burgers, and sandwiches, or try out the fresh seafood dishes and chargrilled meats. The choice is yours.
2. Rhythm Cafe
Rhythm Cafe serves American and international cuisine in a former 1950s drugstore with retro and whimsical decor. Dinner menus include fresh crispy salads, soups, and appetizers in the form of tapas, including tantalizing names like Cheese on Fire, a.k.a. Saganaki. Mains include options like "Fantastic Fresh Fish," served in a variety of ways, and "Enticing Entrees" like Key Lime Chicken. The dessert menu is simply to die for, including house-made ice cream. Healthy vegetarian, vegan and gluten-free options are available too.
3. The Blind Monk
This classic wine bar serves a range of small plates, including Bacon Fat Kettle Corn, Smokey Beef & Cheese Sandwich and a couple of decadent desserts, namely Semifreddo, a frozen custard dish, and Florida Mud Pie, smothered in whipped cream. They also serve a tempting array of cheeses, including Stinky and Succulent and Soft & Creamy options. Accompany your snack with wine or beer. Start the day here with Warm Biscuits or Sour Cream Pancakes accompanied by a Mimosa or Prosecco Mojito.
4. Table 427
With its bright blue exterior, Table 427 serves a range of contemporary Mexican dishes in a vibrant setting, accompanied by acoustic guitar music. Eat inside in a cozy atmosphere, lined with abstract artwork, or outside in the Mexico-inspired courtyard. The restaurant serves a five-course dinner, including such delights as soups, salads, and starters, followed by delicious entrees, including varied dishes like Veggie Tacos, Chicken in Blue Corn Sauce or Crusted Scottish Salmon in Tamarin Sauce. Vegetarian options are also in order.
5. Okeechobee Steak House
With its quaint interior and a bar, Okeechobee boasts it is the oldest steak house in Florida. The family-owned restaurant originally opened in October 1947 and is still going strong. They have their aging process for the beef (a family secret) making for a succulent steak. Choose from rib eye, porterhouse or steak, and lobster, or try out pan-seared sea bass for lunch or dinner. Vegetarians will have to opt for a fresh salad, but there are gluten-free options!
6. Malakor Thai Cafe
With its beautiful, art-strewn walls and friendly atmosphere, this restaurant virtually transports you halfway across the world to Thailand. The name Malakor translates to papaya, a staple in Thai kitchens. Many of the ingredients are grown by the chef, including the papaya, chilies, and lemongrass. Enjoy traditional salads and soups, choose Spring Rolls, Thai Dumplings, Nam Rib Pork, a range of tasty sushi and much more. Eat-in or order for delivery to your home.
7. Paris Bakery & Cafe
Say "bonjour" to the Paris Bakery & Cafe and feel like you are in the "City of Light" while dining on breakfast, lunch and Le Frunche (Saturday brunch). Breakfast includes the best French crepes and other early morning delights, while the lunch menu offers salads, soups, and sandwiches, wraps, and paninis, all with the French touch. Enjoy savory crepes for lunch, or sweet crepes for dessert. Try the specialties, like Quiche Lorraine or Quiche Florentine and other baked treats.
8. Havana
Enjoy a taste of Havana in this family-run Cuban restaurant, serving lunch and dinner with traditional, delicious flavors. Examples include Ostones a la Milanesa, featuring fried green plantains topped with Cuban-style ground beef and Mozzarella cheese. Chow down on Sabor Cubano, made from cornmeal with seasoned pork, all wrapped up in a corn husk with chunks of chicken and sautéed onions. They also serve the best Cuban sandwich, a kids' menu and vegetarian options. Hungry in the night? Head to their 24-hour window to order takeout!
9. Il Bellagio
Il Bellagio is a charming Italian trattoria set in an open-air shopping mall and is no doubt one of the best restaurants in West Palm Beach. Here you can dine inside or on the romantic patio overlooking the CityPlace courtyard fountains and Rosemary Square. Dinner is served, including a selection of antipasto, Cena Insalate (salads) and soups. Follow up with delicious carpaccio, pizza, pasta, fish and meat dishes and a selection of risotto. Meals are accompanied by an extensive wine menu as well as delicious martinis and cocktails. Saluti!
10. Nick's 50's Diner
Experience a real American diner from the 1950s, with its colorful decor, jukebox, and comfortable booths. Start the day with omelets, pancakes, waffles, bacon, ham and hash browns or two eggs done any style. Choose from a range of burgers or build your own with a selection of extras or hot and cold sandwiches. There is also a choice of wraps, deluxe platters, and options from the grill. Choose a homemade pie for dessert, washed down with a refreshing soda or two.
11. Pete's Place
Pete's Place is a casual restaurant, bar, and grill, ideal for a relaxing family meal or drinks with your friends. Watch the latest game on the big screen TV while eating lunch or dinner. Tuck into a selection of entrees, including Pete's famous steaks, chicken, seafood and fish dinners. There is a choice of pasta, plus a tasty selection of sides, like a baked potato, Mac n' Cheese or French fries. Wash down your meal with a draft or bottled beer or two.
12. Darbster
Enjoy healthy dining and find out how good vegan cuisine can be. This plant-based bistro will appeal to meat-eaters, vegetarians and vegans alike. Relax on the waterside deck enjoying classic meals with a vegan twist for brunch and dinner. Dine on the best French toast and other dishes made with tofu eggs. Start your evening meal with an organic salad, living foods (raw) and tasty entrees. Drink some homemade Kombucha tea or Virgil's Root Beer.
13. Avocado Grill
With its attractive, hip decor and friendly vibe, Avocado Grill uses only local ingredients to create delicious small, medium and large plates and craft cocktails. Food is a fusion of Hawaiian, seafood and Mexican cuisine. Menus cater for brunch, lunch, dinner and vegan tastes with a raw bar serving Pokê Bowl delights, delicious guacamole and small plates like Chicken & Poblano Empanada and Lamb Slider. Medium plates include Korean BBQ Steak Lettuce Wrap and large plates include Grilled Hangar.
14. Galley
Set in the Hilton West Palm Beach Hotel, Galley uses a pizza oven and a wood-fired grill to create dishes based on global cuisine, as well as a lively mixology bar serving custom cocktails mixed at your table. Choose from a range of farm-to-table cuisine made with locally sourced ingredients, including signature dishes like Margherita Pizza, Florida Keys Snapper and Bone-in Ribeye steak. Dine indoors, or head out to eat around the glowing fire pit.
15. Pistache French Bistro
Located in Downtown West Palm Beach, this French typical bistro serves traditional French bistro fare for brunch, lunch, and dinner in charming surrounds. Choose the soup of the day, continental breakfast options and delicious quiches, tasty sandwiches, fish, meat and seafood dishes. Enjoy small plates, like Arugula & Parmesan and Le Puy Lentil Salad and main plates including Grilled Chicken Paillard and Coq au Vin. Round off with Pistache Profiteroles or Crème Brulée.
16. Table 26°
Table 26° offers a modern décor, with indoor dining or relaxation on the covered, pet-friendly terrace. The restaurant boasts delicious comfort food in the way of tasty entrees and delicious desserts. Choose to enjoy brunch, lunch or dinner with American cuisine, including Jumbo Lump Crab Cake, Shrimp, and Grits, fresh salads and burgers. Tuck into a tender Cast Iron Seared Filet Mignon or Slow-Roasted Baby Back Ribs. Add delicious sides like Roasted Brussels Sprouts and Grilled Asparagus.
17. City Cellar Wine Bar & Grill
City Cellar Wine Bar & Grill opened in 1999 and serves Italian and American cuisine with an enclosed wine cellar. Choose from the extensive wine collection while tucking into fresh pasta, hearth-baked pizza, seafood, and dry-aged steaks. The small plates menu includes traditional comfort food, like lobster mac n' cheese and a daily flatbread. The restaurant also serves a range of hard to find artisanal cheeses and tempting homemade desserts, making it a no brainer to include it in the list of the top 20 best restaurants in West Palm Beach. 
18. Kabuki Sushi Thai Tapas
Enjoy a fusion of Japanese and Thai cuisines in a modern restaurant with a full bar. Kabuki offers a diverse menu including traditional Japanese sushi, low carb riceless rolls, and flash-fried rolls. Try out traditional Pad Thai dishes like stir-fried noodles, crispy duck or Thai curry. The menu also includes a range of salads, soups, and hot tapas, like Thai Spring Rolls and Vegetable Tempura. The choice of cold tapas includes Spicy Conch and Seafood Sunomono.
19. Grilled Cheese Gallery
Imagine somewhere serving the ultimate comfort food. Grilled Cheese Gallery fits the bill. The range of grilled sandwiches includes the classic Cheddar cheese on white bread, but also offers The Chesterfield, a sandwich containing pulled pork, cheddar, and caramelized onions. Another choice is the Southern Belle, with breaded chicken, Swiss, and Pepperjack cheese, red onion and organic lettuce. Try out the Scarlette Poutine with grilled chicken or The Wrangler, with beef short rib and other tasty ingredients.
20. Sweet Tomatoes
Housed in a quaint building, Sweet Tomatoes is committed to serving healthy food, created from farm-fresh ingredients. With a fresh salad bar and a range of soups and baked goods, they offer tasty homemade recipes, with everything made from scratch that day. Vegetarians and vegans are catered for and gluten-free options are available on the menu. Besides the extensive salad bar, there is a great selection of hot pasta dishes, fresh fruit, and desserts as well as a healthy soft-serve bar.
Conclusion:
Whether you are looking for fresh seafood, great steaks, international cuisine or healthy dining, West Palm Beach has it all. Head to lively Clematis Street, the CityPlace district, Palm Beach Lakes Boulevard or Okeechobee Boulevard to choose from some of the most buzzworthy restaurants, cafes, and bistros. Experiment with the best vegan or vegetarian food, the tenderest steak, the freshest sushi or a little Parisian flair. Chow down on pizza, Mexican food or traditional American comfort food in a typical 1950s diner. Along the way, quaff some of the best craft beers, fine wines, and fun cocktails to liven the evening. We hope our list of the 20 best restaurants in West Palm Beach helps make your trip a memorable one!