Warning
: DOMElement::setAttribute(): ID wpgmza_tolls_171 already defined in
/home/sweetspi/exploreist.com/wp-content/plugins/wp-google-maps-pro/includes/class.directions-box.php
on line
126
Welcome to Columbus, Georgia, located directly across from Phenix City, Alabama, and right on the Chattahoochee River. You will find Columbus is the third-largest city in Georgia. You can enjoy a piece of history, including the National Infantry Museum & Soldier Center, the National Civil War Naval Museum, the Columbus Museum, the Coca-Cola Science Center, and the Lunch Box Museum. You will find Church's Chicken, China Dragon, CC's Place, Sharks Fish & Chicken, and Vallarta Mexican Restaurant in the vicinity of I-280. You will also find O'Charley's, Chattahoochee Brewing Company, and Mickey's Pub for your alcohol pleasure and convenience. The hotels on Victory Drive Columbus GA are rated by closeness, whereas some you may need to travel a short distance to get the space and comfort you desire. Please look over the list and have safe travels! If you're traveling with pets, always call in advance to know whether your location is pet-friendly and what special requirements must be met for them to visit.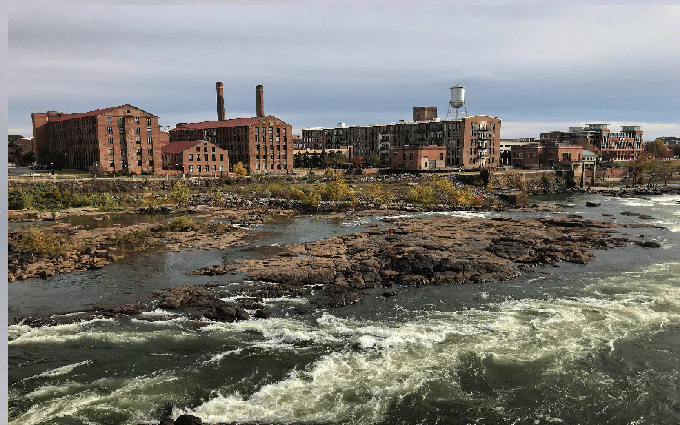 1.Holiday Inn Express & Suites Columbus-Fort Benning
The Holiday Inn is a mere 10-minute drive from Fort Benning. Enjoy free breakfast each morning to get going! Patrons rave of the rooms' comfort, cleanliness, and value.  They raved that it had plenty of pillows, which is a plus! Pets are allowed for a fee and other restrictions. You can check-in by 3 PM and sleep in till noon if you choose. This ranks number one on the list of hotels on Victory Drive Columbus GA.
2. Hampton Inn South-Fort Benning
This spot offers you free WiFi and a hot breakfast, including healthy oatmeal with toppings and freshly baked waffles. Enjoy the outdoor pool when it's open or go for a quick workout in the gym facility. Borrow one of the conference rooms for your next business meeting. Located off Route 280, only three minutes from US Army Fort Benning and Columbus is 7 miles away.  Visit the Chattahoochee RiverWalk, which is a 10-mile drive.
3. Candlewood Suites Fort Benning
You will be pleasantly surprised in the pet-friendly suite located just minutes from Fort Benning. Be sure to visit Callaway Gardens or the Coca-Cola Space Science Center. The National Civil War Naval Museum with the Columbus Civic Center is closeby to catch a live performance or game when you are in town. Take a timeout in the on-site fitness center. Patrons rave of its overall excellence of 4.5 out of 5-Stars. One of the best hotels on Victory Drive Columbus GA.
4. Econo Lodge In & Suites – Fort Benning
You'll find an affordable accommodation next to the historic 1918 training site at Fort Benning with the use of an outdoor pool (weather permitting), WiFi free of charge, and a free continental breakfast. The facility is FEMA approved with space for bus and regular parking for your convenience. (By the way, it is pet-friendly, but all and check for the details.)
5. Hawthorn Suites
This delightful accommodation is kid-friendly with plenty of activities to help keep them busy. Request a baby crib if needed. Enjoy the BBQ grills, business center, and enjoy a workout in the fitness center. An outdoor pool is available, as well as a pet-friendly atmosphere. Patrons rave of its cleanliness, value, and service at 4.5 out of 5-Stars!
6. WoodSpring Suites – Value Place Columbus – Fort Benning
Another one of the hotels on Victory Drive Columbus GA. You will fall in love with this location with 338 restaurants and 36 attractions within five miles of your room. It is budget-rated with a 4 out of 5 for its Certificate of Excellence for overall service and staff. Ask about its weekly rates to save for students, tourists, and military members. There is an option for pet-friendly rooms as well, with access to 24/7 vending machines and access to laundry facilities.
7. Columbus Marriott
If you are craving a bit of history, the Marriott is located only five miles from Fort Benning and a few short blocks to many Fortune 500 company headquarters, including the AFLAC location.  If you need a business meeting, ask about the facilities on-site. Enjoy the hot tub, restaurant, bar & lounge, breakfast buffet, an outdoor pool when weather permits, and so much more.
8. Comfort Inn Columbus
You will find the Comfort Inn a mere 2.4 miles from Peachtree Mall and 2.5 miles from the Columbus Museum, or within a 10-minute drive of Columbus State University and the Columbus Civic Center. Make use of the business and fitness center.  Patrons enjoyed the friendly staff and its location so conveniently located to Fort Benning. Enjoy a complimentary breakfast to start your day!
9. Quality Inn Columbus
You will be pleasantly surprised for dining/bars in the area within less than a mile, including Japanese/sushi & steak, Dennys, or Longhorn Steakhouse. You are only a mile from the Columbus Museum and two miles from the Coca-Cola Science Center. Fort Benning is about six miles from your doorstep. Take advantage of the microwave, fridge, and fluffy pillows; have a great time!
10. Microtel Inn & Suites
Stop by the convenient location just off I-185 near the Coca-Cola Space Science Center. Patrons highly rate the hotel staff as very personable and friendly. There's a spot to park the RV, with a laundry service, meeting room, and outdoor pool during the warmer months. Bring your pets, but call in advance for details. See you soon for business for pleasure.
11. Sleep Inn Columbus
The hotel is about eight miles from Fort Benning, but you are a mere 0.8 miles from the Columbus Airport and so much more, including the Columbus State University. Enjoy Appleby's, Buckhead Grill, Logan's House, or Mikata Japanese Dining very closeby. Feel free to use the coffee maker, fridge, and microwave or have a free hot breakfast.
12. DoubleTree by Hilton Hotel Columbus
If you stay in this full-service upscale hotel, you'll be about six miles north of Fort Benning and merely two miles southwest of Columbus Airport (free 24-hour shuttle). Step into the workout facilities for a quick workout or take a shuttle to one of the attractions in the area within a five-mile radius. Dine at the restaurant and lounge or have a spoiling round of room service.
13. Baymont Inn & Suites – Columbus
As you can imagine, ten miles from Fort Benning will provide a lot of tourist attractions if you are so inclined on the journey. It is also pet-friendly with an outdoor pool to enjoy (weather permitting). Enjoy daily housekeeping if you are staying for a few days and the complimentary WiFi, fitness center, and tasty breakfast to get your day on the right track!
14. Courtyard by Marriott Hotel Phenix
Visit Courtyard, which is only 4.4 miles from Victory Drive in Columbus, and is highly rated for service and cleanliness (4.5 out of 5-Stars). You can choose from local restaurant dinner delivery and a sundry/convenience store. Call the Bistro for breakfast and dinner for a casual stop. You have many activities in the area, including a biking trail, jogging trail, river rafting, kayaking, and so much more.
15. Hampton Inn & Suites – Phenix City
If you are seeking a smoke-free midscale resting spot, you will be ten miles from Fort Benning with free WiFi and parking. You can also indulge in the exercise room and take a few laps in the outdoor heated pool during the warmer months. Feel free to use the fridge and microwave in the room and grab a few breakfast foods from the free hot breakfast buffet. Sorry, it's not pet-friendly.
16. Fairfield Inn & Suites by Marriott Columbus
The Fairfield is six miles from Victory Drive and eight miles from Fort Benning. You are close to Columbus State University and a mere 1.2 miles from the Columbus Airport – CSG. Patrons raved over the friendly and helpful staff stating the beds were, 'nice' and the breakfast was tasty. Enjoy the indoor pool or exercise room to remove some of the day's stress.
17. TownePlace Suites by Marriott – Columbus
You'll find this all-suite – extended stay hotel is a midscale rated hotel just 2.5 miles from the Columbus Airport. Enjoy the free WiFi, parking, and hot breakfast buffet offered every morning with a kitchen in every suite if you prefer cooking in the suite. Bring your pet for a fee, but call first for restrictions. You will also have a desk space/working desk for business and pleasure needs.
18. Extended Stay America Hotel Airport – Columbus
You will find each of the rooms non-smoking environments to ensure you are comfortable during your stay, six miles south of Victory Drive. You will be provided with a complimentary 'grab-&-go' breakfast with an on-premise coin-operated laundry facility open 24-hours daily. It is one mile southwest of Columbus Airport (shuttle not provided) but you will have the options of 3 floors/70 studio suites.
19. Super 8 by Wyndham Phenix City
You will find a spot to park a rig or bus with an outdoor pool and fitness center. For a quick coffee/tea, you will have a maker and microwave in your room. You will be provided with a 24-hour reception desk to inquire about the local activity with a free breakfast before journeying out for the day. Opinions are mixed, some rated 4.5 out of 5, and others were not as content.
Conclusion
Please look over each suggested hotel to see which one will best suit your needs. Whether you are in the Columbus area for business or pleasure, you should be set for a place to stay. The hotels are in different price ranges and provide some of the same conveniences, including WiFi, a complimentary breakfast, excellent TV viewing, pools in the summer, and so much more. Find one of the locals and get the scoop in the area. Most of the hotels on Victory Drive Columbus GA have someone available on staff to answer your questions if any issues with your room arise, so visit and enjoy your stay!