20 BEST Things to do in Savannah, GA [2022 UPDATED]
By

Marina Yoveva
Take a step back in time in Savannah, Georgia, with shaded oak trees covered in Spanish moss, antebellum architecture, and an easy pace of life. Savannah is a charming blend of old and new, with a thriving art scene, an excellent local food culture, and gorgeous outdoor landscapes on the Atlantic coast.
Great for a vacation in any season, Savannah is a welcome respite during the winter months, as there is still plenty to do indoors and out. Whatever reason you're headed to Savannah, this picture-worthy destination of the southeast is everything one's dreamed of and more. Read on to explore all the things to do in Savannah for some inspiration for your upcoming trip to this southern gem!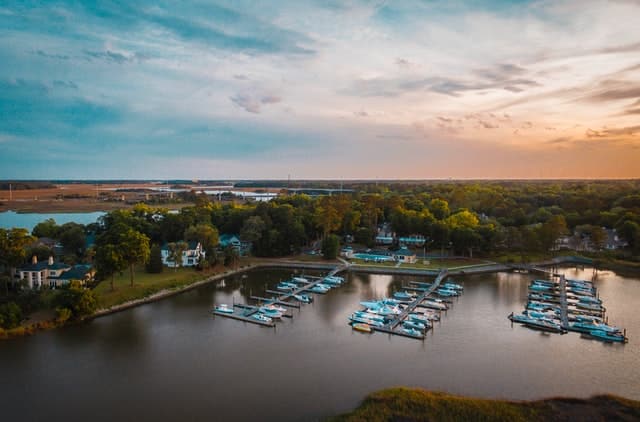 1) Savannah Historic District
The posterchild of Savannah, Savannah's Historic District, really is that beautiful. Wind your way through these neighborhoods known for bright colors, cobblestone streets, manicured gardens, and stunning trees. Dating back to the pre-Civil War, the Savannah Historic District truly will have you feeling as if you're connecting to the past.
Taking a tour is a great way to see this area; from trolley tours to reenacted experiences (check out Old Savannah Tour), you'll learn more than simply meandering on your own. Of course, you should schedule in some time for your own whimsy on these romantic streets, to take pictures and dream a little of days gone by.
2) Bonaventure Cemetery
One of the most beautiful cemeteries in all of America, Bonaventure Cemetery sits atop a bluff of the Wilmington River and is draped in Spanish moss. Made famous by the novel Midnight in the Garden of Good and Evil by John Berendt, Bonaventure Cemetery dates back to the Bonaventure Plantation, founded in 1762.
Over 100 acres, the Bonaventure Cemetery has its fair share of spooky stories just waiting to be discovered, like that of 6-year-old Gracie Watson, who died suddenly after being photographed for Easter. No tours are currently running due to Covid, but the cemetery does remain open.
3) Forsyth Park
30 acres of gorgeous park set in the Historic District, Forsyth Park is a must when visiting Savannah. On the northern edge of the park sits the famous fountain, which is modeled after those at Place de la Concorde in Paris. The park buzzes with activity on any given day, from local artisans selling their wares to small children playing on the two playgrounds in the park.
Great for a stroll, a picnic, or a game of tennis (there are courts on the southern edge), Forsyth Park has someone for everyone. Additionally, each Saturday is the Savannah Farmers Market, a great place to pick up some local fruits and veggies.
4) The Cathedral Basilica of St. John the Baptist
If you love to revel in the beauty of an impressive cathedral, head to The Cathedral Basilica of St. John the Baptist, the oldest Roman Catholic church in Georgia. Because The Cathedral is still operating as a functioning church, visitors are asked to come Monday through Saturday from 9:00 am – 11:30 am and 12:45 pm – 5:00 pm.
A suggested three-dollar donation is asked of visitors. Though a fire destroyed much of the church in 1898, it was rebuilt and remains an active part of Savannah's community.
5) Sorrel Weed House
For architecture buffs, head to Sorrel Weed House, an incredible display of Greek Revival and Regency architecture, and a State Landmark. The Sorrel Weed House is equally known for its ghost tours, scheduled nightly and run about 1-2 hours in length. Considered one of the most actively haunted locations in the nation, the Sorrel Weed House is rumored to have one haunted story after another, originating with the owner Francis Sorrel who lost two successive wives in the home.
6) Historic River Street 
Another culturally rich street of Savannah that heads to River Street, which touts century-old converted buildings that were once cotton warehouses. Cruise along River Street to enjoy the best of Savannah dining, antique and boutique stores, and an overall quaint atmosphere.
If you're looking to make your experience in Savannah that much more special, book a room at one of River Street's accommodations, such as River Street Inn or The Presidents Quarters. You can also catch a Savannah Riverboat Cruise from River Street, another great way to get a new perspective on the city.
7) Owens-Thomas House & Slave Quarters
The reality of Savannah's beauty is that it is also laced with the dark underbelly of having a slave history. If you're ready to face this reality head-on, you can visit the Owens-Thomas House & Slave Quarters, which gives visitors a glimpse at life during the early 19th century.
It is one of the oldest and best-preserved slave quarters in the United States, meaning you'll truly get a feel for the time. The building itself is a gorgeous Regency-style mansion, built-in 1819, and has an equally beautiful parterre style garden. Be sure to book a tour ahead of time for the Owens-Thomas House & Slave Quarters, as it is the only way to see the grounds.
8) American Prohibition Museum
Discover more about the American prohibition, which ran from 1920-1933, and spawned an underground black market for alcohol. The only prohibition museum in the United States, you'll learn more about the Temperance Movement, the 18th Amendment, which immediately prohibited alcohol in the United States, as well as rum runners and speakeasies. A fun way to spend an afternoon, end your experience at the museum's very own speakeasy where you can take a whiskey or cocktail class or simply enjoy a drink.
9) Wormsloe Historic Site
Wormsloe Historic Site, also known as Wormsloe Plantation, gives another glimpse into Savannah's past. An absolutely breathtaking road of live oaks leads up to the Wormsloe Historic Site entrance and is reason enough alone to visit. The plantation was founded by Noble Jones, one of the first settlers from England who arrived in Georgia in 1733.
His story is one of difficulty and persistence and should not be overlooked when visiting Wormsloe. The grounds include seven miles of trails, a museum, and theater, gravesites, as well as tabby ruins (ruins made from crushed oyster shells, lime, sand, and water).
10) Olde Pink House
If you want to experience the best of southern cuisine in an elegant ambiance, head to the Olde Pink House. This historic Colonial mansion serves up dishes such as fried green tomatoes, blue crab beignets, lobster rolls, and shrimp gumbo. Open for both lunch and dinner, Olde Pink House is also home to Arches Bar, which mixes craft cocktails like a Woodford Mule (made with Woodford Reserve Bourbon) and a Jalapeno Margarita. The Olde Pink House encourages reservations, although the bar does serve food as well.
11) Historic Savannah Theatre
One of the oldest ongoing operating theaters in the United States, the Savannah Theater currently functions as a live theater. Built in 1818, the theater has been both a movie theater as well as a theater for plays and productions. Current shows include Legends Live On!, a tribute band covering bands like the Beatles, Bruno Mars, and The Four Seasons, as well as stand-up comedian Brian Regan in Concert. Set in Chippewa Square, many visitors also frequent Savannah Theater to see the beloved bench where Forest Gump sat spinning stories in the movie Forest Gump.
12) First African Baptist Church
Deriving from the first black Baptist congregation in North America, First African Baptist Church dates back to 1773. First, run by former slave George Leile, Leile went to work converting and baptizing slaves on plantations in South Carolina. As Savannah was occupied by the British, who offered freedom to slaves, Leile moved to Savannah for security.
The church was taken over by Andrew Bryan when Leile's family relocated to Jamaica. A fascinating look into baptist blacks' history and spirituality don't miss a short but important tour of First African Baptist Church.
13) Chippewa Square 
Chippewa Square is the heart of the historic district of Savannah and is named after the 1812 Battle of Chippewa. In the center of the beautiful square is a statue of the founder of the colony of Georgia, General James Oglethorpe. Surrounding the square, you'll also find the historic Savannah Theater, the famous Forest Gump bus bench, and The First Baptist Church. A tranquil place to sit and enjoy Savannah's oaks and to take in the serenity of Savannah.
14) City Market 
A four-block open-air market established in the 1700s, City Market, is an excellent place to shop and dine. Full of pulsing energy, there's always something to do at City Market, from live music at night to delicious seafood spots.
Whether you're an art aficionado who wants to do some research on local artists, or you simply want to do some shopping for Savannah goods, you'll find it at City Market. Though most events are canceled due to Covid, it is still possible to visit City Market, open daily from 10 am (with Sunday exclusion, which opens at 1 pm).
15) Mercer Williams House Museum
A mix of Renaissance Revival, Greek, and Italianate elements, the Mercer Williams House was constructed in the 1860s. Designed by prominent New York architect John S. Norris, the Mercer Williams House is decorated with 18th and 19th century Regency and Empire furniture and many artifacts from around the world. Featured in the movie, Midnight in the Garden of Good and Evil, the Mercer Williams House Museum should be on anyone's list who loves that movie or is interested in well-preserved historic homes.
16) Skidaway Island State Park
If you want to get a true feel for Savannah's ecosystem, head to Skidaway Island State Park, which is a mix of maritime forest and salt marsh. Bordering the Skidaway Narrows, which connects to Georgia's Intercoastal Waterway, Skidaway Island State Park is a popular spot for hiking, camping, geocaching, and bird watching. On 588 acres, Skidaway Island State Park is an easy refuge from the more urban Savannah.
17) Ghost Coast Distillery 
Ghost Coast Distillery offers the chance to sip locally distilled spirits like bourbon, whiskey, and vodka for a fun night out. Tours are currently closed, but you can still visit the Cocktail Room to try cocktails like the Ghost Coast Old Fashioned or the Smoked Ginger Mint Fizz. Savannah's first distillery since just before prohibition, Ghost Coast Distillery is a great place to buy a special gift to take home or simply have a good time.
18) Riverfront Plaza 
Stroll the nine blocks of Riverfront Plaza, which were former grounds for Savannah's cotton exchange. Alongside the Savannah River, this waterfront plaza is a great place to stop for a snack, check out local festivities, or just get some fresh air.
Whether you want to people-watch or boat watch, you can do both from this scenic area, just up the way from Savannah's port. You can also catch the Savannah Belles Ferry from Riverfront Plaza to visit Hutchinson Island, a river island worth checking out.
19) Savannah Belles Ferry
Spending time on the water is always a blast, and the view as you take the Savannah Belles Ferry from Savannah to Hutchinson Island is a worthwhile excursion. Part of the Chatham Area Transit, Savannah Belles Ferry operates from 7 am to 10 pm, seven days a week. Jump on board with your bike, then head to Hutchinson Island to pedal around the scenic area. To sweeten the deal, Savannah Belles Ferry is always free, an opportunity so good, you can't pass it up.
20) Telfair Academy 
Constructed in 1819, the Telfair Academy is a two-story Neoclassical Regency-style mansion. Make sure to visit the nineteenth-century period rooms, then peruse European and American art from the 19th and 20th centuries. The oldest public art museum in the United States, founded in 1886, the Telfair Academy is also the first art museum founded by a woman. One of the museum's highlights includes the famous Bird Girl statue, which formerly stood in the Bonaventure Cemetery.
Conclusion
Far from exhaustive, Savannah showcases the rich cultural and historical wealth of this American city. With so much to love about Savannah, from natural beauty to historical homes, fresh seafood, to well-crafted cocktails, you'll adore this southeastern city.
With this list of things to do in Savannah, you're well on your way to a memorable experience in the city nicknamed, The Hostess City of the South.