10 BEST Hotels in Honolulu, Hawaii [2022 UPDATED]
By

Marina Yoveva
Honolulu is one of the biggest tourist stops in the state, and also the island states capital. Despite how popular it is, it's all built upon a small area of the south coast of Oahu.  Today we are going to explore some of the best hotels in Honolulu. 
Thanks in part to Hawaii's remote location, Honolulu is full of some weird and wonderful rules and traditions – spam sushi anyone? Hula dancing is a very popular activity in Honolulu, and it's home to two international hula festivals yearly. If you want to try and impress the locals – why not learn some Hawaiian! 'Aloha' is hello, and 'Mahalo' is thank you! Honolulu (and Hawaii!) is the number 1 spot in the United States for the wellbeing of its citizens – which is a great thing for us, thanks to the 'forever on holiday' feel for the island. Honolulu knows that it's a top tourist destination, and thanks to that, it's home to some amazing hotels.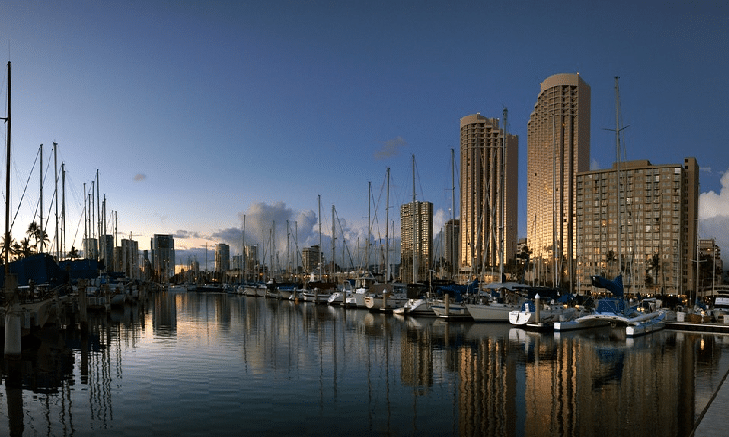 See Also: Top ten things to do in Kona Hawaii
1. The Ritz-Carlton Residences, Waikiki Beach
Located a short walk away from Kahanamoku beach is the Ritz-Carlton Residences. This hotel is one of the newer hotels in Honolulu, so although it may not have a built-in history like other hotels, it is filled with modern features throughout. When you're not soaking up the Hawaiian sundown at the beach, relax by the eighth-floor infinity pool – the highest in the area! Rooms are on average US$500-600 a night. Rated #1 on Trip Advisor, it's one of the best hotels in Honolulu!
2. Prince Waikiki
Located on the edge of Waikiki, next to the Kahanamoku Lagoon is the Prince Waikiki hotel. When building this hotel, the architects took great care in designing it to take advantage of the surrounding views. This 5-star hotel is great for a romantic getaway – or a family trip if you love your kids! If you're in town to shop, the hotel is close to the world's largest outdoor mall (Ala Moana Centre), and once you're all shopped out, the hotel even has a free shuttle to get you and your bags back!
3. Trump International Hotel Waikiki
A controversial choice in part due to its name, but there's no denying the Trump International Hotel is a good hotel – it's the only Forbes Travel Guide 5-star rated hotel in Oahu! You're only a short walk away from one of Oahu's famous white beaches at this hotel, so if you're here to relax, it's a perfect choice. The hotel also has a host of beach-view hotel rooms as well – so if it's too hot for you outside, you don't have to miss out on seeing the sea!
4. Kahala Hotel and Resort
Set away from the main tourist strip of Honolulu is the Kahala Hotel and Resort.  The Kahala has nestled away in the bush, giving you some peace and privacy while you're relaxing on a well-deserved break. Rooms here are on average $400-500 a night. The hostel has a varied history, and it's a popular spot for royalty and presidents to stay in whilst they're in Honolulu! Enjoy the life of luxury whilst you're on holiday!
5. The Surfjack Hotel and Swim club
If you're after a beautiful, top-rated hotel without needing to break the bank, then the Surfjack Hotel is a great option for you. Rooms average between $200-300 a night, and you're getting the same amazing service as some of the more expensive hotels in Waikiki. The hotel has been newly built, and throughout the hotel, you can see references to surf culture – you're going to want to jump on a surfboard as soon as you can!
6. Aston Waikiki Beach Tower
The Aston Waikiki is a unique hotel in Waikiki – it's based on condominiums, rather than hotel rooms. You still, however, get the same service as you would whilst staying in a luxury hotel, so you're not missing out on much whilst you're taking advantage of all the extra space! The hotel is located on the beachfront, so you don't have to go far to lay down on some white sand. The hotel is in a great location, and within walking distance of a range of hotels and restaurants – ideal if none of the restaurants in the hotel takes your fancy!
7. Waikiki Beach Marriott Resort and Spa
If you're wanting to experience some Hawaiian culture whilst you're visiting Oahu, thank the Waikiki Beach Marriott is a great option – nightly they have shown, showing off the uniqueness and fun of the Hawaiian culture. But if you're there to relax, spend your days chilling by the resorts two swimming pools, relaxing in the hot tub, or trying your luck at catching some waves! The hotel averages $250-300 a night, so it's a great, affordable option for a family getaway.  
8. Halekulani Hotel
If you're wanting a bit of history whilst you're on a break, why not head to the Halekulani Hotel, which has been welcoming guests for over 100 years! Don't worry though – the hotel has been renovated throughout, so you get to enjoy history whilst in a beautiful, modern hotel. Again, like many of the best hotels in Honolulu, the hotel is only a short walk away from some amazing white sand beaches!
9. Queen Kapiolani Hotel
Full of history – both in the hotel and the name, the Queen Kapiolani Hotel is a great choice for a getaway, and it's super affordable. You can grab a room here for $180-200, which is an amazing deal for a luxury hotel in such a great location.  The hotel is opposite the Honolulu Zoo, and only a few minutes walk from Queens beach. Enjoy the beautiful pool, and it's matching panoramic views of the Pacific Ocean – you're not going to want to leave!
10. Hokulani Waikiki by Hilton Grand Vacations
The Hilton chain is synonymous with luxury, and they're not letting you down with this hotel! The Hokulani hotel has a rooftop pool, which you're going to want to dive in when the sun comes out! The hotel is surrounded by high-end shops – so although the hotel is affordable, you may end up spending all your money in the nearby shops!
Conclusion
When you're planning your dream trip to Hawaii, you're not stuck for choice over some of the best hotels in Honolulu. Live the life of luxury for a low price, learn to surf or enjoy beautiful rooftop infinity pools. Most of the time, it's the best hotel that makes the trip! All the hotels above are less than a half-hour drive from the airport, so once you arrived, it's only a short time before you're living your best life. Head out and explore the malls, the beaches, and even Pearl Harbour whilst you're in Honolulu, and know you're resting your head in one of the best hotels in Honolulu!