20 BEST Restaurants in Honolulu, Hawaii [2022 UPDATED]
By

Marina Yoveva
Welcome to Honolulu – the exotic and beautiful capital of Hawaii, surrounded by picturesque landscapes and pristine beaches. If you happen to be a newcomer, you might be wondering what this city can offer you. Gladly for you, this magical town is filled to the brim with must-see attractions, presented by nature preserves, clean beaches, beautiful parks, luxury palaces, and all the like. 
While you're in town, do not forget to visit the breathtaking Diamond Head – a 1500-year-old volcanic crater that's nothing you've seen before.  Also, if you happen to be into history, entertainment, mouth-watering cuisine, and unique culture, Honolulu will surely live up to your expectations.  Speaking of tasty food, you can savor excellent and delicately prepared dishes at some of the best restaurants in Honolulu, Hawaii. To help you decide, we've compiled a list of the top-rated ones in terms of prices, diversity of meals, atmosphere, and reviews.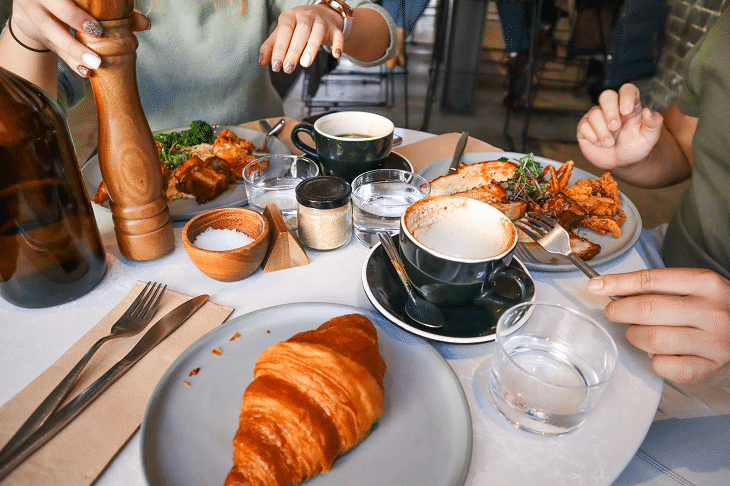 Read Also:
1. Sweet E's Cafe
If you're looking for a great breakfast restaurant in Honolulu, Hawaii, Sweet E's Cafe is a perfect choice. Here, you can savor delicious waffles and pancakes with banana and blueberry, as well as try gourmet pizzas, vegan-friendly salads, soups, and sandwiches. This place impresses with great comfort, yummy dishes, and immaculate service. Best of all, everything is reasonably priced. 
2. Poke Bar 
Are you into seafood, traditionally tossed with rice and sauces? If so, Poke Bar will surely become your new favorite place in Hawaii. Here, you can try customized "Poke Bowl" – a delicious Hawaiian dish with raw diced fish, served with fresh vegetables and sauces. Interestingly, Poke Bowl is pronounced "POH-Keh," so know your lessons when you get there. Moreover, you can "upgrade" your meal with more greens, noodles, and other mix-ins. No wonder it's one of the best fish restaurants in Honolulu. 
3. Hiking Hawaii Cafe
There's a reason why Hiking Hawaii Cafe is one of the best coffee shops and restaurants in Honolulu. Here, food lovers can choose from a wide diversity of healthy meals and dishes prepared with premium ingredients. Also, the area is quite famous for its fantastic private hiking and sightseeing tours. So, if you want to taste the spirit of Aloha alongside its excellent cuisine, book a table at Hiking Hawaii Cafe. 
4. La Mer
Known for its healthy and tasty meals, La Mer is another top-rated restaurant in Honolulu. Most interestingly, it was recognized as a top Five-Star restaurant by Forbes Travel Guide. But apart from its popularity and reputation, La Mer also excites with unique tropical dishes, prepared with local ingredients and inspired by French flavors. So, if you, too, want to experience a five-star dining experience, reserve a table for two from 5:30 pm to 9:30 pm. 
5. Senia Restaurant
Recognized as one of the most elegant restaurants in Honolulu, Senia Restaurant, features vegan-friendly options, delicious regular food, a unique atmosphere, and excellent service! Here, you can try diverse dishes and homemade, creative beverages you've never tried before! But even if you can't decide what to have for dinner, the staff is super friendly, hospitable, and knowledgeable. Reservations are highly recommended. 
6. Fresh Catch Seafood
Situated away from the Waikiki area, this fancy restaurant in Honolulu is an excellent place to grab some delicious local food. Known for its low-cost dishes, this restaurant offers varied choices, a good amount of servings, great food, and attentive staff. If you're here for the first time, try the crab sandwich – it's mega delicious. Now you know where to grab amazing food that doesn't cost a whole fortune. 
7. Chef Chai
Are you into Asian food? Well, then make sure to stop by Chef Chai – one of the best Asian restaurants in Honolulu. This restaurant boasts a unique culinary style reflecting the cultural diversity and character of all the Hawaiian islands. Best of all, the owner of Chef Chai also hosts a cooking show, so he always tries to make his food as creative and delicious as possible. If you're around, try Chef Chau's Hamakua Mushroom and Black Truffle Risotto Cakes ($15).
8. Orchids
How about dining at a classy restaurant with sweeping views of the Pacific Ocean in Honolulu? Welcome to Orchids – one of the most elegant and stylish places to eat dinner in Honolulu. Here, you can savor incredibly delicious food and take in magnificent views of Diamond Head – Honolulu's most famous volcanic crater. From international tea and coffee varieties (reasonably priced) to freshly baked pastries and cookies, Orchids is the perfect place for a great lunch or dining experience. 
9. Tropical Tribe
Mostly known for its mouth-watering Acai bowls, Tropical Tribe offers one of the best coffee and lunch experiences in Honolulu. Most guests recommend this place for its relatively healthy breakfast options, inexpensive acai bowls, and delicious smoothies. Located a little below ground, Tropical Tribe could be hard to find at first. But once you get to know the area, you'll love this place. After all, it's one of the most recommended places to eat in Honolulu with great food and service!
10. Uncle Bo's Pupu Bar & Grill
It's pizza o'clock at Unclo Bo's! This fantastic place is, without a doubt, the heaven of perfectly cooked pizza and pasta. Located on the Kamehameha highway, Unclo Bo's is one of the top-rated pizza restaurants in Honolulu, known for its yummy appetizers and great ambiance. Thanks to its delicious food and excellent service, Unclo Bo's is almost always full of food lovers. P.S. try their unique nachos with crispy wontons. 
11. Karai Crab
Karai Crab is another excellent seafood restaurant in Honolulu that's usually very busy in the evening. Here, you can expect fantastic food, lots of gluten-free options, a fantastic atmosphere, and proper portions (from $7 to $35). All in all, the menu is super creative and different. The food is so delicious that you may end up eating fish, crab, and shrimp with your hands. P.S. Reservations are recommended – the place fills up fast in the evening. 
12. Lucky Belly 
Although the place is not the cheapest one, the quality of food and world-class wine varieties are worth every cent. The menu is quite exotic and a little different from what you're probably used to seeing but is super tasty. For instance, shrimp ramen and pork bao are a fantastic, delicious choices. No wonder it's become one of the fanciest restaurants in Honolulu, Hawaii. 
13. Tommy Bahama Restaurant, Bar & Store
Have you ever tried a coconut shrimp or pineapple creme brulee dessert? Turn this wild image into a tasty reality at Tommy Bahama Restaurant – one of the most exotic restaurants in Honolulu. Even if you're not a food lover, always obsessed with food, you will surely become such at Tommy Bahama Restaurant. From exotic salads, gourmet filet mignon, and macadamia nut-crusted fish, this restaurant will bring satisfaction and joy into your evening. 
14. Cafe Kaila
How about having your morning coffee at an award-winning restaurant in Honolulu? Well, your wish will be granted at Cafe Kaila – a lovely place offering an all-around dining experience and excellent food at low prices. Even during the busiest hours, they will make sure to provide the best service to everyone. After all, according to the owner, their secret ingredient is…love, and it makes everything better. 
15. Koko Head Cafe
Often presented as the best brunch restaurant in Honolulu, Koko Head Cafe offers lots of yummy vegan and gluten-free meals. The food there is incredible and affordable, so if you're around, make sure to try the cornflakes French toast, and eggs skillet. Also, Koko Head Cafe is often full of nature-lovers and hikers who stop here after a day of hiking around the area of Diamond Head. 
16. Roy's Hawaii Kai
Have you ever wanted to try great Polynesian food? If you have, then Roy's Hawaii Kai will surely live up to your expectations. It's not only one of the best sushi restaurants in Honolulu, but it also offers incredible international cuisine combined with European spices and sauces. While enjoying your meal, you will be able to take in the fantastic view of Maunalua Bay (visible from the main dining room).
17. Ruth's Chris Steak House
Still looking for a place specialized in serving perfectly cooked steaks, broiled in an 1800-degree oven? Well, we can get even more specific than that. Ruth's Chris Steak House knows how to make your favorite steak even more delicious. The steaks here are served on a super hot plate so that they can stay sizzling hot for longer. Be a part of this dining adventure and book a table at the most exquisite steak house & restaurant in Honolulu. 
18. Marukame Udon Waikiki
Hawaii may not be the cheapest destination on the planet, but you can enjoy good food here. For instance, Marukame Udon Waikiki is a great Asian restaurant in Honolulu serving delicious noodles with beef, pork, or broth for about $6-7. But best of all – the service is almost perfect given the usually long lines every hour of the day. If you're in a hurry, though, you can use the self-serve option but do not forget to bring the tray back. 
19. Azure Restaurant
Azure Restaurant is an ideal choice for a romantic dinner with your significant other or a business meeting. Either way, you'll surely expect fantastic food, excellent service, and magnificent ocean views. If you're here for the first time, try the Ahi tuna with scallops on a bed of corn and beans – it's an exceptional meal. Well, it may not be as cheap as a burger, but it's worth the price. 
20. Lewers Lounge
Jazz lovers will love Lewers Lounge for its great vibe, superb food, and cocktails. This place offers a classy, relaxing atmosphere making it the perfect place to unwind after work. Also, there's a wide variety of cocktails and light snacks to choose from, so take your time and enjoy yourself at Lewers. It is one of the most relaxing places to eat in Honolulu. 
Conclusion
Did you already decide which restaurant you want to visit first? If not, let us help you make the right choice. All of these places are regarded as some of the best restaurants in Honolulu; however, each belongs to a different price category. So, before you pick one, take a look at their menus, price range, location, quality of the service, etc. Thankfully, our list above is full of both exotic and more traditional cafes and restaurants. So, get ready for an exciting dining experience and a fantastic time in Honolulu, Hawaii! 
Share this post if you found it useful!