20 BEST Things to do in Maui, Hawaii [2022 UPDATED]
By

Marina Yoveva
 Maui is one of the most famous islands in the Hawaiian archipelago, known for world-class beaches, migrating whales, and a vibrant farm-to-table movement. The second-largest island in Hawaii, Maui, is lush and verdant as well as being equally sandy and saltwater. Snorkel at the Molokini Crater, or dig into the warm Hawaiian culture.
Whatever you love to do, you'll find an avenue for it in Maui, complete with a relaxing island vibe. Easy to get to from major airport hubs such as Chicago, Denver, and Los Angeles, Maui offers a world away from the normal grind. Read on to discover the very best things to do in Maui, and get inspired to visit the Valley Isle.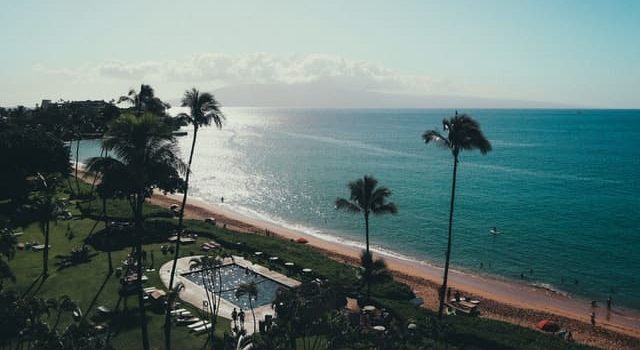 1) Hana Highway 
A scenic drive of nearly 65 miles, Hana Highway, offers the opportunity to really see the breadth of Maui's beauty. Unfortunately, many travelers fall into the trap of simply seeing the Hana Highway as a checklist to cross off. Resist the temptation to do this; instead, do your research ahead of time and decide what stops may be of interest to you and your crew.
Then, focus in and really enjoy such highlights as the iconic Twin Falls, cute food stands such as the Halfway to Hana Stand (be sure to grab some of their banana bread), or the Hana Lava Tube. With so much to see, less is really the more authentic way to go.
2) Ka'anapali Beach
Revel in the three miles of white sand at Ka'anapali Beach, which is on the west shore of the island. Once named America's best beach, Ka'anapali Beach is also home to luxury hotels, shops, and restaurants. Visit the open-air Whalers Village to shop or learn more about whales at the whaling museum. Though it's a bit touristy, do not miss the nightly cliff-diving ceremony at Puu Kekaa, or Black Rock. A reenactment of King Kahekil takes place with a diver lighting up the cliff with torches, then jumping off. Limited parking is perhaps one of the only drawbacks of visiting Ka'anapali Beach.
3) Nakalele Blowhole
An impressive rock formation, the Nakalele Blowhole, is known for its eruption of seawater that spurts some 100 feet upward. On the island's northwestern coast, the Nakalele Blowhole is as dangerous as it is impressive, and visitors should be mindful not to get too close to the rocky edge when viewing. Adjacent to the Nakalele Blowhole is Maui's heart-shaped rock, which is just as it sounds. Framing the Maui island, this rock cut out is a perfect photo op.
4) Makena Beach
Another stellar Maui beach, Makena Beach, stretches 2/3 of a mile and is one of the largest undeveloped beaches in Maui. Between two black-lava rock formations, Makena Beach tends to be protected from the wind and tranquil. There are two sections to the beach: Big Beach and Little Beach, and each has its own personality.
Big Beach is larger and is near Wailea, drawing crowds who want a more chilled out beach experience. Little Beach is quite intimate (sometimes so intimate you may see nude beach bathers!) and does not have a lifeguard on duty. Makena Beach is also sometimes referred to as Turtle Town for the great number of green sea turtles, or honu, as they are referred to in Hawaiian.
5) Kamaole Beach Park III
Well, Maui is all about the beaches, after all. Hence we recommend yet another dream-worthy Hawaiian beach, Kamaole Beach Park III, a family-friendly beach with sandy beaches and grassy play areas for the kids. This down-home beach has lifeguards on duty, an outdoor shower area, as well as a small changing area. It's also ADA accessible, making this a wonderful option for people of all abilities. Located in the Kihei south region, it's just another beautiful Hawaiian day at Kamaole Beach.
6) Maui Brewing Company
The largest craft brewing company in Hawaii, a visit to the Maui Brewing Company is the perfect way to end a day in Maui. Though there are two locations on the island of Maui, the brewery tours are offered through the Kihei location. Tours are offered daily starting at 11:30 am, with the last tour running at 4:30 pm. Tours are $15 per person and must be booked ahead of time. Famous Maui Brewing Company beers include great names such as Bikini Blonde, the Big Swell, Pau Hana, and Sunshine Girl.
7) Wailea Beach
Wailea Beach in Kihei continues to be awarded one of the world's best beaches, which is reason alone to get yourself there. With a shoreline of golden sands, Wailea Beach has sights of Kaho'olawe, Molokini, Lana'i, and it is possible to see whales from here in the winter months. Surrounded by resorts, you certainly won't be the only one enjoying Wailea Beach. However, the sheer perfectness of this beach means you probably won't mind. The beach is well maintained and includes a paved walking path from side to side, and it has free parking, which is always a win.
8) Maui Swap Meet 
If you can't resist a second-hand deal, head to Maui Swap Meet, which has been meeting each Saturday since 1981. Held in the parking lot of University of Hawaii Maui College, expect to find fresh fruit and veg, beautiful hand-cut flowers, artisanal goods, and thrift items. Though the swap is currently suspended due to Covid, it's only a matter of time until the Maui locals are back out hocking their goods.
9) Kapalua Coastal Trail
The Kapalua Coastal Trail is 1.75 miles one way, 3.5 miles round-trip, making it an approachable hike. The hike runs from the south end of Kapalua Bay and ends at D.T. Fleming Beach, and is open from sunrise to sunset. Though not extreme in length, the beauty of the trail is unrivaled, covering lava fields, oceanside views, and wilderness. Undoubtedly, you will also traverse through some touristy, built-up areas. Of course, before embarking on any adventure, let someone know where you are headed, and be sure to pack water and snacks.
10) Haleakala Crater
The Haleakala Crater, within the Haleakalā National Park, offers breathtaking views of the Maui Central Valley. Formed by volcanic activity, the Haleakala Crater now lies dormant, but that doesn't mean she couldn't again erupt. Visitors flock to the Haleakala Crater for the special sunrise viewing, which has been sacred with the native Hawaiian people for hundreds of years. You'll need a reservation to see the sun from Haleakala Crater, which can be made on the National Park Service site below. You should also be warned, a trip to Haleakala Crater is not for the faint of heart; the altitude is some 10,000 feet and mornings are often chilly.
11) Honolua Bay
Honolua Bay is the place to be if you want to snorkel or dive in Maui. Because it is part of a Marine Life Conservation District, the chance to see marine life is higher than in unprotected areas. The most popular spot for surfers in Maui, Honolua Bay, has iconic waves that can be tricky to navigate. This beach is rocky, hence, not a sunbathing spot, but there's plenty of other choice places to go if you simply want to get your Hawaii tan.
12) Napili Beach
Some say Napili Beach is the most beautiful in all of Maui. You can decide for yourself with a visit to this pristine beach with turquoise waters. Part of West Maui, Napili Beach is small but vibrant with marine life such as turtles, convict tang fish, and Moorish idol fish. Another great beach for snorkeling, Napili Beach also has a full range of amenities, including bathrooms, showers, and parking. Check out the Sea House Restaurant for great eats and stunning views.
13) Wai'anapanapa State Park

122 acres of lush greenery awaits you at Wai'anapanapa State Park. Located in Hana, Wai'anapanapa State Park is punctuated by ocean views with a rocky coastline. If you're itching to see black sand beaches, Wai'anapanapa State Park is the place to do it. Though this isn't the best place to go swimming, if you're looking for a hike or even an easy walk, you'll find it here. You can also do some self-study of marine ecosystems at Wai'anapanapa State Park with a number of anchialine pools, which are small landlocked pools with a connection to the ocean, often swimming with small marine life.
14) Punakea Palms
Hawaii is nearly synonymous with coconuts, and a trip to Punakea Palms will fulfill your need to taste some fresh coconuts. This coconut farm in Lahaina is a really cool way to learn more about the coconut fruit brought to Hawaii from Polynesia. Take a farm tasting tour and learn about all that goes on at a working coconut farm. Then take home fresh and locally made products from Punakea Palms, the perfect souvenir from your Maui adventures.
15) Lahaina Front Street
It's time to go to town in Lahaina, and Lahaina Front Street is a thriving section of the area to visit. Come for a stroll, plan on sitting down for a meal, or do some shopping at Lahaina Front Street. Though it may appear to be a tourist trap on the surface, in truth, Lahaina Front Street has operated as a bustling community center for Lahaina throughout the years. Check out the West Harbor of Maui, peruse some art galleries, or head out on the town for nightlife, all accessible on Lahaina's hopping Front Street.
16) Makai Glass Maui
To experience some of Maui's finest homegrown art, head to Makai Glass Maui. Known for incredible glass-blown art that is inspired by the natural surroundings of Maui, Makai Glass Maui is worth stepping in to see, even if buying isn't on your agenda (or budget!). Watch glassblowers at work, and feel free to ask questions of the friendly staff on hand.
17) Pipiwai Trail
The Pipiwai Trail leads to the Waimoku Falls and is one of Maui's most scenic hikes. Winding through an awe-inspiring trail of bamboo forests, you'll feel as though you've stepped into another dimension. A total of 1.8 miles long, the Pipiwai Trail passes by lush greenery, waterfalls and pools, and the stunning Waimoku Falls. Because this trail is so spectacular, just be aware that you may have to contend with other hikers on the path. This doesn't mean you should miss this opportunity to see Maui's nature at its finest.
18) Maui Arts & Cultural Center
Live like a local and enjoy the art scene of Maui at Maui Arts & Cultural Center. Home to events that span from dance to film, Maui Arts & Cultural Center continues to operate during the pandemic. The center's initiative, "Celebrate Hawai'i," helps to support and celebrate local Hawaiian artists. Upcoming events can be found on the website by filtering what type of experience and the date you are looking to attend on.
19) Molokini Crater
Molokini Crater sits like a crescent moon off of the south coast of Maui. A favorite spot to visit by snorkelers, Molokini Crater is what is left from an eruption some 23,000 years ago! You can only access the crater by boat, and boats leave from Makena and Kihei Boat Ramp as well as the main port of Maalaea Harbor. There are eight dive spots at Molokini Crater, and the area is also a wonderful location to do some whale watching.
20) Old Lahaina Luau
Sure it's a little bit touristy, but if you miss the opportunity to experience a traditional hula and feast, you'll really be regretful. The Old Lahaina Lua is a complete experience of dancing and music, and food. Though the entry is quite hefty ($119.79 for adults; $78.12 for kids 3-12), it really is worth making this one of your most meaningful nights out in Maui.
The ceremony itself is authentic and sticks to Lu'au tradition. The business has won numerous awards for not only food but also for the best Lu'au in all of Hawaii.
Conclusion
Beachy, inviting, and lush, Maui epitomizes the beauty of the Hawaiian islands. With so much to love and so many things to do in Maui, you're sure to find yourself richer after your time on the Valley Isle. With this list of beaches, parks, art galleries, and farm tours, you're ready to set sail to your tropical dream. Get ready for Hawaii with this list of things to do in Maui!
SEE MORE POSTS