Looking for the best places to stay on the big island of Hawaii? Better yet, how do you decide to stay in only one place while visiting the big island of Hawaii? Did you know you can split up your stay with 3 nights say at Waikoloa Village and 3 nights at Ocean View? Or did you know that the big island of Hawaii has many activities and opportunities to explore? Or that you would have to schedule a three-month stay just to barely cover them all?
We all know that the islands of Hawaii are a string of volcanic isles. However, it's the single island of Hawaii that shows expansive growth each year accumulating more landmass. If you'd like to get a closer look the two active volcanos are Mauna Loa and Kilauea. If you'd like to wander towards the more lush territory and wake up to waterfalls every day. We suggest checking out Rainbow Falls (Waiānuenue) in the little town of Hilo.
Knowing where to begin and end on the big island of Hawaii is the tricky part. However, we hope you'll seek adventure by staying in the various guesthouses and camping cabanas. Don't forget about the retreats, villages, and inns. You will even come across plantations and ranch houses. We will have an incredible list of places you should stay to experience an authentic Hawaii adventure.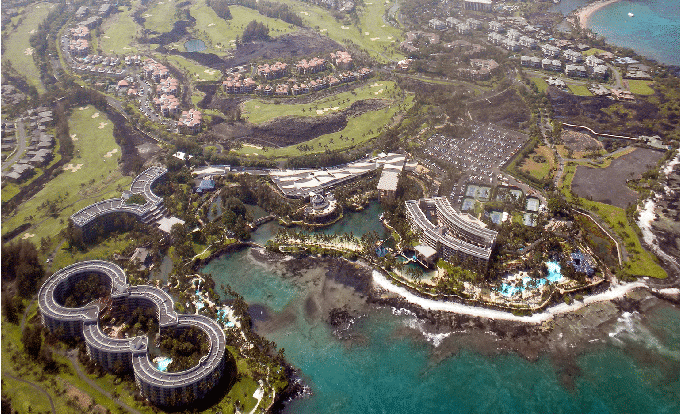 See Also: Top ten things to do in Kona Hawaii
1. Hamakua Guesthouse and Camping Cabana
Looking for modest and authentic Hawaiian adventure? You'll save big on renting a guesthouse or a camping cabana for the night. Most 1-night rentals go for $51-$71 on average and you'll be less than 20 miles away from the Hilo Airport. This off-the-grid spacious retreat guesthouse also makes way for glamping cabanas! Surrounded by lush green scenery and nearby trails mean you won't want to leave this place anytime soon.
2. Volcano Rainforest Retreat
You read that correctly. How would you like to stay in a room comfortably nestled in a Hawaiian rainforest? The Bed & Breakfast accommodation comes in at a nearly 5/5 rating. Even better the retreat looks as gorgeous as its name. Owners Peter and Kathleen Golden found the perfect place for an ideal magical getaway. Recharge and retreating to a Japanese inspired rental lodging where you can forget about the rest of the world. Instead, bask in the massage service and public Japanese bathhouses readily available.
3. Gingerhill Farm Retreat
Are you ready to awaken your inner goddess? Only Gingerhill Farm has the Awake Goddess Retreat! If your idea of a retreat is being with like-minded individuals? Who works with wellness and nourishing the grounds, you're in luck! This farm-based community welcomes members and newly arrived guests to join their journey. All the while wandering through the mystical botanical forest. Gingerhill mixes a combination of personal retreat with simplistic rentals and luxurious accommodations. It simply depends on what you want!
4. At The Crater's Edge
What else could you expect from the big island of Hawaii? Canopy beds, a hot tub, and tropical garden… paradise will be at your fingertips. Check out their list of favorite activities around the area and even witness the Hawaii Photo Tour with photographers Ken and Mary Goodrich. This lodging is one of the big islands of Hawaii's most luxurious spots. You'll have your choice between the Haiku Garden, Jade Garden, or Rainforest Spa.
5. Hale Ohia Cottages
Now it wouldn't be a full out secluded retreat without finding the big island of Hawaii's best cottages! Nonetheless, Hale Ohia Cottages look like small cabins situated among the trees. You may even take a double-take before noticing how quaint they are.  You'll feel-at-home upon seeing these free-standing cottages. Since 1931 Hale Ohia's guest cottages have been built within a natural botanical garden to radiate serenity and peace.
6. Ka'awa Loa Plantation
Here's a relaxing getaway! The Ka'awa Loa Plantation is located on a coffee and fruit farm. Hints the name! Even better if you're a coffee enthusiast you'll be in the middle of the Kona Coffee Belt landscape. Five-acres is dedicated to an oceanfront view as well. All the while you'll be sitting above Kealakekua Bay in this part of the big island of Hawaii. Start your day with their daily breakfast menu and start venturing out to shop. Then go snorkeling or even better just relax at the beach.
7. Jacaranda Inn
Go ahead and flip through the Inn's available photos! You'll spot a jacuzzi style bathtub enveloped in a rich royal purple interior… what's not to love. This high scale Inn is located on a historic plantation! The hidden gem to Waimea is this fine romantic destination. And wouldn't you know the town of Waimea is a huge dining area too? If that's not your expectation, how about knowing that Mauna Kea Golf Course is only a short drive away.
8. Lalamilo Bungalow
Let's stick around the Waimea area to discover more. For instance, if a bungalow was not on your radar of places to stay, this one will change your mind. Located on the Kohala Coast ready to catch all of those beautiful sunsets and sunrises. If you're traveling with several people this is an excellent location. Not only will you be close to sightseeing adventures but, you'll be near to many attractions the big island of Hawaii has to offer. Essentially the Lalamilo Bungalow could be referred to as the ultimate family vacation suite.
9. Hawaiian Sanctuary Retreat Center
Okay, let's introduce the best and most fantastic retreat center on the big island of Hawaii. The spirit of Aloha is felt and embraced here. This is an eco-friendly retreat option where the getting back to the basics is applied. What we love about this location is the several options available. Either apply for an internship or hold your retreat group visit. Maybe become part of a retreat group, or attend classes held at the center. No matter what this is a place to become balanced and recharge before going back to daily life.
10. Hilo Seaside Hotel
We haven't mentioned too many hotels but this one is a dime in a dozen! This hotel is run by a family, so you can expect family-friendly events. The Hilo Seaside Hotel is close to the International Airport and Pacific Tsunami Museum. All of these outings are exhilarating to take the kids and find what Hawaii has to offer. Learn about the history and even go for a swim in the hotel's outdoor pool.
11. Dragonfly Ranch
Imagine staying in a whimsical ranch that feels as if you've escaped to another planet. That's the Dragonfly Ranch in a nutshell. An added plus, the ranch was voted as the number 1 best Bed and Breakfast on the big island of Hawaii. The care-free nature with eco treehouse rooms makes this ranch an experience to be held! Truly the Dragonfly Ranch is equipped with so many activities it's hard to share them all. A few include exploring a labyrinth, seeing sild dolphins, and a grand yoga space.
12. Kohala Village HUB
Want to get away from the upscale modern interior and try an old school style? Kohala Village has exactly what you could expect. Located in the town of Hawi, you'll be a short skip to the numerous art galleries surrounding the area. Across 6-acres of land, a family has the advantage to dig into arts, culture, and ecology education provided by the HUB.
13. Mauna Kea Beach Hotel, Autograph Collection
This is easily one of the most expensive places on the big island of Hawaii. Yet, we had to include it for a few reasons. If you're looking for the full package with golf, pool, wedding receptions included, this is the place! Mauna Kea Beach is known for its white sandy beach. Or play a round of couples tennis next to the crashing waves. This 5-star hotel goes out of its way to cherish the luxury of life. No matter what time of year you visit expect a lovely 75-degree enchanting atmosphere.
14. Hawaiian Oasis Bed & Breakfast Inn
Noticed that the big island of Hawaii has many bed and breakfasts to choose from? This bed and breakfast revolve around all things tropical. From tropical decor to room-settings, an oasis of paradise is always in view. Near Kailua-Kona located in a serene quiet neighborhood, you'll be able to mingle with locals. Interestingly enough, Hawaiian Oasis is known for embodying the old version of glamourous Hawaii.