Warning
: DOMElement::setAttribute(): ID wpgmza_tolls_214 already defined in
/home/sweetspi/exploreist.com/wp-content/plugins/wp-google-maps-pro/includes/class.directions-box.php
on line
126
Welcome to Kona Hawaii and its gorgeous setting nestled with white sands and walking paths to provide you with many hours of recreation that will cost you nothing or minimal fees to experience all the area has to offer.
The Kona District stretches over two-thirds of the West side of the Island of Hawaii nestled just south of Anaehoomalu Bay (Waikoloa Beach Resort) to Manuka Park (Kau). Historically King Kamehameha spent his final years in Kailua-Kona.
Enjoy historical places, including the Ahuena Heiau, Mokuaikaua Church, and Hulihee Palace. As a considerable part of history, Captain James Cook landed in the area in 1778, where he perished.
Plan to sail, snorkel, and swim to spot regions of honu/green sea turtles and dolphins. Enjoy a delicious cup of 100% Kona coffee in a colder area to towns such as Holualoa for a unique beverage experience!
Set out on foot in many areas to hike through its sandy shores or enjoy its beautiful waterfalls and streams. Whether you seek seclusion or history, this is your spot!
Please enjoy this list of 20 things to do in Kona Hawaii for free.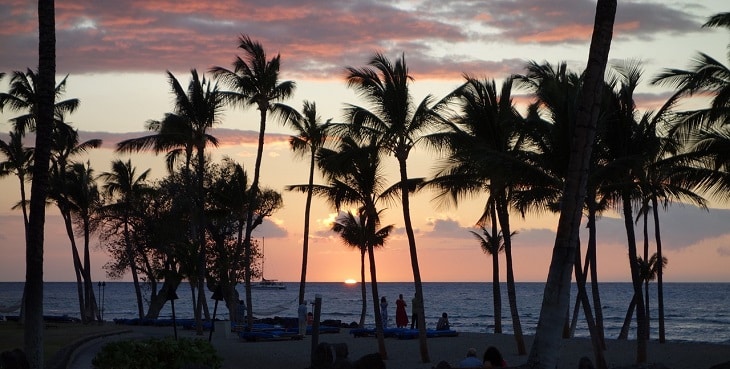 1. Saddle Road
Enjoy breathtaking views provided in this area, but you should use caution in some areas when the fog sets in while on the narrow paths. It is one of the excellent 'Traveler's Choices™ for 2020.'
You will travel through 54 miles of pure adventure while passing rolling pastures, dried lava flows, and lush rainforests. Trek the trailheads on one of several hiking trails!
2. Ali'i Drive
This is a super-spot for tons of fun. Have a fabulous shopping experience on the main street of Kona. It's on the western side of the Island of Hawaii, facing the Bay of Kailua. Visit the local churches, souvenir shops, and market spaces.
Visit every third Sunday of the month and enjoy the area where it celebrates a block party – full of vendors selling everything from food to souvenirs of the country's culture!
3. Hawaii Volcanoes National Park
Enjoy an area that encompasses two active volcanoes. You will see trees living through the ashes, Rainbow Falls, steam vents, birds, mountain sheep and goats, giant ferns, and so much more.
Plan your trip, so you will be sure all areas of the park are open. The website will provide you with additional information and possible restrictions.
4. Beach 69 At Waialea Beach
It's a family-friendly setting with its semi-private coves and fine white sand located off the 'beaten path' making it a popular Kona beach setting. Drive past Hapuna down Highway 19, and you will discover a parking area.
Be sure to bring your water and food since it is very secluded. Bring your snorkeling gear for a day of fun and sun.
5. Pololu Valley Lookout
Enjoy a hike down to the Pololu Valley, leading to a gorgeous river, and a black sandy beach. The view is a super romantic spot with its historical significance. Be prepared for the strenuous hike to the cliffs' base, and it's not recommended for swimming.
Be sure to bring plenty of supplies for this secluded trek and have a blast!
6. 'Akaka Falls State Park
The park is open 24 hours and requires zero admission. It is located just northwest of Hili in a densely populated forest area along the Hamakua Coast, featuring 'Akaka Falls and Kahuna Falls.
Be prepared for a strenuous hike to the waterfalls, but the walks are worth it and place you in a spot of 'heaven' in under 30 minutes.
7. Kealakekua Bay State Historical Park
If you are craving a journey of scuba diving and snorkeling, you have found the spot! Its free admission gives you an incentive to visit in its beautiful location just 12 miles south of Kona.
It is a Marine Life Conservation District that's also excellent for kayaking. You will see schools of tropical fish and spaces filled with coral. Enjoy one of the picnic areas to relax!
8. La'aloa Bay
You will also hear this beautiful setting called Magic Sands or White Sands Beach. It's also known as Disappearing Sands because of several storms in the area throughout the year that washes the sandy beaches away to the surf.
It has been discovered as a favorite spot for 'experienced locals' who understand its strong surf break. You can enjoy running water, restrooms, and a picnic area nearby at the Pahoehoe Beach County Park.
9. Kona Farmer's Market
You will need food and other items during your adventure while visiting Kona, and this is a must-see while on the Big Island of Hawaii. Purchase a few souvenirs, including Kona coffee, arts & crafts, locally grown produce, and flowers.
That's just for starters! You will love the outdoor setting for a delightful shopping spree. The market is open Wednesday through Sunday from 7 am until 4 pm!
10. Kilauea Point Park
Stop by and enjoy the public beach area, even though it appears you are parking at the Four Seasons. The park is ten miles north of Kona (closeby the Kukio Golf Resort). Enjoy the facilities, views, and calm waters.
The facilities include drinking water, showers, restrooms, and access to a baby stroller (upon availability). Coming from Kona on Route 19, turn left at Kukio Nui Road near Mile Marker 87.
11. Kailua Pier
You will find the pier in the heart of the old Kona town nestled in the old wharf area. Enjoy the shallow – sandy beach; so your children can splash in the waves. Try to get there early, because by 10 am, it will be busy.
They'll provide you with an outdoor shower and bathroom. If you want to splurge, take a tour to get close to whale sharks or snorkel with a pod of spinner dolphins!
12. Maka'eo Walking Path
You will locate the path at the Old Kona Airport State Recreation Area. Take time to indulge in a hike to 'take-in' the beautiful landscapes.
The trail is less than one mile but has no elevation gain, making it an excellent spot for an afternoon walk or early-morning run. You will believe you have walked into a movie set with all of the trails of color you will see!
13. Kona Shopping Village
As you can imagine, the village market houses over 50 retail shops, waterfront restaurants, unique Hawaiian gifts, and jewelry. If you are on a once in a lifetime adventure, you have to see this to believe it!
The village is open from 8 am to 9 pm. Check it out on Facebook for more great ideas.
14. Ala Kahakai National Historic Trail
Visit this fabulous Native Hawaiian culture and natural resource trail established in the year of 2000. Be sure you follow all alerts for the area.
The trail is accessible within four of the National Parks on the Island of Hawaii. It is imperative to hike on trails that are actively managed for your safety. Check the site for more information and enjoy it!
16. Mamalahoa Highway
The Hawaiʻi Belt Road is a new name for the Māmalahoa Highway and consists of Hawaiʻi State Routes 11, 19, and 190 that encircles the Island of Hawaiʻi.
If you enjoy driving a winding yet narrow coastline road, this journey is for you. It begins about four miles north of Hilo stretching out to the Hawaii Tropical Botanical Garden. It's a once in a lifetime sight to see!
17. Kona Coast State Park
The scenic park is located on the main island of Hawaii, offering a beach for your enjoyment. It's also called Kekaha Kai (English label) if you are looking for the park on a map. Regular hours are 7 am until 8 pm from Sunday to Saturday.
It's free, but during the Covid-19 pandemic, the hours are 8 am until 6:45 pm. Enjoy fishing, swimming, hiking, and much more.
18. Ahuena Heiau
You'll be fascinated by this historical – ancient temple that was once used by Hawaiian royalty! It is a reproduction (but exact) and is where King Kamehameha I, called the Great, spent the last five years of his life in this spiritual location.
Its restoration size is only about 1/3 of its original size, but with the help of the Bishop Museum in Honolulu – it stands!
19. St. Michael Archangel Church
You will be amazed at the beauty shown in this Roman Catholic Church, which offers a 'homestyle' atmosphere that will make you feel like part of the family. In good weather, the church provides you with sliding windows for fresh air flow.
It's located in the Trinity Center on the ground floor with handicap access through the 1st-floor elevator. See you there!
20. Mokuaikaua Church
This historical church is the First Christian Church in Hawaii that was founded by Boston missionaries in 1836. It's adjacent to the Hulihe' e Palace and was erected using crushed coral and lava rock with a beautifully featured koa wood interior.
The church also provides a Facebook live stream at 8 am on Sunday; why not tune in for a preview of its beauty!
Conclusion
I hope you have found what you were looking for while reading things to do in Kona Hawaii for free. The state parks, highways, shopping villages, and beaches will show you how to have fun if you are on a low-budget plan or just want to have some fun 'for free!'
Start at one end of the island and travel as long as you like using these suggestions. Always use caution during inclement weather and other situations.
Use social distancing and wear a mask for your health. Most of all, have a wonderful time biking, hiking, or driving your way through Hawaii!