Warning
: DOMElement::setAttribute(): ID wpgmza_tolls_160 already defined in
/home/sweetspi/exploreist.com/wp-content/plugins/wp-google-maps-pro/includes/class.directions-box.php
on line
126
Welcome to Kona Hawaii with its area of history, including the Hulihee Palace, a former vacation home dating back to 1838, or visit the 1800s Mokuaikaua Church, which is Hawaii's oldest Christian Church. Visit the Kaloko-Honokōhau National Historical Park on the Big Island, which was established in 1978 for the protection and preservation of traditional native Hawaiian activities and culture, are a lot of things to do in Kona Hawaii.
You will have three options to experience an Island Breeze Luau, including the Hawaii Loa Luau on the Big Island, Island Breeze Luau on the Big Island, and the Kona Submarine Adventure and Island Breeze. Go snorkeling and swim with the fish or take the Zodiac Raft & Snorkel Adventure (5-Star) with so many more opportunities that it could take a book to include. Have fun and consider this list of "Top Ten Things to do in Kona Hawaii" for your next vacation.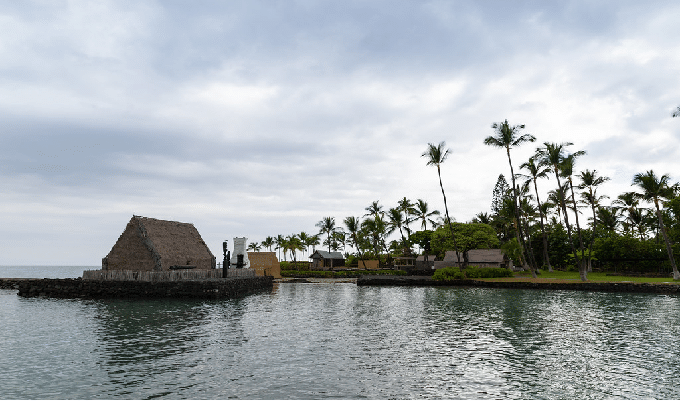 1.Night Manta Ray Adventure Guaranteed
You will want to make this a once in a lifetime opportunity to view the manta rays up close as they feed and interact with other ocean friends under an array of neon lighting. Go snorkeling as the sunsets off the horizon. It is guaranteed, or the next trip is on them! The journey begins between town and the Kona Airport. You'll stop at the beautiful Honokohau Marina & Small Boat Harbor for a 30-minute break. You will then travel to join the Hang Loose Boat Tours for a two-hour adventure. Enjoy the boat ride, snorkel, and have a blast with the one fee covering admissions to both of the events. This ranks number one on our list of the top ten things to do in Kona Hawaii.
2. Oahu Circle Island
Take time to journey into this beautiful island in a high-roof and climate-controlled tour van. Patrons rave of the 'good times' provided by this tour company. The group size is a minimum of four guests with a maximum of 12, and children six and up are included in the tour. Out of 163 reviews, the Group Tour has received 5 out of 5 stars for excellence. The tour covers Diamond Head, Hanauma Bay, the Halona Blowhole, and the Macadamia Nut Farm Shop. You will also view Kualoa Beach, otherwise known as the "Secret Beach." Stop by the Kahuku Shrimp Truck for a tasty treat; see Sunset Beach – North Shore, Historic Haleiwa, North Shore, and the Dole Pineapple Plantation. This is just for starters. Be sure to bring money for food and souvenirs, a hat, water, sunscreen, and any other items you may need.
3. Manini'owali Beach (Kua Bay)
You will be mesmerized by the big shore break as a backdrop for the body surfing in the area and be in love with the sandy beaches with crystal clear water. You will find super parking spaces and picnic tables, a restroom, and a shower. Unfortunately, it has no shade trees, so bring along an umbrella for some early morning sun, as it's the best time of day. The afternoons become a bit breezy. The beach hours are Sun-Sat – 8:00 AM – 7:00 PM.
Always be aware of dangerous conditions that may exist, such as jellyfish, sharks, and many sea creatures. There is no lifeguard. In the area, you will find over 1,000 restaurants, 49 hotels, and over 1200 nearby attractions to enjoy when it's time to move out of the heat!
4. Ola Brew
It's a wonderful experience if you are 21 or up in age. If you are planning a trip to the area, go to the website and stay posted on the Ola Brew news, special deals, and Brew events! Join the friendly staff for a guided tour daily at 1 PM. Be sure to book in advance to ensure you are ready for your trip. The Ola Tap Room has varied hours throughout the week, so call for details. CNN dedicated the Ola Brew Co. as Travel's 19 Places To Visit In 2019! "For locally-inspired brews, head to Ola Brew Co. Go for the Kona Gold Pineapple Cider or the Watermelon Double IPA, and stay to soak up the community vibe." Their mission is to encourage growth in Hawai'i's agricultural economy by purchasing local ingredients and incorporating them into our beers and ciders. Test it for yourself!
5. Historical Dinner Cruise to Kealakekua Bay
This delightful three-hour cruise will sail you to Captain Cook's Monument as one of the locals share its legends – while you enjoy dinner. Be sure to mention your first cocktail is on the house while you indulge in Hawaiian music with the sunset – sailing back to Kona. Watch for the whales during season and always have the camera ready! You may learn a ton of secrets during the journey when you stop and enjoy the Hawaiian-style hospitality.
6. Snorkel & Dolphin Watch Adventure Aboard A Luxury Catamaran
Grab a few of your travel companions (up to 15) and journey out into the wide open. You can cruise protected sanctuaries of Red Hill. Enjoy a delicious Hawaiian- style BBQ for lunch. Go on a dolphin watch after you receive some basics from the trained lifeguard and crew. Grab a snorkel and jump in for a two-hour journey or relax with a cocktail at the premium cash bar. Bring a towel, but all other necessities are included with the fare already paid. You'll have a 15-foot high dive board and a 20-foot waterslide. You will find shade, three restrooms, and a freshwater shower.
7. Small-Group – Big Island Twilight Volcano & Stargazing
If you are craving a new adventure, hop into one of the four Mercedes vans, with each one employing a 14 passenger capacity. See the rare black sand beaches and walk through a lave tube, or visit the fabulous Volcanoes National Park and stargaze near Mauna Kea. Book in advance for your next major event or plan a wedding. Larger groups can be handled by a sister company. You are also offered a complimentary pick-up from the major West Hawaii hotels and resorts, but give us a call to work out the details. When you book the tour, request vegan and vegetarian if desired for your lunch and dinner selections.
8. Island Breeze Luau
Hawaii would not be complete without seeing a luau on the shores of the Kaakahonu Bay and the historical Courtyard Marriott. The experience was awarded the Certificate of Excellence, voted the best since 2000, including a fun-filled evening with authentic and delicious food and Island entertainment. Highlights include preliminary arts and crafts where you have a chance to meet the performers, the re-enactment of the arrival of Kamehameha I aboard an outrigger canoe, the unearthing of the imu (underground oven), a 22-dish buffet, an open bar, and the finale of the Siva Afi – spectacular Samoan Fireknife dance.
9. Small-Group Waipio Valley & Waterfalls Adventure
For a day of adventure, you'll enjoy this excellent opportunity to take a guided tour, choosing from three starting options, or you could also be picked up, but call for the details. You will begin with a 2-hour stop at Waipi'o Valley, where you will see a shallow river stream passing through taro fields surrounded by its native fauna and flora. Next, enjoy a ten minute stop at the gorgeous Hiilawa Falls before traveling for a 40-minute stop at the Akaka Falls State Park. Enjoy an hour visit at both the Onomea Bay and OK Farms Hawai'i to view various spice trees and taste Hawaiian coffee, local exotic fruit, and macadamia nuts! You won't want to miss a second! You'll be provided with rain gear, bottled water, lunch, snacks, with all taxes, fees, and handling charges covered in your booking fees.
10. Kona Kozy's Comedy & Magic Show
Stop by and be entertained if you want to enjoy a "World Class Comic Magician" who has 38 years of experience as a headline producer and performer. He has acclaimed TV credits included on ABC, NBC, CBS, Showtime, HBO, The Late Show, The Tonight Show, Comedy Central, VH1, and MTV. He's so talented that every show is a unique performance. He blends the magic by using history philosophy, psychology, science, and art together. You are invited to call or purchase your tickets online in advance. The club is open at 8 PM seven nights per week. You will not want to miss this great comedy and magic show at Kozy's Tiki Palace!
Conclusion
This concludes our list of the top ten things to do in Kona Hawaii. Take a few minutes and decide which delightful journey you will make when you visit the area. Whether you love the adventuresome outdoor activities in the water or on the sand, you'll find a piece of heaven you never knew existed in the 'real' world. Swim with the fish, enjoy the Hawaiian cuisine, with its delicious tropical beverages and desserts. Take a tour of one of its local breweries, museums, visit the nature and parks, sights and landmarks. Grab a piece of the Hawaiian fun and games or a piece of its nightlife. Go home with the heavenly thoughts of your once in a lifetime adventure!