20 BEST Things to do in Chicago, IL [2022 UPDATED]
By

Marina Yoveva
Chicago is about as American of a city as you can get. The third-largest city in the United States, it is known for its patchwork-style neighborhoods of people from around the world. Though Chicago sometimes takes on a bad reputation of 1920s gangsters and violence, this working-class city also has incredible museums, spectacular views of Lake Michigan, and an unrivaled food scene.
In short, there are more than enough reasons to love The Windy City, whose locals are as genuine and willing to lend a hand as any. Whether you've come for a quick weekend or are considering a move to this Midwestern metropolis, dig in to learn more about all there is to do. Read on to discover the wonderful things to do in this beautiful city!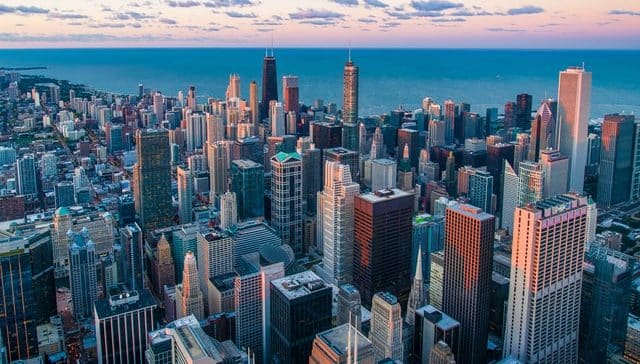 1) The Art Institute of Chicago
A world-class art museum, The Art Institute of Chicago, downtown Michigan Avenue is home to an incredible collection of big-name artists such as Georgia O'Keefe, Claude Monet, Vincent Van Gogh, and Diego Rivera. The permanent collection also holds exhibits from ancient cultures, architecture, miniatures, and woodblock prints, to name just a few.
The Art Institute grounds are gorgeous to walk around in the summertime or early fall and connect to Millennium Park, one of the most beloved parks in this city. As the situation continues to change, please check ahead of time to see if the museum is open and the current operating hours.
2) Cloud Gate in Millennium Park 
While you're downtown visiting The Art Institute, mosey on over to Cloud Gate, or "The Bean," as locals know it in Millennium Park. This surreal, bean-like structure designed by Anish Kapoor is one of the number one photographed areas in Chicago for a good reason.
The metallic, larger-than-life sculpture reflects the city's skyline and makes for a great place for selfies. Go inside the bean to see yourself reflected from every angle, along with the throng of tourists who come annually from around the world.
3) Millennium Park
Because you're already there, explore the heart of downtown Chicago and walk the grounds of Millennium Park. Jutting up against Lake Michigan, check out the Pritzker Pavilion, which hosts a range of free concerts in the summer, then walk over the silver, snake-like bridge that connects to more green space and Maggie Daley Park, a dreamland for children.
Even in the winter, there's something to do at Millennium Park, which has two ice skating areas that operate at specific times.
4) Chicago River Boat Architectural Tour 
Chicago is known for its unique architecture, which spans from Neoclassical to Prairie Style. Most famously, it's known for its school of architecture referred to as the Chicago School. It is trademarked by steel-frames for commercial spaces as well as the birth of the skyscraper. It is also the home of famous architect Frank Lloyd Wright. Chicago is a beautiful city and it is clear that there is no shortage of architectural wonder in this city.
This River Boat Architectural Tour is the best way to see the city's highlights, as the waterways of the Chicago River give access to various points in the city. These guides are great and pack a ton of information into every tour.
5) Chicago Cultural Center
Once the public library, the Chicago Cultural Center is an incredible place to spend an hour or two. With the largest Tiffany Glass Dome globally, this lovely center often hosts free events such as free concerts during the lunch hour. This Cultural Center also has some small, free displays throughout the building, such as art exhibits. Though Covid has impeded on the Cultural Center's ability to be open, be sure to hit this free gem up as soon as it does.
6) Navy Pier 
Navy Pier can absolutely be a tourist trap, but there are some real reasons to visit if you know what to look for. Stretching out into Lake Michigan, it is one of the best places to get a view of the city as well as the lake. The best way to do this is by taking a trip on the Ferris wheel, which stretches 200 feet into the sky.
Chicago is actually where the original Ferris wheel was presented at the Columbia Exposition in 1893, making every ride a bit more special. While at Navy Pier, check out the Crystal Gardens, a free, one-acre indoor botanical garden that helps to take the bite off a cold Chicago day.
7) Lincoln Park Zoo 
The Lincoln Park Zoo is another free attraction, meaning the price is right. An extensive zoo checks out the 35-acres of wildlife and the nearby Lincoln Park Conservatory, which sits on the outside of the zoo's entrance. The fourth oldest zoo in the United States, Lincoln Park Zoo, is situated in beautiful Lincoln Park, which is great for an upscale bite to eat as you stroll through one of the city's wealthiest neighborhoods.
8) Chicago History Museum
Also nestled in the Lincoln Park neighborhood is the Chicago History Museum. With so much history to cover, this museum gives depth and breadth to the current city, including different immigration trends, black migration from the South to Chicago, and prominent historical figures.
Check out the current online exhibits (the museum is temporarily closed) such as the Sun Time's photography collection or Touring Chicago's Culinary History.
9) The Green Mill 
If you want to listen to some of the classiest jazz acts in Chicago, head to The Green Mill. Famously frequented by mobsters such as Al Capone and stars such as Billie Holiday have graced The Green Mill's stage. It's a cocktail bar in the truest sense, dark and intimate, yet it's this ambiance that makes the music come alive. Unfortunately, The Green Mill is currently closed due to Covid restrictions. Please call to double-check as restrictions change frequently.
10) University of Chicago 
The University of Chicago, in the southern Hyde Park neighborhood, is an Ivy-league school in the Midwest. The stunning, Gothic architecture gives the aesthetic sense that it is worth a trip to the campus.
Perhaps fall is the loveliest time to visit the University of Chicago when the leaves are at their peak. Walk the grounds and be sure to check out some highlights of the campus, including Rockefeller Chapel, the Robie House, and The Oriental Museum.
11) Promontory Point 
Also on the south lakeside is Promontory Point, a man-made peninsula that juts into Lake Michigan. Locals love to come to walk along the lakeshore here and unwind from the city. Promontory Point, part of Burnham Park's 600 acres, was part of an initiative to transform Jackson Park into The White City during the 1893 Columbian Exposition. Both Daniel H. Burnham (who the park is named after) and Promontory Point designer, Alfred Caldwell, were major architects of their time, and their legacy continues to live on through these green spaces.
12) Devon Avenue 
On the northside of the city lies Devon Avenue, known as "Little India" by many. It has given the vast numbers of Indian grocery stores, restaurants, and sari shops. To be specific, the area is between Damen and California (Chicago streets run on a grid system, and the same street can run for miles in either direction) and in the West Ridge neighborhood.
Not only home to many Southeast Asians, but Devon Avenue also has a mix of Orthodox Jews, Assyrians, Russians, and Pakistani-Americans. Basically, it's a good place to chow down on food and to witness the melting pot that Chicago truly is.
13) Loyola Beach 
On the north side of the city, Loyola Beach is a quieter but worthy beach to visit. Unlike some of the more popular beach spots along Chicago's lakeshore, such as Montrose or North Avenue Beach, Loyola Beach has more of a neighborhood vibe.
Like all Chicago beaches, it is possible to swim in the summer months; however, a huge portion of Chicago's year is snow-filled. Even in the winter, it is worth visiting to see large ice chunks that were once waves crashed upon the shore.
14) Chicago Children's Museum 
In the Navy Pier complex, the Chicago Children's Museum is a wonderful way to spend an afternoon with small children. Hands-on activities create opportunities to learn through play, with exhibits such as the Dinosaur Excavation exhibit and a firehouse-themed Play it Safe exhibit.
Though the museum is currently closed, the Chicago Children's Museum is working hard to create online resources for families during this time. Log on to their website to see Recipes for Play, a Parenting Playbook to help parents, and a special focus on children's book, The Skin You Live In by Michael Tyler, to discuss race.
15) Chicago Botanic Garden
The Botanic Garden is not technically in Chicago but in the northern suburb of Glencoe. Open daily, the Chicago Botanic Garden has an impressive range of gardens, from a Japanese garden to a fruit and vegetable garden.
The website keeps a running list of what's in bloom, and even in winter months, this Botanic Garden can be a necessary escape from the hustle and bustle. Admission is free; however, parking is at a cost per car.
16) Museum of Science and Industry 
The Museum of Science and Industry is a museum to the max, so get ready to get your brain in gear, and wear your tennis shoes when you head to this world-class collection. Located in the southern Hyde Park neighborhood, you may feel as though you've almost left Chicago by the time you reach your destination.
In truth, you've just arrived, and prepare to be amazed by the sparkling exhibits that include a U-505 submarine, flight simulator, and a fairy castle. Great for the young or old, put the Museum of Science and Industry on your itinerary.
17) Shedd Aquarium 
The Shedd Aquarium is located on Museum Campus in the South Loop of Chicago and is another of this city's museum musts. Highlights of the museum include the Caribbean Reef, Polar Play Zone, and a chance to see sea lions, sharks, and beluga whales up close.
Like all Chicago museums, the Shedd Aquarium is currently closed due to Covid but plans to return as soon as possible. Check out Shedd's website to see virtual animal encounters and find virtual activities for families.
18) Garfield Park Conservatory 
Certainly, off most tourists' beaten path, the Garfield Park Conservatory, located in the West Garfield neighborhood, is a botanic wonder. This totally free conservatory feels like a trip to the tropics amidst a Chicago winter, with special rooms such as a lush fern room or the arid dessert room.
Be prepared to bring your sketchbook or camera, as the Garfield Park Conservatory is an inspiration for any artist. Also, keep your eyes out for wandering turtles who have made their home at the conservatory.
19) Frank Lloyd Home and Studio
Frank Lloyd Wright was an architectural genius and a bit of an eccentric as well. There's a celebration throughout all of Chicago and the Midwest to his name. However, the near-Western suburb of Oak Park was where he once made his studio and home. Take a tour of both with a knowledgeable docent through the Frank Lloyd Wright Trust. Then walk through the quaint streets of Oak Park with a guided map to see many of Lloyd Wright's homes, which are still lived in today.
20) Rosa's Blues Lounge 
If you want to experience real Chicago blues, don't head to Lincoln Park's Kingston Mines, head to a lesser-known spot called Rosa's Blues Lounge. This is as authentic as it gets; make small talk, and the staff at Rosa's will remember your name. They also have a stellar weekly line-up of blues musicians who keep the spirit of Chicago blues alive.
Conclusion
Chicago offers delights and surprises at every turn, including intellectual museums, culinary adventures, and beautiful green spaces. A gritty city with a whole lot of heart, Chicago can hardly be seen in just one trip. Put these things to do in Chicago on your list for your Midwestern vacation, and get ready for all the Windy City has to offer!
SEE MORE POSTS