20 BEST Things to do in Baltimore [2022 UPDATED]
By

Marina Yoveva
Baltimore, Maryland, is a vibrant coastal city with a deep history. The largest city in Maryland, Baltimore always has something to do. From fresh fish and crabs to the largest collection of free Matisse paintings in the world, Baltimore is made of delightful surprises. A non-stop city, everyone will find something to love about Baltimore. Check out an ongoing events list, world-class museums, or the great outdoors when you visit Boston. We've made it easy to discover all the things to do in Baltimore with this top round-up of activities in the area. Read on to explore all there is to do when visiting beautiful Baltimore!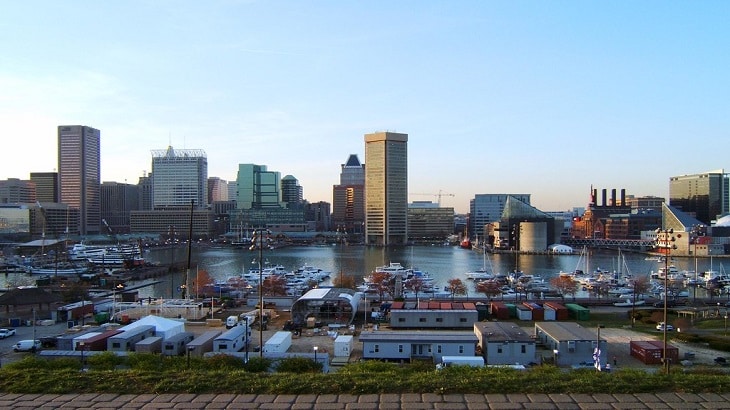 1) Fell's Point
Fell's Point is a historic and hip neighborhood, known for trendy cafes, bars, and restaurants. If you're looking to experience Chesapeake Bay crap and oysters, this is the place to do it, with restaurants like Rip Tide and Thames Street Oyster House serving up the freshest seafood possible. Local shops and galleries line the streets of Fell's Point, which runs parallel to Baltimore's Promenade Harbor Walkway. This area was once a shipbuilding port and includes the first African American-owned shipyard in the country.
2) Oriole Park at Camden Yards
Oriole Park at Camden Yards is one of the first "retro" major league ballparks and is home to the MLB team, the Baltimore Orioles. Located in downtown Baltimore, Oriole Park is just two blocks from the birthplace of baseball's most legendary hero, Babe Ruth. The stadium is surrounded by local eats and pubs on Eutaw Street, making it an all-day affair when you visit. Catch a game or a tour, which begins in April on non-game days.
3) National Aquarium 
Baltimore is the perfect place to learn more about aquatic life, as it's in living connection to the ocean. Located in the Inner Harbor area of downtown Baltimore, the National Aquarium provides the opportunity to come up close and personal with 20,000 different marine fish and animals. Award-winning exhibits like the Atlantic Coral Reef and the hands-on Living Seashore exhibit are stand-outs here. Adult tickets run for $39.95, and children are $29.95.
4) The Walters Art Museum
The Walters Art Museum is a public art museum with some 36,000 objects of art from around the world. The rich permanent collection includes 19th century European and American art, and the museum continually hosts events that span from lectures to family-focused programming. Ever-expanding, The Walters Art Museum has most recently acquired a contemporary vase with Frederick Douglass on it, as well as a 16th-century book of Finland's Saami people.
5) Historic Ships in Baltimore
Historic Ships in Baltimore is home to USS Constellation, the last sail-only warship created by the US Navy. Get a true feel for this ship as you step aboard the USS Constellation, as well as multiple other ships, and the Seven Foot Knoll Lighthouse. The ships are all docked in the Inner Harbor, and a standard Boarding Pass entitles you to visit all seven ships, valid until all ships are visited. In the winter months, not all ships are open, so plan accordingly.
6) Edgar Allan Poe's Grave Site and Memorial
Pay tribute to the king of macabre at Edgar Allan Poe's gravesite and memorial, located within the University of Maryland. Poe died a mysterious death at the age of 40, but not before writing such formative works as "The Raven" and "The Tell-Tale Heart." If you come on Poe's birthday, January 19th, keep an eye out for the mysterious "Poe Toaster" who annually leaves three roses and a half bottle of cognac on Poe's grave.
7) B&O Railroad Museum
Railroad fans rejoice at the B&O Railroad Museum, home to historic railroad equipment and unique exhibits celebrating America's past with the railroad industry. A Smithsonian Affiliate, the B&O Railroad Museum is more than just a museum with train rides and an onsite cafe. Known to be the most comprehensive collection of railroad memorabilia in the Western hemisphere, B&O Railroad Museum packs a ton of railroad information in one stop.
8) Little Italy 
Little Italy not only has a long history of Italian immigration to the neighborhood, but it continues to be a living enclave of mostly Italian-American people. Originally from Genoa, and southern Italy, the diaspora of Italians in Baltimore has added a strong culture and rich culture to Baltimore. Of course, this means delicious Italian food, and Little Italy is the place to be for delicious eats like pizza, paninis, and Italian pastries such as freshly-filled cannoli. If you're in Baltimore during the summer months, Little Italy is especially fun with ongoing festivals and events celebrating Italian-American culture.
9) Babe Ruth Birthplace and Museum
Babe Ruth is nearly synonymous with baseball; a legend so big, his name is etched in the mind of generations of baseball-lovers. Head to his birthplace, now turned museum, to learn more about the life of George Herman "Babe" Ruth. The son of a German saloon keeper, Babe's start in the world was anything but easy. However, the baseball icon rose through the challenges of lower-income Baltimore and became beloved internationally. Discover his story here, at the Babe Ruth Birthplace and Museum.
10) Patterson Park Pagoda
This landmark Pagoda was built in 1890 and stands 60-feet tall in Victorian style. The Pagoda is limited in how frequently it is open to the public, however, a visit to see it from the outside is still worth the effort. The park itself is a lovely composition of grassy lawn, a lake, paved walkways, and impressive trees. 137 acres, this urban green space is beloved by locals and tourists alike.
11) Cylburn Arboretum
Another natural gem of the city, the Clyburn Arboretum is an expansive arboretum and garden, open daily except for Mondays. Onsite, walk the three-and-a-half miles of trails, join the Baltimore Bird Club to spot unique birds or take the Mansion Drive Tree Tour. The arboretum can be accessed by car, light rail, or bus, making this oasis accessible to all.
12) American Visionary Art Museum
The American Visionary Art Museum is dedicated to outsider art; artists who are generally self-taught and come from outside of the art world. Revel in the thought-provoking art created by artists who are known for "intuitive artistry" such as farmer/artist Voller Simpson who repurposed "junk" to create art. Annual events include the Kinetic Sculpture Race which features human-powered contraptions.
13) Federal Hill Park
A free attraction in Baltimore, hike up Federal Hill Park to gain some perspective on the city. On the south shore of Inner Harbor, Federal Hill Park is known as a signature Baltimore landmark. This historic site has been used as gathering grounds, as a lookout point, and now, as a place of refuge. For a special treat, head to Federal Hill Park at night to take in the starry view, as well as the harbor below.
14) The Maryland Zoo 
Located in historic Druid Hill Park, the Maryland Zoo is a 135-acre zoo whose aim is to connect humans to animals. Ongoing exhibits and events, like live feedings animal encounters, and field talks help to engage visitors. The zoo has 130 different types of species, originating from different habitats. The Maryland Zoo also has additional attractions such as the Jones Falls Zephyr Train Ride and a carousel, making it a win for families.
15) Ministry of Brewing 
Formerly St. Michael's Church, the Ministry of Brewing is now an eclectic beer hall and brewery. Still keeping in line with the church aesthetic, a stunning portrayal of Jesus floating in the heavens looks down upon you as you sip your cold one. Vaulted ceilings, stained glass windows, and repurposed altar wood throughout the hall elevate your beer experience to heavenly heights.
16) The National Great Blacks in Wax Museum
Sure, any wax museum is a little bit quirky, however, it's fun to see African American culture honored at The National Great Blacks in Wax Museum. Gaze upon formative blacks from different eras, including Islamic Africa, The Underground Railroad, and the Harlem Renaissance. The museum is ever updating and expanding, continually adding notable black figures as they create history.
17) Maryland Science Center 
Another Inner Harbor attraction, the Maryland Science Center has three levels of science-related exhibits as well as a planetarium and observatory. Great for all ages, the Maryland Science Center offers interactive, hands-on exhibits, that make learning come alive. Check out the life-size dinosaur replicas, catch a movie at the IMAX theater, or partake in special programming that occurs daily at the museum.
18) The John Hopkins University
This prominent university is best known for being the first research university in the United States. Founded in 1876, the historic campus is worth strolling just to take in the cultural ambiance the campus provides. Onsite explore multiple museums including the Homewood Museum and the Johns Hopkins Archaeological Museum.
19) Lexington Market 
Lexington Market is a foodie's haven, with food stands, greengrocers, and meat purveyors. Founded in 1782, this ongoing indoor food market is a piece of Baltimore's history. Highlights of the market include Market Seafood where you can score fresh fish, Market Bakery which is best known for its Berger's Cookie, and Garden Produce. The market's current hours are Monday – Saturday from  8 am – 5 pm.
20) Washington Monument
The country's first monument to founding father, George Washington, Washington Monument makes for a great destination. Part of the Mount Vernon neighborhood, the Washington Monument is a landmark in the neighborhood's skyline. Climb the 227 surrounding steps to take in memorable views of the area. Open year-round, be part of 200 years of history when you visit the Washington Monument.
Conclusion
Baltimore is a historic, multilayered city that simply has so much to offer. From quirky art museums to sports attractions, there's no way to be bored in Baltimore. With this list of things to do in Baltimore, you're on your way to an excellent visit to The Monumental City.
SEE MORE POSTS