20 WILD Things to do in Boston at Night [ 2022 UPDATED]
By

Marina Yoveva
Boston is a historic and beautiful city. It boasts countless museums, green spaces, historic buildings, and the Historic Freedom Trail connecting many of these sites. As the most popular and the oldest cities in New England. New York City may have the reputation as "the city that never sleeps", but Boston is truly a twenty-four-hour city! So, you can also do the many fantastic things, you do during the day in Boston at night. If Boston is on your list of places to visit in 2021, abide by State recommended safety procedures for yourself and others. If you do this, then you are sure to find plenty to do in Boston at night. Without Further a do, here are 20 things to do in Boston at night!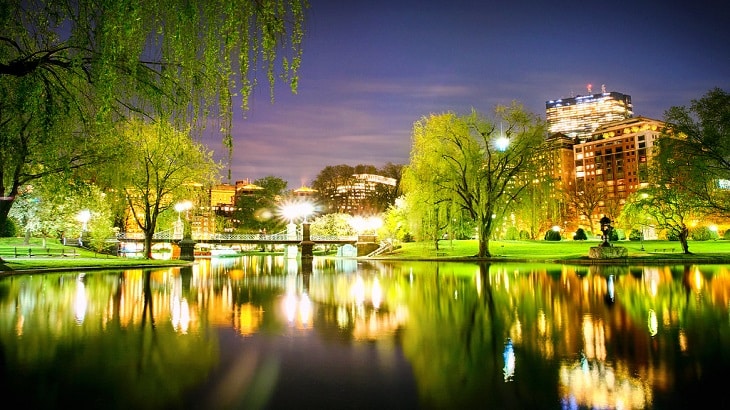 1) See the Stars
Some activities in Boston can only be done at night! This is very true for stargazing, which can only be done when you can see them. Visit the famous Judson B. Coit Observatory on Boston University's campus. Spy distant star systems, trace the constellations, and spy our solar system's planets! The observatory holds a free Public Open Night at the Observatory most Wednesday evenings, starting at 7:30 PM. The event is free, however, due to limited space, you are required to book a ticket which is limited to five per person and minors must be with an adult. Whether it's you, you and your partner, or the whole family, this is the perfect thing to do in Boston at night.
*Unfortunately, due to Covid-19 concerns, Public Open Night(s) at the Observatory is temporarily canceled. However, according to BU Observatory's tweet in January, they hope the vaccine roll-out will "help lift safety restrictions" and that they will "see [us] soon".
2) Take in a Ghost Tour
There are some things that are much better done in Boston at night! The chills and thrills of what haunts historic Boston while guided through the locations is certainly an experience better saved for after dark!
Boston has a history right for haunt seekers of any stripe, can find something that appeals to them. Want to tour of Boston's more gruesome crime sites, or perhaps a haunted brewery is more your speed, or even a haunted pub crawl? You can do all of these and more with several other services too! Enjoy the chills and thrills while you tour historic and haunted Boston at night.
The most well-known of these tours would be the Boston Ghosts and Gravestone Night-Time Trolley Tour. A costumed actor will escort you to Boston's creepiest sites and rely upon you Boston's sordid history.
3) Take in the Dramatic Skyline
Enjoy the unique and dramatically lit skyline of Boston from the 52nd floor of the Prudential Tower! See silhouettes of grand skyscrapers lit up with warm gold glow and glistening off the calm, waters of the Charles River Basin. Boston boasts a mixture of old-world and modern architecture that spans the great city's history. Take that unique blend of tradition and modernity with a bird's eye view and see the beauty of Boston at night.
4) Sip that Boston Brew
Boston's rich nightlife is in part contributed by its many pubs, taverns, and clubs. Whether you like to party hard or relax over a pint, Boston's beer means a great deal to many. But have you ever wondered how it was made? Boston boasts a huge number of breweries, each making a unique and palatable beer. Satisfy your curiosity and your taste buds with the After Hours Brew Tour. Here you can see the operations of several different breweries, taprooms, and distilleries and sample up to 16 craft beers. Complete your night out in Boston with an After Hours Brew Tour.
5) A Boston Pub Crawl

If you're into drinking you would love a pub crawl! Boston Crawling offers three different pub crawls to match the taste and interests of many to-be crawlers. Explore the "Cradle of Liberty" by drinking the same draughts as America's founding fathers with the Independence Crawl. The Independence Crawl will not only take you to the places of Boston's history, but they will also teach you about the effects of alcohol on major Bostonian events! Are you a sports fan? Boston Crawling also offers the Fenway Crawl, tour America's oldest baseball park while learning about its incredible history! Group affairs, not your thing? Book your own private tour!
*Unfortunately, due to Covid, Boston Crawling has temporarily stopped tours. They are optimistic that as the vaccine rolls out they can return to operations soon.
6) Plenty to Drink, but What to Eat? Boston's Best Clam Chowder
When it comes to dining in Boston a few things come to mind; beans, lobster, beer, and, of course, New England clam chowder. Have a bowl of this classic New England dish at America's oldest restaurant. The Union Oyster House has an old-world atmosphere that harkens back to (the good parts of) the era it opened in 1826.
This historic restaurant became a National Historic Landmark in 2003 and boasts clientele worthy of the "Cradle of Liberty". This includes former presidents such as JFK and Barrack Obama. Over the years the Union Oyster House has won several awards for its stellar recipes including, Diner's Choice Award in 2019, and North America's Best Landmark Restaurant in 2020. A classic bowl of clam chowder at ye olde Union Oyster House is a must on your list of things to do in Boston at night.
7) You had Dinner, What about a Show?
New York is often the first place we think of when someone says "Broadway", but Boston has a rich theatre scene. There are many theatres in Boston, but the Citizens' Bank Opera House is a must-visit. Not only does the Boston Opera House host some of the hottest Broadway plays, but it also boasts being "New England's most magnificent theatre. These claims are not unfounded, with lavish seating and balconies, ornate walls, and an extravagant stage that rival even the most famous opera houses in Europe.
Before the curtain even opens, it will transport you to another world! This summer and fall the Boston Opera House will show Anastasia, Tootsie and even Hamilton, a show perfect to see in the "Cradle of Liberty". Visiting this historic theatre is a must while in Boston at night.
8) Have Your Very Own Night at the Museum! The Boston Science Museum
You may not be chased by an animated T-rex skeleton, but you will find plenty of thrills at the Boston Science Museum. Learn about the latest in science and technology. You can walk the Hall of Human Life and learn all about yourself, visit Cliff the Triceratops fossil, and even embark on an "Artic Adventure".
There are many permanent exhibits that will intrigue a variety of interests and featured exhibits that change all the time to ensure no two visits are the same! The Boston Science Museum is open until 9 PM, so this is definitely something you can do in Boston at night.
9) Check Out the Boston Museum of Fine Arts Next
Boston has long been a center of culture and the arts. This isn't only true of performance art, but also the fine arts. Visit the Boston Museum of Fine Arts and admire the various artistic movements from Ancient Egyptian to post-modern! Among their permanent exhibits, you'll find Mummies, the Art of the English Regency, classic European paintings from the renaissance, and much, much more.
Major cultures from around the world display their traditional art including Islamic Cultures, South and Southeast Asian, Pacific Indigenous art, and even the Benin Kingdom art. These are just some of the permanent exhibits. There are also featured exhibits that change from time to time, featuring the best of historical and modern art as well as international and local. Like with the Boston Science Museum, no two visits are the same! Open until 5 PM on Wednesdays and Sundays, you will want to start your night in Boston here.
10) Walk the Historic Freedom Trail
Boston's nickname is the "Cradle of Liberty" for a reason. This is the city that sparked a revolution by protesting the British tea tax, which founded many laws, and where the famed Paul Revere lived. Walk the 2.5 miles guided by a costumed guide and go back to the time of the founding fathers!
Choose from three different tours that suit you best. The "Walk into History" Tour takes you to 11 of the 16 sites along the trail, or take the North End Tour where you are guided through Boston's oldest neighborhoods! If neither of them fits what you wanted, don't fret. You create your own custom tour of the Freedom Trail, highlight the sites you most want.
*Private Tours are still open, but unfortunately due to Covid, the "Walkthrough History" and North End tours are temporary.
11) Tour the Common
Visit America's oldest park and view the beautiful scenery. Centuries ago the Boston Common was the site of revolutionaries meeting in secret, anti-slavery protests and many more historic events that shaped America for the better. Today the Common is both still a place for protests and rallies, but it also is one of Boston's most beautiful green spaces. Watch the sunset beneath a tree or stroll the many walking paths.
View the many statues erected in honor of celebrated revolutionaries, or toss a penny into one of its fountains. You can even go see the beautifully maintained Frog Pond in the calm of night! Much less busy than during the day. If you would like to enjoy nature and history, the Boston Common is a must at night.
12) Take a Nighttime Stroll along with the Public Garden
Established in 1837, the Boston Public Garden is America's oldest botanical garden. So, it's no surprise that it boasts a wide variety of 80 species of plants, including lush weeping willows and an assortment of beautiful flowers. Stroll the winding paths and embrace the Victorian fairy-tale aesthetic found throughout the park!
At night many of the flowers will be closed, but the well-lit paths still guarantee an astounding view. This is the site of many a proposal, both in reality and cinema for a reason. Watch the city lights dance off the lagoon and feel swept up in the magic that can only be found in the Boston Public Garden.
13) Boston Common and Gardens too Crowded? Try the Charles River Esplanade
Boston boasts many green spaces aside from its scenic Garden and Common, including the Charles River Esplanade! These 3-mile riverside trails are as gorgeous at night as it is during the day. This allows for an enchanted stroll on par with the Public Garden without the crowds.
The trails hug the gently sloping riverbanks sheltered by a magnificent diversity of trees. Feel the cool breeze off the rippling river while you walk the trail or stop and literally smell the flowers planted all along the Esplanade. If you are a fan of night-time strolls and picturesque scenery, then this underrated park is made for you! While you are in Boston, you must see the Charles River Esplanade at night.
14) Take Photography Tours of Boston at Night
Boston is full of beautiful sites unique only to it. Whether it's the eclectic fusion of 18th-century cathedrals and skyscrapers, the sprawling green spaces, or the estuaries dotted throughout the city, you will want to capture this on film! These beautiful scenes are only more striking at night, and demand to be photographed. However, many night-time photographs are a talent that is hard to acquire. Don't fret, because you're in luck.
Photowalks Tours hosts Boston Night Photography Tours where you can learn to take stunning photos of the city to capture the experience forever. Choose from the Boston Holiday Lights Tour (if in December) or the China Town and Theatre District Tour to forever capture the lights of the city. Did you have something else in mind? No problem! You can book your own private tour for a photo tour tailored to you! Whichever you chose, this is something you must do in Boston at night.
15) See the Boston at Night from the Water
Boston Harbor is a famous site for both its beauty and its history. Something undeniable once you've seen Boston from the Boston Harbor. View the glistening city reflected in the harbor from a sailing vessel with the Boston City Lights Sail. This is an affordable, safe harbor tour with a touch of romantic whimsy.
Enjoy the salt breeze as you sail the harbor and see bathe in the golden glow refracted from the water and around you. Sail the harbor in the fashion many did before the time of motor yachts and return home with a unique experience. Watching the lights of the city dance on the water while on a sailboat is a must-do in Boston at night.
*Boston Night Cruises will resume in June 2021
16) Take in a Night-Time Tour of the Historic Harvard Campus
Harvard University is the most famous university in America and one of the most famous universities on the planet. No trip to Boston would be complete without a tour of Harvard's sprawling campus! Check out Memorial Hall, with its beautiful Gothic architecture, or the famed Harvard School of Law, or stroll along the Charles River.
Harvard is a school worthy of its fame, not only for its scholastics but also its gorgeous facilities inside and out. From museums, libraries, and a chapel to beautiful green spaces, you'll find everything on this truly massive campus! It's spread out along Cambridge, Enjoy the beauty of Harvard Yard, but whatever you do, don't say "parked the car in Harvard Yard".
17) Nocturnal Shopping? Try the Famous Faneuil Hall Market Place
Shopping at Faneuil Market Place is an experience like no other. Faneuil Market Place, like so many places in Boston, is rich in history and atmosphere. The very first retail shopping carts in America were made here, and immigrant merchants from the world oversold their wares.
Would you like to explore Faneuil and Boston's famed history? No problem! Before or after your shopping excursion, book a tour with Old Towne Trolley Tours! After a night of shopping, are you hungry? There's plenty of restaurants to choose from. You can even get dessert at its many cafés or bakeries. Faneuil Market Place is truly a shopping experience you must have in Boston at night.
18) Scout for Famous Sites Seen in Film
There are so many films that take place in Boston and utilize the city's many iconic fixtures while filming. One such film is Boon Dock Saints, a cult classic film that simply oozes Bostonian stereotypes. The Church of the Covenant, a famous Boston Presbyterian church is featured in the film.
Though it is not a Catholic Church, the Church of the Covenant has many of the architectural features seen in Cathedrals making it a perfect filming location. Outside of film, this is still an operational church and a National Historic Landmark. View the intricate stain-glassed windows and Gothic architecture or sit in the very pews Sean Patrick Flanery and Norman Reedus did.
*Due to Covid, parishioners and tourists alike are not allowed inside the church. However, it is still an amazing sight from the outside.
19) Go "Where Everybody Knows Your Name"
Speaking of film and T.V, how would you like to visit one of the most famous pubs in T.V history? The famous sitcom Cheers takes place in Boston, the set was inspired by an old pub called the Bull & Finch Pub renamed "Cheers on Beacon Hill". It still serves food and drinks inspired by the hit T.V show. Raise a glass at the very bar that inspired 11 seasons of quality TV.
Feel like a burger? Try the Norm Burger, if you can finish it, you can join the Norm Burger Hall of Fame! If you are looking for a dining experience you are sure to never forget, get a drink and enjoy a plate at Cheers on Beacon Hill. A perfect way to respite from an eventful night in Boston.
20) Simply Take a Walk
Boston Harbor holds the majesty of the ocean in a sheltered harbor rich with history and beauty. Enjoy the view from the Boston Harborwalk. Stroll along the boardwalk and see where the Boston Tea Party sparked a revolution, or simply admire this stunning outlet of the Atlantic. Breathe in the salt air and feel the cool breeze while you connect to Boston's lifeblood! Not only does this boardwalk allow you to enjoy Boston's harbor and unique landscape, but along its 43 miles, it connects to 9 beaches and 12 museums, and an assortment of restaurants. Whether you are an admirer of seascapes or simply want an exciting way to explore the city, Boston Harborwalk is a free must-do while in Boston at night.
 CONCLUSION
Boston's nightlife is rich and varied. There is truly something for everyone. Whether you're looking for a history lesson, a scare, excellent food and drinks, a show, site seeing or any mixture of these, you will certainly find what you are looking for in this city! Come to Boston and see all these wonderful things and more. Even if this won't be your first trip to Boston or you are a pandemic weary local, each of these activities will fill your night with excitement. No matter what your interest and budget, you will definitely find countless things to do in Boston at night!