BEST Restaurants in Grand Rapids, Michigan [2022 UPDATED]
By

Marina Yoveva
Are you looking for the best restaurants in Grand Rapids? If yes is your answer, you are in the right place! We know that eating is a huge part of traveling, so we have compiled a list of some of the most famous places to fill the void in your tummy! If you don't want to have a 'hit and miss' kind of experience in finding quality food, then definitely read on.
Dubbed as the Furniture City, Grand Rapids is home to some of the leading furniture companies in the world! But the city isn't just all about furniture; it has earned the title "Beer City, USA" twice because of its many breweries and beer pubs! And where there's quality beer, there's bound to be quality food! So, if you're planning to be, or you're already currently in the city, read on as we'll guide you in finding the best restaurants in Grand Rapids!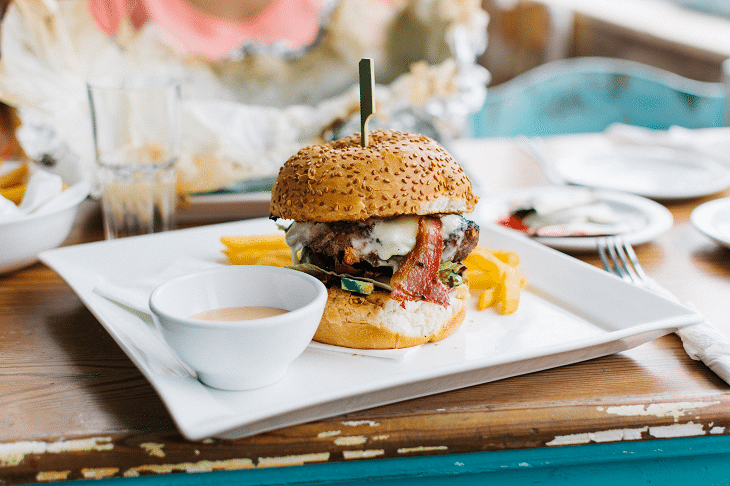 1. Real Food Cafe
Real Food Cafe is definitely one of the best restaurants in Grand Rapids! They've got the food for every type of diner. From vegan options for herbivores to meaty dishes for meat lovers, and everything else in between! They have two branches; one in the Eastern Avenue SE and the other in Plainfield Avenue NE, so you'll get to choose the more convenient location from where you're situated.
2. Butcher's Union
Don't let the name of this restaurant turn you off, because contrary to what their name implies, they also serve vegan meals for veggie lovers! Be sure to head there between 3 pm and 6 pm for a happy hour discount. Of course, you're a die-hard meat lover, the restaurant won't disappoint your appetite for a sumptuous serving of steak.
3. San Chez a Tapaz Bistro
If you're craving for a European, Mediterranean, or Latin American food, San Chez a Tapaz Bistro is the place to be! It isn't just their food that'll make you feel good being in the restaurant; the vibe is decorated in a way that will stimulate your taste for fine and artsy designs. Foody and artsy people will surely enjoy the dining experience here!
4. Wolfgang's Restaurant
Breakfast meal at 9 in the evening? Why not! At Wolfgang's, you can eat your favorite breakfast dish at any time of the day! So if your day and night become topsy-turvy, know that there's an eatery in the city that will always serve breakfast no matter what, making it one of the best restaurants in Grand Rapids!
5. Grove 
When it comes to the finest American contemporary meals, this spot will definitely tickle your fancy. What makes this spot one of the best restaurants in Grand Rapids is the classy ambiance you will get here not forgetting the service and well-crafted meals that will leave your taste buds begging for more. Make a stop to this elegant and enjoy a fine dining experience which will give you a frenzy.
6. Leo's
This is one of the most lively places you can unwind as you enjoy a sumptuous meal and hearty conversations. If you love superb seafood, local American cuisines, and tasty salads, you can never go wrong with this spot where the chefs and waiters work tirelessly to make sure you have just but the best of meals and warm service.
7. The Green Well
Whether it's indoors or the outdoors for a meal setting, this is one of the best restaurants in Grand Rapids to enjoy all that and more. This stylish setting gives you a beautiful unwinding feel as you dig into your delicious meals which come perfectly-done for your enjoyment and replenishing. 
8. The Pit Stop
Talk of the yummiest grilled treats which will leave your mouth watering. Pop into this excellent spot and enjoy some of the most amazing barbequed chicken or beef or even pork which I'm you will have a great tale to tell after that. Even better, you can tag your travel friends to come and enjoy this best restaurant in Grand Rapids.
9. The Chop House – Grand Rapids
Have a wonderful time dining sleek steakhouse which is well known for being one of the finest unwinding spots in Grand Rapids. Take a seat and get served some of the finest steaks blended with a great wine list to wash down your tasty meals. If you are looking for a place to have a wonderfully intimate experience, make sure to reserve a table beforehand. 
10. Brewery Vivant 
If you are a lover of some of the tastiest crafted beer and elegant meals, this establishment will give you great dining experience. You will enjoy a French-themed ambiance that is complemented by the great service and meals that you will get under this roof. The beer list will absolutely blow you away so make sure to have some samples when you get here. 
11. Ruth's Chris Steak House
Walk into this amazing steakhouse and have yourself one of the most fulfilling meat-eating experiences you will ever come across. There is nothing that tastes better than flame-grilled steaks which you will get here. Tag a friend to enjoy one of the most inviting ambiances in Grand Rapids as you enjoy an array of some delicious American cuisines. 
12. Bistro Bella Vita
Talk of the most exquisite service, superb French and Italian gourmet meals, and finely-crafted cocktails all just for you. This amazing restaurant boasts of offering some of the finest treats on the menu not to mention the house pizza which is a great magnet for visitors in this place. You will definitely love this place once you step in for a bite.
13. Founders Brewing Co.
Enjoy a perfect unwinding session as you dine to some of the most exciting treats on the menu. There are great meals blended with finely-crafted beers to match your experience. You will not forget the kind of service you will receive in this place. After you dine here you will know why it is one of the best restaurants in Grand Rapids.
#14 Terra
You can never go wrong when it comes to amazing pizza, burgers, sandwiches other than this place where you get to enjoy all that and more. You will have one of the most exciting ambiances as you enjoy some delicious gourmet meals which you will reminisce once you taste.
15. The Old Goat 
Wine and dine in this stunning German-themed restaurant which offers you one of the most exciting and lively ambiances. Even better, you can also enjoy some french treats under the same room which you will be sure to remember after you sample. You can reserve a table if you are looking for a full dining experience with your partner.
16. Donkey Taqueria
This Mexican restaurant comes with a superb flair that will excite your appetite to the house tacos, chorizo, burritos, ground beef, and a fine tequila list. The ambiance is one of the most amazing indoor and outdoor sitting areas which offer you the ultimate comfort at any time of the season.
17. Rose's on Reeds Lake
 Have a pleasant dining moment in the midst of the most unmatched views to crown your eating experience. This vintage premise boats some great gourmet meals which come well made for you with the utmost mastery. From the sandwiches to the farro salad to the wood-fired pizza, you can't forget a biting from this place.
18. HopCat (Grand Rapids – Downtown)
For the finest craft beer and tantalizing meals, this eatery offers you nothing but the best when it comes to that. The ambiance is well lit and comes with a beer menu like no other where there are more than 250 beers to choose from! Once you step into this amazing premise you will get to understand why it is one of the best restaurants in Grand Rapids.
19. Six.One.Six Restaurant
You know you have arrived in a fine restaurant when you step in this establishment which is French-themed and comes with one of the most beautiful eating spaces you will ever come across. Nothing tastes better than the steak served in this place not forgetting the desserts and wine list which will absolutely blow you away.
20. Anna's House
Savor in this stunning restaurant which you one of the most exciting ambiances where it is well lit with amazing seating spaces and great service which has been mastered in this establishment. From deserts, vegetarian meals to gluten-free options, you will have a good time to enjoy all that and more in this place which you won't forget the experience after you have a try.
Conclusion
Grand Rapids, Michigan offers you some of the finest eating options you can ever get in any city as you travel. From the local cuisines to the continental meals, you will enjoy some of the best restaurants in Grand Rapids. Take some time off from busy touring schedule and sample these restaurants which I'm sure you won't regret having a try.
SEE MORE POSTS