The Kansas City Power and Lights District, the $850 million entertainment district has reinvented the city and has brought life back to the downtown area. Whether you are a local looking for a hotel for the weekend or on vacation, there are plenty of Kansas City Power and Lights District Hotels to stay at.
Being close to the action is important. Everything is close, and you don't have to worry about much driving if any at all. Here are the hotels that are a stone's throw from the Power and Lights District that will make your stay much easier. All the hotels are within a ½ mile of the district, so they are completely walkable.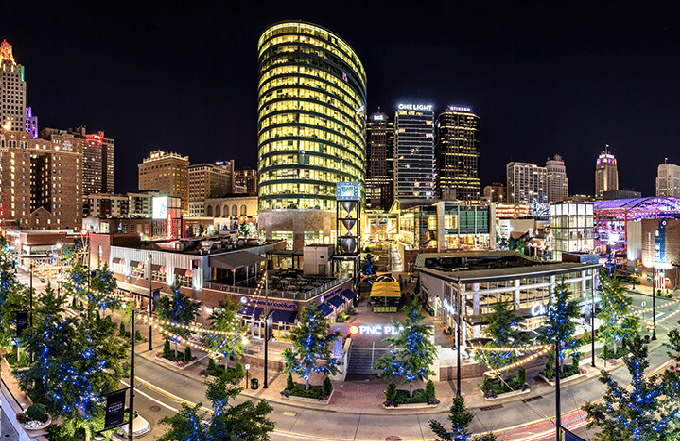 See Also:
1. Ambassador Hotel Kansas City, Autograph Collection
The Ambassador Hotel is located just 0.2 miles from Power and Light District. The building the hotel is in was built in the 1920s and has a neoclassical style from the time era when it was built. This roaring 20's hotel has kept some of its original features such as curved walls in the lobby and lower staircases are covered in marble. Just because the character of the hotel is older doesn't mean it is at a loss for conveniences. It is equipped with WIFI and a business center if your traveling on business. They also have a fitness center and bike rental to stay in shape during your trip. This is a 4-star hotel that is described as quaint and classic.
2. Hampton Inn & Suites Kansas City Downtown Crossroads
Right in the heart of Kansas City's Crossroads Arts District, the Hampton Inn & Suites is right in the center of all the entertainment in Kansas City. Just 0.2 miles from Power and Light District, this hotel has all the modern amenities that add luxury and convenience to your hotel stay with an artistic feel. At Hampton, you are within walking distance to dining and entertainment. If you brought your family with you, the hotel has kid friendly activities to keep the little ones busy.
3. Holiday Inn Express Kansas City Downtown
While this may be a budget-friendly hotel, you might feel like you are staying in 4-star luxury with all its amenities. Along with a fitness and business center, the Holiday Inn Express also has kid-friendly activities. Enjoy free breakfast and feel free to bring your fur babies. As with the other hotels, it is only 0.2 miles from Power and Light District, and walking distance to some of the most popular attractions in Kansas City.
4. Courtyard by Marriott Kansas City Downtown/Convention Center
The Courtyard by Marriot is central to everything in downtown Kansas City. It is close to all things needed for business such as the Convention center and the Kansas City Power and Lights District. It is the only hotel located on the Kansas City Streetcar line, but you are still close enough to walk to the district at 0.2 miles away from it. You will get a free breakfast and WIFI. Get your exercise in the indoor pool or relax after your meeting in the hotel bar. This is the perfect location whether traveling for business or pleasure. Oh, and if you are traveling with your family, kids stay free!
5. Hotel Phillips Kansas City, Curio Collection by Hilton
With a mix of the old and new, the Hotel Phillips gives a historic aspect while remaining hip and modern. With recent renovations to bring the hotel back to the 1930s. with all the modern amenities you could hope for. Enjoy the Italian kitchen, coffee shop, and drinks on the speedway. This intimate boutique hotel is intimate and grand all in one. Add the art deco lobby, and you will be brought back to the 1930s. With all this, who could want more. If you do, you will love the business, and fitness center as well as the game room. At only 0.2 miles from Power and Light District, your stay will have everything you want and need within walking distance.
6. Holiday Inn Kansas City Downtown Aladdin
At the Aladdin Holiday Inn Hotel, you will feel as though you stepped back in time with its art deco feel. It is located in the center of the downtown convention, business, financial and entertainment districts. It is also connected to the Kansas City Convention Center and Marriott hotel which makes it perfect for business and group events. You will find great amenities here including a fitness center and bar. Just 0.2 miles from the Kansas City Power and Lights District, this historic hotel is at the center of everything in the downtown area.
7. Hotel Indigo – Kansas City Downtown
The hotel Indigo is on the site of the 1930s-era Brookfield Building where ticket offices from different train stations were held. The travel-inspired guest rooms are in homage to the history of this beautiful building. With a fitness room, bar, and easy access to everything downtown has to offer, at only 0.3 miles from Power and Light District, anywhere you may want to go is just steps away. Still one of the best Kansas City Power and Lights District hotels you can stay at.
8. Kansas City Marriott Downtown
The first word that comes to mind for the Marriott is elegance. With 983 luxury guest rooms and nearly 100,000 event space, it is perfect for any occasion whether business or celebrating a special occasion like a wedding. With everything at your fingertips, you can exercise in the fitness center, swim in the pool or relax at the bar after a day of meetings. You are also 0.3 miles from the Power and Lights District, so enjoying all that downtown Kansas city has to offer is well within walking distance.
9. Residence Inn by Marriott Kansas City Downtown
You will feel right at home at the Residence Inn. Each room is a suite with a full kitchen and living room. If you feel like wandering out of your room, there is an indoor pool, a fitness center, and a business center. You will be able to start your day with a complimentary breakfast as well as free WIFI. With a beautiful view of the city and only 0.3 miles from the Kansas City Power and Light District, you won't want for anything.
10. 21C Museum Hotel Kansas City
At 120 rooms, this is one of the smaller hotels, but it does not lack the luxury and amenities of a largescale hotel. In the heart of the art district, the contemporary feel of these rooms and suites is highlighted by the high ceilings and original artwork. With a business center, fitness room, and bar, you will have a comfortable stay, especially if you bring your fur babies to this pet-friendly hotel. It is close to the Kansas City Power and Light District at only 0.5 miles away. Let this be your little respite away from home. This isn't just a hotel, but a museum as well.
Conclusion
When visiting Kansas City, you will want to be at the center of all things business and entertainment.  The Kansas City Power and Lights District hotels are where you can find a good night's restful sleep after a long day. Finding a place that can keep you in the middle of everything that reflects your own personal style is important. These hotels have something for just about every personality type and need of its visitors. With all of these hotels having good ratings and only a ½ mile or less from the Power and Light district. You will have to look no further to book your stay.