Welcome to Kansas City, which has been known for over 150 years as the cattle capital of the United States. The history dates back to the stockyards along the Missouri River, which was the destination of cattle driving with cowboys escorting them up from Texas. You will want to visit Union Station, which is the grand historic train station with temporary and permanent exhibits. Kansas City has The Nelson-Atkins Museum of Art, Worlds of Fun Theme Park, Skip the Line: LEGOLAND Discovery Center, and tons of tours. Take a trip through the Distillery or check out the Original KD Barbecue Tour. There is not a dull moment, and looking for an enjoyable restaurant in KC with a delicious steak with all of the trimmings may be a task after such a long day. This group of Steak Houses in Kansas City will surely send you on the right path to the destination of your dreams in "Beef Town."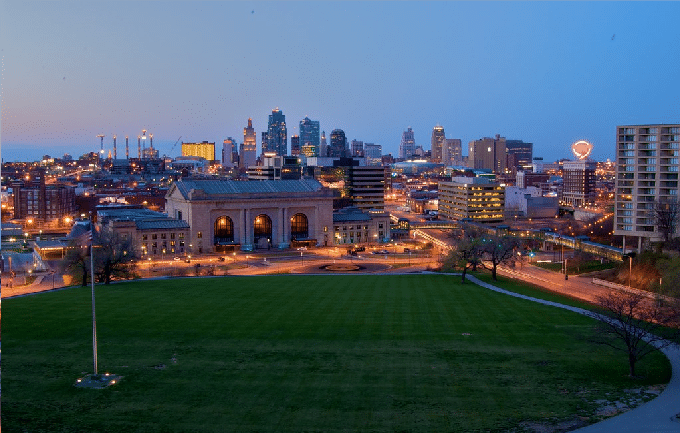 See Also: Hotels near MCI Airport
1. 801 Chop House
The Chop House is ranked as #12 out of 956 restaurants in the area for providing the best food, service, and atmosphere and is one of the steak houses in Kansas City. The Chop House also received the Certificate of Excellence Award from 2016-2019. Choose from gluten-free options if desired. Combine a delicious Kansas City strip steak with an order of scallops, or how about an order of Oysters Rockefeller to satisfy the seafood palate?
2. The Majestic Restaurant
Reserve a spot at the Majestic, and you will be ensured a seat without a long wait. Have a cold beverage from the full wine and beer list, with over 150 whiskeys and wines on the list. Request gluten-free options if desired or have a delicious appetizer, including a Cobb Salad, Steak Soup/Soup of the Day, along with a delicious Majestic Steak you'll never forget!
3. The Capital Grille
Patrons have deemed the Grille with a 4.5 out of 5-Star rating with a Certificate of Excellence for 2016-2019 for its delicious food, service, atmosphere, and value. Many of the dishes are for two, so why not stop by and share a Steak Tartare or Caesar Salad while you wait for your Sliced Filet Mignon or a Seared Tenderloin with Butter-Poached Lobster Tails. The list is so tempting, so why not call ahead and make it a party?
4. Stock Hill
Thrillist named Stock Hill as one of the 31 Best Steakhouses in American for 2017-2019 and one of the steak houses in Kansas City. Stop by for live music every Saturday evening from 8 PM until 11:30 PM. Make a reservation or come by and enjoy Wine Sundays, where you will find a special on all bottles $75 and under are half-off all day. Now, that is just for starters; you have to taste it to believe it!
5. Fogo de Chao Brazilian Steakhouse
This delightful steakhouse is ranked as #5 out of the 20 steakhouses in the Kansas City area and also received the Certificate of Excellence Award from 2016-2019. Choose from gluten-free options, a selection of 15+ types of meat, and the tastiest cheesy popovers, to name a few. You will find it in the premier entertainment district, making this an excellent destination.
6. Hereford House
You will find incredible food in a casual atmosphere at one of the finest steak houses in the US and reasonably priced as well. Feel free to make a reservation or schedule private dining with takeout available for lunch, dinner, or late at night. Enjoy a cold beverage at the full bar before enjoying a Cowboy Ribeye or Porterhouse Steak, yummy!
7. Jess & Jim's Steak House
If you are craving a delicious Porterhouse and a double-baked potato with a slice of homemade carrot cake, then you have to visit Jess & Jim's for lunch or dinner. Come by for live music on Saturday night or just enjoy your meal with the friendly staff. Have a drink from the full bar, and bring the family along for a wonderful evening.
8. Anton's Taproom
This American Steakhouse is ready to serve you lunch, dinner, and a late-night menu with gluten-free options if desired. Grab a drink at the bar offering 50+ bottles of wine, 75 taps, and 28-aged cuts of beef made from natural ingredients. You will find it in the heart of Kansas City's Crossroads Arts District and is hitting the news with its spectacular eatery.
9. Great Plains Cattle Co
Patrons are raving over the great ribs and service, and Great Plains has been deemed with a 4 out of 5-Star rating. You can choose to make a reservation and have a drink at the bar, or enjoy table seating to indulge in a delicious steak or other delicious offerings, including Alaskan Red King Crab Legs or a delectable Chocolate Cheesecake!
10. Golden Ox
Step back in history to 1949 when the Golden Ox opened on the first floor of the Kansas City Live Stock Exchange. Under new ownership, you will find delicious dinner and drinks awaiting at the full bar. Enjoy appetizers, including Escargot or Oysters Rockefeller or a delicious OX Top Cut Steak with a soup and salad option, with so much more!
11. Longhorn Steakhouse
The delightful staff has rated the restaurant with a 4 out of 5-stars with its excellent menu of steaks and other delicious options, including White Cheddar Stuffed Mushrooms, Firecracker Chicken Wraps, Shrimp & Lobster Chowder, with various types of steak, including Flo's Filet, Prime Rib, Renegade Sirloin, and so many more. You will love them!
12. Gordon Ramsay Steak
You will find this awesome steakhouse 3.7 miles from North Kansas City, ranked as the #8 restaurant out of 21 in the area. It is recommended to enjoy the Famous Beef Wellington and the Sticky Toffee Pudding. If that is not enough to tempt you, try the short rib Bolognese or seared tuna to tartare, sea bass, or so many other delicious options awaiting your arrival.
13. JJ's Restaurant
If you're seeking a venue for a large group or business meeting, this is your spot. Give them a call to make a reservation. Choose from seating inside with television for your viewing or outside for a bit of fresh air. Enjoy a glass of wine or choose a beer from the full-service bar. Choose from vegetarian or gluten-free options or order a delicious steak of your choice.
14. Outback Steakhouse
Visit a well-known spot for a bit of an American and Australian Steakhouse journey. You will love some of the options, including the Wednesday night special of Steak and Fries for a mere $10.99. Choose from the Aussie Party Platters, starters/appetizers, delicious steaks, entrees, sides, desserts, and so much more. If you are a regular diner, be sure to sign up online for offers and rewards!
15. Texas Roadhouse
Step into the west with this rustic dining roadhouse with its shoot-em-up exterior and tempting beef dishes. Save some time and order your delicious meal online. You will be thrilled with a hand-cut steak, out-of-this-world ribs, daily fresh bread, and an abundance of homemade side dishes. Join the VIP Club, and don't miss out on the tasty gifts and exclusive deals offered at Roadhouse. If you are looking for one of the meat restaurants in Kansas City, you should definitely come to this one.
16. J. Gilbert's Wood-Fired Steaks & Seafood
The local American cuisine is vegan and vegetarian-friendly. Make this your destination, whether you are seeking a spot for a business meeting or have a large group for seating. The ambiance and food is a superb attraction for any special occasion, including a romantic dining experience with an excellent wine list and a divine waiting staff.
17. Kobe Japanese Steakhouse
You'll find a Japanese/Asian cuisine delightful with its lunch and dinner menu selections. Local patrons rave of the management team and waiting staff as friendly and ready to accommodate your needs. The wait staff will be juggling your meal to excellence right before your eyes to make the sushi and steak just the way you like it!
18. Sullivan's Steakhouse
You will find excellent food options, and the steakhouse is open from 4 PM until 10 PM, seven days a week. Patrons rave of its superb drinks and fantastic wait staff, making it one of the best happy hour spots in Kansas City (one every day). Enjoy the outdoor patio and a smoking area if you're so inclined. Try the Bone-In-Filet or the Bone-In KC Strips, Filet Mignon, and so many more. Make a reservation and be seated quickly.
19. Final Cut Steakhouse
If you are attending the NASCAR race track events, you will be dining with an amazing sunset over the track. The upscale venue is excellent for business meetings or if you want to enjoy a few gambling games at the Hollywood Casino! Savor the delightful specialty dishes, including the USDA Mid-Western Prime & Certified Angus beef, seafood, and so much more!
Conclusion
If your mouth is not watering yet for a delicious steak, you can still enjoy a Happy Hour special. Once you are in the steakhouse of your dreams, you will not be able to resist the "homegrown" beef and so many extras. Some do have live music, but all have an impressive weight staff. You have a great selection of eateries, but it is always best to call ahead for a reservation to ensure you have a seat waiting for you and your group when you arrive at one of the steak houses in Kansas city of your choice. The excellent management and wait staff are anxiously awaiting your arrival.