20 BEST Restaurants in Omaha, Nebraska [2022 UPDATED]
By

Marina Yoveva
Omaha is not only home to the world's best zoos and thrilling sports, but also to some of the finest food places, making it possible for us to create this list of best restaurants in Omaha. We know that trying out excellent restaurants can bring delight to everybody, especially to food lovers. And since more and more food places are popping out in the city these days, it might be quite hard for you to find the one serving meals that are up to your standards.
Fortunately, you can save yourself from the long, tedious search, because we already found the top restaurants you can go to. The good news? We have great options whether you're into Italian, American, Japanese, European, or even vegetarian food. Indeed, the dining scene in Omaha has a lot to offer, and if you're up for trying out all of the best restaurants in Omaha then check out the restaurants listed below.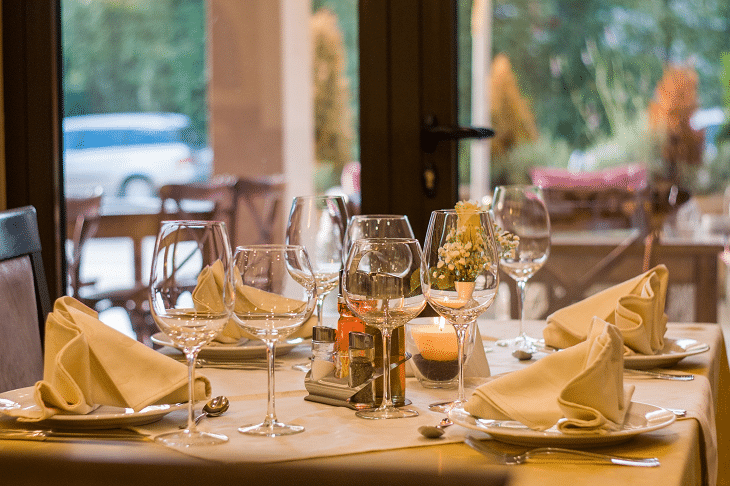 See also: Dog friendly Hotels in Omaha
#1: Orsi's Italian Bakery & Pizzeria
Orsi's Italian Bakery & Pizzeria has been serving delicious pizzas and a huge variety of fresh Italian food since 1919. And up until now, this place remains the top spot for those who are looking for quality baked Italian goods such as double-crusted pizza, bread, and a lot more. They also have imported pasta, oils, and vinegar, canned goods, allowing you to take delight in the authentic Italian taste without leaving the city.
#2: Kobe Steakhouse Of Japan 
Kobe Steakhouse of Japan, on the other hand, clearly specializes in creating delectable Japanese dishes. But more than that, they make sure that every guest will have a complete Teppanyaki dining experience. A Teppanyaki cooking grill is available in every table, wherein your orders will be made by your own personal chef. So you won't just be amazed by the taste of their dishes but also with the live cooking skills of the chefs.
#3: Wave Bistro
If you're in search of flavorful Asian food in the city, Wave Bistro can give this to you and so much more. The crispy fried calamari, pad thai, crab cakes, pork dumplings, and crusted salmon are some of the most loved items on their menu. And while serving these meals to you, the staff always prioritizes your comfortability and satisfaction, assisting you throughout your stay.    
#4: M's Pub
The combination of innovative American cuisine and the pleasing atmosphere is among the reasons why M's Pub earned a spot on our list of best restaurants in Omaha. The restaurant caters to takeout requests and reservations, and also serves alcohol if you're looking to relax with a couple of beers or cocktails. From entree salads, burgers, pasta, to seafood, they make everything fresh, appetizing, and flavorful.   
#5: Plank Seafood Provisions
Ideal for business meetings, large group meet-ups, parties, and other special occasions, Plank Seafood Provisions is ready to serve you whether it's brunch, lunch or dinner. Using a wood fire grill and their own smoker, they can provide you with fresh seafood including oysters, lobster rolls, scallops, mahi-mahi, and so much more. To satisfy all customers, they make sure quality ingredients are used and fresh seafood is served daily.    
#6: Spezia 
Spezia is not your average Italian restaurant which is why you'll often find the place busy. Despite being full, especially during peak hours, their professional staff never fails to amaze diners with prompt service and fantastic food. They have a ton of choices for you regardless if you and your party feel like having steaks, seafood, or a bottle of wine.  
#7: 801 Chophouse 
801 Chophouse is a high-end American restaurant known for its masculine interior featuring the use of dark woods, brass fixtures, and white linens. This place is only open for dinner and late-night meals, serving excellent steaks and a huge range of first-class scotches, wines, and cocktails. They are also known for serving mouth-watering sweet treats, and their signature desserts are Souffle, Death by Chocolate Cake, Crème Brulee, and New York Style Cheesecake.   
#8: 11-Worth Cafe 
11-Worth Cafe is the place that you should visit if you're craving some great, filling food for breakfast or lunch. This diner outshines the others by having a very extensive menu and delicious meals with satisfying portions. When you come hungry at 11-Worth Cafe, you are sure to go home with a full, happy tummy while getting excellent value for money.
#9: Lo Sole Mio Ristorante   
Another Italian food place that has made it to our list of best restaurants in Omaha is Lo Sole Mio Ristorante. Best for lunch and dinner time, this place boasts of its wide selection of soups, salads, pizzas, and pasta. Their Italian specialties include frittata, tortellini, baked lasagne, cheese ravioli, and more, all done in such an intricate manner to offer the best taste to diners.
#10: Blue Sushi Sake Grill
For a memorable Japanese dining experience, we recommend that you try out Blue Sushi Sake Grill. This restaurant has a creative take on their dishes, from starters to entrées. But if you love to go traditional, they can serve you sushi, maki, and sashimi, in the most authentic way. Looking for vegan options? Fret not because they're more than happy to make some vegan maki for you!
#11: Brother Sebastian's Steakhouse & Winery 
Brother Sebastian's Steakhouse & Winery is the best choice if you want to have a romantic dining experience with your loved one. They take pride in their small yet intimate rooms with a fireplace, setting the romantic mood while you savor their tender and lovely steaks. They also have larger rooms with a cozy atmosphere, which are perfect if you plan on visiting with your family or friends.   
#12: Twisted Cork 
Known as the "little wine restaurant" in Omaha, Twisted Cork has opened its doors in 2008 to all the lovers of wine and American cuisine. Over time, they have grown to be loved by many, making them one of the top restaurants in the city. People go back and first-time customers are enticed to visit because of the fair prices, nice ambiance, and of course, the outstanding food and drinks.  
#13: Pitch Coal-fire Pizzeria
Looking for veggie pie, Margherita, or meatball pie? You can find them all at Pitch Coal-fire Pizzeria. They are open for breakfast, brunch, lunch, and dinner, satisfying your cravings for pizza and other Italian and American food at any time of the day. They take reservations, but if you're going to walk-in, you can stay at the bar and drink while waiting.
#14: The Drover 
The Drover has been described as an excellent American restaurant by many because of its cool atmosphere and steaks that melt in your mouth. Service from the waiting staff is always swift even during busy days. All of their main courses are cooked to perfection and served with your choice of a side dish. When you come here, don't miss their whiskey-marinated steak!
#15: Spencer's for Steaks and Chops
Knowledgeable staff, well-cooked steaks, and a classy atmosphere are some of the great things about Spencer's for Steaks and Chops. The place is great for small groups and intimate dinners, but they can also cater to large parties. They have a beautiful and private dining room ideal for a special event, be it a rehearsal dinner, get-together party, or a business dinner meeting.    
#16: J Coco 
With J Coco's wide variety of International food, they can make you feel like you're going on a tour to different countries. They have Korean style short rib tacos, Asian vegetable slaw, burgers, and sandwiches, as well as pasta and seafood, all carefully prepared to give you the authentic taste you're looking for. To make your experience even better, staff are trained to be approachable to everyone and provide attentive service at all times.    
#17: Sullivan's Steakhouse
Sullivan's Steakhouse is another fun food place to visit during special occasions. Sure, the food here isn't the cheapest, but definitely one of the best in terms of quality, taste, and presentation. They are famous for their seafood, steaks, and hand-shaken martinis. Add to that the live music and vibrant atmosphere they have, you can be sure to have a lovely meal at this restaurant.  
#18: Louie M's Burger Lust 
Lovers of burgers, don't hesitate visiting Louie M's Burger Lust today. This restaurant is open 7 days a week, serving some of the tastiest breakfasts and lunches in Omaha. They have breakfast classics like pancakes, bagels, and French toast. Sandwich platters with fries on the side are also available along with their huge variety of burgers. Want a burger with no bun? Get their naked burger and enjoy your half-pound patty on crisp, fresh lettuce.   
#19: Upstream Brewing Company
Upstream Brewing Company is a nice spot to relax while having light meals and a couple of drinks. They have award-winning beers that you can try, and by pairing them to the restaurant's freshly-made sandwiches, pizza, or entrees, you're up for an awesome dining experience. For special dietary needs, they do their best in providing options for those following a vegetarian or gluten-free diet.    
#20: Modern Love
Are you a vegetarian or just someone who wants to try out plant-based food? No matter what your food preference is, you won't regret visiting Modern Love. They always show creativity and follow quality cooking standards when preparing meals, resulting in a diverse range of vegetarian options that you can truly call "comfort food". Their dishes are always well-presented, making you crave for healthy, plant-based meals even more.      
Conclusion
It appears that the residents of Omaha have a fond appreciation for Italian food judging from the hoards of raving reviews for Orsi's Italian Bakery & Pizzeria. And clearly it's not only delicious food they are serving but an above and beyond experience that you won't forget. Remember, when it comes to the best restaurants in Omaha, food is only part of the equation – you also want to factor in things like service, venue, and friendliness of the staff to ensure you have an amazing experience.  We're sure that the other restaurants can also provide you with a lovely dining experience in their own ways. And if you're up to the challenge of trying out each place on the list, you'll discover how they strive to satisfy all of their customers, including you.   
Leave any comments and share this post with family and friends!