Though Sin City may be synonymous with nightlife, an afternoon show in Las Vegas is a great way to spend your time, as well as save some money on shows. A diverse range of entertainment options exists for matinee shows, from comedy to magic, music to Cirque du Soleil. If you're traveling with children to Las Vegas or like an earlier bedtime, then afternoon shows are the way to go.
With so much entertainment in Las Vegas, we've simplified the process of searching for afternoon shows with a hearty list of afternoon shows in Las Vegas to check out after enjoying a delicious meal in the city. Read on to discover the breadth of your options when searching for an afternoon show in Las Vegas, and book a show for your upcoming Vegas vacation today!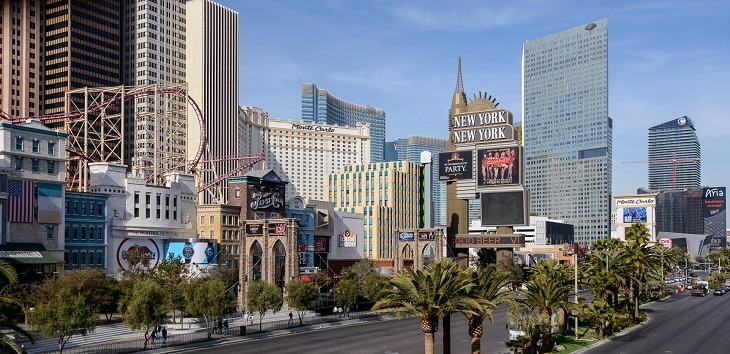 See Also:
1) Paranormal
Paranormal invites you to step into the world of magic and mind-reading with the international star, Frederic Da Silva. Located within the Bally's Hotel & Casino, get ready to be wowed by Da Silva's ability to read minds, hypnotize, and perform magic. Da Silva can pull such fascinating stunts as reading who you are thinking of at the moment or even your name without telling it to him.
One of the top-rated mentalists in Vegas, Da Silvia is an international star who has won numerous awards in the United States and Europe. A great show for families, tickets can be found for $50 and under. Do note, children under age six are not allowed. The show runs a total of 75 minutes.
2) Blue Man Group
Blue Man Group has made its name by their signature brilliant blue face paint and their music, laughter, and creative live performance. Unlike anything you've ever seen before, Blue Man Group is appropriate for all audience ages and has been enjoyed by some 35 million people over the years!
Blue Man Group plays at The Luxor Hotel and Casino on the Las Vegas Strip, making it an easy get-to. All of the Blue Man Group's performance is nonverbal, so whatever language you speak, you'll be able to party with this wild group. Blue Man performs daily at 4 pm, and there is no age restriction.
3) Legends in Concert
Legends in Concert may be a bit cheesy, but it's exactly what Las Vegas does best: big, showy, and full of familiar characters such as impersonations of Elvis Presley, Lady Gaga, and Frank Sinatra. Legends in Concert isn't just another tribute show, it is the tribute show worth seeking out. If you love music, then this show is for you and will have you humming long after you've left the theater.
Expect a full-on show complete with back up singers, lights, and dazzling stars so close to the real thing; you might have to pinch yourself.  More than just look likes, Legends in Concert impersonators can really sing. Located in the Tropicana Hotel, tickets under $50 can be found for Legends in Concert.
4) Mystere
A trip to Vegas would not be complete without a little Cirque du Soleil, and Mystere fulfills that role. Mystere offers stunning visuals of stunts, acrobatics, music, and lights great for kids and adults alike. Revel in the immaculate costumes, or dream about your alternate life as a Cirque du Soleil performer when you see just how talented these athletes are.
Actually, the first Cirque du Soleil show performed in Las Vegas, feel like you're well experienced in Las Vegas history when you attend Mystere. If you really want to go all out, book the IN THE WINGS VIP experience where you'll head onstage to take final bows with the performers, as well as sip champagne with them later. Mystere is located in the Treasure Island Hotel and Casino.
5) Drag Brunch at Senor Frog's
The Drag Brunch at Senor Frog's is a boozy and fun way to spend an afternoon. Enjoy unlimited mimosas as you take in the impressive voices and visuals of drag queens who own it. Brunch is plentiful, and with options like huevos rancheros, waffles, french toast, sausage, bacon, and the list goes on.
The 75-minute show highlights drag queens from RuPaul's Drag Race, Shannel, Coco Montrese, and Yara Sofia. An interactive show, closer to the stage means more chance of being called out by these glitzy queens. First shown in Times Square in NYC, Drag Brunch made its way to Las Vegas for a good reason.
You never quite know what will happen at Drag Brunch, so be prepared for anything goes. Showtimes are Friday, Saturdays, and Sundays, 10 am and 1 pm.
6) World Famous Gospel Brunch at House of Blues
Gospel and brunch. What could get better than eating eggs and sipping coffee while the blasting pipes of talented gospel voices fill your ears? The World Famous Gospel Brunch at House of Blues gives you this opportunity each Sunday at 10 am and 1 pm. With a killer all-you-can-eat Southern-style buffet, hand-clapping music, and a make-your-own Bloody Mary bar, this Vegas show will get your day off on the right foot.
The show runs for 90-minutes, and there is no age restriction. Additionally, feel good about your choice to attend the World Famous Gospel Bruch as $1 of every ticket goes to the Music Forward Foundation, aiming to bring transformational music experiences to youth.
7) The Big Elvis Show
You can't go to Vegas and not see at least one Elvis impersonator, right? So why not see the Elvis impersonator, The Big Elvis? Back at Harrah's Piano Bar, The Big Elvis Show runs Friday and Saturday from 2 pm – 5 pm. Pete Vallee does a killer impersonation of Elvis and has been doing so for 40 years!
Pete is welcoming and interactive as a performer, inviting song requests, and audience members on stage. Voted one of the Top 10 Shows in Las Vegas by USA Today, you'll be so glad you saw The King. Also, the price is right; it's free.
8) Laughternoon
If you're ready to get your laugh on in the afternoon, head to Laughternoon, a stand-up comedy show by Adam London. A mix of light magic and comedy, enjoy a relaxing afternoon getting some good punchlines. London has worked previously at L.A. Comedy Club, The Improv Comedy Club, and Hollywood's Magic Castle.
Additionally, Adam is known as a warm personality and frequently provides shows for local youth organizations. Playing daily at 4 pm, there is no age restriction on this show, and this good, clean fun is something you can feel confident about taking kids to.
9) Popovich Comedy Pet Theater
If you love animals and love to let loose, Popovich Comedy Pet Theater is a great pick. This pet-filled theater showcases 30 rescue animals who aid Gregory Popovich in his stunts. The animals love working on stage and include goats, cats, dogs, and ducks. Kids and adults alike will adore this loveable show.
Popovich has even turned his success into a movie with an endearing plot about an ex-circus legend struggling as a street performer in the wild west streets of Las Vegas. This variety show includes juggling, gymnastics, and a jump rope routine, done both by Popovich and the pets that you will not be able to get enough of!
10) Hans Klok
Known as the World's Fastest Magician, Dutch magician Hans Klok is truly a sight to behold. He performs tricks and illusions at a rapid speed, with a record of 12 tricks within just five minutes! Additionally, his show spares no stops, with sparkling visual effects that really make it an experience.
Klok has been performing magic since the young age of ten, and his efficiency and speed on the stage are testaments to his long and fruitful career. The show is 70 minutes total, and children under age five are not allowed to attend.
Conclusion
With so much to do in Las Vegas, waste no time and get yourself to an afternoon show! Afternoon shows are a great way to see a wonderful production for a reduced price and a mellower crowd. With so many options to choose from, you may want to pick more than just one. Please do call ahead for all shows to double-check on times and availability as many fluctuations are currently happening due to the Covid pandemic. With these great options, you'll be well entertained in unforgettable Las Vegas!