Las Vegas, Nevada, is the place to play. Ranging in genre from child-friendly attractions to adult-only, tourists flock to Las Vegas each year to let loose and go wild with all the fun and exciting things to do. Amusement parks are a classic footloose and fancy-free activity that the whole family can enjoy. Finding the best amusement parks in Las Vegas takes just a bit of sleuthing, but we've done the work for you.
This round-up of amusement parks in Las Vegas will get you dreaming of spine-tingling adventure as you scream down a rollercoaster or a step slower on a quintessential carousel. Read on to discover this extensive list of amusement parks in Las Vegas, and put these wild rides on your must-dos when visiting sunny Las Vegas.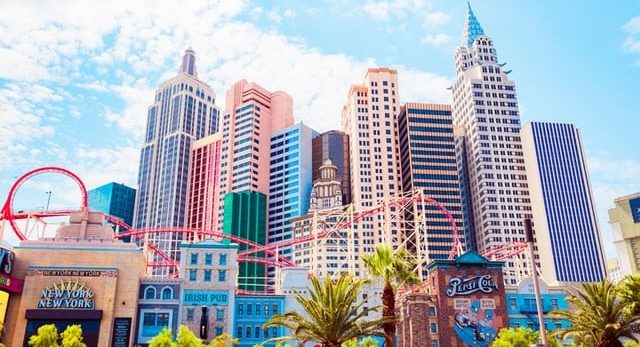 See Also: Best waterparks in Las Vegas
1) Circus Circus Adventuredome Theme Park
Circus Circus Adventuredome Theme Park is part of the Circus Circus Hotel and offers five acres of indoor amusement park fun. With various rides that cater to children and adults alike, find your next thrill at Circus Circus Adventuredome. Try El Loco, a roller coaster with twists and turns unrivaled.
Or try something a little more family-friendly with a ride like The Drifter, which simulates what it feels like to ride a hot air balloon. Wristbands are available for the day and cost $39.95 for those 48″ and taller, or $19.95 for a junior wristband. Onsite, there's a wide range of dining options from Mexican cuisine to a steakhouse. Be sure to check out The Midway, a classic arcade, or catch one of the free circus shows on the premises.
2) Area 15 in Las Vegas
Suspend your idea of a traditional amusement park to make space for Area 15, which is an indoor complex that offers art exhibits, an indoor zipline, and an arcade. Take a trip on the Birdly flight simulator or check out the Gallerie 360 audio-visual experience; you're sure to have your definition of fun rethought.
Area 15 also has live music and food that is meant to be "multisensory." A large escape room invites you to unlock the secrets of each mystery as a team. The art collective, Meow Wolf, operates a large part of Area 15, and with a name like that, you're sure in for something new. Recently opened in September 2020, be one of the first to check out this innovative place of wonder.
3) The Big Apple Coaster & Arcade
Las Vegas has worlds within worlds, and the New York area of Las Vegas is where you will find The Big Apple Coaster & Arcade. The Big Apple Coaster & Arcade takes "fun to a whole new level" with a rollercoaster that bends 180-degrees at 67 mph. The Big Apple Coaster even offers a wedding package if you want to take the plunge while taking a plunge.
A regular ride ranges from $17-19/person, and a flight for a family of four comes in at $78-86, depending on which day of the week you ride. If a rollercoaster that crazy is not exactly your idea of fun, head to the more low-key arcade with games such as Skee-Ball, Air Hockey, and NBA Fever. Do be cautioned, some have not found The Big Apple Coaster to be the most comfortable of rides, which may come as no surprise given the speed.
4) The High Roller in Las Vegas
Part of The Linq Hotel complex, The High Roller offers the world's tallest observation wheel to overlook the glitz of Las Vegas. Check out 360-degree views, which include the Sunset Strip and stunning views of the Las Vegas Valley.
The revolution takes a half-hour for one complete trip, and daytime rides go for $23.50/person, nighttime rides are $34.75. Youth (7-17) go for $8.50 for the day, and $17.50 for the night, with kids under six riding free! Locals should take advantage of the generous 50% discount with code HRLOCAL.
If you want incredible views of Las Vegas that are more than picture-worthy, head to The High Roller at The Linq Hotel. Additionally, while at The Linq, check out the other entertainment, including Fly Linq, a zipline; VR Adventures, a virtual reality experience; and Brooklyn Bowl, where you can get your bowl on.
5) The Stratosphere at The Strat Hotel
The Strat Hotel offers some wicked amusement, including thrill rides named Big Shot, Insanity, and X-Scream. Launch 160 feet into the air at 45 mph on the Big Shot, up to 1,081 feet. Or dangle from the side of a building at some 900 feet high with Insanity. X-Scream would appear to be the milder of three options, except that this rollercoaster-like ride jets you over the edge of the Sky Pod, only to be propelled back again.
If you really don't crave an adrenaline rush, stick to the Sky Pod, which offers views of Las Vegas and The Top of the World Restaurant. Check out 360-degree views while you dine on steak and seafood dishes. Additionally, Level 108 of the hotel offers the chance to sky jump 829 feet above the Las Vegas Strip. If The Stratosphere hasn't gotten your heart beating by the end of your experience there, nothing will.
6) Sky Zone Trampoline
Less of a place to seek thrills, but more of a place to burn some energy, head to Sky Zone Trampoline. Whatever way you want to jump, Sky Zone Trampoline has an activity for you, from freestyle jumping to ultimate dodgeball. Foam Zone is a fun area to go crazy without getting hurt, with all of the blocks you jump into being made from soft foam.
If you came for a workout, check out Skyslam for some upgraded basketball, or visit the Challenge Zone, which offers an adult obstacle course. Sky Zone Trampoline is not necessarily a rollercoaster, but you'll feel lighter and freer when you come to jump. Jumps start at $21/person for an hour.
7) Dig This Vegas
If there's still a part of you that's a kid in a sandbox, then Dig This Vegas cannot be missed. Literally, a large sandbox with heavy equipment to operate, it's a construction dream come true. Imagine yourself operating a 5-ton excavator, bulldozer, or track-type skid steer on Dig This Vegas' five acres of fun.
Book an individual dig, group dig (for team building), or a kid's dig. Book an experience on Dig This Vegas' website, with options such as the Big Dig Excavator lasting 90 minutes for $269 or an Aggression Session for 30 minutes at $695. Sure, it's a costly price tag however, it's a one-of-a-kind experience that you'll never forget. Rest assured, you'll have a safe experience; all digs come with a safety orientation.
8) Sin City Smash
Another "only in Las Vegas" opportunity, enter Sin City Smash, where you can literally smash your way through a "wreck room" safely. Sin City Smash provides safety equipment, destruction tools, and a room where you can go wild breaking things up. Perfect if you've got pent up energy that needs to get worked out, smash on your own or smash with friends.
Leaning on a concept called "destruction therapy" out of Spain, Sin City Smash offers wreck rooms and areas to ax throw and splatter paint. Make it a date night with Sin City's date night package, encouraging couples to bond over getting physical.
9) Glowzone Las Vegas
It's time to light it up at Glowzone Las Vegas, an amusement park great for birthday parties, corporate events, or just pure fun. With glowing options such as an arcade room, bumper cars, rope climbing, and mini-golf, there's so much to do at Glowzone Las Vegas. Try out the Lazer Maze or Bazooka Ball, with pointless paintballs and lasers.
You can grab an attraction pass that offers all-day play passes and family passes or invest in a yearly pass at a reasonable $99. Mondays at night to be at Glowzone with $10 entry for one-hour of unlimited play. Glowzone is a great way to pass an afternoon or evening, with enough variety in activities for everyone at your party.
10) Gravady Extreme Air Sports
Another excellent place to get some exercise, Gravady Extreme Air Sports has trampolines, ninja courses, foam block pits, trapeze, and extreme dodgeball. With so much to do, you may feel tempted to buy a monthly pass of $20 or take advantage of the reasonably-priced one-hour price of $14.49.
A great place for birthday parties, Gravady Extreme Air Sports offers excellent customer service for all your jumping-needs. If you want a no-fail way to tire out the kids, or yourself for that matter, head to Gravady Extreme Air Sports.
Conclusion
From traditional amusement parks with breath-taking roller coasters to extreme trampoline parks, you'll find more than enough to do in Las Vegas. Whether you're an adult who loves a thrill, or a parent looking to treat your kids, the whole gamut is covered with this list. Get ready to get extreme with these great options for amusement parks in Las Vegas!