Warning
: DOMElement::setAttribute(): ID wpgmza_tolls_93 already defined in
/home/sweetspi/exploreist.com/wp-content/plugins/wp-google-maps-pro/includes/class.directions-box.php
on line
126
It's finally happening, you planned a trip to Las Vegas. Your hotel is booked, and you are ready to plan your nights out as you experience the many attractions of Nevada's most famous city.  The only thing left to plan is finding the best restaurants in Las Vegas. This list will provide you with the best restaurant experiences that Las Vegas has to offer. You will learn about the best Italian, Japanese, Peruvian, Asian, and Mexican cuisines of the Las Vegas Strip.
Whether you want a juicy steak or fried chicken cooked to perfection or you are in search of vegetarian, vegan and gluten-free options, you can relax knowing that this list has you covered. So sit back and prepare your senses for an adventure through the many flavors and atmospheres of the highest-rated restaurants featuring some of the most famous world-class, revered chefs like Gordan Ramsay, Jose Andres, and Ricardo Zarate.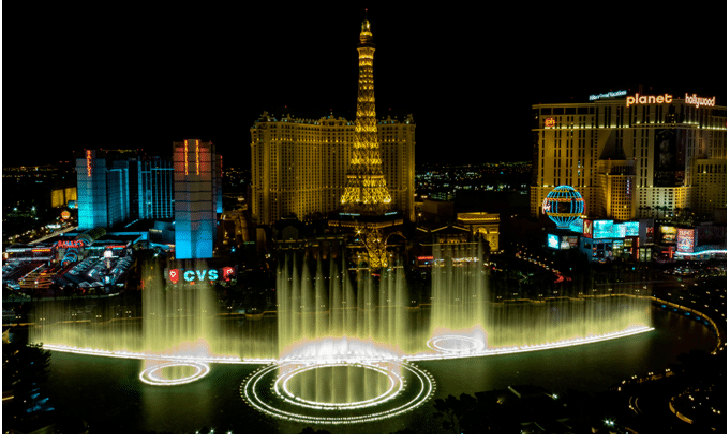 1. Joel Robuchon 
To begin the list of best restaurants in Las Vegas is Joel Robuchon which has earned the title of the top-rated Michelin star restaurant with a 3-star rating. This luxury restaurant is located in the MGM Grand and crafts exquisite french cuisine. Experience Maine Lobster with Sweet and Sour Dressing or try Deep Fried Artichoke with Turmeric Chickpea Cappuccino. There are so many delicious options for every diner at this award-winning restaurant. 
2. Grand Luxe Cafe
At this next location, enjoy a sophisticated dining experience offering vegetarian and gluten-free options in addition to traditional menu items. Try Double-Cheese Mini Sliders, Crispy Calamari and the Housemade Veggie Burger. With a variety of options featuring many cuisines, including Asian, American, and Mexican, you will find the perfect dish to satisfy what you're craving and a perfect way to begin your nightlife activities with one of the best restaurants in Las Vegas. 
3. Chin Chin 
If you want a more relaxed dining experience, try one of the best buffets in Las Vegas. Explore Chin Chin's many dishes of Asian cuisine like Seared Ahi Tuna Crudo, Moo Shu, and Vegetable Garlic Eggplant. With an extensive menu of expertly prepared food including a variety of vegetarian and vegan options, Chin Chin is one of the most popular buffets and one of the best restaurants in Las Vegas. 
4. Edge Steakhouse 
When searching for the best restaurants in Las Vegas, a restaurant with great service and presentation needs to be on the list. At Edge Steakhouse, try a wide range of delicacies like Filet Mignon, Aged Prime Rib, Beef Wellington and Alaskan King Crab Legs, paired with various sides from the traditional Loaded Potatoes or a Festive Mexican Street Corn. For a great experience and expert staffing, Edge Steakhouse is a great option for dinner in Las Vegas. 
5. Flights Restaurant 
Get ready to experience everything "in flights of three" at this next restaurant, acclaimed for having the best ambiance and service. Experience fantastic comfort food and allow yourself to embark on a flavor journey as you explore triple the flavors with one of the many expertly crafted cocktail combinations like Margarita on the Rocks, featuring a mango and jalapeno, prickly pear and classic margarita, Manhattan, featuring an orange, classic and chocolate manhattan or Cosmopolitan, featuring a cranberry, grapefruit, and orange cosmopolitan. 
6. Andiamo Italian Steakhouse  
The next restaurant on the list of best restaurants in Las Vegas is an Italian steakhouse featuring authentic Italian cuisine blended with a classic steakhouse menu. Start your meal with antipasti like Mozzarella in Carrozza. Next, have a Prime Porterhouse paired with Andiamo Signature Zip Sauce and a side like Lobster-Black Truffle Baked Ziti. Pair your custom cooked steak with one of the many exquisite wines on the extensive menu for a meal guaranteed to satisfy your craving for an Italian steakhouse. 
7. Gordon Ramsay Steak
When looking for the best steaks in Las Vegas, Gordon Ramsay Steak is the most talked about, highest reviewed steakhouse, making it one of the best restaurants in Las Vegas. Located inside the Paris Casino, you can start your evening of gaming with an extensive menu of perfectly cooked steaks like the Triple Seared Japanese A5 Kobe. With a custom steak presentation at every table and Gordon Ramsay's infamous sticky toffee pudding, you will leave with a full stomach and a story to tell at this unique Las Vegas restaurant. 
8. Ellis Island BBQ
While some travelers might feel a great meal should spare no expense, a luxury meal does not need to empty your wallet. Ellis Island BBQ is the perfect place to get a great meal with a budget-friendly bill. Featuring great breakfast, lunch and dinner options all day, get ready to experience one of the best restaurants in Las Vegas on a budget, try their Loaded Fries and Island Sampler Platter. Top it off with the Frisco Burger, Patty Melt or a King Cut Prime Rib. Just because you want to save your money for the slots does not mean that you need to cut back on quality and ambiance. 
9. Fat Tuesday
No trip to Las Vegas would be complete without a visit to Fat Tuesday. With their many cocktail combinations, this attraction will help you get your night out started right. Open late at night, every night, this location makes for a quick pit stop on your way to one of the many casinos and clubs on the strip, making this a welcome addition to the best restaurants in Las Vegas on a budget. 
10. Top of the World
When visiting Las Vegas, no restaurant experience will make you feel like you're experiencing the best like Top of the World. With a luxurious ambiance, exquisite delicacies and exquisite presentations, this restaurant will take your taste buds on a thrill ride as you explore the Las Vegas skyline in this rotating restaurant. For a full night of high-end dining and casino games, this location is your one-stop on the list of best restaurants in Las Vegas. 
11. e by Jose Andres  
Voted one of the top 100 restaurants in America in 2018, this next restaurant qualifies as a flavor experience than a traditional meal. This modern Spanish restaurant features artful presentations that are just as satisfying to the eye as it is to your stomach. Enjoy a private dining experience in this small eight-person space where your menu is customized for you. 
12. Once Las Vegas
Experience a Peruvian-Japanese fusion at this unique and exclusive restaurant from the award-winning chef Ricardo Zarate. Featuring Happy hour  Hour and large group dining accommodations, Once brings the best of Peruvian heritage and family dining to the list of best restaurants in Las Vegas, including a variety of vegetarian options. Enjoy Once's special Happy Hour menu featuring signature cocktails paired with special menu items like Yuquitos, Seared Albacore Tuna, and Braised Fennel. 
13. Sage Las Vegas
This next restaurant brings indulgent flavors and a luxury ambiance while accommodating any visitor with a variety of options to suit any craving. Start with Osetra Caviar followed by Roasted Duck Breast. Any for vegan and vegetarian diners, choose an equally indulgent dish from the exclusive vegan menu with options like Heirloom Carrot Salad, Roasted Eggplant, and Raspberry Coconut Semifreddo. With so many great menu options this restaurant is sure to please anyone looking for the best restaurants in Las Vegas. 
14. Wing Lei Las Vegas
At the Wing Lei, experience the best in Asian cuisine with traditional tastes like Green Fields with Peking Duck, Pan-Seared Pot Stickers and Honey Glazed BBQ Spare Ribs. Or try some delectable delicacies like Marinated Jellyfish, Sliced Beef Shank with Pork Ear and Chilled Abalone. For the vegetarian diners, there is an exclusive menu featuring Tai Chin Gardien Chicken, Braised Tofu and Three Cup Eggplant. This is just a preview of the wonderful tastes and ambiance that this contemporary luxury restaurant adds to the list of best restaurants in Las Vegas. 
15. Bouchon Las Vegas
Bouchon features exclusive French bistro experiences that offer daily fresh and seasonal ingredients. With a menu that changes daily to display the best the chef has to offer, this is one restaurant that offers a different flavor every visit while providing a consistent personalized dining event. Taste the flavors of France with dishes like Roasted Chicken with Sweet Corn, Smoked Salmon Rillettes and Country Style Pate with Watercress. With so many great flavors, Bouchon is an obvious addition to the list of best restaurants in Las Vegas. 
16. Mizumi
At Mizumi, you will experience the best in authentic Japanese cuisine while experiencing a modern dining experience. Offering event planning for large group reservations and private dining experiences. Taste unique flavors like Abalone Sushi and Sashimi, Creamy Crab Croquette, Black Cod Saikyoyaki, and the vegetarian Robotayaki Farmer's Vegetables. This four-star restaurant offers all of these great flavors in your choice of dining experiences including outside seating and the Floating Pagoda Table. For a great night out, this is a great option on the list of the best restaurants in Las Vegas. 
17. Vegenation
For diners looking for the best vegetarian and vegan food options, this next location on the list of best restaurants in Las Vegas is not only exclusively vegan and vegetarian but also sources local produce and vegan meats and cheeses. Explore flavors like Hand-Rolled Vegan Sushi, Elote Tamale or try the Daily Pop-Up Special, featuring the best in the daily sourced farmer's products. With a variety of new flavors, fresh ingredients, and gluten-free options, this location is the perfect place for diners with alternative tastes or dietary restrictions. 
18. Mr. Mamas
This next location on the list of best restaurants in Las Vegas is a traveler favorite for breakfast and lunch and features a relaxed atmosphere and great food in a family-friendly environment. This restaurant wants you to feel at home and experience the family's tradition of offering great food, service, and experiences. Mr. Mamas is open seven days a week and is a great option for visitors looking for breakfast and lunch staples. 
19. Steak n' Shake
Open from 6 am until midnight, you will experience the best in a traditional bar and diner experience while enjoying the sights of Las Vegas. Try the Chili Mac Supreme, Beef Taco Salad or try the Original Steakburger. Don't forget to save some room for dessert as you indulge in one of the many Hand-Scooped Shakes featuring your favorite specialty mix-ins. 
20. Kabuto  
If you want to experience the best tastes of traditional Japanese sushi, this final entry on the list of best restaurants in Las Vegas is a great spot to try fresh fish imported directly from Japan. Each menu creation is crafted with fish hand-picked by the chef at its peak of flavor and paired with the perfect sake to give you the ultimate in flavor profiles. No matter your selections, you are getting a customized dining experience guaranteed to keep you coming back for more. 
Conclusion
Now that you have explored the best restaurants in Las Vegas, you are ready to begin your flavor adventure. Whether you are looking for the best in ambiance, unique experiences like floating tables, group venues or convenient locations inside your favorite casinos, you are now an expert in every dining experience that makes Las Vegas such a great travel destination. Regardless of the restaurant rating or cuisine, you can rest assured knowing that this list has given you the most up to date menu selections, so you are certain that every Las Vegas dining experience will provide you with the best ingredients, service and authentic flavors that you would expect from the best restaurants in Las Vegas.