10 BEST Romantic Restaurants in Las Vegas [2022 UPDATED]
By

Marina Yoveva
Las Vegas may be known for nightlife and wild times, but romance also blossoms in this desert gem. Valentine's Day is one of the busiest times of the year in Las Vegas, and Vegas-style matrimony is an ongoing draw for over 100,000 couples a year. Naturally, restaurants have popped up to cater to those who want to make their trip to Vegas as a couple truly remarkable. Read on to discover the best romantic restaurants in Las Vegas, and get a booking, as some of these restaurant's reservation list can fill up fast!
From high French cuisine to intimate old school restaurants, Vegas really knows how to set the mood and make a memory of a meal. If you're planning a special trip to Las Vegas with a special someone, it pays to do your homework and find a restaurant that will really wow you.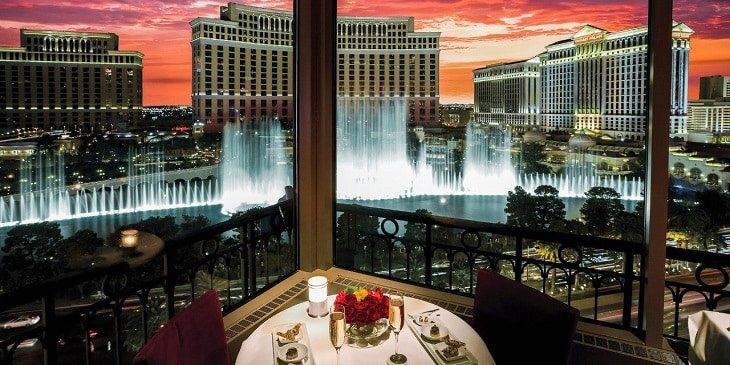 See Also: 
1) Eiffel Tower Restaurant in Paris Las Vegas
Set inside Las Vegas' version of the Eiffel Tower, overlooking the Bellagio Fountains from the Eiffel Tower Restaurant's spectacular window views. This elegant atmosphere serves fine French dining. Maybe it's a little predictable, but this beloved Vegas staple has seen some 10,000 proposals over the course of its 20 years.
In fact, The Eiffel Tower Restaurant has a package ready just for this occasion, with the best seating in the house available. Dine on traditional French meals, such as a roasted rack of lamb or Dover sole. Don't forget to try the Eiffel Tower's signature dessert, the Eiffel Tower Soufflés, which come in flavors such as pistachio, Grand Marnier, and classic chocolate.
2) Hugo's Cellar
Hugo's Cellar continually comes up on the list of most romantic restaurants of Las Vegas, and the old-school charm is why. This brick-walled restaurant is a cozy escape from the sometimes dizzying world of the Las Vegas Strip. Set inside the Four Queen Hotel, enjoy tableside service with iconic dishes such as Hugo's Hot Rock Specialty, a mix of surf and turf served on sizzling granite.
Did we mention each female is greeted with a long-stemmed rose? Oh, yes, that helps. Additionally, each table is treated to chocolate-covered strawberries at the end of the meal. These touches are why people keep returning to Hugo's Cellar and why the word has got around.
3) Mizumi
Bask in the tranquility of the Japanese garden, complete with a 90-foot waterfall, as you dine on modern Japanese specialties at Mizumi. Fresh sushi and sashimi are highlights at this stunning locale set in the Wynn Las Vegas. Additionally, Mizumi gets creative with new-Japanese dishes such as baked sweet miso-marinated black cod and Jidori chicken and black truffle teriyaki.
If you are ready to go above and beyond, reserve the very-special floating pagoda table, you can access by a private footpath. The star chef Min Kim has garnered such notable reviewers' attention as Forbes Travel Guide, which awarded Mizumi the Four-Star Award. An extensive list of sake, wine, and mixed drinks pairs well with the fresh and unforgettable dishes of Mizumi.
4) Beauty & Essex
A quirkier, yet-still-classy choice, Beauty & Essex emulates the inside of a jewelry box. Think lush when you think of Beauty & Essex; it's a fun and unexpected choice for a great date. Gold decor sparkles everywhere from the bar to the multiple dining areas, and the restaurant even has its own pawnshop for a conversation piece.
On the menu, enjoy New American cuisine, which includes many sharable plates perfect for added intimacy. Constantly ranked as one of the hottest new restaurants since its debut in 2016, you'll find Beauty & Essex inside The Cosmopolitan Hotel. Like many of the higher-class restaurants in Las Vegas, Beauty & Essex has a no-shorts, no-flip-flops type dress code, so be sure to factor in an elevated outfit into your evening.
5) Picasso
What's cooler than dining on delicious food while surrounded by original Picasso paintings? The dream can be a reality at Picasso, set inside the Bellagio Hotel & Casino. Focused on fine dining of French and Spanish-inspired cuisine where Picasso spent most of his life, this incredible restaurant boasts some 1,500 wines.
A Michelin two-star restaurant run by Chef Julian Serrano, enjoy decadent entrees such as the roasted Maine lobster, roasted milk-fed veal chop, or the iconic roasted pigeon (Picasso's specialty). Take in views of the Bellagio Fountain outside as you sip on perfectly-paired wines for an additional $63/person. Picasso is classy without being stuffy, making it an ideal place to impress.
6) Michael's Gourmet Room
An off-the-strip classic now in the South Point Hotel & Casino, Micheal's Gourmet Room will have your date swooning. Red velvet furniture is the signature look of Michael's Gourmet Room, and intimate space of only 50 diners at a time ensures you'll be well taken care of.
In fact, Michael's Gourmet Room has won numerous awards, including the Top 5 Restaurants in Las Vegas by the Zagat Survey and the Award of Excellence from Distinguished Restaurants of North America, amongst others.
The menu has a tastefully definitive menu, including escargot, a to-die-for French onion soup, and the Chateaubriand, Bouquetière for two. A rose-budded glass ceiling adds to the ambiance, and a dessert cart that comes around with bananas Foster or cherries jubilee is a must.
7) Top of the World in The STRAT Hotel
If you want the best view in Vegas, Top of the World offers just that with its 360-degree (every 80 minutes) rotating restaurant. Not only is the view stunning, but Top of the World also knows how to cook and has been awarded 2019's Best of Las Vegas Award for Best Fine Dining, Best View, and Most Romantic Spot.
Enjoy fresh seafood, steaks, and seasonal ingredients, paired with the perfect wine. Like The Eiffel Tower Restaurant, Top of the World offers proposal packages which average around $400. You can also opt for the four-course menu, including soup, two main courses, and dessert for $106 per person and an additional $49 with paired wine.
8) Edo Gastro Tapas & Wine
If tapas and a good wine scream romance to you, get to Edo Gastro Tapas & Wine, a Spanish-style tapas bar in Mountain View Plaza. Emulating the tapas of Catalan Barcelona, Edo Gastro has traditional small plates like bravas potatoes, croquetas, and a delicious Iberico charcuterie board.
The menu also includes vegetarian and vegan options, which can be a welcome change to all the traditional French restaurants that are meat-heavy when one thinks of romantic restaurants. Though the Barcelona-born chef Oscar Amador Edo keeps it traditional, he also branches out with fusion flavors and modern techniques.
With Edo's experience at two of Spain's hottest Michelin-star restaurants, ElBulli and El Racó, it's no wonder he knows he can flex his skills in the tapas trade.
9) Sinatra's Italian Eatery
Also, within Wynn Las Vegas, Sinatra's Italian Eatery pays tribute to the American crooner Frank Sinatra. Enjoy upscale Italian dishes in this nostalgic ambiance, with indoor and outdoor dining complete with fireplaces to keep you and your beloved cozy. The dress code is classy for both males and females; shorts, open-toed shoes, and sports apparel are not allowed.
So embrace it and plan on dressing up as you enjoy antipasto treats like Mediterranean octopus or main entrees like lasagne bolognese, grilled Mediterranean sea bass, or veal parmigiana. Cocktail choices are named after Sinatra songs, and an extensive list of wines by the bottle or glass makes the evening soar.
10) Sara's at The Palms
Think the 1920s Gatsby, and you'll have the inside of Sara's, a steakhouse that is still somewhat off-the-radar. The brainchild of celebrated Chef Michael Symon, enter through a small door that seems to invite you into something secret. Sara's in is something special, with only 45 seats and a speakeasy feel. Stone tables elevate your dining experience, and tuxedo-clad waitstaff put the royalty back into dining.
Indulge in such divine creations as the seafood tower, or grab one of the varieties of an Old Fashioned Sara's offers. The menu includes truffle fried chicken, a lobster cobb salad, and smoked prime rib. Pair it with an assortment of sides that include duck fat fries, crispy Brussel sprouts, and English peas.
Conclusion
Romance is in the air in Las Vegas; you need to know where to look. These are the top-ten no-fail restaurants to choose from when you want to go all out for a night that is unique and memorable.
Let the ambiance and fine cuisine of each of these restaurants lead you to an evening of love. From glamorous views to Michelin-level dishes, get ready to while the night away together with these romantic restaurants in Las Vegas.