Las Vegas, Nevada, can reach some 100 plus degrees Fahrenheit in the summer months. With a dry, sun-filled atmosphere, what better than to head to the water to cool off? Water parks in Las Vegas, Nevada, are the perfect way to enjoy the heat and sun of this desert town.
Whether you're young or young at heart, this list of water parks in Las Vegas, Nevada, will streamline your search so you can quickly hit the water slides. All with their unique twists and personalities, no two water parks are created alike. Find the one you want to visit on your trip to Las Vegas with this summary. Read on to discover the best water parks in Las Vegas, Nevada, and get slip-sliding ASAP!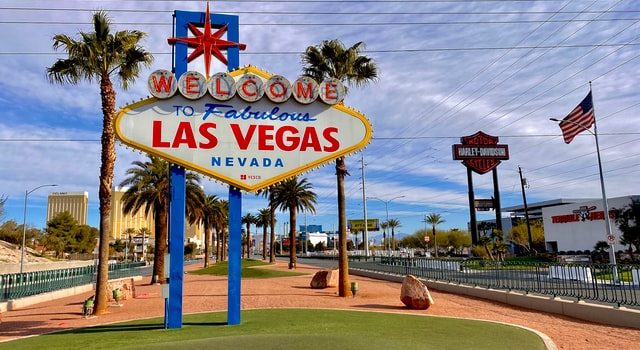 See Also:
1) Wet'n'Wild Las Vegas
The name says it all with Wet'n'Wild Las Vegas, a family-friendly attraction with a range of thrill levels. Whether your speed is the Kiddie Pool or you're looking to hit the Hoover Half Pipe, there is no shortage of fun at Wet'n'Wild Las Vegas. Soak up the sun with over ten different sections of the park.
Wet'n'Wild Las Vegas also has fun community events such as movie nights in the pool! When you get hungry from all your water adventures, grab a bite to eat at Oasis Cafe or Agave Grill, with treats such as burgers, chicken tenders, and ice cream. Reopening for the Summer of 2021, stay tuned on the website for upcoming hours.
It is possible to buy a day pass or a season pass (some including free parking) for the frequent customer. Rent a cabana to truly make a day of it, as well as to stay safe from the sun. Additionally, this expansive water park has friendly staff to help accommodate all your needs.
2) Circus Circus Adventuredome Theme Park
First, it must be said that to visit Circus Circus Splash Zone, you must be a current registered Circus Circus – Las Vegas hotel guest. Circus Circus Advenuredome Theme Park is best known as an amusement park, although the property does have a Splash Zone complete with a 50-foot slide tower, splash pad, and two pools and whirlpools.
Circus Circus' water park area is a simpler take on the usually hyped-up water park scene, but it really does the job when you need to cool off in the Nevada sun. The 50-foot slide tower is a new addition to the pool area and comes with three different slide options. The splash pad is aimed at all ages with waterfalls and splash buckets. Cabanas start with a $100 price tag and include chairs for four. Check out the Splash Snacks food truck when hunger strikes.
3) Soleil Pool
If you're looking for a more relaxed take on a day in the water, check out Soleil Pool, part of the Paris Las Vegas hotel conglomerate. Soleil Pool offers a beautiful poolside experience under the iconic Eiffel Tower replica. A two-acre oasis in the busyness of Las Vegas, Soleil Pool has first-come, first-serve lounge chairs or fancy French poolside cabanas for rent.
Cabanas are luxe and include air conditioning, cocktail service, and a flat-screen TV. If you're going for the more affordable option of pure poolside, fear not, a day at Soleil Pool is still a retreat; bask in the refreshing pool that feels like a Parisian garden. Open from 9 am – 5 pm daily, Soleil Pool transports you to a watery escape.
4) Cambridge Water Park
Cambridge Water Park is more on the scale of local parks and recreation fun than the glitzy hotel pools on the strip. However, if you've got kiddos and want to burn some of their energy, Cambridge Water Park is a clean, moderate water park within Las Vegas.
For a modest $2 for kids ages 3-17 years, or $3 for adults, come to play at Cambridge Water Park. Currently closed for the season, check out the website come summer months for updated information on Cambridge Water Park.
5) Desert Breeze Aquatic Facility
Desert Breeze Aquatic Facility is another Clark County pool facility that's great on the budget. An indoor pool is accessible throughout the year, and the outdoor water park is perfect for younger children. The water park includes a shallow entryway, two slides, and a play structure within the water.
Currently closed, the park will reopen in the 2021 summer season. Again, youth (3-17) comes at the price of $2 at entry, and adults are $3. Summer passes are available for families up to four for $100. More information regarding the indoor swimming pool can be found online.
6) Walnut Water Park
Walnut Water Park is the third Clark County water park option, also open only during the summer months. Located in the northeast part of Las Vegas, Walnut Water Park is a great half-day outing. Enjoy not only the water park but also the playground on-premises, as well as a recently added walking path and sports field. However, Clark County water parks generally open Memorial Day weekend to keep up with the latest information and check the website.
7) Cowabunga Bay
Cowabunga Bay offers the classic fun-in-the-sun water park experience. Just off of US-95, Cowabunga Bay is an easy drive from Las Vegas, located in Henderson, NV. 25 acres of summer-fun, Cowabunga Bay has rides that range from a gentle wave pool to a 72' drop of Zuma ZOOMA. Parents will love the Kids Cove, made with younger children in mind.
Cabanas are the perfect idea when you want a home-base for the day, as well as a place to sip on a fun adult drink. Grab a bite at Bullwinkle's Boardwalk Grill, with options such as pizza, buffalo wings, and pretzels. If you forgot the sunscreen, fear not; Cowabunga Trader Store has everything from sunglasses to souvenirs. Cowabunga Bay is $29.99 for youth and $39.99 for adults for the upcoming 2021 season.
8) Red Ridge Park Kids Water Park
Made for kids ready to play, Red Ridge Park Kids Water Park is a city-funded park with a large splash pad and playground. Two playsets are available next to the splash pad, one for ages 5-12, and the second for the younger crowd of 2-5 years old. Open from 9 am – 10:30 pm daily, there is never a bad time to visit Red Ridge Park Kids Water Park. A concession stand and restrooms are available on the park grounds.
9) Mandalay Bay Beach
This 11-acre play area is perfect for the whole family. Float down the lazy river or drink in your private cabana (for an additional cost). Though Mandalay Bay doesn't off the fast thrills of waterslides, if hanging by the pool is more your thing, then this one is for you.
Mandalay Bay boasts some 2,700 tons of real sand on the grounds, enough to make you feel as if you were truly oceanside. Mandalay Bay Hotel residents can visit for free; non-hotel guests must pay an entry fee of $20 for adults, $10 for kids aged 4-16, and free for kids under 3.
10) Lake Las Vegas Water Sports
Last but not least is Lake Las Vegas Water Sports, a mecca for all things waterplay. Whatever your definition of water fun, Lake Las Vegas Water Sports has it from kayaking to water jet packs. A full-service marina, rent an electric boat for a romantic night or go over-the-moon with a private yacht rental.
If you really want the water park-like experience, the Aqua Park is for you with a blow-up playground set on the water. Reasonably priced, Lake Las Vegas Water Sports offers the best prices you will find in the area for activities such as stand-up paddleboarding. Also, check the website (listed under events) for experiences such as a mimosa cruise on Lake Las Vegas, complete with a live DJ.
Memberships are available for season passes if you think you'll be frequenting Lake Las Vegas Water Sports multiple times over the course of 2021. A twenty-minute drive from downtown Las Vegas, Lake Las Vegas Water Sports is a great destination for a sunny afternoon.
Conclusion
From traditional water parks to hotel pools, this round up of water parks in Las Vegas, Nevada, ensures there is something for every style of sunbathing. Though most of the waterparks and pools listed reach their height during summer months, a few of the listings are open year-round. Whatever your budget or style, there is a watery adventure waiting for you in Las Vegas, Nevada. Include one of these water park options when you book your upcoming adventure to Las Vegas, Nevada!