20 BEST Restaurants in Reno, Nevada [2022 UPDATED]
By

Marina Yoveva
Reno, a city in the state of Nevada, isn't just known for its casino industry, but also with delectable cuisines and vast wine selections. Everyone, regardless of dietary preferences, will enjoy mouthwatering food, drinks and delectable treats in the city. Whether you're on a diet, vegan, vegetarian, gluten-free eater, meat-eater, or a picky eater, the best restaurants in Reno will surely satisfy your choosy palate.
Locals and tourists alike, even those who are frequent in the city still have a lot to discover about the place. Hence, we decided to create a list of the best restaurants in Reno as a guide for you on your next visit. It includes 20 of the must-go and must-try restaurants offering inexpensive fine dining and very enticing happy hour deals. Known as "The Biggest Little City in the World," Reno has a lot in store, especially in their restaurants, café, bistros, and steakhouses. Make sure to check out every single restaurant in the list or you'll end up missing some of the best restaurants in Reno — something you'll really regret.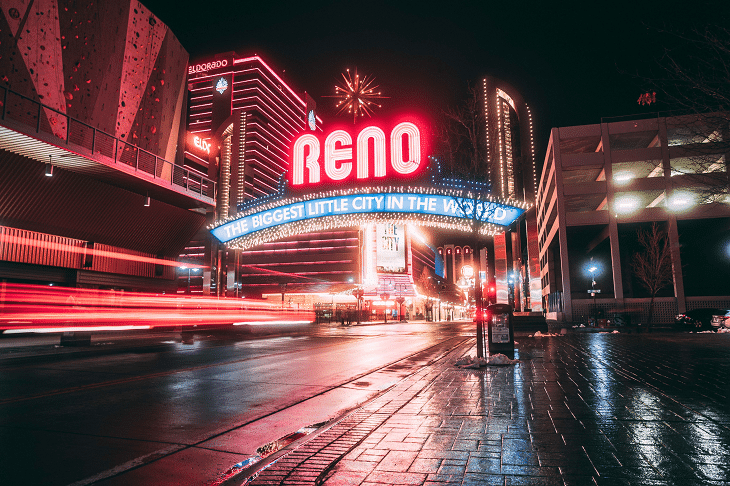 1: Atlantis Steakhouse
The Steakhouse in Reno that you can enjoy the longest, most fulfilling dinner ever, Atlantis Steakhouse will give you a world-class dining experience. Well done foods and around 336 selections of wine are served by professional and very accommodating staff. Voted as the "Best Overall Steakhouse in Reno" — Tahoe area, this is indeed one of the best restaurants in Reno, Nevada.
2: Atlantis Sky Terrace Sushi & Oyster Bar
Locals don't need to go to Japan just to experience authentic Japanese cuisines and popular sushi. Atlantis Sky Terrace Sushi & Oyster Bar offers you the best in Japan at affordable prices. All the food is fresh and delicious, so your cravings will be satisfied. If you want to enjoy a wonderful lunch, dinner or late-night snacks, go ahead and drive to this place.
3: Atlantis Bistro Napa
Get wild and get drunk at Atlantis Bistro Napa and enjoy happy hours daily from 4 PM to 6 PM. Yes, there's a lot in store at this place. From organic ingredients, freshly prepared food, to the finest oysters, wine, and cocktails, you've just found an amazing place to enjoy the rest of the night in Reno. It's a great place to unwind and gets drowned with wine.
4: Peg's Glorified Ham n Eggs (Downtown Reno)
Just near Nevada Museum of Art is a well-known restaurant named Peg's Glorified Ham n Eggs that serves breakfast, lunch, and brunch. It has a friendly atmosphere with lively crowds lining up for their food or waiting for their takeout. With great food and great service, you get your order quick, hot and tasty — just what you need before embarking to your next destination.
5: Harrah's Steakhouse
Go to Harrah's Steakhouse if you're in the mood for your favorite steak and a classic old atmosphere. Situated in a very convenient location with ample parking, you can go straight to the restaurant and make your order. Their staff in a tuxedo will attend to your needs right away and you will never have an empty water glass. Everything is excellent and indeed a place to visit.
6: Squeeze In (South Reno)
Serving the "Best Omelettes on the Planet®," the Squeeze In in South Reno is a good place to enjoy breakfast, lunch or brunch. There's an awesome menu to choose — 60 specialty omelets, bacon, French Toast, salads, burgers, burritos, and a lot more. To complement your meal, you can enjoy their Bloody Marys and champagne drinks. A simple and clean restaurant, just what everyone wants.
7: Great Full Gardens Cafe and Eatery
Health-conscious travelers and locals don't need to wonder where to eat organic, clean and healthy foods in Reno. The Great Full Gardens Café and Eatery offer you a vegan menu, gluten-free items and a lot of good-tasting foods for breakfast, lunch, and dinner. Serving American cuisine coupled with a very nice interior ambiance, this is a perfect place to relax and dine.
8: Squeeze In (Northwest, Reno)
Squeeze In is a great place to enjoy a luscious breakfast or lunch. With over 60 varieties of omelets, there's always something new to enjoy every time you drop by. You can enjoy the usual breakfast stuff and exotic options like sausage, French Toast, pancakes, and creative sandwiches. With always fresh in-season fruits, there's nothing more enjoyable than a complete delightful meal.
9: Atlantis Manhattan Deli
A must-go restaurant for everyone, locals and foreigners alike, the Atlantis Manhattan Deli is an inviting place to enjoy dinner, lunch or late-night bites. Gulp the high-piled sandwiches, salad or their famous New York cheesecake. With top-notch service, no wonder The Nosher, a Jewish publication, named this as the "Best Jewish Deli in Nevada." Dine-in or take out these treats and you'll surely burp.
10: Bimini Steakhouse
A perfect place for a dinner date, Bimini Steakhouse provides a spectacular atmosphere. Not only will your stomach be filled with awesome food, but your eyes will be satisfied too. You'll crave no more with their best steak, seafood, and exceptional American dishes, plus, the breathtaking view of a virtual aquarium while you dine. An inexpensive venue for special celebrations, bring your family and friends to this amazing steakhouse.
11: La Strada
Fill yourselves with nourishing food, pasta, meat and seafood entrees from the best Italian restaurant in the city. La Strada prepares authentic northern Italian cuisine that'll give joy to everyone who dines in. Lights are dimmed low to emphasize the "star" in the ceiling, it'll give you a perfect atmosphere to enjoy your meal. Don't rush, just take a bite at a time.
12: Two Chicks Reno
Hungry and want to have a full meal? Two Chicks Reno is just a drive away at the midtown Reno. A busy place, yet, friendly staff will come right up to you to get your orders. Serving fast with huge serving portions, it's the right place to replenish your strength with a lavish meal. Indeed, it's a place to drop by when you're in Reno.
13: Pegs Glorified Ham n Eggs (South Reno)
In South Reno, you can find a perfect spot to enjoy a creative meal. Pegs Glorified Ham n Eggs prepares food that is always filling. Freshly made from carefully picked ingredients, this could be your new favorite restaurant in the city. Everything on the menu is hearty and flavorful, which is served by very friendly staff. Portions are large, too, very satisfying.
14: Twisted Fork
Looking for good food at decent prices? Twisted Fork in Reno is a wonderful place to enjoy great-tasting meals without worrying about the bill. Offering the perfectly prepared burgers and pretzel buns, kids and adults will surely come to the place over and over again. Food and drinks are served in a timely manner, even though it's a busy restaurant.
15: Naan & Kabab
From the name of the restaurant itself, you know that Naan & Kabab offers something other than American cuisine. And, indeed, this is among well-sought restaurants in Reno that offers Mediterranean, Turkish, Persian, Greek and Middle Eastern cuisine. The exterior might not be that persuading, but the menu is phenomenal. Every single dish is made with excellence, plus, there's a great wine selection, too.
16: Charlie Palmer Steak Reno
If you're looking for diverse food selections in one place, Charlie Palmer Steak Reno is the best place to be. With Executive Chef Dave Holman, experience skillful creations with his neo-traditional steakhouse classics and other special treats. Frequent visitors still enjoy the food here, because they offer something new, every time. With a welcoming staff and a really well-thought interior design, there's no other place to enjoy dinner than here.
17: Grill At Quail Corners
Do you want to treat your friends to a one-of-a-kind dinner? Bring them to Grill at Quail Corners and you're giving them an unforgettable dining experience they'll cherish. You have lots of choices, so everyone will enjoy a night of festivity. From starters, salads to the entrée, you'll surely be filled, bite after bite. The Grill is perfect for outside dining, too.
18: Brew Brothers Reno
Chill and have an amazing happy hour at Brew Brothers Reno. They got tasty appetizers, salads, pizza, eight custom microbrews and tons of food choices. Even your vegan and vegetarian friends will enjoy the evening here, too. Voted to have the "Best Beer Selection" and the "Best Live Music," where else can you truly enjoy the rest of the night in Reno?
19: Wild River Grille
There's just an exact place you can go to enjoy a savory meal after strolling near the Truckee River or the Sierra Art Gallery. The Wild River Grille offers you some of the best modern American cuisine prepared by Executive Chef Joe Bell and Sous Chef Jessica Marrufo. And, if you feel like drinking, they have various wine selections from across the globe, including beers and cocktails.
20: Roxy
For an exceptional dining experience, go to Roxy at Eldorado Resort Casino. It's an award-winning bistro serving everyone's favorite dinner, late-night canapés, and drinks. With a very enchanting and awe-inspiring European ambiance, it's the best place to be worry-free. Voted as the "Best Place to Take a Date," it's a restaurant you shouldn't miss to visit while you're in Reno.
Conclusion
Flocked with casinos, first-rate hotels and golf courses, Reno has rapidly become a place to visit for families and friends. Not only that it's a wonderful place to relax and de-stress, but you can also indulge in their scrumptious meals and desirable desserts. The best restaurants in Reno offer you the best dinner you've never had anywhere. Every restaurant you'll visit gives you unique food selections and drink variants. And, every time you visit your favorite restaurant, you'll definitely be in awe again, like the very first time you visit the city. Reno is indeed the best place to be.
Please share this blog post with friends if you found it helpful!
SEE MORE POSTS