20 Best Hotels in Atlantic City, NJ [2022 UPDATED]
By

Marina Yoveva
Atlantic City, New Jersey, is a resort city on the Atlantic Ocean. With casinos, summertime beaches, and a famous boardwalk, Atlantic City draws tourists from all over the East Coast. Historic, Atlantic City, has been a summer haven since the 1850s and is also the inspiration behind many of the places in the game Monopoly. It is also famously known for being the home of The Miss America Pageant (although the location has since moved).
Steeped in history, rich in nightlife, and always ready to host guests, Atlantic City is a great choice for an East Coast vacation. Whatever brings you to Atlantic City, you'll need a great base to work from. These hotels in Atlantic City offer up the best in hospitality along New Jersey's coast. Read on to discover the top hotels in Atlantic City, and book your room for a Jersey vacation today!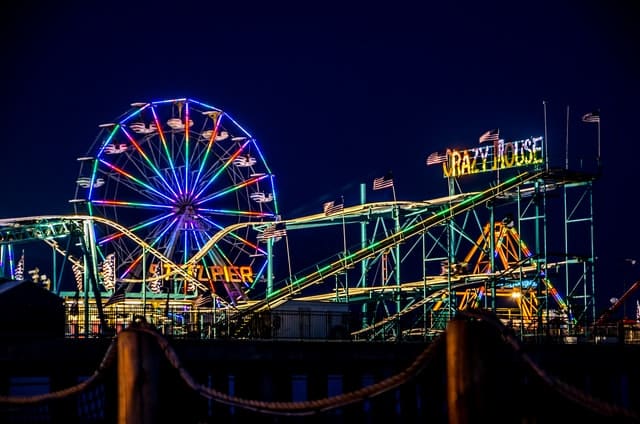 1) Harrah's Resort Atlantic City 
A big name in the gambling biz, Harrah's Resort, is currently offering discounts. Providing clean, spacious rooms with modern amenities that include a flat-screen TV, refrigerator, air conditioning, and fast wifi, Harrah's Resort Atlantic City is a no-fail. The grounds have a pool, workout center, valet-service parking, and onsite gambling. I look forward to nightly entertainment, a free shuttle service, and ocean view rooms. The newly renovated Laguna Tower rooms add allure at Harrah's Resort Atlantic City.
2) Caesars Atlantic City
Another iconic name in resort gambling, Ceasars Atlantic City, is currently running a New Year New Empire Sale on rooms. Beautiful rooms include options that range from the Premium Room, Senator Suite, to the Deluxe Room. Onsite the casino includes table games, baccarat, blackjack, slots, and video poker. Ceasars is right on the beach and also has an onsite pool and bar, as well as multiple dining venues such as The Gordon Ramsey Pub & Grill. Smoking and non-smoking rooms are available, and this is a great hotel if you're traveling on foot.
3) Showboat Hotel 
The Showboat Hotel is located on the boardwalk, making this the quintessential Atlantic City hotel. A great family spot, Showboat Hotel welcomes pets as well. Ample amenities such as a pool, fitness center, conference center, speedy internet, and valet parking make it easy to love Showboat Hotel. The hotel also has onsite restaurants like Bricker's Burgers and The Surf Bar, serving up fresh bites with an ocean view.
4) Resorts Casino Hotel 
Resorts Casino Hotel is your place for non-stop fun, with 24/hour access to the casino. Set on the boardwalk, Resorts Casino Hotel is within a convenient location to attractions such as the Steel Pier amusement park. Rooms oceanside provides panoramic views, and all rooms come with on-demand movies, mini-fridges, flat-screen TVs, and wifi. With entertainment seven nights a week, you'll never be bored at Resorts Casino Hotel. The hotel also has a wide range of restaurants within the premises, such as Landshark Bar & Grill and Mukashi Sushi Bar.
5) Golden Nugget
Set on the Frank S. Farley Marina, Golden Nugget is an award-winning hotel in Atlantic City. Recently remodeled rooms invite you to relax, and each room includes a flat-screen TV, air conditioning, room service, and the potential for ocean views. Golden Nugget left no leaf unturned when it comes to entertainment, and the hotel includes a pool, game room, gambling and casino, a workout center, restaurants, and a spa and salon. Summertime months bring the opportunity to sit out on The Deck Bayfront Bar & Restaurant, and marina views make this a beautiful spot.
6) Courtyard Marriott Atlantic City Beach Block
The Courtyard Marriott is a bright and modern hotel located just one block from the beach and the boardwalk. A comprehensive list of amenities makes Courtyard Marriott a luxurious choice, including allergy-free rooms, blackout curtains, walk-in showers, and fireplaces in the room. Perks like bicycle rentals, a free shuttle service, and a fitness center add to the fun of Courtyard Marriott. Great for people who prefer to walk, Courtyard Marriott is a winner.
7) Hard Rock Hotel & Casino Atlantic City
A best seller amongst Atlantic City hotels, Hard Rock Hotel & Casino provides lodging and world-class entertainment. Trendy and upbeat, Hard Rock Hotel & Casino is within walking distance to Central Pier Arcade and Civil Rights Garden, as well as others. Utilize the concierge service to maximize your visit to Atlantic City, and make sure to take a dip in the pool after a workout at the fitness center. The casino includes slots and table games.
8) Borgata Hotel Casino & Spa
Borgata Hotel Casino & Spa is flashy in an Atlantic City way. A luxury hotel, Borgata Hotel Casino & Spa is known for its casino, music venue, and comedy club. Big names headline the restaurants with Chef Bobby Flay and Micheal Symon, providing world-class dining. Book a Classic Room at the Borgata or opt for an upgrade with options like the Piatto Room, a 1,500 square foot room with floor-to-ceiling windows. The Borgata has five pools, both indoor and outdoor, providing a tranquil oasis to balance out wild nights.
9) The Chelsea Pub and Inn
If you're looking for accommodation that's more B&B style, check out The Chelsea Pub and Inn. Established in 1880, this historic building oozes charm and character. Each room is unique at The Chelsea Pub and Inn, and all guests can enjoy free breakfast as well as free parking when staying at The Chelsea. Enjoy common spaces like the dining room and library, which offer additional places to relax and unwind. With one of the last remaining billiards halls in Atlantic City, head to the onsite restaurant for contemporary American food.
10) Club Wyndham Skyline Tower
Club Wyndham Skyline Tower is a 32-floor hotel one block from the boardwalk. Amenities include a fitness center, activity center, swimming pool, hot tub and sauna, and movie theaters. All rooms come with kitchens and separate living areas with sleeper sofas so you'll feel right at home. Large balconies with each room invite guests to look out on the ocean views and that of Atlantic City. Children-friendly activities make this a great place for families.
11) Ocean Casino Resort 
The glamorous accommodations at the Ocean Casino Resort look out on the water and are large, ample rooms. Stay right on the beach and enjoy the Ocean Casino Resort's 138,000 sq. ft. of gaming entertainment, the HQ2 Nightclub and Beachclub, a speakeasy, and more! If you're looking more for the health and wellness aspect of staying at Ocean Casino Resort, head to Exhale Spa or one of the six pools on the premises. Free parking, a fitness center, and a business center are additional reasons to love Ocean Casino Resort.
12) Bally's Atlantic City 
Part of the Ceasar's franchise, Bally's Atlantic City is a great pick for those seeking a quieter hotel option. Within walking distance to the New Jersey Korean War Memorial as well as the Kennedy Plaza, step out your door and be immersed in Atlantic City. The Atlantic City Boardwalk is also just a short 0.1 miles away. Enjoy ocean views, nonsmoking rooms, on-demand movies, and air-conditioned rooms at Bally's. Onsite, enjoy the casino, fitness center and pool, and local shuttle to get around central Atlantic City.
13) Atlantic Palace at FantaSea Resorts
Studio, one-bedroom, and two-bedroom units at Atlantic Palace offer a more spacious alternative to hotel rooms. Every room comes equipped with a kitchenette, coffee and tea maker, and a separate dining area. The rooms have large windows overlooking the stunning ocean views, as well as interior rooms overlooking the Atlantic City skyline. Onsite, enjoy the pool and fitness center, as well as a game room. In the Heart of the Casino District, you can be immersed in all Atlantic City's gambling while having a tranquil oasis to return to.
14) The Claridge – A Radisson Hotel
Built-in the roaring 1920s, The Claridge exudes a certain historic charm, with the best of modern upkeep. Known by its nickname of "The Skyscraper by the Sea," this gem is situated on the Atlantic City Boardwalk. Past guests have included famous figures like Marilyn Monroe, Al Capone, Nucky Johnson, and Frank Sinatra. Come enjoy the best of Atlantic City with The Claridge's rooftop bar and lounge, an onsite comedy club, a Grand Ballroom, and Library, as well as a fitness center. For those looking to gamble, Bally's Casino is conveniently located at the second-floor entrance.
15) Tropicana Atlantic City
Tropicana is the place to head if you've come to Atlantic City for gaming, with 24-hours of nonstop action on their 200,000 square foot entertainment complex. You may never have to leave the Tropicana with 24 restaurants, 25 shops, 18 bars and lounges, 2 pools, an IMAX Theatre, and a spa. Of course, you definitely should because the Tropicana is set on the ocean and the natural element of Atlantic City is equally impressive. Great for families as kids stay free, there's something for everyone to love at Tropicana Atlantic City.
16) Best Western Atlantic City Hotel
Best Western Atlantic City Hotel is a staple hotel to turn to. Just a block from the boardwalk, Best Western Atlantic City Hotel offers free hot breakfast, free wifi, and free parking. Close to many of Atlantic City's biggest attractions, Best Western Atlantic City Hotel offers smoking and nonsmoking rooms, as well as a 24-hour check-in desk. ADA accessible, Best Western Atlantic City Hotel keeps comfort and budget in mind.
17) Sheraton Atlantic City Convention Center Hotel
Built for conventions, Sheraton Atlantic City is a downtown Atlantic City hotel. Spacious rooms include a desk in every room, coffee and tea makers, interconnected rooms available, and air conditioning. Onsite you'll find a fitness center and pool, a business center, bar, as well as a car for hire. Several onsite restaurants take the stress out of meal planning, with options like Tun Tavern, an award-winning pub. A mid-priced hotel, Sheraton Atlantic City, covers all the basics.
18) Flagship Resort 
Also part of the Fantasea resort conglomeration, Flagship Resort is at the beginning of the Atlantic City Boardwalk. All rooms offer kitchenettes and private balconies to extend the spaciousness of the room. Jump on to quick, free internet, or head down to the beach with complimentary beach chairs to rent. A pool and lounge area are other perks to Flagship Resort, as is Flagship's proximity to a number of delicious Italian restaurants. Ocean views and family-friendly rooms make this a winning choice.
19) Clarion Inn 
A Choice Hotel, Clarion Inn offers moderately priced accommodations with the perk of an included breakfast. Clean, large rooms await you at Clarion Inn, and amenities like parking, a pool, free wifi, and a 24-hour desk add to the ease of your stay. Close to popular landmarks like the Kennedy Plaza (0.4 miles away) and the Greek Temple Monument World War I Memorial (0.6 mi), you'll feel immersed in the experience of Atlantic City. Also close to the boardwalk, Clarion Inn is a budget buy in Atlantic City.
20) Howard Johnson by Wyndham Atlantic City
Be within walking distance to the boardwalk, beach, and nightlife of Atlantic City at Howard Johnson by Wyndham. Families will love the outdoor pool as well as reliable internet. Each room comes with one free parking spot and a second for $20/night. The onsite restaurant, Perry's Cafe, offers up tasty American cuisine. Rooms start at $75/night, making this a penny-pincher's dream.
Conclusion
From the historic and glitzy to the downright affordable, there is a hotel for every need in Atlantic City. These 20 hotels in Atlantic City make it easy to pick the right option for you. Get ready to head to this iconic beach town by booking your reservation at one of these hotels in Atlantic City today!
SEE MORE POSTS