BEST Restaurants in Buffalo, New York [2022 UPDATED]
By

Marina Yoveva
Famed for its proximity to the magnificent Niagara Falls, Buffalo is also the second-largest city in the state. Set on the shores of vast Lake Erie, Buffalo has an architecturally beautiful skyline dotted with fine examples from the 19th and 20th centuries. Museums and parks in plenty complete the pretty picture. With people of diverse ethnicities calling this city home, it is no surprise that there are plenty of gastronomical delights in store for foodies.
Take your pick of Mexican, Sicilian, Japanese, Italian, German, Polish, French, Arab, and Indian cuisines to name a few. This bustling city is also the birthplace of classic breakfast cereals such as Cheerios and Wheaties as well as the famous and yummy Buffalo wings! Not surprisingly, it also hosts annual summer food festivals such as the 'Taste of Buffalo' and 'National Buffalo Wing Festival'. Let's take a look at some of the best restaurants in Buffalo for you to try out!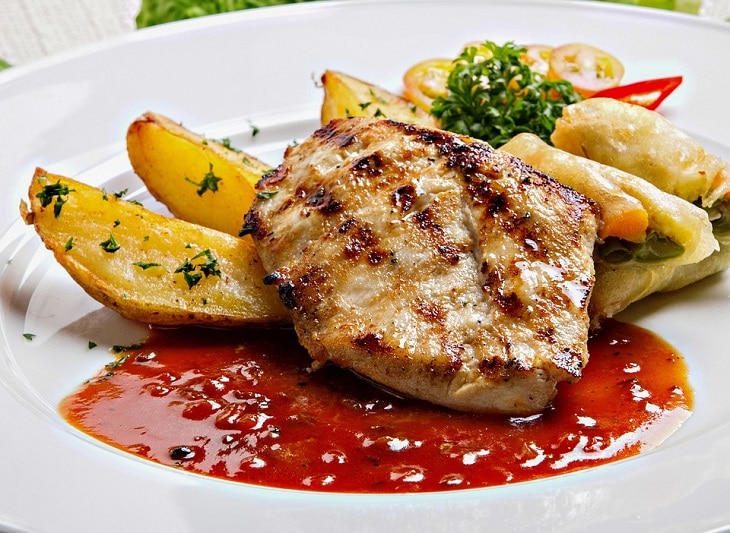 1. Bacchus Wine Bar & Restaurant
Serving classic American dishes such as roasted chicken, salads, and seasonal seafood, this casual restaurant is for all. Housed in the historic Calumet building right at the heart of the city's entertainment district, this restaurant also caters to special dietary requirements. Don't forget to make your selection from their award-winning wine list for a complete meal! The discreet staff enhances the experience with their thoughtful touches and efficient service.
2. Mulberry Italian Ristorante
This is the place to head for if you are craving some authentic Italian delicacies. Tucked away into the Bethlehem Park neighborhood of the city, the décor theme features plenty of photos and other memorabilia. Settle in at one of the cozy tables and prepare to dig into succulent lasagna, flavorful gnocchi, and feisty meatballs. You can enjoy a hearty dinner for two including dessert for a little under $50!
3. Hutch's
Specializing in American cuisine, this restaurant is famed for its steak dinners. Which makes it to the list at number 3 of the best restaurants in Buffalo. But if that's not what you are in the mood for, fret not for there are plenty of other light bites and drinks on the menu. You could settle for a salad or a sandwich instead and enjoy it at the bar counter if you'd like. Delicious vegetarian and vegan options are also available at this friendly place.
4. The Left Bank
With a multi-cuisine menu, this elegant restaurant is ideal for casual lunches as well as celebratory dinners. Their Sunday brunch menu features classic American favorites such as eggs Benedict and omelet alongside Souvlaki and Huevos Rancheros not to forget crepes! Service is quite efficient and the food undoubtedly delicious. And the prices do not leave you gaping and are quite competitive. One of the best restaurants in Buffalo NY.
5. Lombardo Ristorante
A family restaurant that has lasted for three generations, it offers excellent Italian cuisine. From house-cured meats to fresh handmade pizzas to hand-pulled mozzarella, everything here is served in the authentic Italian style. On some weeknights, the restaurant offers 3 for $39 specials that are definitely worth the money. The shaded outdoor patio is a great place to enjoy your meals.
6. Big Ditch Brewing Company
This craft beer brewery is a great place for casual evenings spent catching up with friends and family. Catering to special dietary requirements, this restaurant is also wheelchair accessible and offers outdoor seating. The welcoming ambiance helps you relax and unwind to the hum of conversation all around. Try their Sriracha Chicken sandwich, either grilled or fried to tantalize your taste buds.
7. Raclettes
This Parisian style bistro restaurant promises you a great time with its excellent food accompanied by great wines. Feast on delicious French crepes, brioche, and desserts such as chocolate fondues. The weekend brunch menu offers quiche and croissant French toast. Outdoor dining is also available here and you can enjoy your food as you watch the traffic on Main Street.
8. Tempo
This chic restaurant offers fine dining in a villa-style building. Enjoy sumptuous four-course meals starting with antipasti and ending with dessert. Italian cuisine with an emphasis on seafood is on the menu at this restaurant. There is also a selection of fine wines to go with all your choices. The cozy, romantic ambiance makes it a great place for birthday and anniversary dinners. Which makes it one of the best restaurants in Buffalo.
9. Sun Restaurant
When it's Asian food you crave, head to this casual restaurant which specializes in Japanese, Thai, and Burmese fusion cuisine. One common ingredient in most of their dishes is the exotic black rice be it salads, rolls, or fish specialties. A simple meal for two here can cost about $30 with salad and an entrée. Their sushi is also worth a try and they do substitute the black rice with white if that's what you want.
10. Chef's
Serving generous portions of Italian favorites, this restaurant dates back to 1923 though it has changed hands a few times over the years. While it appears a cozy little place from the outside, there is plenty of space inside to accommodate a large number of diners. There is also a nice bar area in the lobby if you'd care to sip a drink first.
11. Betty's
Situated in the historic Allentown district of the city, this restaurant features American classic with international flavors. The patio seating is perfect for sunny afternoons while the cozy space inside is for a casual and relaxed meal. Vegan and gluten-free options are available and the restaurant serves a mean Sunday brunch. Breakfast highlights include smoked turkey hash and homemade nut and raisin bread.
12. Fat Bob's Smokehouse
This decade-old restaurant is known for its lip-smacking Southern Style Barbecue with visitors dropping by from far and near for a taste. Other delicacies on the reasonably-priced menu include pulled pork sandwiches, cornbread, and chicken wings. Wash it all down with a pint of excellent beer. The place is wheelchair accessible and also offers outdoor seating.
13. Pearl Street Grill & Brewery
Located in a historic four-level warehouse with a basement in the downtown area, this casual eatery features grilled specialties in keeping with its name. Watch a game on the large TV as you chug a pint of the house brew. You can often enjoy live music and also have your meals outdoor here with waterfront views. There are a total of nine bars in the building.
14. Osteria 166
This best restaurants in Buffalo is the ideal place to enjoy good food in the company of friends and family. They have a variety of specials on nearly all days of the week which is definitely a big plus point. Try the zeppoles and cannoli dip for dessert if you can handle it after feasting on the generous entrée portions!
15. Dinosaur Bar-B-Que
With a presence in a few other American cities, this restaurant serves up Southern-style barbecue meats. Set at the heart of the city's theater district, this is the perfect location to grab a bite after watching a great show. Fridays and Saturdays are for enjoying live music with the food.  The outdoor seating areas are pet-friendly and the restaurant also offers gluten-free options.
16. The Melting Pot
Satisfy your craving for fondue at this restaurant chain which offers a unique dining experience. The endless fondue deals are definitely worth the money while on other days, it might seem a wee bit expensive. Broth, cheese, and chocolate are just some of the fondue options you could try out. Plenty of gluten-free options available too for those with special dietary requirements.
17. Toutant
Enjoy soul food specialties in an industrial-chic ambiance at this intimate restaurant. Sausages and biscuits for brunch are a popular favorite while the Nashville hot chicken and jambalaya are a must-try at mealtimes. And of course, the fried chicken is not to be missed! They also feature a barbecue of the week to be paired with some juicy cornbread. How does that sound for one of the best restaurants in Buffalo?
18. Cracker Barrel
Relish American comfort food at this homely restaurant with a general store on the premises. The extremely generous portions can prove quite overwhelming if you are a light eater and it might be a good idea to finish half and take the rest to go. The place can get quite busy on Sunday mornings and meals cost around $12 which is quite reasonable for the portion sizes.
19. Allen Burger Venture
All about Angus beef burgers that are free of hormones and antibiotics, this joint is a popular hangout spot. Order a refreshing pint to go with your juicy burger or opt for bourbon if that's more your style. Don't forget to add crispy fries and onion rings to your order. You can choose to sit at the bar or one of the high tables.
20. Parkside Meadow
This bar and grill is a cheery space serving a variety of American favorites. Seafood lovers will love sampling their fried haddock while lamb sandwiches are perfect for a quick bite. Courteous servers and the welcoming ambiance enhance the dining experience. And the prices are nothing to complain about either! As you wait for your meal, be sure to look around at the old photographs decorating the walls.
Conclusion 
Knowing the best places to find the kind of food you like or want to try out can come in handy especially when you are new to the city. With this compilation of the best restaurants in Buffalo, there is no way you can go wrong! So, work up an appetite and try to tick off as many restaurants off this list as you can. And remember, these are just the best of the lot. There are plenty more places to head for if you are willing to experiment or just step out of your comfort zone a wee bit!
SEE MORE POSTS