BEST Restaurants in Durham, North Carolina [2022 UPDATED]
By

Marina Yoveva
Sitting at the vicinity of Eno River is the city of Durham in the US state of North Carolina. The city a major developed city of the state and houses industries like tobacco, textile, electric power, for a fairly long time. Not only industries, it is also a major hub of universities and higher education in the US. With a fairly flat landscape, the city skyline is formed with its scrappers and tall historical structures. This highly developed city is flourishing with a variety of restaurants which are food lovers Mecca. Out of the large possibilities in dining here, we have put together some of the best restaurants in Durham. Read on to find out which one you like!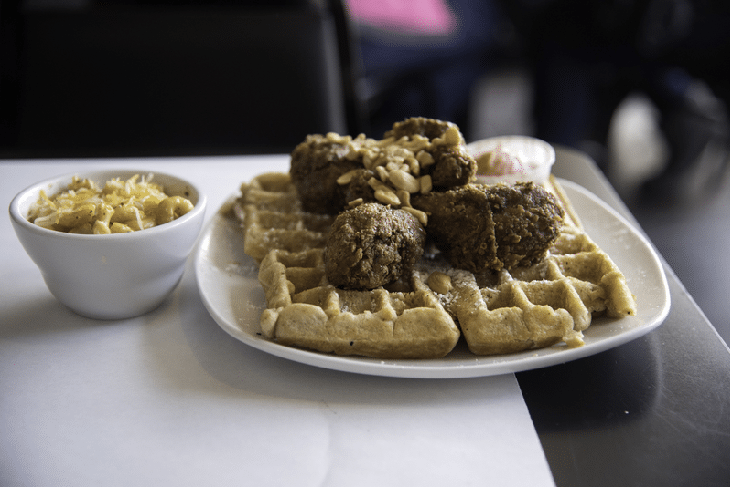 1. Gonza Tacos y Tequila
The Gonza Tacos y Tequila restaurant is located on the lively Fernway Avenue in Durham and the perfect place to refuel after shopping. The restaurant offers Mexican and Columbian menu in a casual and relaxed ambiance, perfect for spending time with friends or your partner. Open for lunch and dinner, the Gonza Tacos y Tequila banks not only on great food and cocktails but also a prime location.
2. Pizzeria Toro
Amidst the bustling Chapel, Hill St is a contemporary Pizzeria Toro restaurant, offering fresh wood-fired Italian pizzas. As delicious as it sounds, it is also a place to try something healthy at the same time. It also offers a selection of wines to go with the variety of pizzas. Pizzeria Toro also serves vegan and gluten-free options for health-conscious patrons.
3. The Refectory Cafe
Located on the scenic Durham-Chapel Hill Blvd in Durham is The Refractory Café. Known for comfort food, the restaurant remains open for breakfast, brunch, and dinner. Indulge in healthy salads, soups, steaks and much more from its dynamic menu. Colorful décor adorns the restaurant making it just the place for a quick bite on your way back from the chapel.
4. Foster's Market
Want to try something homemade and delicious? Visit the Foster's Market restaurant in Durham to satiate your pangs. The restaurant serves homemade soups, salads, sandwiches, casseroles and more in a relaxed setting. The food in Foster's Market combines local flavors and fresh catch of the day with modern trends of the food industry, to form some of the best dishes.
5. Burger Bach
Located in a pristine location, right on the 9th Street, is the Burger Bach restaurant, a lively gastropub in Durham and a famous hotspot in town. The restaurant serves classic American food bonanza in a relaxed setting. From Wellington burgers to Matamata, the menu is to die for. Have one kind of burger each day and choose your favorite!
6. Rue Cler Restaurant
Right on the Chapel Hill St. in Durham is the Rue Cler Restaurant offering French cuisine in an upscale ambiance. The restaurant is open for brunch, lunch, and dinner and also offers some of the best wines to go with the diverse menu. Try a range of delicious pastas and spaghetti along with French style meats including beef, chicken, fish and more!
7. JuJu
The
JuJu restaurant is a fine dining restaurant located on the bustling 9th Street. The restaurant serves Asian fusion menu, so you are in for a real treat. The Asian flavors are blended with American dishes resulting in some amazing dishes. Small plates are also available for tasting here and don't forget to try delicious tepas at the tapas bar here, along with some handcrafted cocktails.
8. Mateo Bar de Tapas
Located right next to the Durham train station is the Mateo Bar De Tapas, the neighborhood Spanish restaurant serving some of the best tapas in town. The ambiance is fairly relaxed and great for a casual treat or dinner with family or friends. Try from a range of tapas, BBQ pork, Chorizo, Spanish deviled eggs and more! Don't forget to try strawberry pie for desserts.
9. Bleu Olive
The Bleu Olive restaurant lies on the vibrant Hillandale Road in Durham. This popular neighborhood Mediterranean bistro is the perfect place for your next dine-out. There's a fantastic selection of cocktails and wines to choose from along with Mediterranean style chicken shawarma, Spanakopita, Steaks, Lamb Kofte and much more along with crazy dips to go with. There are several options for vegans as well.
10. Vin Rouge
Situated right on the Hillsborough Road in Durham is the French bistro Vin Rouge. The restaurant serves comfort French food and seafood dishes and is a great option for a quick bite. Open for online orders and dine-in, the menu is fairly large and includes a wide range of French-style Salmon, trout, Steak Tartare, etc. along with aged wines! Visit with your family or friends for dinner.
11. Guglhupf Bakery, Cafe & Biergarten
Located on the serene Chapel Hill Road in Durham is the Guglhupf Bakery, Cafe & Biergarten restaurant. This famous café is the perfect place to get your baked goods and sweet supplies for those with a sweet tooth. The café serves great pretzels, beer, salads, short ribs and more in its menu, in an open-air seating with views of the nearby greenery.
12. Dame's Chicken & Waffles
Located in a prime location on the Foster St., is the relaxed and budget-friendly American restaurant, the Dame's Chicken & Waffles. The restaurant is open for brunch, lunch, and dinner daily and includes a variety of comfort American food on the menu. Turkey bacon, sausages, buttermilk fried chicken, and mouth-watering waffles are some of the must-try dishes here.
13. Elmo's Diner
The Elmo's Diner is an upscale neighborhood diner located in the heart of Durham on the lively 9th St. The menu comprises of American classics served in a family-friendly vibe. Open for early breakfast till dinner, this casual diner is your go-to spot for pocket-friendly lunch and dinner. Eggs, pancakes, waffles, Quiche, chicken dishes and so much more is available along with a separate menu for kids.
14. Luna Rotisserie and Empanadas
The upbeat Luna Rotisserie and Empanadas restaurant lies on the West Main St. and known for South American comfort food. The restaurant serves delicacies like fish and chips, empanadas, Arepas, braised pork, fried chicken and a wide selection for vegans too. The cocktail menu has something for everyone and goes with the vibrant yet comforting menu.
15. Page Road Grill
Located on Page Road in Durham is the Page Road Grill restaurant, a famous grill in the neighborhood. The restaurant serves grilled delicacies in a casual setting with views of the nearby greenery. The restaurant is open for brunch, lunch, and dinner and offers a variety of dishes like burgers, salads, pasta, sandwiches, calamari, and delicious cocktails to go which them.
16. Ted's Montana Grill
Ted's Montana Grill is ideally located in the Renaissance Center in Durham, serving some of the best burgers and steaks. You can also try a range of draft beers and cocktails here. It's a great place to grab a bite after a tiring shopping spree as well as for meat lovers. Try bison, Filet and Ribeye with burgers and salads. The restaurant also serves a kid's menu so a great place to dine with family.
17. NanaSteak
The upscale NanaSteak is the best place for meat lovers to indulge in a variety of meats. From the famous New York steak to grilled fish and sandwiches, the menu is quite diverse and offers more than you can expect. Don't forget to try bison steak which is the chef's favorite. It is open for lunch and dinner daily.
18. Melo Trattoria
Melo Trattoria is a great place for trying authentic Italian and Mediterranean cuisine in Durham. The restaurant lies on the famous Hillandale road and open for lunch and dinner. This casual eatery is ideal for a budget-friendly dinner and lunch with your friends. It also serves delicious Tapas along with a fine selection of wines and cocktails.
19. Metro 8 Steakhouse
Metro 8 Steakhouse is known for Argentinean steaks served in a relaxed vibe. Located on 9th street, the restaurant opens for dinner only. Visit the cozy Metro 8 Steakhouse with your family or friends and have a lovely dinner comprising of American-Argentinean fusion steaks. Artichoke dip, Caesar salad, rib-eye, here are to die for.
20. Parizade
Right on the West Main St. is the Parizade Mediterranean restaurant in Durham offering European delicacies in an open kitchen and show cooking. Love what you watch and eat what you love, is true in the case of Parizade. There is also a range of options for vegetarians too, which you can also order online from the comfort of your home.
Conclusion
Durham has unlimited dining options for locals as well as tourists. You can try anything ranging from multicuisine to classic American at places like fine dining restaurants to budget diners. Whether you like hearty meats or planet-friendly vegan options, there is something for everyone. Many of these places accept online orders too so just sit back, relax and order online and enjoy the food at the comfort of your home. If you liked any of these recommendations by our foodies, please let us know by dropping a line below.
SEE MORE POSTS