20 Bars on High Street Columbus Ohio [Nightlife Fun]
By

Marina Yoveva
High Street, which runs 13.5 miles north-south in Colombus, is the place to be when you are looking for a night out in this Midwestern city. Having said that, you might want to know where the best bars on high street Columbus Ohio are and what makes them so good.
That's why we created this list! No more wandering around trying to guess which is the perfect bar for you. Passing through unique parts of the city, including Old North Columbus, the University District, the Short North Arts District, and Downtown Columbus, each individual will find their High Street scene.
Multiple buses run up and down High Street, including late-night service on The Night Owl, making it an easy street to access. From historic breweries to hip new joints, with this list of bars on High Street Columbus, Ohio, you'll be sure to make memories to remember. Read on to explore all the diverse bars on High Street Colombus Ohio, to map out your next night out!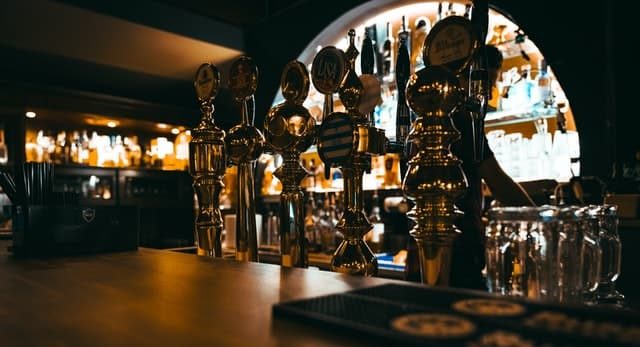 See Also:
1) The Pearl
An upscale American-style bar and restaurant, The Pearl is great for a romantic night out or a special occasion. With a focus on scratch-made food, The Pearl is known for its unique mixed drinks and an extensive list of ales, lagers, and stouts beers. Check out The Pearl's seasonal punch bowls, which are served tableside in punchbowls reminiscent of your Grandma's Christmas gathering. Great for a boozy brunch, or a refined evening, The Pearl should be on your list when in Columbus.
2) Forno Kitchen + Bar
Forno Kitchen + Bar is set in the heart of the Short North Arts District and is known for hand-crafted drinks, a happy hour, and delicious pizza from a stone-fire oven. Enjoy drafts specialized in Ohio, or grab a glass of wine to unwind. Such notable drinks mark happy Hour as the Frose, a glass of frozen rose wine with fresh strawberries and grapefruit vodka. Come for brunch, a relaxing lunch, or an evening out at Forno Kitchen + Bar.
3) Char Bar
The Char Bar is a classic hole in the wall, in the best way possible. Char Bar has friendly staff who will remember to call you by your name if you come often enough. An outside patio, pool table, and jukebox add an old school element to this endearing neighborhood bar. People have said that the Char Bar may have the best Long Island Ice Tea in all Columbus, something you'll have to judge for yourself on your next visit.
4) Marcella's
Marcella's is perfect for those who adore Italian hospitality. A warm and inviting atmosphere greets you, along with an extensive Italian menu, complete with an ample beer and wine list. Ask for the special "Whisper List" to find a hearty list of high-end bourbons.
Be sure to pair your drinks with delicious eats such as traditional-style pizzas, handmade pasta, and specialty cured meats. A kid's menu and dolce (dessert) list mean the whole family will walk away happy from Marcella's.
5) Press Grill
Press Grill is another Short North Arts District gem, offering daily specials with a true neighborhood feel. A full bar includes cold beer on top, classic mixed drinks, and fine wines. Enjoy delicious eats such as the NY strip steak, weekly specials like Tuesday wings for 0.85 cents each, and Thursday's Thanksgiving dinner. A mainstay in Columbus dining and drinks, Press Grill is a go-to for comfort food.
6) Gresso's
Gresso's is a beloved Columbus staple in German Village. A great spot for large groups, Gresso's is known for being the place to watch big college games. Gresso's has been voted #1 for their Village Burger by Food Quest and is a wonderful place to bring your pup along to, as it is pet-friendly. Enjoy Mexican Monday, which highlights Mexican cuisine along with $4.99 margaritas. Ohio Valley Nights are also a fun and cheap night out, with $1.10 pizza slices.
7) Melt Bar and Grilled
Melt Bar and Grilled is the place to be for grilled cheese and cold beer. Yes, that's right, this kid's classic, grilled cheese, is in abundance at Melt Bar and Grilled. Try unique grilled cheese options like Mom's Meatloaf, a grilled cheese stuffed with hearty beef meatloaf, or stick to the Kindergarten, for the simplest grilled cheese. Melt Bar's drink menu is not to be forgotten with an extensive domestic and international beer list, as well as a happy hour menu.
8) Hubbard Grille
Another hybrid bar-restaurant, Hubbard Grille, is great for American classics such as fried chicken, seasonal veggies, and a standard burger. Hubbard Grille is also a great place to grab a drink, with weekly events meant to raise a glass to.
Come for the weekly $5 Happy Hour, from 4-6 pm, with $5 app and drink specials. Wednesday is Wine Night, with all bottles $65 and under 1/2 off. And Sunday is an All-Night Happy Hour, meaning there's no limit to those $5 drinks, a potentially dangerous thing.
9) High-Beck Tavern
High-Beck Tavern is simple yet lovable. A casual bar scene with affordable food, High-Beck Tavern is a great pick for a no-stress evening. With 3-4 bartenders on at busy evenings, you'll never wait long at High-Beck Tavern.
Friendly staff, enjoy the pool, foosball, ping pong, and darts at High-Beck. Close to the courthouse in downtown Columbus, High-Beck is a convenient choice if you're in the downtown location. Perks such as frequent free chili hot dogs keep customers coming back.
10) Barley's Brewing Company
Barely's Brewing Company is the place to go-to for beer. Known for its locally brewed ale, Barley's Brewing Company has been doing business for over 20 years and has the brewing experience to show for it. Come for happy hour Monday-Friday, 4-7 pm, with $4 beers. Or join in the fun Friday tradition of Firkin Friday, a special on pours of five-gallons of beer to go (best consumed in 40 hours of pouring). The second story, Brewcadia, is an old school amusement hall with games from an era past.
11) Elevator Brewery & Draught Haus
This brewery is another excellent beer hall to put on your list. Set in a historical, downtown Columbus building, Elevator Brewery & Draught Haus is known for local brews and American cuisine.
Close to Blue Jackets Nationwide Arena, Palace Theatre, Capitol Square, The Greater Columbus Convention Center, the Short North District, Elevator Brewery is easy to access. After a nice meal and round of drinks, relax with darts or billiards, which pays tribute to the origins of Elevator Brewery; once Botts Brother's Billards gentleman saloon.
12) Arch City Tavern
Arch City Tavern is a neighborhood pub with a relaxed atmosphere. Named after one of Columbus' nicknames, The Arch City, Arch City Tavern is a great blend of old and new. Dine on locally-sourced food and craft beers, all within the beautiful setting of exposed brick and finished wood. Reflecting on the Short North Arts District's hip quality, Arch City Tavern has a trendy vibe with great drinks and eats to match.
13) Short North Tavern
Short North Tavern is a friendly bar with a real neighborhood feeling. A fun atmosphere that serves up cheap burgers and cold drinks, Short North Tavern has a "regulars" crowd and just a following of happy-return customers.
A great spot to hit up if you're headed to an OSU game, Short North Tavern never fails to deliver on fast and filling food as well as drinks. Great music, dart boards, and sports on the TV add to this relaxed spot.
14) Bodega
Bodega is a high-energy bar with seasonal cocktails and mules. With 47 beers on tap and 150 beers, Bodega will not leave you shorthanded with the number of drink choices it offers. A $1 grilled cheese special on Monday nights is a staple at Bodega, as well as their wide range of American pub food. A weekend brunch draws in crowds Saturdays and Sundays, and late-night dining keeps customers happy. A current "Booze to Go" menu means you can bring Bodega home.
15) Bernard's Tavern
Bernard's Tavern is a classic college bar that is the go-to place for college sports. Customers love the half-price happy hour on wine, Ohio drafts, and appetizers. An extensive menu highlights comfort food such as Nashville style shrimp and grits, chicken and waffles, and the Juicy Lucy burger. Whether you're coming for lunch or dinner, or just for a drink, Bernard's Tavern is an iconic Columbus bar.
16) Short North Pint House
Short North Pint House is a beer garden reminiscent of German-style halls. 75 local, regional, and international beers and cocktails grace the menu of Short North Pint House. Customers also love the delicious "pub grub" menu that includes sharable snacks, pizzas, and sandwiches. Specials include brunch on the weekends, happy hour from 3-6 pm, and 75 cent wings on Wednesdays. A wonderful location just for meeting up with a friend, it is also a great place to gather and watch the latest sports games.
17) Novak's Tavern & Patio
Novak's Tavern & Patio has a stunning second-story patio great for sunny days. A favorite with locals heads to Novak's Tavern & Patio for such delights as a hibiscus Paloma or Mezcal Old Fashioned. House specials include $1 off on happy hour drinks, which runs from Monday through Friday until 8 pm. Wednesday is $4 whiskeys, and Thursday is $5 vodka lemonade. Every day of the week is a great day to visit Novak's, which is especially lovely in the summer months.
18) Bob's Bar
When you crave the quintessential bar with no frills, Bob's Bar is the place to go. Bob's motto shouts, "Bob loves beer!" with approximately 240 different beers available. In the Beechwold area of Columbus, Bob's Bar is known as one of the country's top 32 dive bars!
Happy hour runs daily from 2 to 8 pm, and locals love the "World Tour" challenge, where you can sign up to drink 130 beers, then receive a t-shirt. A consistent, friendly staff shows the staying power of this diamond in the rough.
19) Dempsey's Food & Spirits
Dempsey's Food & Spirits is a well-rounded establishment for both food and drink. Locally-sourced food and a full bar keep everyone a happy customer at Dempsey's. Try their signature bloody mary, which comes with a personalized board of cheese, pickles, and hot sauce so you can customize your drink.
Directly on the CBUS Circulator route, Dempsey's is open for breakfast, lunch, and dinner. A Notre Dame-bar, come and watch all the Fighting Irish's games at Dempsey's.
20) Arepazo Tapas Bar and Grill
When you're craving tapas (and who isn't?), Arepazo Tapas Bar and Grill has you covered. A little slice of Latin America in Columbus, Arepazo Tapas Bar and Grill's cuisine stretches from Venezuela to Cuba. A kids menu makes this a family-friendly joint, or come for a romantic date night. $8 cocktails and $10 specialty cocktails make budgeting for a night out easy, as well as delicious. Don't forget to grab a glass of their housemade sangria for a reasonable $7 a glass.
Conclusion
Columbus impresses with a wide range of different styles and types of bars all along High Street. Whether you're headed out with the family-in-tow or are ready for a true night on the town, this list of bars on High Street in Columbus Ohio, gives you ample choices. Get ready for some fun!