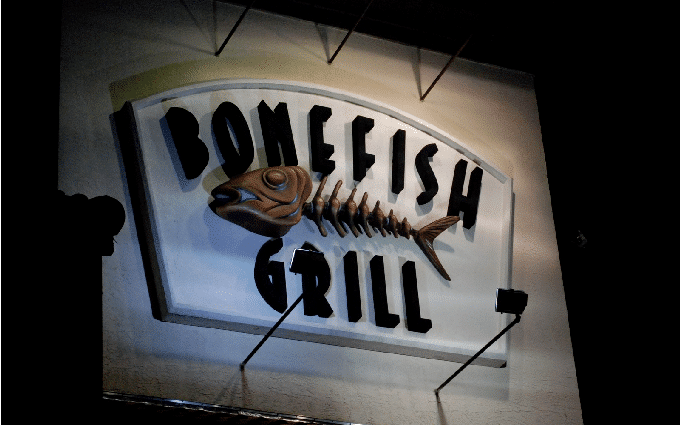 Hours of Operation
Fees
Directions
Mondays – Thursday: 4:00 PM-10:00 PM
Fridays: 4:00 PM – 11:00 PM
Saturdays: 11:00 AM – 11:00 PM
Sundays: 10:00 AM – 9:00 PM
Appetizers: $4.90 to $16.90.
Soups: $3.20 to $8.20.
Salads $4.50 to $14.30.
Entrees & Dinner Menu:  $9.90 to $28.50.
Note: Prices & menu items may vary.
if you travel on the highway Interstate 70 can deviate to the Polaris Pkwy, the Bonefish Grill is situated on a corner.
Description
Winner of the Certificate of Excellence prize for three years in a row, makes Bonefish Grill in Columbus Ohio, a restaurant like no other. Their premium service focus on delivering every customer with fresh and innovative dishes, prepared with the utmost care.
They make sure every meal is made with the freshest ingredients available, and they are committed to serving you seasonal seafood every day of the year regardless of the season.
This restaurant franchise located in Columbus Ohio was founded by Tim Curci and Chris Parker in Florida, to make every meal to be more than just food on a plate. With almost 20 years of history, it seems this franchise is here to stay.
Bonefish Grill's menu is designed to please everybody, from vegan dishes to seafood entrees, and gluten-free options. Nobody is allowed to have a bad time at Bonefish Grill.
The restaurant offers nine entrees courses which include their popular  Bang Bang Shrimp, which is shrimp tossed in Bonefish Grill's signature creamy, spicy sauce and the Imperial Dip a delicious blend of tender shrimp, bay scallops, lump crab, Mozzarella and Parmesan cheeses, and served with seasoned house-made tortilla chips.
For the customers who cannot eat seafood or are looking after their calories intake, the Soups & Salads menu includes many healthy options like Grilled Salmon Superfood Salad made with romaine and kale, ancient grains, Feta, avocado, pickled onions, and sweet potato bites, tossed in Bonefish Grill's house vinaigrette and finished with a citrus aioli or Bonefish Cobb Salad prepare with romaine and kale, tomato, egg, Blue cheese crumbles, croutons, fresh avocado and bacon, tossed in a ranch dressing with wood-grilled shrimp.
Among the Dinner menu we can find many yummy options, lightly seasoned & wood-grilled fish tossed with onions, peppers and finished with a house special sauce.
Every fish is cooked to perfection using a 100 percent, natural wood-burning grill loaded with oak, which gives every fish a smooth, smoky flavor to every dish.
If you don't like seafood but prefer a good steak bite, worry not, Bonefish Grill also offer many steak choices like Sirloin & Crab Cake Dinner, a 6 oz center cut sirloin and a Maryland-style crab cake with a side of goat cheese, spinach, artichoke hearts, and lemon basil sauce. Seriously, you have no excuses to not visit.
If you like happy hour specials you'll be glad to hear Bonefish Grill host every day from 4:00 PM to 6:30 PM, offering savory beverages at really cheap prices beer for $1 each, house wines for $4 the glass and stronger drinks for $6 the tumbler.
They specialized in hand-crafted cocktails and martinis for only $5. If you feel adventurous ask for their Cold Snap Cocktail Blackberry frost, which, is served in a glass made of ice, you can also ask for the classics like Blueberry Lemon Drop prepared with absolute citron, blueberry purée, fresh sour mix, and sugar rim or many people's favorites Fresh Margaritas made with Lunazul Blanco Tequila, Cointreau & fresh lime simple syrup.
The ambiance in this restaurant is outstanding, it has two dining areas, one very casual in the bar area surrounded by flat t.v. screens for those who like to hang out with their friends; and another more private area surrounded by candle lights for a more intimate dining experience.
The staff is very welcoming without being intrusive, which makes every experience in Bonefish Grill something to remember.
Bonefish Grill is considered one of the most popular restaurants in Columbus Ohio, the food, the ambiance and the staff made of this restaurant a place to visit with our beloved ones.
Don't wait more and make a reservation and also make sure you go with an empty stomach because you will ask for second servings, that's how good they are.
See Also: Bars in Columbus Ohio
Reviews
Bonefish Grill in Columbus, Ohio has a 4.5 rate based on 1.218 reviews.
Bonefish Grill Columbus
Average rating:
0 reviews