20 BEST Restaurants in Dayton, Ohio [2022 UPDATED]
By

Jane Flowers
Dayton is the sixth-largest city of Ohio. It is also known as the Gem City. This city plays a major role as to why Ohio is known as the Birthplace of Aviation. This is because it's the hometown of the Wright brothers, who built and invented the world's first successful airplane. The city brings several parks and museums that you can visit. Beautiful, the city's worth planning a trip to. Actually, spend some time getting to know the place. And there, among the historic parks and buildings in Ohio, you will find the best restaurants in Dayton. In fact, you might wish to travel around the city, trying out all the different cuisine. Certainly, in Dayton, you'll find some excellent chefs. Make your trip memorable and enjoy eating the best of meals from the best restaurants in Dayton.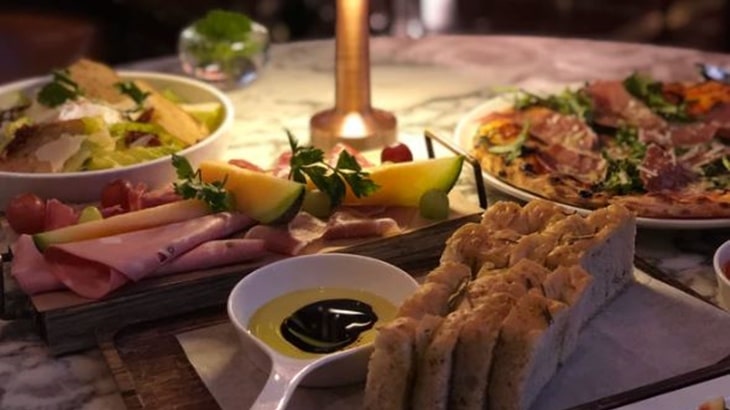 1. Pasha Grill
Treat yourself and enjoy the different cuisine that this restaurant has to offer. It's famous for being among the best restaurants in Dayton. The restaurant also has considered those who have special meal requirements, such as gluten-free meals, vegan options and Halal. Their services are amazing and exquisite. It is a restaurant that is highly ranked for the way they treat their customers. Pita wraps, tasty appetizers, and draft beer entice the visitor.
2. Dewey's Pizza
In the number two spot on our list of the best restaurants in Dayton is Dewey's. At Dewey's Pizza, you can order a plate of food and also request for a takeout.  If you are camping, you may find it convenient to take home a meal for later. The restaurant's food is worth the take out. Their menu is favorable to vegans as well. Enjoy your meal while using the restaurant's fast internet. try the Porky Fig with red onions and mozzarella, or the Socrates Revenge with black olives.
3. Oakwood Club Incorporated
The Oakwood Club Incorporated restaurant is among the best restaurants in Dayton since it has a variety of cuisine. Their meals are tasty and there are vegan-friendly options. Their steak burger is and crabs are among the famous meals of their special delicacies. The wide range of food includes Lobster from South Africa and crab from Maryland. This is the type of restaurant that you visit and find it difficult to leave. Their services to their customers are among the best.
4. Salar Restaurant and Lounge
This is the ideal restaurant for you to come in with a large group. It is perfect for you to host your birthday party with your close family or friends. Just in case you have a business meeting with a large crowd, this restaurant, not only has tasty food but the ambiance is so soothing. Calm enough for you to enjoy the time you spend while you are at Salar restaurant and lounge. Try a heady cocktail or a super-healthy vegetarian entree, and, of course, dessert.
5. Meadowlark Restaurant
Come enjoy the amazing American cuisine. If you are looking for a perfect restaurant that lets you have private dining, this is a restaurant for you. You can call in early to make some reservations so that you can have the area set aside for you. While enjoying the restaurant's food, enjoy some fast internet. You can also have some of the best wine from the restaurant or ask for some chilled cold beer. Open for lunch, brunch, and dinner, they also cater to kids in their wide-ranging menu.
6. Wheat Penny Oven and Bar
You need to stop over by this restaurant. They serve the Italian, American and local cuisine. Their amazing food will leave your mouth craving for seconds. Their chefs ensure that they make meals that will have the clients visiting the restaurant more than once. They also have Pizza on their menu, just in case you want to have some comfort food that will fill your belly. It's about more than just pizza, as they offer a wide range of salads, veggies, and pasta as well.
7. Corner Kitchen
This restaurant is attractively furnished.  Their American cuisine is what it's best known for. The vegans and the people who prefer having gluten-free meals are also catered to.  Enjoy your meals, from this place. The restaurant's ambiance is amazing and sets a mood for you to enjoy some relax-time with your food. You won't regret the choice you made to stop by the amazing restaurant. They also serve lunch-to-go, and there's a bar inside.
8. Thai 9
This is an outstanding restaurant that has very special and different types of cuisines. Their Sushi, Asian and Thai cuisine are the restaurant's delicacies. Served hot, sweet and savory will have you want more. The ambiance of this restaurant is a good distraction for you to have a nice time. Just the right place for you to give yourself a well-deserved treat. A no-brainer to include in our list of the best restaurants in Dayton.
9. Joe's Pizzeria
Joe's Pizzeria is a great place for you to stop over for lunch or dinner. They mainly serve Pizza. They have the best flavors for the Pizza that they sell. If you are a vegetarian, the restaurant also has a Pizza that you can enjoy that is vegan-friendly. This is a place to stop by with your group in order to have some nice hot served Pizza with a choice of delicious toppings.
10. Lily's Bistro
You need to look no further for a place where you can enjoy your breakfast or have your brunch. A great meal for breakfast is the best way for you to begin your day with. Their services are known to be the best. The restaurant strives to please its clients at all times, ensuring that they are fully satisfied. They also serve the best cocktails and alcoholic drinks.
11. Bonefish Grill
This is a restaurant that serves the best Seafood. Enjoy all of the seafood that they offer. Their American cuisine is also a delicacy that the chefs deliver well in their cooking. The atmosphere is one of the best for you to enjoy yourself. Moreover, their services are excellent. Guests who visit their restaurant always leave the place with a smile of satisfaction.
12. Jimmie's Ladder 11
This restaurant is enjoyable and is capable of serving large groups. Guests enjoy meeting with friends and family here.  for you to visit and have a fun time. The set up of the restaurant is accommodating for large groups. It's a place for you to wind day or week in a relaxed atmosphere. Consider having a surprise birthday party at Jimmie's Ladder 11 restaurant. Their burgers are some of the best for you to tuck into. The bar is spacious and well designed too.
13. Pine Club
You need to consider going to this restaurant because of its excellent services. The place offers its clients an amazing table service.  It is a restaurant that is known by many people because its ambiance and design is one of the best. Try the appetizers which include shrimp cocktails, marinated herring, or creamed spinach. They also produce a good range of steaks and chops. You will want to spend more time than you had planned while you are there.
14. Dublin Pub
While you are at Dayton, make it a plan to visit this restaurant. They have Irish cuisine. Sample the food, enjoy their amazing services. Try their different cuisine and have something to talk about once you leave Dayton. Their bar is well designed and serves the best drinks that you could wish for – both alcoholic and non-alcoholic drinks.
15. Troni's Italian Restaurant
Troni's Italian restaurant is a place where you will enjoy Italian cuisines or eat the most delicious Pizza. The most popular item is the range of pizzas on offer. Tey their Alfredo, or a range of authentic Italian pasta. The restaurant's atmosphere is also cool. Their staff is always ready to serve all hungry customers looking for a tasty meal.
16. Carillon Brewing Co
this is an amazing restaurant in Dayton. The Carillon Brewing Co. is very German-orientated.   Their meals are uniquely prepared by the chefs. Guest like it as orders arrive timeously. Their staff is also determined to only offer the best of their services in order for their clients to be fully satisfied. Apart from German food, you'll also find meals from early English and Irish immigrants. Of course, beer and cider are also available.
Phone: +1 937-910-0722
Address: 1000 Carillon Blvd, Dayton, OH 45409, United States
Website:%3