The 20 BEST Restaurants on Brown Street Dayton Ohio
By

Marina Yoveva
Dayton, Ohio, is a perfectly mid-sized city in the southwestern corner of Ohio. A cultural mix of the military (air force), inventions, and college campuses, and while all of this is great, you also have to go out and eat from time to time, this is why we decided to add this list of the best restaurants on Brown Street Dayton OH!
In Dayton, Ohio, Brown Street is an excellent place to head when you're looking for a range of dining options. Running just north of the University of Dayton, Brown Street is a mecca for food in Dayton, Ohio. So whether you're craving something casual or high-end, there's plenty to eat on Brown Street, Dayton, Ohio. Read on to be tantalized by these delectable eats at restaurants on Brown Street Dayton OH!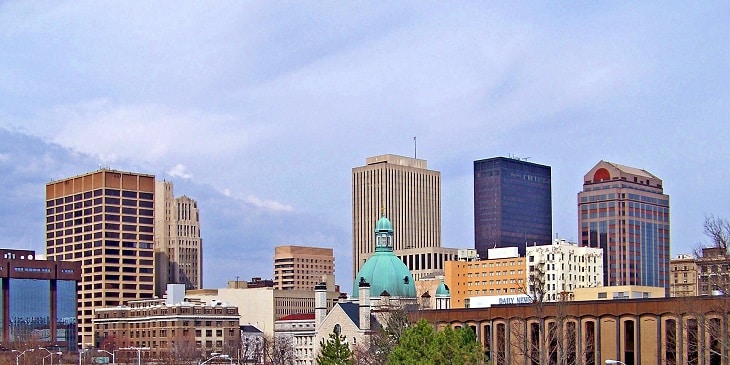 1) Ginger and Spice
Ginger and Spice is known for freshly prepared Asian dishes. The emphasis on high-quality ingredients, including free-range chickens, makes all the difference. Open for lunch, dinner, and carry out, Ginger and Spice is the perfect place to warm up in the cold winter months. Well-sized portions at affordable prices ensure you'll get the best bang for your buck, as well as have a satisfied belly.
2) Pine Club
An old-school steakhouse, Pine Club, has been part of the Dayton community since 1947. Perfectly cut, cured, and prepared steaks are all done in-house. A rich, wood interior adds to the old world ambiance, along with a friendly staff. Featured in The New York Times, The Food Network, and USA Today, there's no wonder why the Pine Club is a landmark in Dayton, Ohio.
3) Cassano's Pizza King
Cassano's Pizza King is a classic pizza parlor whose origins date back to 1953. If thin-style pizza is your pizza dream, then Cassano's is a must. Affordably-priced pizzas range from personal size to x-large. For a romantic pizza date, order the heart-shaped pizza, which is as cute as it sounds. Lunch specials such as a personal-size pizza for $4.49 make it a no-brainer for lunchtime.
4) Milano's Pizza and Subs
For quick eats that include beers on taps, head to Milano's Pizza and Subs. For October, Milano's is featuring a German-style menu, including items such as schnitzel sandwiches and Bavarian pretzels. Cheer on your favorite team with the big screens at Milano's, or belly up for your favorite subs, calzones, and pizzas. Milano's also offers a full selection of domestic and international beers.
5) Fusian
Fusian is just what it implies; a fusion kitchen of Asian dishes. Enjoy signature sushi or bowls and salads that can be customized based on your taste. Start with a base of sushi, rice, or salad, then add protein, veggies, and toppings. With ingredients such as brown rice that may not be on a traditional sushi menu, Fusian invites guests to rethink their sushi concept. Grab a delicious drink such as agave lemonade to accompany your healthy lunch at this fast and casual joint.
6) Jimmie's Ladder 11
Jimmie's Ladder 11 is a family-joint whose passion is American comfort food set in an old-fashioned firehouse. Specialty sandwiches, hearty portions of pasta, and handmade soups all add to the warmth of Jimmie's Ladder 11. An ample patio in summer months makes this a great choice for a safe afternoon or evening out. Plan your next party at Jimmie's Ladder 11 in their unique party loft.
7) Hickory Bar-b-que
There's nothing like some down-home barbeque, and Hickory Bar-b-que is just that. Serving up iconic barbeque dishes such as a pulled pork sandwich, BBQ ribs, and a 1/2 BBQ chicken, Hickory Bar-b-que is quality and affordable. Sides such as whipped potatoes, coleslaw, and applesauce are a reasonable $2.50, and dinner includes seafood options.
The Kiss family who owns the Hickory Bar-b-que are both of Hungarian descent, and a few Hungarian dishes can be found on the menu, such as the stuffed cabbage.
8) Smashburger
Smashburger utilizes the innovative "smash technique" when preparing their curated burger recipes. Customers love classic and creative burgers such as the bacon avocado club burger. An extensive list of potatoes sides includes classic fries, sweet potato fries, haystack onions, and tater tots. Close to the University of Dayton, college students love the 75 cent cans of PBR that run on special.
9) Butter Cafe
Butter Cafe is known for one of the best breakfasts in Dayton, with breakfast items like jelly donut pancakes, build-your-own omelets, and a delectable crab cake benedict. Open for breakfast and lunch; Butter Cafe is family and budget-friendly. Monthly specials include a rotating menu of alcoholic drink specials like a watermelon cucumber mimosa, as well as eats like a vegan hot chicken sandwich.
10) Thai Nine
Dayton's got its fair share of Asian cuisine, but Thai Nine should be on your list when you're seeking out authentic Thai food. In the Historic Oregon District, Thai Nine offers Thai food as well as sushi and sashimi. Thai Nine sets the bar to a certain level of elegance with white linen tables and a casual dress code but does not allow tank tops. Enjoy a wide range of Thai soups and classic dishes like Pad Thai and Pad See Ewe.
11) Skyline Chili
Skyline Chili is an easy go-to for a quick lunch. Skyline Chili's signature dishes are the 3-Way, a mound of steaming spaghetti topped with chili and cheddar cheese, and the Cheese Coney, a decadent hot dog covered with chili and cheese. Don't expect your waistline to thank you when you head to Skyline Chili, but your tastebuds definitely will. Skyline Chili also has sandwiches and salads, along with a kid's menu.
12) Submarine House
Submarine House features homemade bread with their signature subs, craft beer, and ongoing sportscast on their TVs. People love their Philly cheesesteak as Submarine House was one of the first restaurants in the area to feature it. A full menu expands beyond simply subs and encompasses dishes like pizza, salads, and gyros. Open since 1973; Submarine House is an iconic Dayton restaurant.
13) Zombie Dogz
Fun all-year-round, Zombie Dogz is a little macabre when it comes to the atmosphere but always delicious when it comes to food. Zombie Dogz is known for its creative hot dogs, tacos, and sides like macaroni and cheese. Try a heavy-hitter Chicago dog or go for the mini chili dog. Gourmet dogs are still a great novelty for a quick bite for lunch or a heavy snack at Zombie Dogz.
14) Five Guys
Five Guys delivers consistent quality in their hamburgers and fries. Go for a classic hamburger or cheeseburger, or if you're mindful of your caloric intake, make it a Little Hamburger. Whether you're doing pick-up or delivery, Five Guys is fast and fresh, albeit a bit of a greasy burger indulgence.
15) Rusty Taco
Rusty Taco is a fun taco joint that offers an equally uplifting atmosphere. Hand-made street tacos, all-day breakfast tacos, and Mexican deserts are the trademarks of Rusty Taco. Grab a cold one and head to the back patio, or take your order to go. Kids quesadillas and various loaded nachos are additional perks to Rusty Taco, whose laid-back vibe and good eats keep customers returning.
16) Gyro Palace
Gyro Palace has been serving Dayton Mediterranean food since 1998. Gyros, shwarma, and stuffed grape leaves are all on the menu at Gyro Palace. Quick service and fresh fixings make this a great lunch choice. Vegetarians and meat-lovers alike will walk away satisfied at Gyro Palace, with a wide menu. A family-run establishment, expect nothing but the best from Gyro Palace.
17) BIBIBOP Asian Grill
BIBIBOP Asian Grill brings the flavors of South Korea to Dayton. Fresh ingredients top every bibimbap, a traditional Korean dish that is the signature meal at BIBIBOP. Build your own bibimbap with a base, protein, veggies, and toppings. Beautiful in color, BIBIBOP Asian Grill's food is as aesthetically appealing as it is delicious. Kind of like a Korean version of Chipotle, BIBIBOP Asian Grill is a fast way to fill up on food that will leave you satisfied.
18) Potbelly Sandwich Shop
A staple American fast-food sandwich shop, there's a reason why Potbelly has staying power. Consistently good sandwiches at a reasonable price make this a favorite with working-class people on lunch break and college students alike. Each sandwich comes with a listed calorie count, making it easy to make healthy choices. Of course, if you feel a little naughty, the homemade cookies at Potbelly are a pretty amazing way to make it a special meal.
19) Timothy's Bar & Grill
Timothy's Bar & Grill is in downtown Dayton, within proximity to the University of Dayton. Timothy's doesn't have a large menu, but it's quality over quantity with dishes like classic sliders, a turkey melt, and loaded tots. Patrons love the outdoor patio for warm months, as well as the endless games aired on the TVs. A definite University of Dayton bar, soak up the culture of the University of Dayton at Timothy's Bar & Grill.
20) Hot Head Burrito
Hot Head Burrito is a chain burrito shop that touts delicious burritos and margaritas, mixed drinks, and craft beers. Open daily from 11 am – 10 pm, head to Hot Head Burrito for lunch or an easy dinner. Tuesdays are taco night with $2 tacos, and Sunday and Monday's deals include burrito bowls for $12.99. Choose from "mild" or "wild" burrito choices that include mango habanero barbacoa, teriyaki chicken, and Southwest ranch pork.
Conclusion
Restaurants on Brown Street in Dayton, Colombus, often cater to college students with casual, affordable eats; however, the range in Brown Street food is impressive. A reasonable list of Asian restaurants, many American-style establishments, as well as quick bites makes a trip on Brown Street plentiful. With this list of savory bites, you'll never go hungry in Dayton, Ohio.