TOP 20 Hotels in New Philadelphia Ohio Worth Booking
By

Marina Yoveva
John Knisley founded the town in 1804. New Philadelphia is 119 miles northeast of Columbus and 85 miles south of Cleveland on the Tuscarawas River. Have some fun at the Tuscora Amusement Park or journey through the historic Schoenbrunn Village. You will find it is a replica of the style used in Pennsylvania. The Moravian Indian missionary town was also the first Christian town in Ohio. The settlers and travelers from the east traveled to the area, creating a thriving town of merchants and taverns. Famous names include President McKinley, who visited the town frequently, as did John Glen, who did his initial flight training in New Philadelphia at Harry Clever Field. Take your time and breathe in the history! so sit back and relax as you tour some of the best hotels in New Philadelphia Ohio.
You will find several hotels that are very close to this city. However, you may discover moving a few miles will bring you a more gorgeous and spacious opportunity. Enjoy all the land has to offer.
 1. Hampton Inn New Philadelphia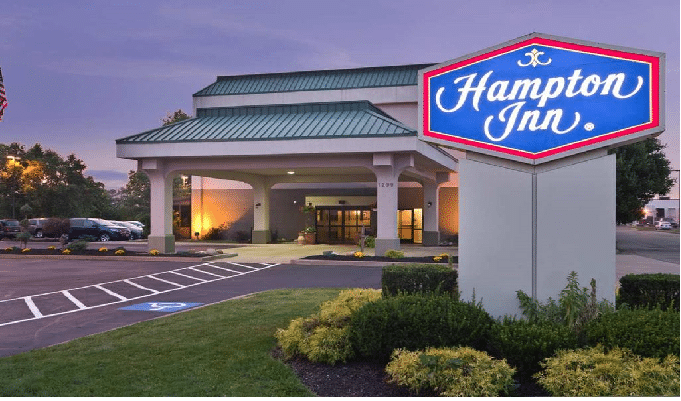 Welcome to the heart of Ohio Amish Country! Enjoy the non-smoking atmosphere and free lobby and in-room WiFi. There are 60 rooms, suites, and guestrooms available for your needs. You have plenty of options here, including 15 restaurants within ¾ miles of your doorstep. The Hampton Inn New Philadelphia boasts to you a 100% Guarantee on every stay. Sorry, but we allow only service animals. Still one of the nicest hotels in New Philadelphia Ohio.
2. Best Western Dutch Valley Inn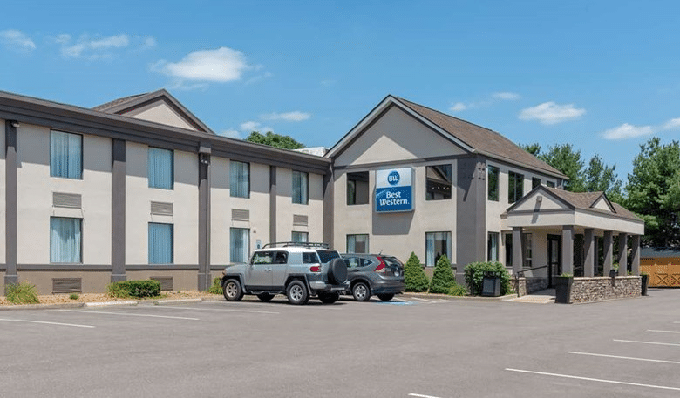 You will be combining convenience and comfort in this family-friendly inn. Enjoy the WiFi, flat-screen TV, and a fridge to store a cold beverage or snacks. Free parking is offered if you are driving. It's pet-friendly for up to two dogs – up to 80 pounds each – weight limit. You would pay $10 per day for $100 maximum charge per week. (Call for specific details.)
3. Holiday Inn Express & Suites New Philadelphia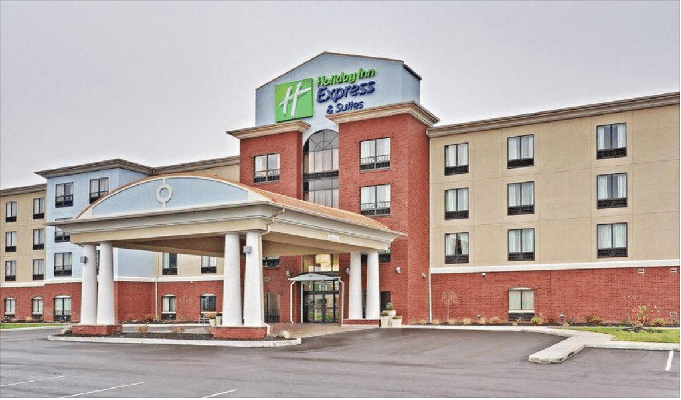 This delightful family-friendly hotel is rated #3 out of six competitors in the area, and is also rated in the modern business style. You have 16 restaurants within a ¾-mile radius, including Hog Haven, Texas Roadhouse, El San Jose Mexican Restaurant, or Starbucks. Enjoy the non-smoking suites and rooms with a safe for your valuables. It's also dog/pet-friendly.
Phone: +1-877-859-5095
Address: 145 Bluebell Drive SW off I-77, New Philadelphia, OH 44663-9660, USA
Website: www.holiday-inn-express-suites-new-philadelphia.com
[/su_note]
4. The Schoenbrunn Inn & Conference Center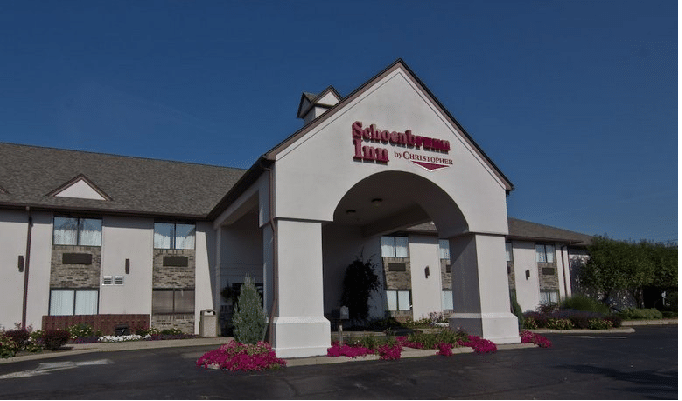 The urban style hotel is quaint and centrally located at the gateway to Amish Country in the scenic Tuscarawas County. You will receive a competitive rate and a memorable experience as you enjoy the hot tub, sauna, and indoor pool. You have options of 18 restaurants within a ¾-mile radius, including Starbucks, Texas Roadhouse, and Hog Haven! Enjoy every minute!
5. Travelodge by Wyndham – New Philadelphia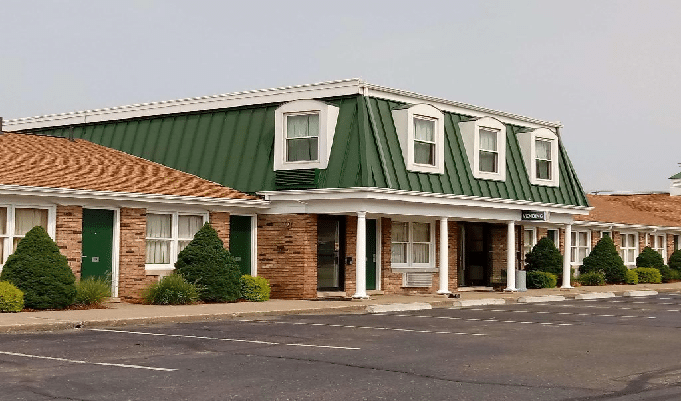 Travelodge is in New Philadelphia with a short 3-minute drive to the Warther Museum and only eight minutes from the Performing Arts Center. There is so much more to see, including Trumpet in the Land (5.8 miles) and Schoenbrunn Village (6.8 miles). Enjoy a complimentary continental breakfast or stay in your room and cook using the microwave and cup of tea/coffee. Chill yourself a cold beverage in the fridge for later.
6. Country Inn & Suites By Radisson – Dover, Ohio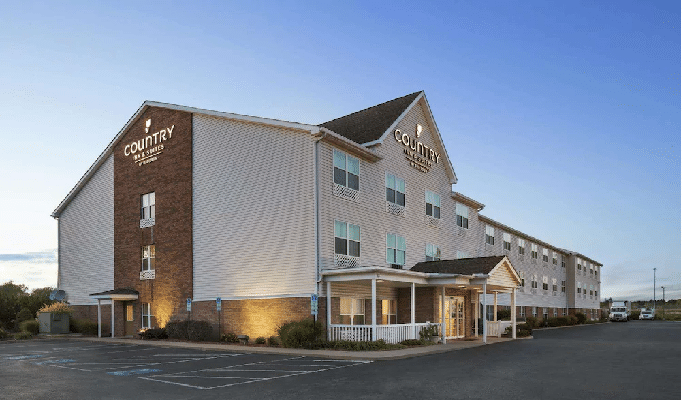 Stepping away from New Philadelphia, you can wander into the Amish Country's "newest gem" that was opened in 2012. Enjoy the pool, business center with Internet access, free parking, and so much more. It is rated with a 4.5 Certificate of Excellence for cleanliness, service, location, and value! You will find the Country Inn just off I-77, only 15 minutes from the Historic Schoenbrunn Village.
7. Comfort Inn Dover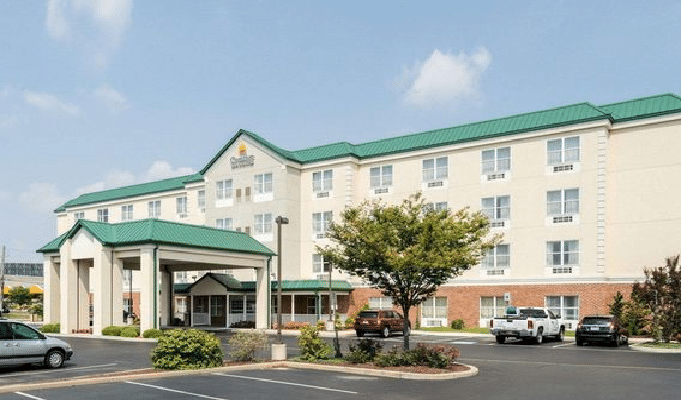 The short 3.6 miles from New Philadelphia to the Comfort Inn is so worth it, and it is ranked as the #2 hotel spot in the Dover area. Its mix of convenience, comfort, and value make it an excellent stop where kids stay free. It also offers a golf course, tennis court, and fitness center with a workout/gym area. If that isn't what you're craving, go for a dip in the heated pool or hot tub! See you there!
8. Red Roof Inn – Uhrichsville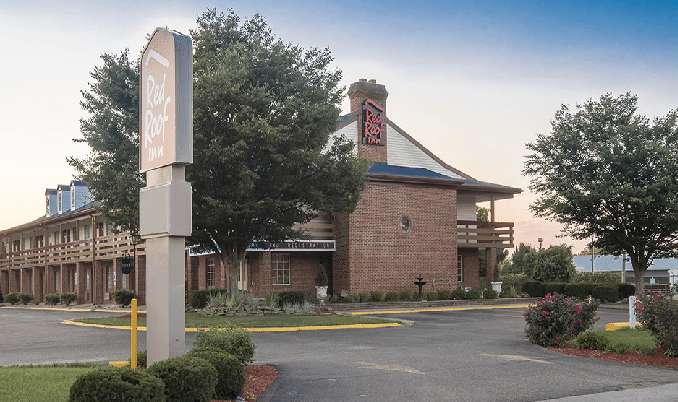 Quickly access the Inn from Interstates 250 and 77, and only 7.4 miles from New Philadelphia. A short drive away will take you to tons of activities and an excellent shopping mall. Enter into the charming hotel with free breakfast, and the kids stay free. Use the business center and meeting rooms with Internet access. If dining out isn't for you, use the kitchenette and kick back for an evening of relaxation.
9. Ramada Limited Strasburg Dover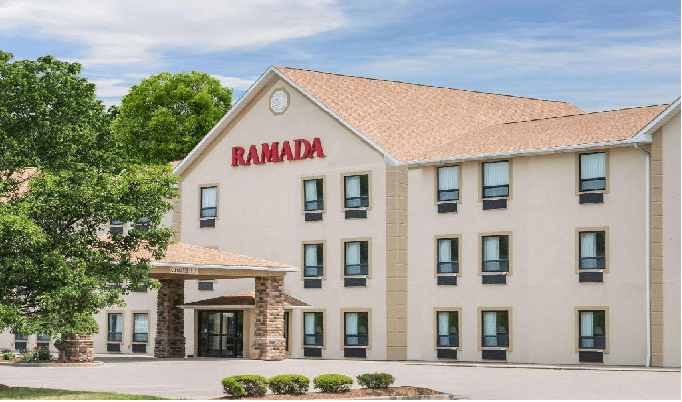 Mosey about 8.2 miles from New Philadelphia into Amish Country near the Warther's Museum. Enjoy the indoor pool, fitness center, free breakfast, and bring along your family pooch since the Ramada is pet-friendly. Visit the Dennison Railroad Depot Museum or the outdoor theater showcases at Trumpet in the Land, which retells the story of Schoenbrunn, the first colony in Ohio! The entertainment awaits you!
10. 77 Inn & Suites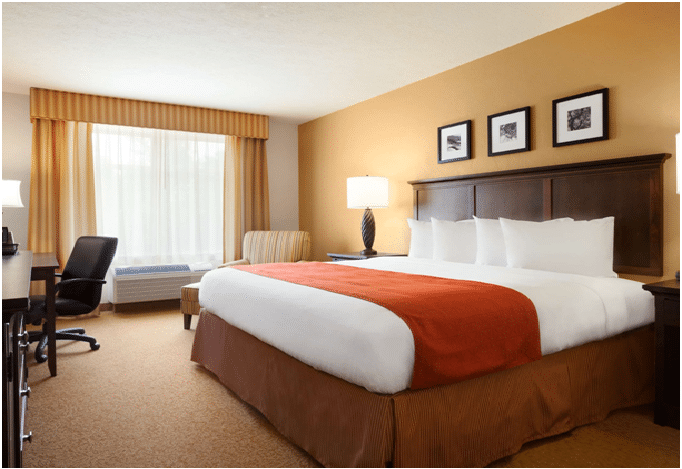 Take a short cruise over to Dover (close to Interstate 77) and enjoy the Warther Museum only ½-mile away. You have free parking, an excellent front desk clerk to assist you, with a delicious restaurant grill on site. Journey into the neighborhood to visit the Warther Museum & Gardens, Speedway, or the Dover Public Library. Also nearby is the St. Johns United Church of Christ and so much more.
11. Sleep Inn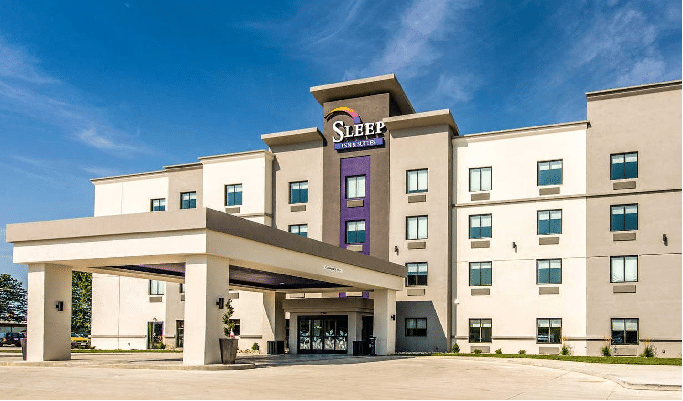 The inn is located 10.5 miles from New Philadelphia, and right off of the interstate with an offering of 58 rooms, a pool, and free breakfast. Use one of the meeting rooms and bring the kids along for activities, including horseback riding. You have 14 restaurants and two local attractions within a ¾-mile radius. If you want to save the dining out fees, you have a fridge and coffee/tea maker in the room for your convenience.
12. Berlin Grande Hotel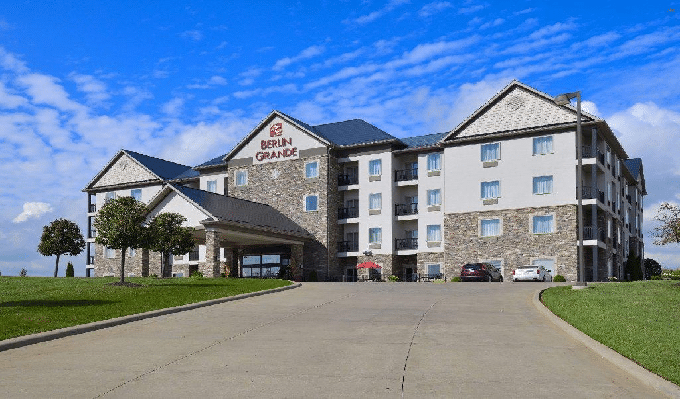 Whether you are in the area for business or pleasure, the Amish Country provides you with a down-home atmosphere at the Berlin Grande Hotel. Sit down for a meeting at the fully-equipped business center, go for a swim in the indoor saltwater pool and hot tub, or just kick back with the free WiFi. It's right behind the Farmstead Restaurant and is easily accessible right across from the Killbuck Savings Bank. See you there!
13. Carlisle Inn Walnut Creek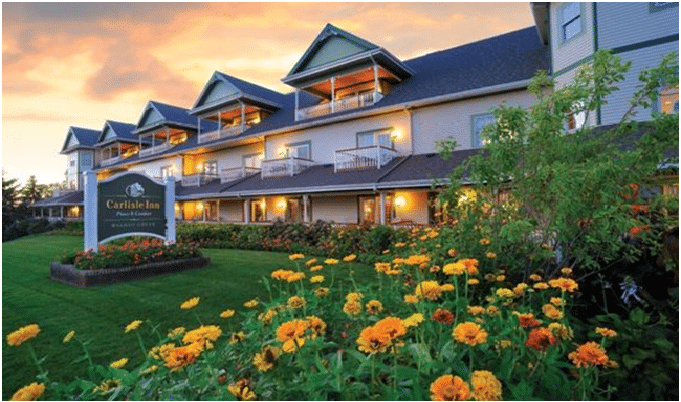 You are about 20 miles or 27 minutes from New Philadelphia, but the ride is so worth it to visit this elegantly decorated rooms with an onsite business center. You can also enjoy the spa services and 24-hour fitness center. If you are seeking a wedding venue, check with the staff for details. Enjoy the lobby fireplace or relax with a cold drink from the fridge with a snack from the microwave. Have some fun!
14. The Wallhouse Hotel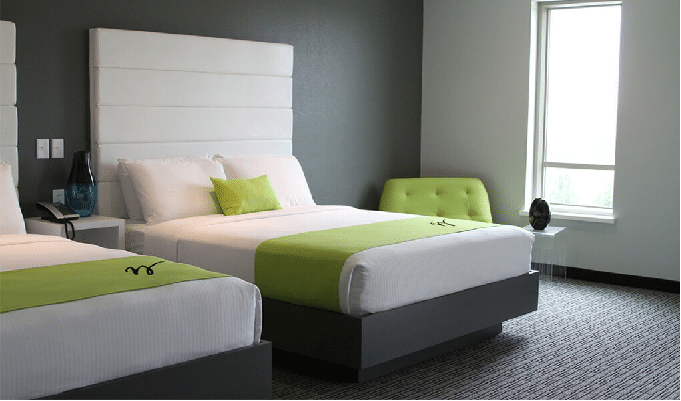 The Wallhouse is 15.1 miles from New Philadelphia and is ranked as the #1 hotel in the area with free parking. Within a five-mile radius, you can visit 63 attractions or dine at one of the 28 restaurants. Visit the Amish Country Theather, The Farm – Amish & Mennonite Heritage Center, or Walnut Creek Cheese. Dine at Park Street Pizza, Millers Bakery, Mudd Valley Cafe & Creamery, and so many more! One of the most favorite hotels in New Philadelphia Ohio.
15. The Inn At Amish Door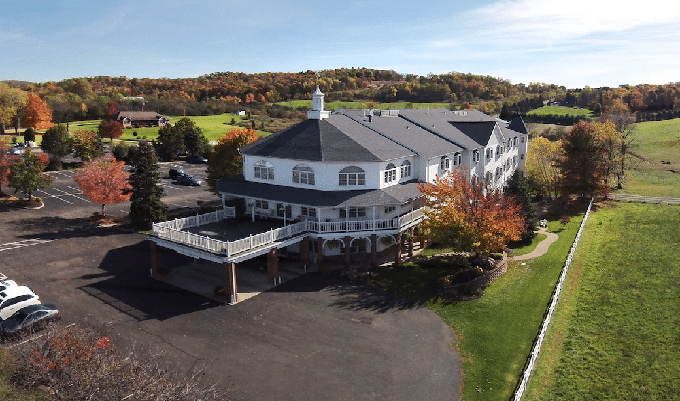 The drive through Amish Country places you 15.2 miles from New Philadelphia, but the area has much to offer, including a hot tub and pool. Visit The Wilderness Center, Baylor Beach Park, and the Old World Polish Pottery. Dine-in at a local restaurant, less than five miles away including the Amish Door Restaurant with its raving reviews or Whitmer's Pizza & General store, or have a cone at Just Ice Cream & A Bit More.
16. Super 8 By Wyndham Newcomerstown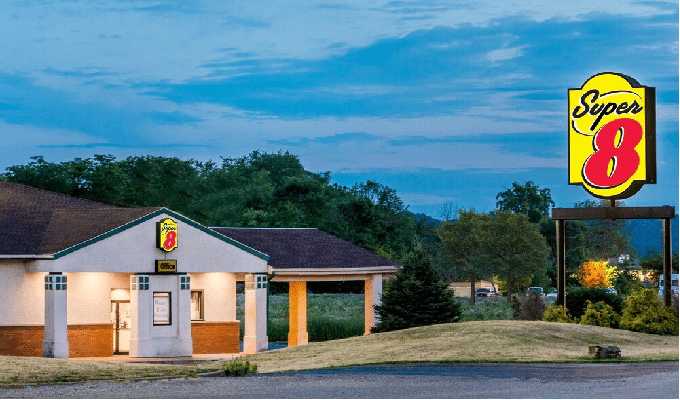 You are 15.3 miles from New Philadelphia, located in Tuscarawas County in east-central Ohio at Exit 65 just off I-77 with plenty of parking for a bus, truck, or RV. Your comfort is at hand with a free super-start breakfast with laundry facilities available if needed.  If you are into golf, play a round at Salt Fork State Park Golf Course or visit the Pro Football Hall of Fame (49 min.). Enjoy the countryside!
17. Zinck's Inn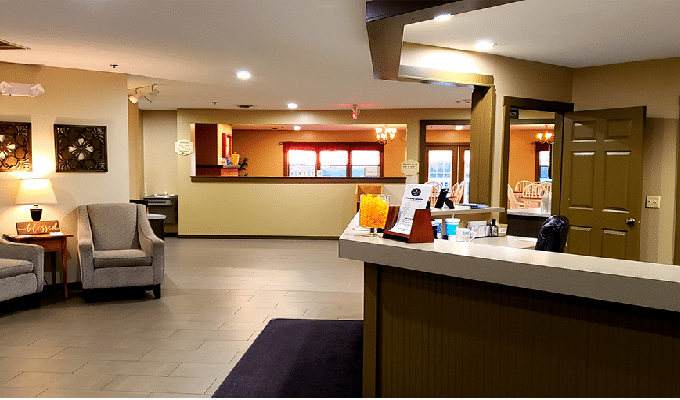 You will love this slice of Amish Country, located in the business district. Visit the Black Diamond Golf Course, Amish & Mennonite Heritage Center, or German Culter Museum. If you enjoy a bit of brew, visit the Breitenbach Wine Cellars, hit the Baylor Beach Park, or the Farm at Walnut Creek. Its rates are reasonable with free WiFi and breakfast included!
18. Knights Inn Canton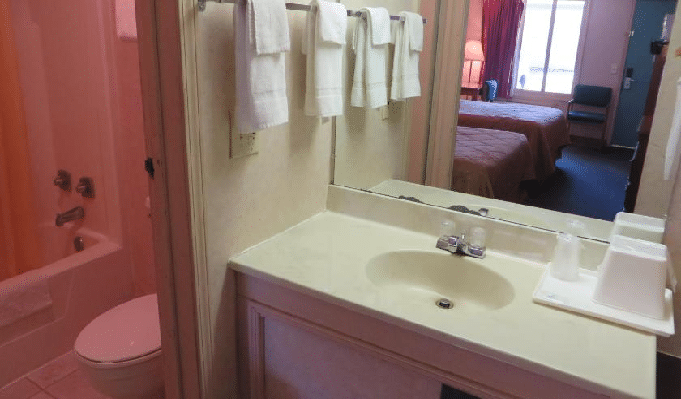 Grab a complimentary newspaper in the lobby while you're checking in. Settle in and enjoy the outdoor pool or cruise the Belden Village Mall. The Pro Football Hall of Fame is also closeby.  If skating is your gig, have a few rounds at the North Canton Skate & Entertainment Center. Dine at the Dairy Queen (8 min.) or enjoy Sbarro for some classic Italian dining options(7 min.).
19. Fairfield Inn & Suites Canton South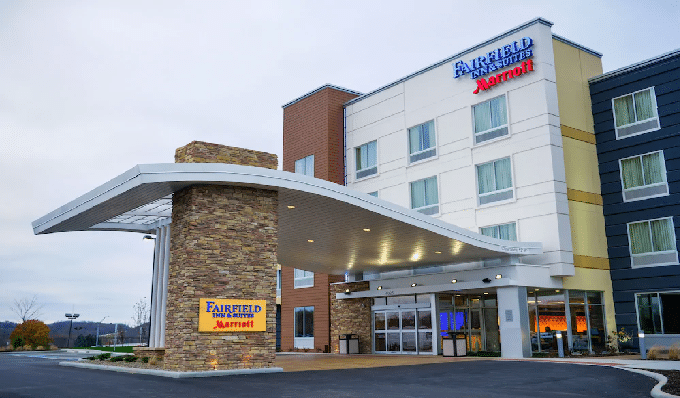 The Fairfield Inn is deemed as the #1 hotel in the Canton area and is located 18.3 miles from New Philadelphia. The hotel is conveniently located just off I-77, near Downtown Canton. Dine Italian style at Uncle Primo's or savor a bit of Mexican cuisine at El San Jose. Go for a swim in the indoor pool or workout in the fitness center. Or, just grab a fluffy pillow and stretch out.
20. M Star Hotel – North Canton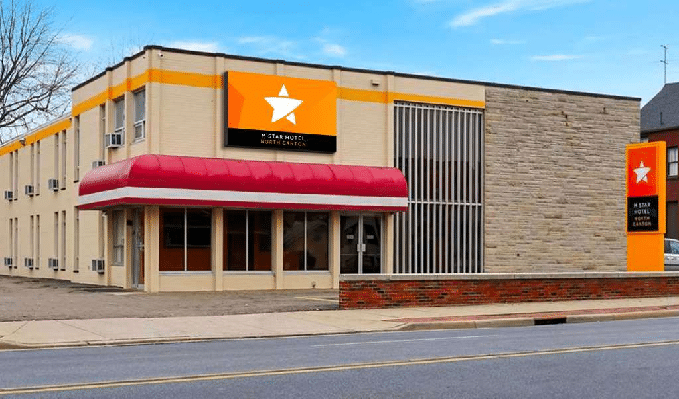 The hotel is 21.65 miles from New Philadelphia, but the location is excellent since you are only five minutes from the Pro Football Hall of Fame. Choose from rooms with one king-size or two regular beds with a kitchenette. You will have a mini-fridge, microwave, and other great amenities. Sorry, No Pets Allowed.
Conclusion
There is not a huge array of hotels in New Philadelphia Ohio area, but these are a good mixture of what the Amish Country has to offer. You can visit quite a bit of history from the Pro Football Hall of Fame, Warther Museum, Tuscora Amusement & Theme Parks, or the J. E. Reeves Victorian Home & Carriage House Museum.
Why not plan your next business trip or getaway and enjoy the scenery? It will surely be an experience you will never forget!