Top 19 Restaurants in New Philadelphia Ohio
By

Marina Yoveva
Welcome to Tuscarawas County, Ohio, which is the largest city in the county nested on the Tuscarawas River about 85 miles south of Cleveland and 119 miles northeast of Columbus. The town covers a mere 8.39 miles, but you will have plenty of dining options, beginning with the 19 in this guideline. Each of the venues mentioned is an excellent dining option if you are seeking Restaurants in New Philadelphia Ohio area. Please enjoy your dining experience.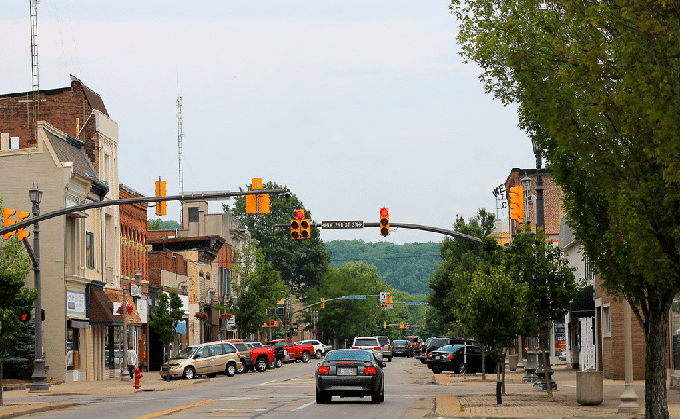 See Also: Best hotels to stay at in New Phila Ohio
1. Litty's Cakes & Cookies
Are you craving something deliciously sweet? The bakery is rated 5-Star for its service, value, and food, and is the #1 option for baked items in the area. Choose from cookies, cakes, wedding cakes, and cupcakes. Litty's has been serving the valley for over fifty years as a family tradition of excellence. The bakery is closed on Sunday and Monday. Number one on the list of best Restaurants in New Philadelphia Ohio.
2. Miller's Creamery
This spot is dedicated to those with a "sweet tooth," ranking a 5-Star Certificate of Excellence. Enjoy some of the Homemade Caramel Corn made with real butter and natural evaporated cane sugar! Sixteen flavors are available for a delectable (from scratch) soft-serve sherbet or try a Homemade Ice Cream Cake. You will find a flavor to like in this delightful location!
3. Uncle Primo's
You will be delighted ordering the American, Italian, and vegetarian meal at Uncle Primo's. It is listed as the #1 Italian and #2 in all of the 48 restaurants in the area. Primo's Certificate of Excellence engaged from 2017-2019. Favorites include Basil Pesto Pasta, Primo's Chicken Alfredo, and Chicken Broccoli Pasta for starters. Stop by for lunch or dinner, and enjoy it's gluten-free options if that's your diet plan, you'll love it!
4. Dee's Restaurant
If you are searching for an early morning casual American eatery with vegetarian-friendly options, you have found it! Dee's rated the Certificate of Excellence award in 2017 for its quality food, service, and value of its food. Dee's offers waiter service, outdoor dining options, takeout, and is awesome for kids and groups. The doors are open from 6 AM until 2 PM Monday through Saturday and 8 AM until 2 PM on Sunday.
5. El San Jose Mexican Restaurant
If you enjoy Southwestern, Mexican food, you'll find delicious options, including vegetarian-friendly choices in El San Jose. It's rated #1 out of the two Mexican restaurants in the area. Stop by for lunch, dinner, and drinks for dining in or takeout for seven days a week. Try one of the tasty, cold margaritas and rave of its exquisite quality like the rest of its patrons; you'll love it!
6. Texas Roadhouse
The array of American food is an experience rated as #1 out of 15 in the area for its value, food, service, and fantastic atmosphere. Almost everything you eat will be handcrafted, including freshly baked bread, hand-cut steaks, and award-winning ribs. If you're a vegetarian, not a problem, it's covered! Sit back and enjoy one of the legendary margaritas or an ice-cold beer! One of the favorites restaurants in New Phila Ohio among many visitors.
7. J-N-G Grill
If you are craving some comfort food with a great atmosphere, come by this Great American Grill & Bar to be greeted by a smiling staff! Patrons rage of the nostalgic pics displayed and the fabulous menu. Grab some Front Street Snacks, including Breaded Mushrooms, Uptown Kettle Chips, Chicken Tenders, Bread Sticks & Sauce, to name a few. Choose from the Flat Iron Steak Salad or house Fling Salad, with so many more choices, it's unbelievable!
8. The Pointe Dining
The American Cuisine Steakhouse & Bar is highly rated at 4.5 stars out of 5 for its atmosphere, value, service, and of course, the delicious food! They are famous for a legendary slow-roasted Prime Rib! You will have many options for steak and chicken dishes, including Cajun Chicken Fettuccine, Steak & Shrimp Aioli, Crab Stuffed Sole, Baked Cod Almondine, and so much more!
9. Fundays – The Rootbeer Stand
You will fall in love with this delightful burger restaurant with its 5-Star rating for outstanding food, value, and service. The American cuisine for lunch and dinner invite you to outdoor seating and takeout options. Enjoy its drive-up style or take a walk when it's nice outside, and enjoy a burger or something tasty from the deep-fryer! Of course, don't forget dessert!
10. Brickyard Dining Co.
Stop by the Brickyard for a delicious wood-fired oven pizza, salad, chicken options, and soup. Splurge for a tasty pasta dish, delicious sandwich/sub, or a ½-pounder prepared using local-raised beef burger, with many other options. Brickyard is closed on Sunday but opens at 11 AM Monday through Saturday and closes at 9 PM on all days except Friday and Saturday; it closes at 10 PM. You can also order through doordash.com.
11. Hog Heaven
The rustic dining area invites you to enjoy a huge serving of delicious BBQ from the open flame. Patrons claim they're the best ribs and steaks anywhere. Join the mailing list and receive email updates to keep you informed of special events, live entertainment, and bike nights. Wednesday is special pricing offered for entrees with Monday with any burger for $7 from 2 PM until closing. Tuesday and Thursday offer wings and shrimp specials for dining in only.
12. Tlaquepaque Mexican Restaurant
If you are seeking good Mexican food with vegetarian-friendly options, you will find lunch and dinner – just the way you like it! Enjoy outdoor seating with weather permitting, indoor seating, and takeout if desired. Enjoy a cold brew and have some fun at your next family get together. Patrons found a nice atmosphere with good food and service. What more can you ask for while dining?
13. To Your Health Nutrition 
As you can imagine, this is a 5-Star eatery with your health as the main focus point! Breakfast, lunch, and dinner provide you with a variety of over 100 shake flavors to choose from on the extensive menu. Try a cup of herbal tea, a Mango Aloe Shooter, and enjoy every last delicious drop of goodness. You may discover if you are on a diet, many of the patrons discovered, a one-ounce portion of the Herbalife Formula daily will change your life. Enjoy one of the exercise classes if you are so inclined.
14. What's Cooking Cafe
Visit the local cafe and receive five-star service, a super value, and excellent food. Be sure to ask for vegetarian-options if you desire for breakfast, brunch, and lunch. Special menu options change occasionally. It is located close to Trinity Episcopal Church, so stop by for a quick bite and forget cooking today. Choose from the munchy menu with Hot Wings, Sweet Potato Fries, bakery items, and a whole lot more!
15. Sumo Hibachi Steak House
Another one of the restaurants in New Philadelphia Ohio, step into the Asian and Japanese cuisine and discover the only spot in the area for this type of menu offerings. It's service, value, and food are all rated 5-Star for lunch and dinner. Make plans to visit during Happy Hour from 11:20 AM until 3:00 PM, and all day Sunday up to 50% off your items is offered. You will fall in love with the menu, so enjoy it!
16. Lee's Famous Recipe Chicken
The American eatery is classified as the #1 dining establishment for fast food in the New Philadelphia area. Clients (15) have rated it with a 4.5 rating of excellence for lunch and dinner food items. Choose from Classic Chicken, Breast Strips, or Spicy Jumbo Dippers. You have side options, dipping sauces, and a Kid's menu. Desserts include signature pecan pie, parfaits, or homemade fried apple pie. Yummy!
17. Brewhouse
You'll find a cozy bar atmosphere with booths, stools, and high-definition TVs for your viewing pleasure. Come in and have a great time with friends and never feel like you are being 'rushed' to leave. Choose from 21 different beer options and enjoy a sports arcade game, have a game of pool, and enjoy the surround sound. Munch on some chicken tenders, potato skins, some loaded potato soup, or a Brewhouse Beer Chili you will never forget!
18. Zifer's Mary Pizza Shop
You will be awed with how delicious the food is at this great Italian, Continental, European pizza restaurant. You are not limited to pizza and can choose from pizza subs, meatball subs, spaghetti & rigatoni, salad, and breadsticks. It's a great place to bring your kids and is also wheelchair accessible with take-out offered. Be sure to check the times for the store opening hours (they do vary), so you don't waste a trip!
19. Craft Bistro & Lounge
Patrons rave of the upbeat service and exceptional menu offered by the bistro's staff. It would be a great idea to make reservations for dinner since it seems to have a remarkable following. Sorry, but the Bistro & Lounge is closed on Sunday and Monday. Its regular hours are 4 PM until 11 PM on Tuesday through Thursday and closes at midnight on Friday and Saturday. Make plans and join the rest of the very pleased patrons!
Conclusion
Go ahead and plan your itinerary for visiting the restaurants in New Philadelphia Ohio area and be ensured you will enjoy your food by using the guidelines provided. Many of the restaurants prefer you call, text, or make a reservation, so the dining you are seeking is promptly prepared and ready for your arrival. Whether you are seeking a delicious breakfast or brunch, lunch, dinner, or a few late-night bites, you should find a place that suits your hunger cravings! So, grab your significant other and family or friends and venture out to one or more of these great dining establishments to eliminate your hunger pangs. Please enjoy your visit!