20 BEST Restaurants in Eugene, Oregon [2022 UPDATED]
By

Marina Yoveva
Eugene, Oregon has the official slogan "A Great City for the Arts and Outdoors." In the way of art, Eugene is known for the Asian collections at the Jordan Schnitzer Museum of Art, as well as Visual Art Week, held in the city each year which explores the city's public art collection. Those interested in history should explore the Museum of Natural and Cultural History at the University of Oregon, with its many fascinating exhibits. The city is also rightfully famous for some of the best restaurants in Eugene, Oregon.
As to the outdoors, Eugene nestles on the Willamette River and features many green spaces to hang out in. These include Alton Baker Park, with its canoeing, picnicking, and hiking. Plus, there's Hendricks Park, famous for its beautiful rhododendron garden, many trails, and picnic areas. Visitors can also head out hiking to Mount Pisgah Peak, with its living tree museum. Or. there's Skinner Butte Park, a scenic place to walk and climb. Shoppers can appreciate the Fifth Street Public Market, with its many delightful cafes and stores. The many restaurants, serve an excellent range of cuisine, with everything from French, to Italian and Japanese food. Prepare your taste buds for 20 of the best restaurants in Eugene, Oregon, listed below.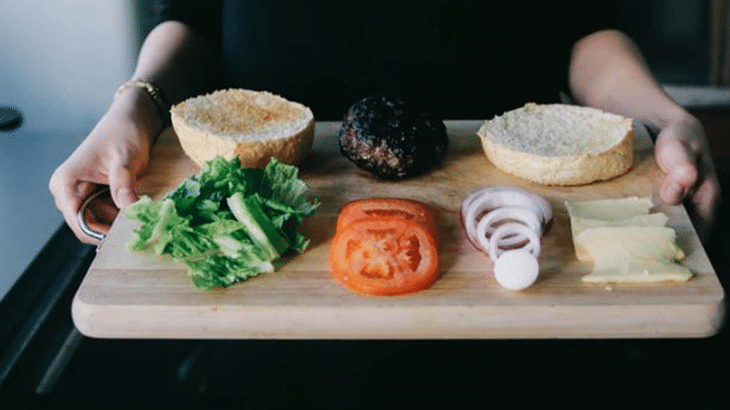 1. Sabai Cafe & Bar
Sabai Cafe & Bar is a warm, intimate space, serving what it terms as "Pacific Rim" cuisine. Delicious Asian and Thai flavors make up the menu, which also caters to vegetarian, vegan, and gluten-free diners. The cafe serves lunch and dinner, with dishes based on the street food and food markets of Thailand. As an appetizer, try Garden Salad Rolls or Vietnamese Chicken Wings. For dinner, choose a Pad Him Ma Parn stir fry or a spicy Panang Curry.
2. King Estate Restaurant & Tasting Room
Nestled in a wine estate, surrounded by green rolling hills, the King Estate Restaurant & Tasting Room pairs regional food products with the best Northwest wines. Dishes are crafted where possible from organic regional produce. Lunch, brunch, and dinner can be enjoyed, including a selection of cheeses and house-cured meats. Additionally,  healthy salads, fish dishes like Grilled Chinook Salmon are available. And, the meat options include Roasted Free Range Chicken or veggie options like Lemon Basil Garganelli.
3. SweetWaters on the River
Set in the Valley River Inn, award-winning SweetWaters lies on the Willamette River and offers traditional Pacific Northwest fare with beautiful views. Enjoy breakfast, lunch, or dinner, crafted with seasonal, locally sourced ingredients. Enjoy lunch on the outdoor patio, with sharable dishes, soups, salads, fish dishes, and burgers. Dinner options include Angus Ribeye and Roasted Salmon. meanwhile, wines can be tasted in the wine tasting room and cocktails enjoyed in front of the fireplace in the lounge.
4. Cafe 440
Cafe 440 serves lunch and dinner and a range of craft cocktails and other beverages. The eco-friendly cafe focuses wherever possible on locally grown ingredients while recycling most of their brown water and grease. Comfort food includes a new look at old favorites, with options like Mac n' Cheese and fresh fish specials. The menu includes a full range of soups, starters, sandwiches, and entrees like Salmon Fish & Chips and Peanut Chicken Bowl.
5. Beppe & Gianni's Trattoria
This authentic trattoria has been consistently voted Eugene's best Italian restaurant and opened in 1998. Choose from a range of antipasti including Gamberetto Con Limoncello (tiger prawns), and fresh salads. Try dishes like Lasagna Della Casa (house lasagne), Ravioli Del Giorno (Ravioli of the day) or chicken dishes like Pollo Al Marsala. An Italian meal would not be complete without delicious Tiramisu or Death by Chocolate! One of the best restaurants in Eugene? We think so!
6. Ta Ra Rin
Ta Ra Rin serves delicious, authentic, and healthy Thai dishes, wherever possible, made with locally sourced ingredients. Notably, these are always prepared by hand. The restaurant always has Chef's Specials on offer and the staff is happy to teach patrons about the cuisine. Choose from a range of appetizers, soups, and salads, order a tasty chicken, pork, beef, or tofu stir fry or noodle dish. Enjoy traditional Thai curries and BBQ options, along with tasty desserts.
7. The Bier Stein
The Bier Stein is a pub serving a good range of draft and bottled beer and a tempting pub menu, including appetizers. Popular, they bring shared plates like Bier Stein Chicken Wings or Chips and Salsa. Choose a fresh salad or sandwiches like the Tres Queso Primo. They also offer seasonal specials or specialty dishes like Chicken and doughnuts or Pork Schnitzel. Vegetarian-friendly and gluten-free options also attract customers.
8. Cornbread Cafe
Cornbread Cafe started off as a successful vegan food cart. Actually, so successful they decided to open a full-blown restaurant. The restaurant serves breakfast and a happy hour with a variety of popular dishes, cooked vegan-style. Dishes include nachos with an "uncheese" sauce, buffalo hot things with southern-fried tofu. Try the biscuits with a seitan mushroom sausage gravy and "Phish and chips" made from deep-fried seaweed-seasoned tofu. They also serve a range of sandwiches, soups, and salads.
9. Marché
Say "bonjour" to Marché, serving French-based cuisine with a Pacific Northwest touch in the 5th Street Public Market. The chef cooks using seasonal, locally sourced, fresh ingredients. Start with a healthy soup, or enjoy shared plates like Oysters on the Half Shell or Mediterranean Olives. Experiment with main dishes like Squid ink Fettucine or dine on Chicken Cutlet, Lamb Chops or Beef Tenderloin. Enjoy patisserie delights for breakfast, a Farm Breakfast or Smoked Trout Hash. The restaurant also has a full bar.
10. Rye
Rye serves French cuisine with a southern influence in a quaint, rustic-chic setting, with a counter and outdoor tables. The fine European-style dining includes delicious starters, such as French Onion Soup or sautéed shrimp, fresh crispy salads, sandwiches including Moroccan Lamb or Braised Chicken. Entrees on offer include Vegetarian Risotto or Catch of the Day. Craft cocktails include pre-Prohibition classics like Champagne Cocktail Pre-1800's, while Prohibition & After Greats feature Bee's Knees c.1920's. Cheers!
11. Excelsior Inn Ristorante
Set in the beautiful Excelsior Bed & Breakfast Inn, this restaurant prides itself on serving authentic Italian cuisine in an elegant Bistro setting. Hand-made pasta and bread are made on-site, while eggs and produce from the Excelsior Farm guarantee the freshest ingredients, including vegetables, fruit, and organic meats. The seasonal menu includes starters and pasta, pizzas and burgers, along with Tiramisu, Vanilla Bonbon Panna Cotta and Coconut Cream Pie for dessert.
12. Izakaya Meiji Company
Easily one of the best restaurants in Eugene, this typical Japanese tavern is a neighborhood drinking house serving a range of seasonal Japanese small plates and comfort food. These are served as a snack while drinking the bar's craft beer selection, cocktails, whiskeys, wine and of course sake and sochu. All dishes are meant to be shared with your friends. Choose from a range of Kobachi, soup, rice and noodles, Onigiri rice balls, skewered Kushiyaki, meat and fish dishes, as well as vegetable dishes, ideal for vegetarians
13. Oregon Electric Station
The restaurant is located in the unique setting of the old Oregon Electric Station and is available for dining or just a few drinks. The menu offers seafood, steaks and chops, sandwiches, and many classic favorites, along with delicious desserts. Soups, sandwiches, and salads are on offer for lunch or dinner. Choose from a selection of market vegetables and sides to enhance the meal. An extensive wine list can be paired with each course.
14. The Original Pancake House
If you are looking for pancakes, you have found the place! Here the perfect pancakes are crafted using 93 score butter, fresh grade AA eggs, pure 36% whipping cream and hard wheat unbleached flour. They also use their own sourdough starter recipe. One of their signature dishes is the Apple Pancake, which is covered with sautéed apples and cinnamon sugar, then baked for a rich cinnamon-sugar glaze. Other menu items include Sourdough French Toast, waffles, and omelets.
15. Newman's Fish Company
This dining option is available at the local community fish market, where they source the best and freshest seafood and fish products direct from fishermen who use sustainable processes to catch their ware. The menu offers a choice of cod, salmon, halibut, shrimp, coconut shrimp, scallops and daily specials. Sides include fries, salads, and clam chowder and there is a selection of fountain drinks.
16. Track Town Pizza
There's nothing quite like a good pizza and this restaurant is close to the University of Oregon campus. This is the perfect place to munch on a pizza while watching the latest game, or enjoying one of 11 beers on draft. Each pizza is made from scratch including dough, fresh produce, and handmade sauce, and comes as small, medium, large and giant. Guests can build their own pizza with a selection of toppings, making it a no-brainer for number 16 of our 20 best restaurants in Eugene.
17. Café Soriah
Café Soriah aims to bring a Mediterranean experience to Oregon, combining flavors from Athens to Cairo. The menu features classic recipes, prepared with quality local ingredients for lunch and dinner. Examples include tasty small plates like Souvlaki, Prawns Naseem or Stuffed Zucchini, while entrees include everything from Grilled Ribeye to Chicken Casablanca or Prawns Jericho. Fresh bread and delicious desserts are crafted by a talented pastry chef.
18. Studio One Café
Studio One Café is a vegetarian-friendly café serving American cuisine for breakfast, brunch, and lunch in a welcoming, home-like interior with patio seating. Popular dishes include their French toast, pancakes, crab cakes, Habanero Sausage Scramble, and Animal House Eggs Benedict served with a choice of coffees, loose-leaf tea, and fresh juices. Made-to-order Sandwiches and fresh crispy salads are also available. First opened in 1999, the popular café makes 85% of its ingredients from scratch.
19. Cornucopia Bar & Burgers
Cornucopia Bar & Burgers is a popular Eugene burger restaurant, serving breakfast, lunch, and dinner in a range of pub fare, enjoyed with a choice of craft beverages. Dine indoors or on the sidewalk seating, depending on the weather. Burgers are prepared from locally sourced ingredients and are hormone and antibiotic-free. Besides their acclaimed burgers, the restaurant also serves favorites like Mac n' Cheese or Chicken Pot Pie, with a side of fresh signature salads.
20. Mezza Luna Pizzeria
This award-winning vegetarian-friendly downtown pizza restaurant offers delicious pies for sit-down or delivery enjoyment. Enjoy pizza whole or by the slice, depending on your appetite with toppings such as pepperoni, or signature pizzas like The Boot, with Italian pork sausage, Gorgonzola cheese, and roasted red and yellow peppers. Another is Happy Howlee, topped with Canadian bacon, mozzarella, tomato sauce, and pineapple.
Conclusion
The wide range of different cuisines on offer in Eugene makes for a truly cosmopolitan dining experience in the heart of Oregon. On top of this, many of the town's restaurants opt for using only the freshest, locally sourced ingredients and organic produce, making for a truly healthy meal. Looking for formal, gourmet dining, a romantic dinner, a good steak or fish dinner, tasty fast food, Asian, French or Italian dishes, vegetarian or vegan cuisine, accompanied by the best wines, craft beers, and cocktails? You can't go wrong by choosing from this choice list of the best restaurants in Eugene, Oregon. Enjoy your meal and bon appétit!
SEE MORE POSTS