Philadelphia, Pennsylvania, is one of the country's most historic cities. Visit Liberty Bell, tour Independence Hall, or spend an afternoon in one of the city's museums. With top-rated restaurants, a scenic, revitalized waterfront along the Delaware River, and a thriving arts scene, Philadelphia offers something for everyone. Equally important to planning out your itinerary is booking relaxing accommodations. Finding accommodations that are centrally located, clean, and relaxing are all key things to look for. Make sure to book your stay in one of the best hotels in Philadelphia. Read on to discover the best hotels in Philadelphia and get your vacation to the City of Brotherly Love mapped out!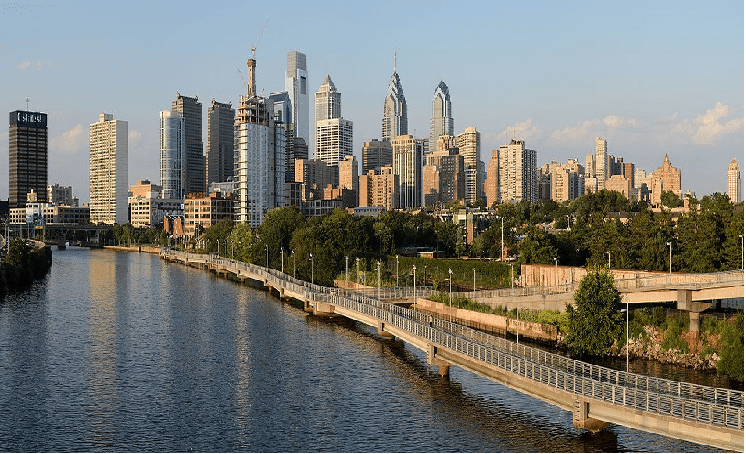 1. Doubletree by Hilton Philadelphia Center City 
Doubletree is a centrally-located hotel overlooking downtown Philadelphia with luxury rooms overlooking the Delaware River. You will be pleased with the fabulous amenities in one of these beautiful allergy-free rooms with room service. Relax and take it easy after a long day with a fresh beverage in the lounge or have a workout in the gym. Invite your business team for a gathering in one of the conference facilities. 
2. The Windsor Suites 
Enjoy your time away from home in a studio suite located just 2,100 feet from the City Hall Subway Station. It is a loved location for two on-location with Con Murphy's for your American and Irish cuisine preferences for breakfast, lunch, and dinner. You can also enjoy the dining area in your suite including a refrigerator, stove, and dishwasher. 
 3. Warwick Hotel Rittenhouse Square
Set directly on Rittenhouse Square, Warwick Hotel in Philadelphia is top-rated by Forbes and Travel + Leisure. A luxury hotel, boutique shopping, and dining are just outside the door of Warwick Hotel. Head to the spa, or dine-in at one of Warwick Hotel's five restaurants, including a high-tea. With a workout facility including in an indoor pool, pamper yourself at The Warwick Hotel Rittenhouse Square. 
4. Chestnut Hill Hotel 
Chestnut Hill Hotel is a boutique hotel set on the Northwest side of the city. Chestnut Hill Hotel gives a true neighborhood feel to the city, surrounded by locally-owned shops and restaurants. A historic vacation spot built-in 1894 for Philadelphians, Chestnut Hill Hotel has a long history of greeting and treating guests. Stay in one of the 36 units, of which each has its character. 
5. Kimpton Hotel Monaco Philadelphia
Kimpton Hotel Monaco Philadelphia is swanky and sophisticated, conveniently located just across from Liberty Bell. Globally-inspired decor brightens up the historic, revitalized building. Enjoy sweeping city views from the Stratus Rooftop Lounge, head to the hosted evening wine hour, or jump on the always-free loaner bikes provided. Great for families, Kimpton Hotel Monaco offers a Kimpton Kids Program including babysitting, so the parents can play too!
6. Kimpton Hotel Palomar Philadelphia 
Proving that Kimpton Hotel knows hospitality, Kimpton's second hotel in Philadelphia graces the top-ten list of best hotels in Philadelphia. The first LEED Gold Certified hotel in Philadelphia, Kimpton proves their commitment to eco-conscious hospitality. Done in Art Deco decor, this Rittenhouse Square hotel has all the luxury any traveler could desire. Eat at the renowned 1682 restaurant whose greens and veggies come from the rooftop garden. Or head out to discover the city from your hotel in the heart of Philadelphia.
7. Morris House Hotel 
Morris House Hotel is a national landmark that has been turned into a boutique hotel. With just 18 rooms, Morris House Hotel feels like a step back in time yet with luxurious, modern amenities. Wake up to a fresh-made, complimentary breakfast, or linger in the afternoon with a provided afternoon tea and cookies overlooking the hotel garden. Morris House Hotel is an oasis within the bustling city of Philadelphia.
8. Sofitel Philadelphia at Rittenhouse Square
The world-renowned Sofitel chain brings a touch of French luxury to their Philadelphia French Quarter-Rittenhouse Square location. With incredible views of the city, Sofitel Philadelphia gives an air of sophistication in aesthetic and hospitality. Whether you're here for business or travel, enjoy the fitness center, French cuisine from the Liberte Urban Chic Restaurant, as well as a friendly staff.
9. The Study at University City
The Study at University City is meant to be a crossroads for intellectuals coming to Philadelphia's many institutions of higher learning. Come be a part of the intelligentsia who frequent The Study's beautiful hotel. Check out the on-site restaurant, Co-op brings innovative dishes made with all-local ingredients. With spacious, bright rooms, and easy accessibility to Drexel and the University of Pennsylvania, be enriched and uplifted at The Study at University City.
10. Loews Philadelphia Hotel
A clean, modern decor invite you to stay in style at Loews Philadelphia Hotel. With newly renovated rooms and a state-of-the-art fitness center, it's the perfect time to book a stay at Loews Philadelphia. Centrally located in with walkability to City Hall, Chinatown, and Rittenhouse Square, Loews offers the very best of Philadelphia. Known for true customer service, Loews Philadelphia sets itself apart from the crowd.
11. The Inn at Penn, a Hilton Hotel
Located on the campus of The University of Pennsylvania, The Inn at Penn is a perfect choice when coming to Philadelphia for a campus tour, or to soak up the university's culture. With an iPad in every room, and ample wireless internet throughout the hotel, blend work with play. Enjoy the luxurious bathrooms, a farm-to-table breakfast, and walkability to all of Philadelphia's major attractions.
12. Sheraton Philadelphia University City Hotel
Jump into the heart of Philadelphia's history, and campus life when you stay at Sheraton Philadelphia University City Hotel. With excellent walkability to entertainment, The University of Pennsylvania campus, and local eateries, Sheraton is all about location, location. Enjoy the newly reimagined hotel complete with free high-speed wifi, a fitness facility, and an outdoor pool for the summer months. 
13. The Logan Philadelphia, Curio Collection by Hilton
Stunning architecture and ambiance are signatures of The Logan Philadelphia, an independent hotel. Set in historic Logan Square, walk to museums, restaurants, and nearby shops. The Logan has a fabulous rooftop bar, perfect to sip a drink and take in the twinkly of Philly's lights. Additionally, the hotel restaurant, Urban Farmer, highlights locally-sourced produce and meats. 
14. Courtyard by Marriott Philadelphia South at the Navy Yard 
Set off the beaten path in Philly's South neighborhood, Courtyard by Marriott Philadelphia is a calm respite in a bustling city. Recently LEED-certified, this historic building has been modernized to your every need. Take a walk or bike in the nearby Navy Yard, which overlooks the Delaware River. Enjoy the onsite dining at The Bistro, or a cup of coffee from their Starbuck's. 
15. Aloft Philadelphia Downtown
Aloft has a cool-factor to it that shows in its minimalistic, yet carefully chosen decor. With gorgeous windows overlooking City Hall, Aloft is an urban chic. Great for those coming to a convention, Aloft is attached to the Pennsylvania Convention Center, close to the Reading Terminal Market as well as all that downtown Philly has to offer. Play billiards hit the gym, or enjoy late-night entertainment—all provided at Aloft Philadelphia.
16. Hampton Inn Philadelphia Center City – Convention Center
Another great choice for those coming for business at the Convention Center, the Hampton Inn Philadelphia Center City is a solid choice for coming to Philly for work or play. Walk to the Betsy Ross House, the Liberty Bell, Independence Hall, and Penn's Landing. The best you can get for an affordable price, enjoy a clean, relaxing stay at Hampton Inn Philadelphia Center City. 
17. Alexander Inn
Reasonable rates, an excellent location, and perks like complimentary breakfast and historic tours from the hotel steps, make Alexander Inn a stand-out. With just 48 rooms, Alexander Inn is a cozier alternative to the big-name hotels. Personality show in the inn's attention to hospitality whose staff is always ready to help. An older boutique hotel, part of the charm is in the authentic-Philly feel you get while at Alexander Inn.
18. Sonesta Philadelphia Downtown
Sonesta Philadelphia is perfectly located downtown and offers spacious, modern rooms for rent. Steps from Rittenhouse Square, Sonesta is luxury at its finest complete with a rooftop swimming pool, on-site art gallery, as well as a bar and restaurant. Enjoy an art-infused cocktail at the Art Bar, Sonesta's hip watering hole. Or take a walk to the many restaurants and entertainment venues within reach from Sonesta Philadelphia Downtown.
19. Penn's View Hotel
Penn's View Hotel is classy and simple in decor, with fireplaces, jetted spa bathtubs, and complimentary breakfast every morning. Just on the edge of the historic district, walk to Philadelphia's most historic sights. Enjoy dining at their Italian-themed restaurant, Panorama. A smaller hotel, the intimacy, and warmth found at Penn's View Hotel are perfect for those looking for the quieter side of life.
20. The Notary Hotel, Autograph Collection
High ceilings and a royal air make The Notary Hotel something fit for a king. Just a block away from the Philadelphia Convention Center, The Notary Hotel is as convenient as it is grand. On the list of "National Register of Historic Places," the architecture of The Notary Hotel reflects its 1926 birth. Great for business, The Notary Hotel offers over 10,000 square feet of flexible meeting space.
Conclusion
Philadelphia is a true cultural gem in the heart of America's East Coast. Whatever reason brings you to The City of Brotherly Love, find the perfect accommodation to set you on your merry way. From checking out history to going out for hip dining, or campus visits to getting work done at the Convention Center, Philly has the perfect spot for your stay. This round-up of the best hotels in Philadelphia should make it easy to get a head start on planning your trip to Philly. Book now to ensure early-bird prices and the best selection for the best hotels in Philadelphia.