Warning
: DOMElement::setAttribute(): ID wpgmza_tolls_158 already defined in
/home/sweetspi/exploreist.com/wp-content/plugins/wp-google-maps-pro/includes/class.directions-box.php
on line
126
It is very important before traveling, to have a list of the Best Hotels on city line avenue Philadelphia. which is also referred to as City Avenue. It's a part of US-1 running west and northwest of Center City, Philadelphia. You have many attractions in the area, so here is a list for your convenience with the distance for you to travel from the Hilton in Philadelphia (as a landmark). Cathedral Basilica of Saints Peter & Paul (4.2 miles), Congress Hall (5.1 miles), Independence National Historical Park (5.5 miles), Independence Hall (5.3 miles), or Elfreth's Alley which is the oldest residential street which was built in 1702 – now listed as a National Historic Landmark. Also, visit Liberty Bell Center or Washington Square Park (5.2 miles).
The hotels listed are the best places found in the area, some are rated higher than others, but you will have a general idea of what is ahead of you when you make your travel plans.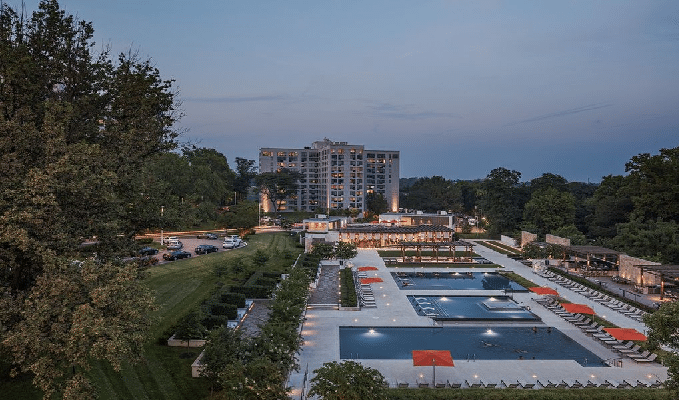 1. Homewood Suites by Hilton – Philadelphia City Avenue
These highly rated upscale suites are near I-76 and Philadelphia University, offering an indoor pool and exercise room with a free hot breakfast buffet. If you're a smoker, some rooms are available if unoccupied. Visit the Manayunk Brewery, St. Joseph's University, or the Mann Center for the Performing Arts. It will take more than a day to cover it all.
2. Courtyard by Marriott Hotel City Avenue
The full-service hotel is very upscale and smoke-free, located near Philadelphia University and at I-76. Everyone raves of the excellent service provided by the staff. Be lazy and order some room service or venture to the restaurant and lounge. Take a short trip to the Philadelphia Zoo (2.5 miles south) or take a cruise for fun through Eastern State Penitentiary (3.3 miles). Have an unforgettable journey!
3. The Warwick Hotel Rittenhouse Square
You'll find this luxurious hotel 4.5 miles out of PA. Patrons indicated how it's an excellent location and is extremely clean. Bring the kids and borrow a baby crib if needed. Enjoy the wellness spa or visit the beauty salon. Dine in the restaurant or enjoy a drink at the hotel bar. Have some fun! Don't worry, pets are allowed with some restrictions.
4. Sheraton Hotel – University City
The hotel is rated as average with a smoke-free atmosphere located near I-76. It is also close to the Penn Law School, University of Pennsylvania, and Drexel University. Enjoy the 24-hour exercise room, and an outdoor swimming pool open in the summer months. Closeby you will find Franklin Field, Penn Museum, Mutter Museum, and Helium Comedy Club with something for everyone to enjoy!
5. Hilton Hotel at Penn. Philadelphia
You will love this upscale, full-service hotel nestled near I-76 and the Children's Hospital of Philadelphia. Enjoy the exercise room to remove some of the day's stress or go touring some of the local entertainment, including the Penn Museum, Mutter Museum, the Helium Comedy Club, Franklin Institute, Rodin Museum, and so much more. Patrons rave of its positive staff and highly recommend its atmosphere for your stay.
6. AKA Hotel University City Philadelphia
Be ready for an all-suite hotel with its upscale and smoke-free environment. You will have free WiFi and an exercise room, located near I-76 and the University of Pennsylvania. Patrons love the superb accommodations and views provided. You are within a mile of Franklin Field, Mutter Museum, Penn Museum, the Franklin Institute, Rodin Museum, Chris' Jazz Cafe, the Academy of Music, and so much more.
7. Logan Hotel Philadelphia
You'll love this luxury full-service downtown hotel located on Logan Square near the Philadelphia Museum of Art and I-76. The fantastic full-service hotel includes a spa, exercise room, and a heated indoor pool – awaiting your arrival. Indulge in the free breakfast for two at Urban Farmer, the on-site restaurant. Take it easy with some room service or hold your corporate meeting in the Business Center. Enjoy your evening!
8. Embassy Suites Philadelphia Center City
The excellent suite's location is next to Logan Square, only a short distance from the Pennsylvania Convention Center, Comcast Center, and the Franklin Institute. The upscale downtown hotel is rated as average (3-star) with clean rooms, an on-site restaurant, and a tasty breakfast buffet. Patrons enjoyed the friendly hotel staff, balconies with a skyline view, and a fitness center.
9. Philadelphia 201 Hotel Downtown
You will be close to the Philadelphia Museum of Art in a smoke-free, upscale hotel with an exercise room and heated indoor pool. You need to stretch the budget for valet parking ($51 per night) and Internet access ($15 per night), but the dogs can visit (up to 40 pounds) but cannot be left in the room alone ($50 pet fee per stay).
10. Windsor Suites Philadelphia
You will love this highly-rated downtown location near the Philadelphia Museum of Arts and I-76 with a midscale all-suite hotel (200 suites) and 24 floors. Enjoy the rooftop, outdoor pool open during the summer months. It has two restaurants, room service, and a lounge. Remove some of the day's stress in the workout room. Sorry, but it is not pet-friendly.
11. Four Seasons Hotel Comcast Center Philadelphia
The highly-rated, luxury Four Seasons is near I-76, encompassing 219 rooms and suites and 60 floors! You will have the option of three restaurants, two lounges, and room service. It features a full-service spa, a heated indoor lap swimming pool, free WiFi, and much more. Pets are allowed (one per room up to 25 pounds with no pet fee). Use the valet parking for $58 per night.
12. Pod Philly Hotel Philadelphia
Noted as a full-service, midscale, boutique hotel with 252 rooms on 11 floors, the hotel is located near I-76. You can use the exercise room with yoga classes available upon request. Dine on-site at one of the two restaurants, lounge, cafe, and rooftop bar. You can choose the on-site parking, but the hotel is not pet-friendly.
13. Sonesta Hotel – Downtown Philadelphia
You will have so much to choose from in the smoke-free, luxury, full-service hotel. It is conveniently located near Rittenhouse Square and I-76, with 25 floors of 439 suites and rooms. You can use the exercise room and outdoor pool during the summer. Tour over to the Helium Comedy Club, Mummers Parade, Moore College of Art & Design, and Chris' Jazz Cafe, or enjoy the onsite bar/lounge.
14. Le Meridien Hotel Philadelphia
You are only a short distance from the Pennsylvania Convention Center and Philly's business and financial district. Step into the 202 room luxury, full-service hotel, and notice the appealing black and white decor in the building's original architecture and Georgian Revival-style. Workout in the 24-hour exercise room and bring your pet along for free (up to 40 pounds).
15. 1955 Rittenhouse Hotel Philadelphia
You may know the hotel is also referred to as Apartment Philadelphia 1955 Rittenhouse and is located near Rittenhouse Square in Center City. It is a smoke-free luxury apartment/hotel with nine apartments and four floors. You will love the streamlined kitchen, off-site car parking, and Express check-in/-out. Enjoy the Helium Comedy Club, Academy of Music, or the University of Fine Arts within a 0.5-mile radius.
16. Kimpton Hotel Palomar Philadelphia
You'll be awed by the 24 floors and 230 rooms in this upscale, full-service downtown location. The hotel is near Rittenhouse Square and I-76 and includes valet parking ($48 per night). Enjoy the onsite exercise room, restaurant, and lounge. You are close to Curtis Institute of Music, City Hall of Philadelphia, the Kimmel Center for the Performing Arts, and so much more, all under 0.3 miles from the hotel!
17. Best Western Plus Philadelphia Convention Center
The smoke-free, midscale hotel has 107 rooms on seven floors. It is near Pennsylvania Convention Center, The Philadelphia Flower Show, Chinatown Philadelphia, the Trocadero Theatre, and so many more places to visit. Patrons have deemed the stay as enjoyable, and the price was right for the area. Enjoy free WiFi, a 24-hour exercise room, and a free hot breakfast buffet to get your day started.
18. Bellevue Hotel Philadelphia
If you are seeking an upscale hotel near Rittenhouse Square, you have found a gem with this Unbound Collection by Hyatt Hotel. Its 172 rooms and suites span over seven floors and are listed as a member of Historic Hotels of American. Enjoy its on-site restaurant and lounge or order room service. Bring your dog if they are under 50 pounds.
19. Hampton Inn City Center Philadelphia
Downtown Philly invites you to this highly rated midscale hotel right across the street from the Philadelphia Convention Center. It offers 12 floors and 250 rooms with an exercise room. You are provided with a fridge and microwave in your room and a free hot breakfast buffet offering. Enjoy the lounge and restaurant on-site, but the restaurant is open for dinner only.
20. Westin Hotel Philadelphia
Full-service awaits you in this smoke-free, upscale hotel located near Rittenhouse Square and I-76. It's awaiting with 294 suites and rooms ranging over 15 floors. Enjoy a workout in the exercise room or dine in the restaurant and lounge to be pampered. If you would rather stay in your room, just order from the 24-hour room service. Westin is also pet-friendly, but please call for details.
Conclusion
Now, you have the facts and probably know where you want to stay when you visit Philadelphia; whether you choose to go first-class or choose a more low-key atmosphere, you should be happy with the location of these fine hotels. Choose to dine in at many of the locations, or go on a journey closeby to one of the upscale restaurants in the area. Have a great time while you are in the Philadelphia area seeking hotels on City Line Avenue. Most of the hotels listed will place you in the center of history that you may never experience again in your lifetime. So, book now and have some fun!