Warning
: DOMElement::setAttribute(): ID wpgmza_tolls_221 already defined in
/home/sweetspi/exploreist.com/wp-content/plugins/wp-google-maps-pro/includes/class.directions-box.php
on line
126
When traveling, it might be complicated to find a hotel perfect for your needs, but with this list of the best hotels outside of Philadelphia, you'll be sleeping in the perfect one for you in no time. Philadelphia is a beautiful place with a rich history, including the display of the Liberty Bell and Independence Hall. It also houses the site of Sylvester Stallone's 'triumphant run' in the film "Rocky."
It has the record of the largest city in the United States. Philadelphia is also the birthplace of the United States Marine Corps (USMC). Its first include the first library in 1731, a hospital in 1751, a medical school in 1765, and so much more, including the first zoo in 1874.
I will attempt to discover hotels outside the hustle of 'in-town' traffic and congestion by describing local attractions, including airports, eateries, and fun things to do while you are in the Philadelphia area. Also included are a couple of locations for low-budget needs. A wide range of hotels has been listed outside of Philadelphia to help you decide which area you would like to include in your travels.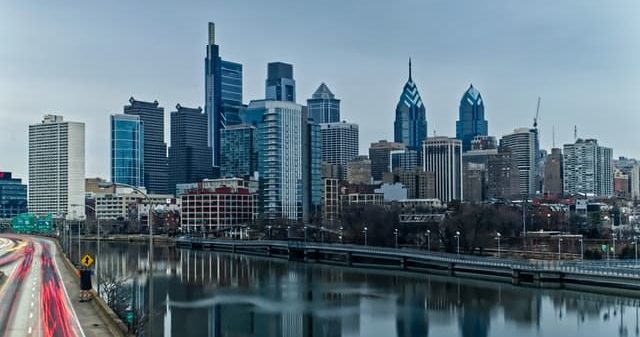 See Also: Best restaurants in Philadelphia
1. Chestnut Hill Hotel
The historic hotel is nestled in a residential neighborhood. It's about 14 miles from the Philadelphia Intl. Airport and 25 miles from Mercer County Airport. You will discover 24 restaurants and seven attractions within 0.3 miles. Dining includes the Paris Bistro & Jazz Cafe, Iron Hill Brewery & Restaurant, and Chestnut Grill & Sidewalk Cafe. Enjoy your stay in elegance!
2. Holiday Inn & Suites Philadelphia W. Drexel Hill
This spot is excellent for a quick get-away with 22 restaurants within three-quarters of a mile, moreover, you will be six miles from the Philadelphia Intl. Airport. Enjoy your Visit at DeMarco's Bar & Club (¾ miles away), Anthony's Restaurant (14 min), or Ming Coffee Shop (5 min). The hotel has its own bar/lounge, fitness center with a gym/workout room, and a business center for your convenience if you need a spot for working needs.
3. Courtyard Philadelphia Springfield
You will be pleasantly surprised by the family-friendly atmosphere in this excellent hotel with its business center with conference facilities, a golf course, its own bar/lounge. The non-smoking rooms/suites will provide you and your family with a refrigerator to stash your refreshing beverages. No worries, since you will also have a 24-hour front desk to cover any emergencies or other needs during your stay.
4. DoubleTree Suites by Hilton Hotel Mt. Laurel
Enjoy the free parking, non-smoking rooms, and an on-site restaurant. The Redz Restaurant is authentic for American tastes with a delightful menu option. You can indulge in the swimming pool (indoor & heated or outdoors) or opt for a workout in the gym. By the way, there is also a delightful hot tub! The business center and conference facilities are also a plus.
5. Hampton Inn & Suites Deptford
If you are looking for a family-friendly spot, you have found it. Bring the kids and enjoy the indoor pool, free breakfast (high chairs available), and WiFi to keep them entertained. If you are on a business trip, meeting rooms are available in the business center with Internet access, and if you find problems in your room, there is a 24-hour front desk to remedy the issue.
6. Holiday Inn Express Voorhees – Mt. Laurel
If you are on a budget and want to stay in a nice hotel, you have found it. The express hotel is located 14 miles from the Philadelphia Intl. Airport, animal lovers are also welcome! They give an excellent workout in the gym or go for a leisurely swim in the outdoor pool. If you want to wash your swimsuit, there is a self-serve laundry on-site. You can even have an excellent breakfast before you start your day!
7. Hyatt Place Mt. Laurel
You'll be about 16 miles from the Philadelphia Intl. Airport, making it an excellent option for a hotel outside of Philadelphia. There is an in-room safe and refrigerator, although, if you prefer, there is also room service! Kick back and enjoy the air conditioning, and do a bit of binging your favorite TV drama on the flat screen.
8. Embassy Suites by Hilton Philadelphia Airport
If you are traveling and need a conference facility with Internet access, you have found the perfect solution. You can stay fit in the workout room and have a relaxing dinner or drink at its restaurant – bar/lounge. The hotel supplies you with free airport transportation and free breakfast. If you are looking for a perfect gift, visit the gift shop!
9. Hilton Philadelphia City Avenue
The hotel is located about nine miles from the Philadelphia Intl. Airport with the Bala Inn (bar/club) as the local attraction about three-quarters of a mile from your room. There are also 51 other restaurants within that same area. Your room will provide you a chilled space with a fireplace and room service if you want to relax for the evening. There is a self & valet parking service available.
10. Sheraton Philadelphia University City Hotel
Stop by for a visit if you are looking for a spot about six miles from the Philadelphia Intl. Airport. You will have the opportunity to dine at a variety of 76 restaurants and seven attractions within one-third of a mile. Rent a bicycle and tour the area or visit the gym for a workout. It's also pet-friendly with an outdoor pool. Conference rooms and breakfast are available.
11. Residence Inn Philadelphia Conshohocken
You will find 58 eateries within three-quarters of a mile from your hotel with six local attractions. The Philadelphia International Airport is 14 miles away, and a rental car is also available. You are only about four to five minutes from Flanigan's Boathouse and the Great American Pub in Conshohocken. Go on a shopping spree at Edwards Freeman Nut Company! Have some fun!
12. Penrose Hotel
The hotel is a short four miles from the PA Intl Airport with nine local attractions and 49 restaurants within three quarter miles of your room. Enjoy American food at Penrose Diner (2 min.) or Popl's Italian. Join the locals Chickle's & Pete's (11 min.) if you desire a bar scene. You can also stay in your room with a fireplace and enjoy a new movie. Free breakfast is also offered, as well as airport transportation if needed.
13. Wm. Mulherin's Sons Hotel
As you can imagine, this will be a once in a lifetime experience when you enter this four-star hotel. It also offers an Italian restaurant and bar with its industrial-chic rooms with kitchens in a 'hip' boutique hotel. The restaurant is open for dinner from 4 pm to 10 pm with walk-ins available.
14. Hilton Garden Inn Philadelphia
The rooms have been fully renovated with a fitness room, located 13 miles from downtown Philadelphia. The on-site restaurant will serve you delicious breakfast, lunch, or dinner with a listing of tasty beverages in the lounge/bar areas. Don't worry; you can also select from pet-friendly rooms if you want to bring a pet (call for details). Kick back and enjoy some room service!
16.Holiday Inn Lansdale-Hatfield
Stop by for a stay and enjoy the WiFi, AC, and flat-screen TV. If you have kids, you should call and get the details at this kid-friendly hotel. Kids ages 18 and under stay for free when sharing their parents' room. Up to four kids, ages 11 and under, eat free any time of the day in any Holiday Inn® on-site restaurant.
17. The Inn At Swarthmore
You will love this 'unfussy' hotel with its super location across from restaurants and shows in a town center, also, if you enjoy walking, you are 11 minutes from the college, 9 minutes from Scott Arboretum, and a short walk from the train station. You're about 15 minutes by car to the PA airport. Previous clients have provided a 4.4 out of 5-star rating. Another one of the best hotels outside of Philadelphia.
18. Airport Waterfront Inn
You'll find this a charming "one of a kind" hotel found just three miles from the Philadelphia Intl Airport, and right on the Delaware River. You're also offered a free shuttle to and from the airport (what a plus)! It's pet-friendly, so why not rent a bicycle and go for a ride. The kids also have a playground to pass the time!
19. Conwell Inn
If you are looking for a Euro-style B&B on the Temple Campus, be sure to check out this 2-star hotel that understands the needs of their guests when their family has medical conditions. You are 13 miles from the PA International Airport and only 2.5 miles from the Philadelphia Convention center. Folks have delegated a 4.2 out of 5-star rating for its cleanliness, service, and location.
20. Parkway Inn
Let's face it, with today's economy; the budget strings have tightened, although, you can still enjoy a clean place to sleep while out of town. Bring along your dog since it's pet-friendly. You will be offered a free breakfast with a front-desk clerk on duty 24-hours. Also provided are WiFi, a self-serve laundry, and vending machines for your convenience (for a midnight snack)! It is about six miles from the Philadelphia Intl. Airport.
Conclusion
This listing with Hotels Outside of Philadelphia covers a wide range of listings so you will not have the worries involved with Philly's congestive streets. I hope you will find the type of hotel or inn you are seeking. It's essential to research before you 'hit the road' into spaces unknown. The last several listings will provide you with a more budget-friendly option. Some offer amenities that you will enjoy, but you will be guaranteed a safe and restful night.
If you have any problems with your room, you can always contact the management for assistance. Enjoy your travels!