20 FUN Things to do in Charleston, SC [2022 UPDATED]
By

Marina Yoveva
Charming Charleston, South Carolina, is a beautiful port city with historic roots. Founded in 1670, this quaint city of the Southeast has been voted #1 Small City for ten years and counting. With incredible views of the Atlantic Ocean, sprawling antebellum mansions, and oak trees that seem as old as time, you'll fall in love with Charleston.
One of the longest existing and most diverse cities in America, Charleston has so much to offer. A vibrant community that includes a rich culture of arts and entertainment highlights Charleston, including strolling picturesque neighborhoods, taking a boat tour, or hitting the beach. Whatever your reason for coming to Charleston, you're sure to discover hidden gems and delightful treasures in Charleston's cobblestone streets. Read on to find all there is to in  Charleston today!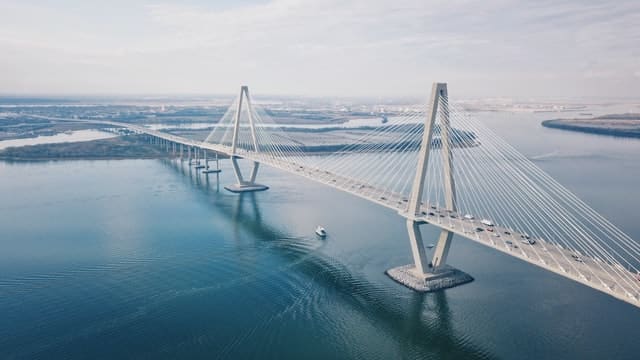 1) Angel Oak 
A symbol of Charleston, this gorgeous oak branches out as if in reverie. A free and lovely way to spend an afternoon, a visit to Angel Oak will surely result in Instagram-worthy pics, as well as beautiful memories.
The tree is estimated to be between 400-500 years old, which may be why it feels like a sentient being. Angel Oak is located on St. John's Island, which is about a twenty-five-minute drive from downtown Charleston.
2) Middleton Place 
Middleton Place is America's oldest landscaped garden and was once home to the Middleton family and their enslaved help. The grounds now stand as a historic and botanic wonder, complete with a complex past. The estate includes the House Museum, Stableyards, shops, and Middleton Place Restaurant. It is also possible to stay on the grounds at the Inn at Middleton Place.
3) Joe Riley Waterfront Park
The Joe Riley Waterfront Park is best known for its iconic pineapple-shaped fountain. Overlooking the Charleston Harbor, this beloved park of Charlestonians is a total of eight acres. Named after Mayor Joe Riley, this park pays tribute to one of the longest-serving mayors in American history. Take a stroll, people watch from a bench, or bring along a picnic to enjoy at Joe Riley Waterfront Park.
4) Arthur Ravenel Jr. Bridge
When constructed in 2007, the Arthur Ravenel Jr. Bridge became the longest cable-stayed bridge of its time. The bridge connects Charleston to nearby Mount Pleasant and is an incredible feat of infrastructure. Two-and-a-half miles long, adventurous souls may enjoy trekking the bridge by foot or bike on the safe pedestrian walkway. Check out Charleston's view from the bridge, or catch ships coming and going from Charleston Harbor.
5) Fort Sumter National Monument
Fort Sumter has layers of significant historical importance, ranging from the American Revolution to the Civil War. Perhaps it is best known for a 34-hour battle between Confederate and Union soldiers, in which the Confederates reigned victorious. Overlooking the Atlantic Ocean, Fort Sumter National Monument can only be accessed by boats, which operate through the National Park's sister company, Fort Sumter Tours. The boat tickets are the only ticket you need to visit the park, and the tour lasts approximately two hours.
6) Battery & White Point Gardens 
Battery and White Point Gardens are not only green space but also a historic spot that was once used as a fortification for the city during the Civil War. Mortars and cannons line the park, giving it a military air. The area also overlooks the Atlantic at the spot where both the Ashley and Cooper Rivers feed into it.
7) McLeod Plantation Historic Site
If you want to get real about Charleston's history, then a visit to McLeod Plantation is in order. Located on James Island, this former slave plantation produced sea island cotton. Visit the former home of the McLeod's as well as where the slaves lived, and imagine their day-to-day life. Additionally, learn more about the Lowcountry Gullah culture, which refers to black Creole-speaking communities inhabited the Southeast.
8) Nathaniel Russell House
One of the most prominent Neoclassical-style homes in America, the Nathaniel Russell House was built by slave trader Nathanial Russell in 1808. The home is a lavish display of the wealthy's lifestyle at the time, with recognition of the fact that these luxuries were at the price of black slaves. The Russells themselves had 18 slaves who worked for their family of four! If you can get past the difficult history, the home itself has some marvelous architectural components.
9) Old Exchange & Provost Dungeon
Built-in 1771, the Old Exchange was initially a commercial exchange. The house also became a holding place for pirates and later for Patriots during the American Revolution. The most historic building in South Carolina, the Old Exchange & Provost Dungeon is where the Constitution was ratified. Open daily for tours; the admission is a modest $10 for adults and $5 for children (6 and under, free). Tours are self-guided, although docents are available to answer questions.
10) South Carolina Aquarium 
Learn more about the aquatic life off of South Carolina's coast at the South Carolina Aquarium. Kids of all ages will love hands-on learning opportunities, the chance to see manta rays close up, as well as the Family Sea Turtle Recovery experience, which showcases rehabilitated sea turtles. You can also learn more about wildlife in non-coastal parts of South Carolina in exhibits such as the Mountain Forest and Coastal Plain exhibits.
11) Magnolia Plantation & Gardens
Founded in 1676 by the Drayton family, the Magnolia Plantation and Gardens are gorgeous gardens that are the oldest public gardens in the U.S. Learn more about the Lowcountry with your visit to Magnolia Plantation and Gardens, which includes not just stunning flora but also a historical past.
Open seven days a week, Magnolia Plantation and Gardens is a multifaceted experience with opportunities to visit the gardens, take a trip on the Nature Tram, learn more about the past of slavery at Magnolia Plantation, or head out on a Rice Field Boat Tour.
12) Charleston City Market 
The Charleston City Market stretches for four blocks and has been a market since the 1790s when slaves went to buy goods for the plantation. It's certainly on the tourist trail, however, it is worth visiting, as you can find crafts specific to the Lowcountry, such as woven baskets thought to have originated in West Africa. In non-Covid times, the market is open during the daytime and Night Market hours, great for an evening stroll destination.
13) Morris Island Lighthouse 
Morris Island Lighthouse is to the southern side of Charleston Harbor and an iconic symbol of the city. On the National Register of Historic Places, Morris Island Lighthouse is no longer a working lighthouse, yet it still a proud part of Charleston culture. The road leads to a paved walking path, which is about half a mile long to reach the lighthouse.
14) Rainbow Row 
Rainbow Row is a series of 14 colorful, historic homes in Charleston. Georgian row houses, the colorful homes make for beautiful pictures, or simply a sunny walk. Although the homes nearly fell into disarray following the Civil War, they were restored in the 1920s. The colorful homes serve a greater purpose than just eye candy. The light, bright colors help keep the homes cool in hot summer months.
15) Children's Museum of the Lowcountry
A play-based museum, the Children's Museum of the Lowcountry is the perfect spot to let the kids burn off some energy while learning. Currently open only on the weekend in two-hour slots, register online to get your place. The hands-on exhibits are best suited for children under 10 years of age, and special events can be found on the website.
16) Old City Jail 
If you love to walk in a dark city, the Old City Jail is for you. The best way to see this jail, which once held pirates and soldiers of the Civil War, is to take a night tour. Tours can be arranged through many companies and punctuate the spooky ambiance that Old City Jail already provides. Hear tales of such notorious figures at the jail such as Lavinia and John Fisher, who were hotel owners who poisoned their guests.
17) Charleston Gaillard Center
A gem of a venue, the Charleston Gaillard Center is home to some of Charleston's best live theater and music. Within walking distance to a variety of excellent restaurants, make an evening of your experience at the Gaillard Center. Whether you want to see jazz or dance, you'll find it at the Gaillard Center, a theater known for perfect acoustics.
18) Revelry Brewing
A fun place to unwind, enjoy your brew from the rooftop patio. The tasting room highlights Revelry's beers, including Gaslight, their 5% Porter, or a lighter Early Evening IPA. Wednesdays are half-off sushi nights, and the menu includes a mixture of Asian and Mexican bites. Easy to stay socially distanced at, given the outdoor seating, Revelry Brewing is a great pick.
19) Gibbes Museum of Art
The Gibbes Museum of Art brings an array of inspiring art to Charleston with permanent and rotating exhibits. Permanent collections include modern and contemporary art, miniature portraits, and a unique exhibit on 20th-century regionalism. The museum host a variety of ongoing classes, workshops, and events such as illustration workshops or the upcoming Gibbes' Film Focus. The museum is open daily from 10 am – 5 pm, except for major holidays.
20) Folly Beach County Park 
You can't come to Charleston and not visit the beach, head to Folly Beach County Park. Folly Beach County Park is very beloved. It is on the west side of the island. In the summer months, lifeguards stand watch over swimmers.  On the other hand, visits at other times of the year are worth a walk along the shore. Check out Skimmer Flats, a major Eastern Brown Pelican rookery, which can be viewed from the west end of Folly Beach County Park.
Conclusion
Charleston proves itself time and time again from historical attractions to live entertainment. Though comprehensive, this list is not exhaustive and shows the width and breadth of Charleston's draw. With this list of things to do in Charleston, you're well on your way to a memorable trip in Charleston, South Carolina!