BEST Restaurants in Sioux Falls, SD [2022 UPDATED]
By

Marina Yoveva
Sioux Falls is an attraction site for tourists who come for business and vacation purposes. It has many sites that one can visit and it is also a historically rich city. The culture of the region is also very rich which can be experienced from their diverse culinary options. If you intend to stay in the city for long, it is recommendable to try out the different dishes offered by the restaurants in the region. You will notice that the different restaurants in the region offer a variety of cuisines so you will surely find a restaurant that you fall absolutely in love with. That said, you should make sure you choose the best one to satisfy your taste buds. This article will look into the best restaurants in Sioux falls so that you can have a list from which you can select where to have your next meal when you visit the town.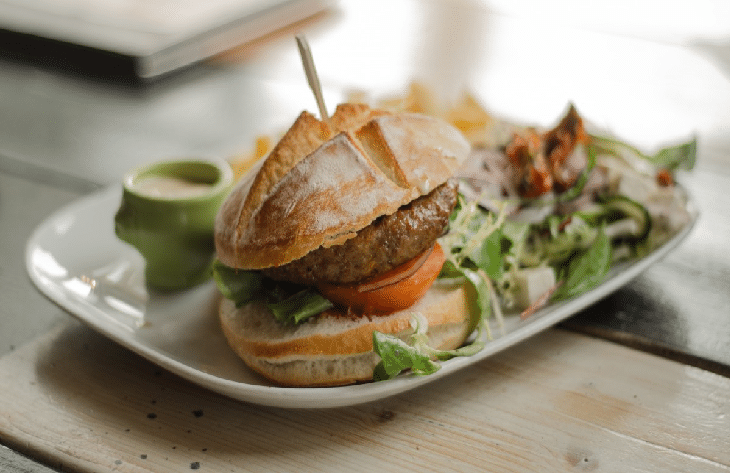 1. CH Patisserie
This is a popular restaurant where people gather to enjoy their unique European inspired dishes. Their menu is comprised of a variety of changing flavors. The restaurant is luxurious and it offers a large outdoor and indoor seating that can accommodate a lot of people. If you are looking for luxury at its best, then CH Patisserie is the place that you need to be.
2. Camille's Sidewalk Cafe 
Camille's Sidewalk cafe offers the best Lunch, Breakfast, Dinner, and Brunch. The cuisines range from American, Cafe, Deli, Healthy, and Soups which are all crafted by professional chefs that ensure that every meal makes you want more. If you are looking for a place where you and your family can enjoy your meals, then you need to choose the cafe because they have a large indoor and outdoor seating where you can all fit. If you would rather eat from home, then you are offered take out and you can even enjoy the convenience of delivery services offered by the restaurant. 
3. Minerva's
Minerva's is one of the restaurants that is rich in the diversity of activities. If you are looking to have fun then you should visit the restaurant because it offers live music that is entertaining and local. You will also enjoy the best drinks in the region as you seat in the outdoors to enjoy the sun during summer. You have not have Sioux Falls culinary experience if you have not had the Minerva's seafood, pasta, hand-cut aged steaks, chops, salads, and customized desserts. To truly state you were in Sioux you need to take a trip to the restaurant and try out everything in their menu.
4. Steak-Out Charbroiled Delivery
If you want to enjoy the indoors then you should visit the website of Steak-Out Charbroiled Delivery and order one of their scrumptious meals. They offer American cuisines that range from steaks, chicken, salads and even burgers. Your taste buds will thank you after trying one of the restaurants' meals.  As the name suggests, it is one of the best restaurants in Sioux Falls that offers delivery of hot meals upon order.
5. Josiah's
The josiah's offers American and cafe cuisines. If you enjoy your food gluten-free or if you are a vegetarian, the chefs have crafted meals that will suit you.  From the moment you walk into the doors of this restaurant to the moment you leave, you will be served by friendly and warm staff that will make you feel right at home. It offers comfort by offering high chairs, outdoor seating, and large indoor seating. The food and comfort are not the only exceptional things about the restaurant, you also get to access free wifi and if you would rather have your meals from home, the offer take out. 
6. Carnaval Brazilian Grill
If you are a lover of steak then you should allow your taste buds to sample Cranval Brazilian grill that offers you steak prepared uniquely. The hotel borrows from Brazillian culture to prepare most of its dishes. As you wait for your steak, you can enjoy the full bar that provides both alcoholic and non-alcoholic drinks. The structure of the restaurant allows for private dining and outdoor and indoor seating. The restaurant has factored everyone in mind which can be seen by the mere fact that they have made the restaurant wheelchair accessible. There is always live music which is a good accompaniment to good food and drinks. 
7. JL Beers
If you enjoy fast foods, then you are in for a treat at JL beers. They offer delicious and well-prepared dishes that range from burgers and fresh-cut chips among many. It also has a variety of alcoholic and soft drinks served at their fully stocked bar. If you enjoy cashless transactions, then the restaurants accords you the option to pay with  American Express,  Mastercard, Visa, Ac Discover, and even  Credit Cards.  You also free wifi, parking and take out services. If you are looking to enjoy good food and service at a low cost then JL Beers is the perfect fit for you. 
8. Parker's Bistro
If you are a tourist and you have visited Sioux Falls for the first time, then you need to have your meals at Parker's Bistro. They offer a range of dishes at a friendly price. Their meals are a true depiction of the culture of the region. You also get to enjoy friendly and warm service from the staff. The restaurants offer American and contemporary cuisines. If you would want to maintain a vegetarian and gluten-free diet, the restaurants also offer these dishes upon order. It also has a bar that served local and international brews that come in various brands, you will be spoiled for choice.  You also get to enjoy the convenience of table service. 
9. Jacky's Restaurant
If you are looking for a place to have that first date, then you should consider going to Jack's restaurant. It offers a quiet and serene atmosphere that allows you to enjoy the company of your date. They also offer a range of cuisines that include Mexican, Latin, Guatemalan, and Central American cuisines. You will have meals that you will never have in any other restaurant.  The restaurant also has a bar that serves alcoholic drinks. To make the entire experience complete, the restaurant has a TV to keep you entertained. The best part about the restaurant is the fact that the cost of their meals and drinks is very affordable. 
10. Grille 26
You are hungry? Well, Grill 26 always has food ready anytime you pop inn. They offer Lunch, Dinner, Brunch,  and Late Night meals. They have an interesting menu with a variety of American cuisines that you will enjoy. Grill 26 serves very large portions of food that you will enjoy and even take home leftovers. Apart from that, the waiters are highly motivated and friendly. The restaurant offers a seating space but if you prefer to take out then you can still have that option. They have a comfortable set up with high chairs available and entertainment that comprises of live music and a TV.
11. Phillips Avenue Diner
Phillips Avenue Diner is one of the best restaurants in Sioux Falls. It offers a beautiful outdoor seating area where you can enjoy the fresh air and the meals and drinks served. They offer American cuisine with the option to take vegetarian or gluten-free meals. The restaurant is wheelchair accessible and it has high chairs to add to your comfort. If you would want to use your credit card, then you should choose this restaurant because it accepts different credit cards and offers the food at an affordable rate. 
12. Sanaa s Gourmet Mediterranean
The restaurant focuses on offering healthy foods. Unlike most restaurants that offer American cuisine, the restaurant offers Mediterranean and  Middle Eastern cuisines.  The chefs are trained to craft original dishes that will leave you asking for more. The restaurant has take out option for those who would love to take their meals from home. The service and hospitality received is on a world-class level.  To enjoy this and more, make a reservation today.
13. Sickies Garage Burgers & Brews
If you are looking for the best burgers in town, then look no further. Sickies are known for its finger-licking burgers that are fresh and you can choose your favorite type from the many that they provide.  They also have a bar that has high chairs which allows you to be comfortable as you access the web using their free wifi. If you do not want to operate with cash, then you will enjoy the services at the restaurant because they allow cashless payments. Above all, the staff are welcoming and motivated, so you are bound to get quick service.
14. M.B. Haskett Delicatessen
If you are planning a family outing, then this would be an ideal place to have your meals. They have a large seating space that can accommodate any family size. They have kid-friendly dishes which allow you to have a good time with your kids. Their staff are very friendly and they offer fast table service. They also serve alcoholic drinks at a friendly cost. If you are looking for a combination of delicious meals and a good atmosphere, then this is the best option there is in the locality. 
15. Texas Roadhouse
You have not had the best of Sioux Falls until you have a taste of the steak served by the restaurant. They American cuisines with the option to have vegetarian and gluten-free meals.  They offer legendary service with every staff member trained to offer the very best. Compared to the rest of the restaurants in the region, you will notice that the restaurant offers their services at a reasonable fee. If you want to enjoy quality and enjoyable service, you should try out the restaurant. 
16. Carino's Italian
This is the perfect setting to relax and enjoy some time with friends or family. It has a cool atmosphere and the bar is fully stocked to allow you to pick from a diverse selection. It is among the few restaurants that offer Italian cuisine. The food is freshly prepared and the presentation of the food is amazing. Apart from that, you are welcomed by warm personalities which make you enjoy the experience. 
17. MacKenzie River Pizza, Grill & Pub
The restaurant has a beautiful stone that has been set by the beautiful panoramic canvas and historic photographs. It offers a variety of dishes such as Pizzas, Grilled food and a variety of American cuisine. Each of these dishes is crafted uniquely to suit your needs. They also have about that offers local and international brews. As you wait for your food and drinks, you can enjoy the TV offered and the free Wifi. 
18. Original Pancake House
Do you have a sweet tooth, Pancake house will offer you a variety of pastries that are well made to satisfy your appetite. They offer breakfast lunch and brunch and they mainly serve American cuisine. Their breakfast menu is to die for, they offer so much for so little you will be shocked at the amount and quality of food you can eat with a little fee. They also have a serene atmosphere where you and your family can have a good time. 
19. Granite City Food & Brewery
The restaurant has wide beer selection. If you enjoy beer then you need to visit the restaurant. The staff are so friendly, they may even allow you to taste the beer before you buy. They have a variety of dishes that are freshly made to make sure that they are tasty. You need not worry about your vehicle, they offer ample parking. They have an indoor and outdoor seating that is wheelchair accessible. 
20. Roll'n Pin Cafe & Grille
The restaurant offers legendary catering and service. The meals are delicious and you can accompany them with the alcoholic and nonalcoholic drinks served at the restaurant.  You can either enjoy your meals from the outdoors or indoors. They have vibrant and welcoming staff who will ensure that you get the meal and experience you are looking for from the restaurant. 
Conclusion
There is so much to see and experience in Sioux Falls. The attraction sites will leave you breathless. The food in the region is unique to it and you should make sure that you try out the different dishes that are offered in the region.  Many restaurants in the region offer a different standard of meals and service and you need to identify the very best to get the service that you deserve. To assist you in the selection process, the article has analyzed some of the best restaurants in Sioux Falls so that you can identify one that suits your needs. 
SEE MORE POSTS