Named as one of the best places in the United States, Chattanooga in Southern Tennessee is a must-visit city and a wonderful place to stay. Rich in culture, history, arts, tourist spots, and restaurants, it's an ideal haven for everyone who wants to enjoy life. You can stroll the city through river tours, bus tours, ghost tours or get lost in the most-visited places in the city. You can try whiskey tasting, visit zoos, museums, aquarium, and art district, climb mountains, wall climbing, skydiving, hiking and so much more.
After each fun- and adventure-filled day, you can enjoy a sumptuous dinner from the best restaurants in Chattanooga. And, speaking of restaurants, there are tons of them in the city. With fresh food directly from local farms that are then prepared by talented chefs to transform them into enjoyable creations – you will be amazed by the variety of restaurants that Chattanooga has to offer.
on Your Next Airline Flight
With local American dishes, Italian pizzas, burgers and more, not only will you be filled with joy, but your stomach will be satisfied as well. This article features 20 of the best restaurants in Chattanooga, which will surely complete your visit to the place. Without further ado, here's the list starting from the best to the 20th.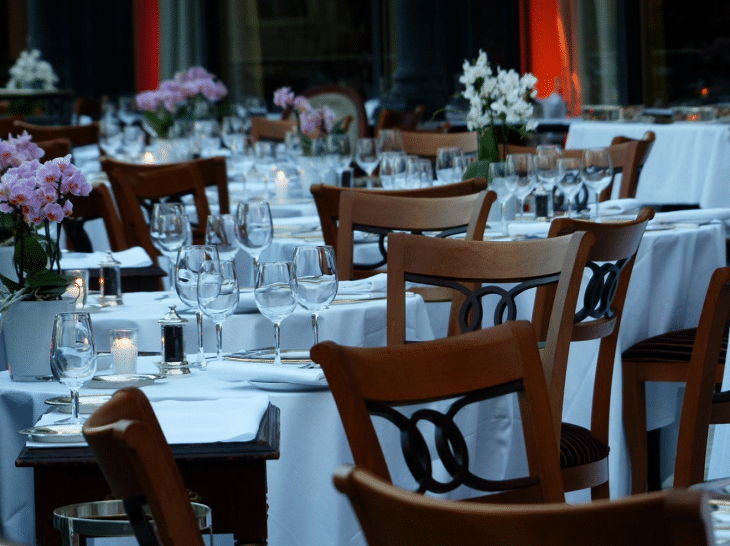 1: St. John's Restaurant
The best fine dining restaurant in Chattanooga, St. John's Restaurant provides you a place to dine to your heart's desire. Great dishes are served by professional servers. Offering American cuisine from Chef Daniel Lindley, your visit to Chattanooga will surely be a memorable one. Whether you're a vegan or craving for excellent cuisine, there's something in St. John's that'll satisfy your palate.
Phone: +1 423-266-4400
Address: 1278 Market St, Chattanooga, TN 37402-2713
2: Uncle Larry's Restaurant
Craving for seafood? Well, if you're in Chattanooga, there's only one restaurant that can satisfy that craving. That is Uncle Larry's Restaurant. People who visited this place recommend the Cajun catfish — the best catfish in town. They have friendly staff and the atmosphere is perfect to relax and enjoy your healthy meal. Nothing fancy, just delicious food served hot and fast.
Phone: +1 423-757-5894
Address: 736 East MLK Blvd, Chattanooga, TN 37403
3: Bluegrass Grill
You know that a restaurant is excellent when you saw people lining up to get their meal early in the morning. That's what you'll see at Bluegrass Grill. It offers you a delicious breakfast/lunch experience you'll never have in other restaurants. A local family-owned business serving local American cuisine and vegan options, you and your family will surely enjoy a sumptuous meal.
Phone: +1 423-752-4020
Address: 55 E Main St, Chattanooga, TN 37408-1200
4: River Street Deli
Great menu offered at affordable prices, River Street Deli is a wonderful place to visit while you're in Chattanooga. A good place to meet and dine with friends and family. You can start with their daily specials, which everyone loves and recommends. Offering various dishes like American, Deli and contemporary, even vegetarians and picky eaters will fall in love with the place.
Phone: +1 423-756-3354
Address: 151 River St, Chattanooga, TN 37405-4007
5: Public House
If you want to have a special dinner with your loved ones, have it at the Public House. Food selections are interesting, plus the recommendations of the servers are spot on. You can make reservations or order for takeout, they'll accommodate you well. On top of the delicious food and desserts, the service is excellent, too. A must-visit and one of the best restaurants in Chattanooga.
Phone: +1 423-266-3366
Address: 1110 Market St, Chattanooga, TN 37402-2863
6: Urban Stack
Urban Stack is among the best restaurants in Chattanooga that offer all-natural, high-quality meats and organic ingredients for each menu. Taking pride in homemade goods, there's no other place you can fully understand Chattanooga than enjoying a luscious dinner here. You can choose from various burger options, they aren't your normal burgers — they are one-of-a-kind, fresh and good for everyone.
Phone: +1 423-475-5350
Address: 12 W 13th St, Chattanooga, TN 37402-4458
7: Main Street Meats
Finding good food in Chattanooga isn't difficult. But, finding the best food, reasonably priced is quite challenging. But, if you hear of the Main Street Meats, go there quickly. It's the home of the cast-iron-skillet-fried House Burger with excellent butcher shot selections for cook-at-home. The service is top-notch with the professional wait staff who will tend to your needs as quickly as possible.
Phone: +1 423-602-9568
Address: 217 E Main St #105, Chattanooga, TN 37408-1324
8: Hickory Pit Bar-B-Que
From prep to plate, Hickory Pit Bar-B-Que (instagram.com/explore/locations/61026383/hickory-pit-bbq/) offers you unforgettable dining experience. Serving the great authentic barbecue, you can't help but come to the place the next time you visit Chattanooga. With tons of options to choose from, everyone's palate will surely be satisfied. Aside from the food, the service, and the atmosphere are superb to help you enjoy a great meal.
Phone: +1 423-894-1217
Address: 5611 Ringgold Rd, Chattanooga, TN 37412-3150
9: Alleia
A delightful dinner awaits you at Alleia, located in the old Harrington building. Serving the best of Chef Daniel Lindley's creations, you can taste Italian cuisine using ingredients from local farms. Since it has a spacious venue, it's a perfect place for birthday celebrations, parties, and other corporate activities. For sure everyone will have their favorites, be it pasta, pizza, salad and a lot more.
Phone: +1 423-305-6990
Address: 25 E Main St, Chattanooga, TN 37408-1227
10: Ruth's Chris Steak House
Your visit to Chattanooga will not be complete if you won't come to Ruth's Chris Steak House to try its best-selling and sizzling hot steak. It's an excellent place with good ambiance and good food. For those who love spicy food, you can try their scallops to challenge yourself. Everything is baked and cooked to perfection, in the way you want it to be done.
Phone: +1 423-602-5900
Address: 2321 Lifestyle Way Embassy Suites Hotel, Chattanooga, TN 37421-2291
11: Community Pie
If you want to make your very own tasty pizza in Chattanooga, visit the Community Pie. It offers three different styles of pizza in various sizes, plus a wide selection of beers. The service is incredible and the servers are very knowledgeable with the menu. This isn't the cheapest pizza house in the place, though, but you can find delightful food here.
Phone: +1 423-486-1743
Address: 850 Market St, Chattanooga, TN 37402-2644
12: 1885 Grill
If you're looking for a perfect place to grab a bite in Chattanooga, the 1885 Grill is the right one for you. You can see the chef makes the wonders of making local ingredients to unbelievably delicious creations. With a welcoming host and staff, your overall dining experience will surely be amazing. From their daily specials to cocktails, everything served here is a must-try.
Phone: +1 423-485-3050
Address: 3914 Saint Elmo Ave, Chattanooga, TN 37409-1268
13: Champy's
Another return-to spot in Chattanooga offering scrumptious food and quick lunch service, Champy's a good place to dine. Try their well-cooked, yet juicy fried chicken (the best chicken in Tennessee) and beer, you'll really love coming back to the place just like everyone did. Offering a pleasant divvy atmosphere inside out, it comes with an outdoor patio and a roof — a comfortable eating haven.
Phone: +1 423-752-9198
Address: 526 E ML King Blvd, Chattanooga, TN 37403-4111
14: Mr. T's Pizza
Mr. T's Pizza is the perfect place to go if you're in the mood for pizza. Unwind after you've strolled around the area and enjoy their delicious made-personally-for-you pizza with perfect-big proportions, flavorful sauce, and mouth-watering toppings. At a reasonable price and lots of options to choose from, everyone in the family will have a slice of their favorite pizza.
Phone: +1 423-825-6787
Address: 3924 Tennessee Ave, Chattanooga, TN 37409-1319
15: Flying Squirrel
A nice atmosphere and delectable foods are what you need after work or after a day well-spent sightseeing around Chattanooga. And, there's only one place that offers you that comfort and satisfying palate — the Flying Squirrel. You'll be greeted with welcoming staff, who are quick and fast to take orders. Though packed during the day, your order will be ready in minutes — perfect for transient visitors.
Phone: +1 423-602-5980
Address: 55 Johnson St 55 Johnson Street, Chattanooga, TN 37408
16: HiFi Clyde's Chattanooga
Looking for a fun and energetic place where you can relax, at the same time, satisfying your famishing tummy? Visit HiFi Clyde's Chattanooga. It's not just a place to satisfy your hunger, but also a place of entertainment and relaxation. If you're in the mood to just relax all day and drown yourself with American dishes, this is a place to stay.
Phone: +1 423-362-8335
Address: 122 W Main St, Chattanooga, TN 37408-1134
17: The Purple Daisy Picnic Cafe
Like sandwiches and barbecues? You can find just a perfect restaurant in Chattanooga that'll allow you to enjoy some of the best-tasting barbecues in town – The Purple Daisy Picnic Cafe. With a lot of options to choose from, they are served at just the right proportions. There are also menus that kids will surely enjoy. A wonderful place for family and friends to dine together, enjoy a great meal without spending too much.
Phone: +1 423-822-6477
Address: 4001 Saint Elmo Ave, Chattanooga, TN 37409-1301
18: Easy Bistro & Bar
From the first bite until the last, you'll have a wonderful meal at Easy Bistro & Bar. Offering fancy and delicious dishes, desserts and appetizers are out of this world. Your vegan friends will also love the place as it also prepares food that suits their needs. Every single menu is worth trying; especially that they're offered at an affordable price.
Phone: +1 423-266-1121
Address: 203 Broad St, Chattanooga, TN 37402-1010
19: Stir
Stir offers a great selection of drinks with its tasty eats. It comes with a beautiful atmosphere, perfect for anniversary dates, dinner dates or just a casual dinner with friends. Serving delicious lunch and dinner, having brunch here is good, but not that excellent. You can call for reservations upfront to ensure you'll get a wonderful and splendid brunch. Try this place if you're in town.
Phone: +1 423-531-7847
Address: 1444 Market St, Chattanooga, TN 37402-4448
20: Taco Mamacita
A popular local spot in Chattanooga, Taco Mamacita is a Southwestern and Mexican restaurant that offers mouth-watering dishes. For first-timers, you might be overwhelmed with the menu, but their staff is so knowledgeable with all of them. Try their tacos, enchiladas or salsa. The next thing you know, you've already fallen in love with the place and recommend it to a friend.
Phone: +1 423-648-6262
Address: 109 N Market St, Chattanooga, TN 37405-3904
Conclusion 
Chattanooga is a complete package offering wonderful places to visit and food appetizing to eat. Your visit to Chattanooga will surely be filled with wonderful memories. From the breathtaking views and adventures to the mouthwatering dishes and drinks, indeed, Chattanooga is the best place to be.
The best restaurants in Chattanooga are world-class and their service is top-notch. Locals and tourists alike love to dine in and enjoy the night at their favorite restaurants. Whether you're craving for Southern cuisine or just want to explore the South, the best restaurants in Chattanooga will give you something amazing and worth remembering.
Any questions or comments? Leave them below!
Please share this post!