20 BEST Things to do in Memphis, TN [2022 UPDATED]
By

Marina Yoveva
Memphis, Tennessee, is a city with a lot of souls, situated on the Mississippi River. Best known for being a musical haven for blues and rock, Memphis is rich in culture. A little over a half-million people, Memphis is an excellent destination in any season, with mild winters and steamy summers. With attractions that range from barbeque to blues clubs, Memphis should be on any curious traveler's list. Layered historically with a past that includes the Chickasaw Indigenous People to Spanish influences, Memphis has no shortage of cultural depth. Whatever your reason for heading to Memphis, you'll find yourself immersed in so much to do. Read on to be inspired by all the things to do in Memphis, and get your travel itinerary mapped out!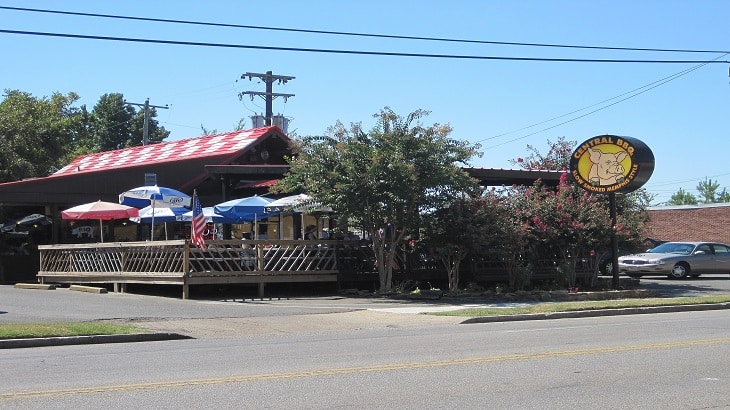 1) Sun Studio
Soak up the ambiance of the very place where legends like Elvis Presley, Johnny Cash, and B.B. King recorded top hits. Known as "The Birthplace of Rock and Roll," Sun Studio continues to operate as a recording studio as well as offering tours. The brainchild of record producer Sam Phillips, Sun Studio has been a historical powerhouse of American music. Put your feet in the exact spot where these musical kings recorded, and let the experience wash over you.
2) Graceland
Another musical must when visiting Memphis, head to Graceland, the former home of Elvis Presley. This iconic mansion includes beautiful grounds to walk, his private aircraft, and mementos that are uniquely The King's. Graceland tours include new interactive exhibits like The Era of Elvis Game and Elvis Yourself dress-up virtual experience. Graceland also has onsite dining and shopping to really make a day of your trip to Elvis' last home before his death in 1977.
3) National Civil Rights Museum – Lorraine Motel
The National Civil Rights Museum pays tribute to the hard work of activists in America striving to improve civil rights since the 17th century. Additionally, the Lorraine Motel, where the museum is located, is the place of Dr. Martin Luther King Jr.'s death in 1968. Located in downtown Memphis, the National Civil Rights Museum will inspire with exhibitions like A Culture of Resistance and The Year They Walked, highlighting the Montgomery Bus Boycott. Events include book talks and celebrations like that on King Day (King's birthday).
4) Stax Museum of American Soul Music
Keep your musical education going with a trip to the Stax Museum of American Soul Music. The former location of Stax Music, this interactive music campus is also home to the Stax Music Academy as well as a charter school. Start your tour by beginning in the museum's reassembled Mississippi Delta church from 1906, whose grassroots beginnings are believed to be where soul originated. Go on to learn more about the ins and outs of Stax Music, including quirks like the slanted ground of the recording studio which helped to give Stax Music records their unique sound.
5) Memphis Zoo
Get yourself outside at the Memphis Zoo, which is home to 3,500 animals including a lovable Giant Panda named YaYa. Created in 1906, Memphis Zoo is a historic slice of the city's past. The range of animals is vast, and includes polar bears, tigers, and monkeys, to name just a few. Special events include unique opportunities like Twilight Tours to see the zoo in the dark, or daily zookeeper chats.
6) The Peabody Ducks
The Peabody is a historic hotel in Memphis, complete with its very own indoor fountain that is best-known for its ducks. Yes, ducks are a delightful surprise at this well-heeled establishment, which has been having the "Peabody Duck March" through the lobby since 1940. This eccentric Memphis tradition can be viewed daily at The Peabody from 11 am to 5 pm and is a picture-worthy experience not to be missed.
7) Shelby Farms Park
Shelby Farms Park is a massive 4,500-acre park located in the heart of Memphis. The perfect place to get outside, Shelby Farms Park has so much to do. Activities include 40 miles of hiking trails, 10.65 miles of paved biking trails, fishing, dog parks, a children's playground, and even a bison herd. A visit to the park is truly an all-day affair, with the chance to eat breakfast or lunch at multiple local restaurants within the park such as Coastal Fish Company or Cheffie's at Shelby Farms Park.
8) Beale Street
The iconic Beale Street is best known for its contribution to the world of blues music. Viewed by some as Tennessee's top attraction, Beale Street continues to be a haven for blues lovers locally and visiting. Beale Street had its height during the roaring 20s when the street pulsed at night. Today you can see a classic Memphis jug band, sip a cold one, and learn more about WC Handy, a composer, and musician who is perhaps the most notable name to come out of Beale Street.
9) Memphis Rock 'n' Soul Museum
While you're at Beale Street, head to the Memphis Rock 'n' Soul Museum, which will help you to flesh out your understanding of Memphis's contribution to both genres. Created by the Smithsonian Institution, dig into how these musical movements have affected America and the world. Many musicians had to overcome great obstacles such as racism and poverty, and the Memphis Rock 'n' Soul Museum pays tribute to their perseverance.
10) Slave Haven / Burkle Estate Museum
Learn more about Memphis's role in the Underground Railroad at Slave Haven, also known as the Burkle Estate Museum. This 19th-century home was a station on the Underground Railroad, and highlights of the museum include seeing real tunnels used by slaves in their escapes. Cotton was once a staple crop in Memphis, and the city became the state's largest slave-trading city. Along with the brave men and women who escaped slavery, remember abolitionists like Jacob Burkle, who helped slaves to freedom until 1855 with the abolition of slavery.
11) AutoZone Park
AutoZone Park is a Minor League Baseball stadium, and home to the Memphis Redbirds as well as the Memphis 901 FC. Located in downtown Memphis, AutoZone Park is a beloved institution by locals and a fun place to head for a night out. This MLB stadium is known for being the most expensive minor league baseball stadium ever to be built. When not used for baseball, AutoZone Park moonlights as musical grounds.
12) Memphis Botanic Garden
Memphis Botanic Garden is a gorgeous verdant refuge in the city of Memphis. Open daily from 9:00 is to 4:30 pm, visit the gardens to explore 96-acres of 30 specialty gardens. Each garden is a different theme, and gardens include an Urban Home Garden, Sensory Garden, Fragrance Garden, and Asian Garden. My Big Backyard is a wonderful play space and garden for children to explore, which aims to get children immersed in nature.
13) FedExForum
Another sporting attraction in Memphis, FedEx Forum is a multi-purpose stadium and home of the Memphis Grizzlies of the NBA. The stadium also hosts collegiate basketball and concerts. Past headliners have included big names such as Celine Dion, Stevie Nicks, and Yo Gotti. Check the website for both upcoming sports and musical acts.
14) Crystal Shrine Grotto
Crystal Shrine Grotto is located in a cemetery and is the only manmade crystal cave in the world. This quirky yet reflective grotto was designed by Mexican artist Dionicio Rodriquez in the 1930s. The founder of Memorial Park Cemetery, Elliot Clovis Hinds, wanted the cemetery lands to be inspirational, filled with art. The Crystal Shrine Grotto welcomes visitors and the shrine is open from 6 am to 10 pm daily.
15) Big River Crossing 
Recently opened in 2016, the Big River Crossing is the longest pedestrian bridge over the Mississippi River. Nearly a mile long, the Big River Crossing is a great place to take a stroll or bike. Connected to the Big River Trail System, bike more than just the bridge to get some exercise. Additionally, the bridge is covered in 100,000 Philips LED lights that light up in a show hourly from sundown to 10 pm.
16) Mud Island River Park
Mud Island River Park is one of the darlings of Memphis's park system. This 52-acre park includes the River Walk as well as the Mississippi River Museum. Though the name is a bit deceiving, Mud Island is actually a peninsula that juts into the Mississippi River. This natural attraction makes a great place to meander, have a picnic, and let the kids blow off some steam.
17) The Children's Museum of Memphis
Jump into the fun of The Children's Museum of Memphis, an interactive play space focused on creating learning opportunities for children. The museum has been part of Memphis for 30 years and offers exhibits like Teenage Mutant Ninja Turtles: Secrets of the Sewer and H2Oh! Splash Park. Ongoing programming and events mean there's always something new to learn at The Children's Museum of Memphis.
18) Pink Palace Museum and Planetarium 
The Pink Palace Museum and Planetarium (also known as The Museum of Science & History) is a comprehensive museum dedicated to science, history, space,  and anthropology. In addition to being the main focus of the Science Museum, the grounds also hold the Pink Palace Mansion, the Giant Screen Theater, the AutoZone Dome Planetarium, Lichterman Nature Center, and the historic Mallory-Neely and Magevney Houses. Plan on spending at least a half-day to soak up all there is to do at the Pink Palace Museum and its connected attractions.
19) Metal Museum
The Metal Museum is a one-of-a-kind museum dedicated to the importance of metalwork and arts. Founded by blacksmith James Wallace, dig into the unique art of metal making at the Metal Museum. Enjoy rotating exhibits that showcase the best of metalworkers' past and present. An outdoor sculpture garden of 3.2 acres is a lovely way to end the tour at the Metal Museum.
20) Statue of Elvis
Snap a selfie of you and The King with this statue of Elvis on Beale Street. The large bronze statue originally stood on Beale Street but has been moved inside to Tennessee Welcome Center. While you're checking out Elvis, be sure to find an additional statue of BB King, also housed within the Welcome Center. A visit to the Welcome Center is also a great way to get oriented in the area.
Conclusion
There are so many things to do in Memphis, Tennessee! A cultural gem in America's South, Memphis has more than its share of things to do. Whatever your interest, Memphis has something for you. Get ready for a great vacation in the historic city best known for its contribution to rock, soul, and blues.
SEE MORE POSTS