20 BEST Hotels in Austin, Texas [2022 UPDATED]
By

Marina Yoveva
Mostly known for its musical legacy and watersport activities, Austin, Texas makes an excellent destination for couples and solo adventurers. As charming as it is, Austin is well-packed with landmarks, lovely parks and lakes alongside a wide range of shopping opportunities. The state capital also houses world-known museums and galleries, such as The City's Central History Museum. In the evening, visitors can enjoy a leisurely stroll through Austin's best parks or paddle on the city's impressive Lady Bird Lake. 
Before you go back home, make sure to visit the so-called SoCo District, also known as the South Congress. It presents an eclectic mix of souvenir shops, world-class restaurants, and cozy cafes, antiques, music venues, and so much more. To make your Texas vacation even more unforgettable, we've put together a list of the most affordable and best hotels in Austin, Texas. Finally, you can have a great time in Austin without putting a dent in your wallet.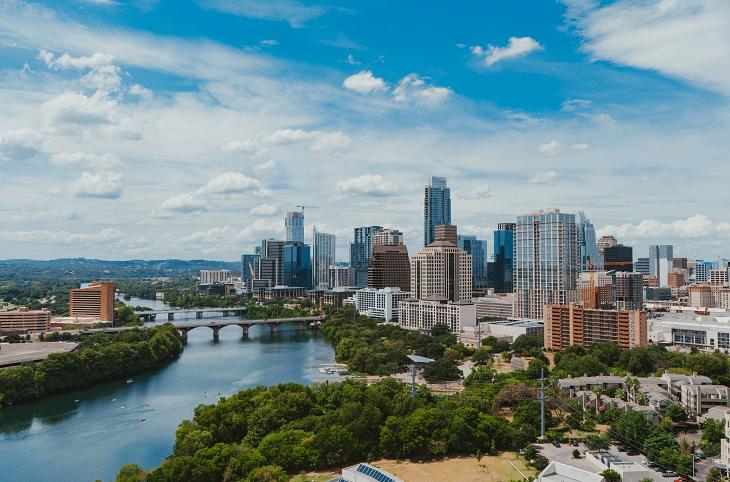 1. Holiday Inn Austin Airport
Centrally located near the airport, Holiday Inn Austin Hotel is a particularly new hotel with easy access to the city's center. Holiday Inn Austin Airport features a well-equipped fitness center, family and non-smoking rooms, pool and bar. The hotel also provides extravagant, lush suites, and a pet-friendly policy. The staff is helpful, attentive, and kind. No wonder Holiday Inn Austin Hotel is the #1 ranked hotel in Austin on our list. The hotel charges about $100 per person per night.
2. Staybridge Suites Austin North – Parmer Lane
Staybridge Suites Austin North – Parmer Lane is perfect for both leisure or business trips. The hotel features modern kitchens, safe, air conditioning, complimentary breakfast, and parking. Come on in and enjoy the sparkling pool that will make you feel at home. The modern hotel charges about $100 per night and is one of the coziest hotels in Austin. 
3. TownePlace Suites Austin Round Rock
If you're looking for an extended-stay hotel in Austin, TownPlace Austin Round Rock is your place. TownPlace hotel features modern kitchens and spacious bedrooms, with luxury bedding. Thanks to the complimentary Wi-Fi, guests can share their experience with the world. The property offers perfect comfort and practicality at a reasonable price ($87 per night), making it one of the best affordable hotels in Austin.  
4. East Austin Hotel
Located on the corner of Waller Street and East Sixth, this cozy hotel is about a mile away from Austin's city center, and the Texas Capitol. East Austin Hotel is one of the 5-star hotels in Austin, and a regular bestseller in high season. This cozy place features beautiful and modern poolside suites and rooms, comfy cabins as well as a luxury courtyard pool. The hotel charges $130 per night but is worth the price. 
5. Candlewood Suites Austin Airport
If you're looking for a place with a flexible workspace and all the comforts of home, settle in at the cozy Candlewood Suites. Guests can expect attentive staff, quick service, perfectly clean rooms, and a lot of business services. The hotel also provides an outdoor gazebo alongside a super modern fitness center. 
6. Residence Inn Austin-University Area
Offering modern coffee-making facilities, bright rooms with new flat-screen TVs, and a luxury outdoor pool, Residence Inn Austin-University Area is one of the nicest boutique hotels in Austin. A comfy seating area, laundrette, and complimentary breakfast await the guests at the Residence Inn Austin – University Area. Cheap snacks and other yummy foods can also be purchased on-site. 
7. Bel-Air Motel
Situated in the heart of Kentucky's Dam Village, Bel Air Motel is merely perfect for a full, undisturbed relaxation far away from the busy city. The hotel offers clean, air-conditioned and fully-carpeted rooms with chic kitchenettes. There are also queen-sized beds, playground for the kids, and a fancy swimming pool for the guests. Make the most of your vacation in Texas with an affordable stay at one of the top-rated hotels. 
8. Residence Inn Austin Lake Austin / River Place
Treat yourself to a memorable extended stay at one of the best family hotels in the city – Residence Inn by Marriott Austin River Place. Enjoy a peaceful family vacation with quick access to the picturesque Lake Travis. The River Country Club and the city's busy downtown are a few minutes away. The hotel, located in a business quarter, boasts freshly-brewed coffee varieties, delicious breakfast, and many healthy options.
9. Kimber Modern Hotel
If you want to retreat from the busy city, enjoy a stay at one of the top-rated boutique hotels. Here, guests can savor delicious dishes and healthy options or chill out on the beautiful balcony. Whatever they choose to do, they will undoubtedly have a wonderful time at the Kimber Modern Hotel. Currently, the hotel charges $199 per night. Book your stay and enjoy excellent rates with complimentary drinks, breakfast, and free parking. 
10. Hotel Eleven
Feel free to join us at Hotel Eleven – a gorgeous, boutique hotel in Austin, offering picturesque city views, excellent wines, and beers. Here, you can expect high-quality beverage combinations, perfectly paired entrees, and main dishes. Hotel Eleven features a rooftop terrace, an additional bathroom, and a free high-speed internet connection. The hotel charges $209 per night and is one of the best family-friendly hotels in Austin. 
11. Guild Lavaca Street
The Guild Lavaca Street hotel can adequately provide the comforts of home with a touch of elegance and style. Enjoy life to the fullest at The Guild, nestled between 2nd and 3rd streets, located nearby the downtown area. The hotel boasts super friendly service, top-notch hotel amenities as well as 6+ recommendations. It might be a small hotel but is one of the best hotels around Austin, Texas. 
12. Heywood Hotel
Heywood hotel is a cozy artisanal boutique hotel in Austin, Texas, with half-upcycled bungalows, modern lounges, a-class restaurants, and easy-going, attentive staff. This half-courtyard hotel is an ideal option for business trips as well. This fancy place, located in the lively East Austin neighborhood, provides Free WiFi connection, and free parking, and charges $188 per night. Indeed, it's one of the most modern hotels in Austin. 
13. Adams House Bed and Breakfast

(now closed)
Situated in the neighborhood of Hyde Park, Adams House was named the best Bed & Breakfast from 2012-2014. This beautiful, historic house offers spacious accommodations and delicious, homemade breakfasts. Guests at Adams House can unwind in a serene, relaxing atmosphere at a pretty reasonable price. Free breakfast, outdoor furniture, shared lounge area, and tennis court offsite await the guests at one of the most affordable hotels in Austin, TX. 
14. South 20 Austin
Located in Southwest Austin, this charming guest house features about 20 secluded, gated acres. In fact, they are super close to the Austin airport and Dripping Springs. This area is known as the "jumping-off point" to the magnificent hill country. Right there, amongst oak trees and max privacy, stands one of the most stylish hotels in Austin, Texas – South20 Austin. Here, you can get first-class amenities, extra-large and modern bathrooms, and fully equipped kitchenettes. 
15. Camden Rainey Street
If you're looking for a stylish hotel in town with great views of Lady Bird Lake, Rainey Street is the best place for you. The elegant apartments at Rainey Street are super close to the city's Convention Center and scenic Lady Bird Lake trails. This cozy hotel is great for nightlife experiences, making it the perfect choice for couples and party people. Nearby are Zilker Park and Capitol – some of the best tourist attractions in Austin, Texas. 
16. Hancock Guest Cottages
Treat yourself to a fantastic vacation in the stylish Hancock Ranch House, located in a quiet Austin neighborhood. Escape from the hustle and bustle of the city and enjoy a relaxing weekend at the affordable Hancock Ranch House. This place is one of the most extravagant hotels spreading out across 30 acres. It also features a lavish Petite Suite with contemporary architecture and interior design. The luxury ranch house can accommodate up to 6 guests as the cost per month goes over $3900. 
17. Locale University East Austin
Offering great comfort and spaciousness, the Locale East Austin is a top-rated boutique hotel in Austin, TX. The hotel provides fully stocked bathrooms, sleeping areas, and high-quality building amenities. As modern as it is, Locale East Austin also features a well-equipped gym, business center, pool table as well as resort-style pools. Guests are satisfied with the adequate service and level of cleanness. 
18. Royal Palms RV, Austin, TX
Gorgeous setting, modern interior designs, and quick service – all of these features are well-presented at one of the fanciest hotels in Austin. The hotel offers a large resort swimming pool, concrete driveway & patio as well as a lot of playgrounds and courts for the kids. Royal Psalm hotel is also conveniently located to the city's most famous historical and cultural sites. The staff here is courteous and friendly. All in all, the Royal Palms hotel always treats its guests like royalties. 
19. Downtown/Convention Center Lofts 
Situated in the city's center, Downtown/Convention Center Lofts provides self-catering accommodations, free internet connection and parking for the guests. This affordable hotel in Austin also offers free hotel amenities. Nearby attractions include Austin Convention Center and Zilker Park. Thanks to its convenient location, this place is one of the busiest hotels.
20. Hampton Inn & Suites Austin at The University/Capitol 
Hampton Inn and Suites Austin Hotel proudly offers a beautiful rooftop swimming pool, bright rooms, modern fitness, and business center. Also, Hampton Inn is one of the best hotels in Austin, known for its delicious breakfast with waffles and fresh juice. Thanks to the fast internet connection, guests can share their hotel experience with their friends and families. 
Conclusion 
If you're planning a trip to Austin anytime soon, here's what you should know about the city. Begin your Texas journey by visiting its best tourist attractions, such as the History Museum, Lady Bird Lake, or SoCo District. While you're in town, make sure to try the local food as well. Most of the neighborhoods are quiet and peaceful, so you can enjoy your vacation to the fullest. There's also a wide variety of fancy restaurants, cozy cafes and a whole lot of top-notch hotels in Austin, Texas. Just pick one from our list of best hotels in Austin and enjoy your stay in this lovely city!  
Leave any questions or comments below and share this post on social media!