20 BEST Things to do in Fort Worth, TX [2022 UPDATED]
By

Marina Yoveva
Fort Worth, Texas, is a contemporary city rooted in the Wild West. Just west of Dallas by about an hour, Fort Worth was once a trading post for cowboys. Today it is a thriving city, home to some 80,0000 residents, with a rich culture to offer. From live rodeos to prominent art museums, you'll find it here at Fort Worth, a city manageable enough in size to enjoy. The weather in the city is always welcoming, with hot and sunny summers and temperate winters, making any time a good time to visit. Whatever brings you to this wonderful city, there's something for everyone to love here. Read on to discover our round-up of the best things to do in Fort Worth, Texas, to get inspired by this southwestern city!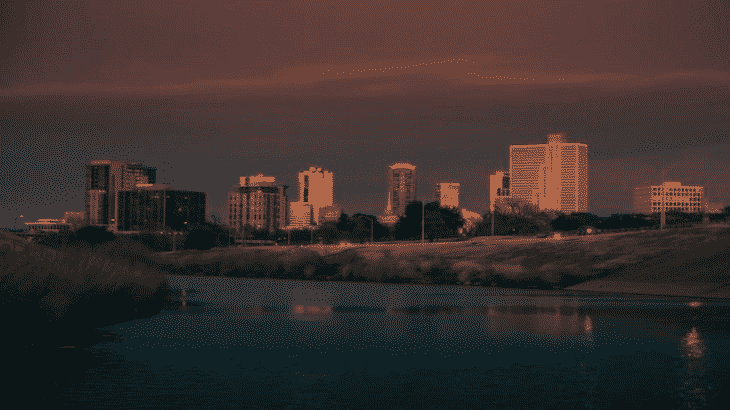 1) Sundance Square 
Sundance Square is a historic area of the downtown city that is always teeming with life. From shops that include fun Western wear, to live music, you'll find it here at Sundance Square. Pedestrian-friendly, Sundance Square is the perfect place to head for a sunny afternoon or evening, to walk around and take in the sights. Make an evening of it by planning dinner at one of the many restaurants located here, such as Mi Cocina, Istanbul Grill, or Piranha Killer Sushi.
2) Fort Worth Stockyards National Historic District
Fort Worth Stockyards is a foundational piece of the city's story, and should not be missed. Twice daily the historic district puts on a live cattle drive. The stockyards themselves are comprised of historic buildings, brick streets, and restaurants and bars that make for a wonderful outing. Also within the grounds are the Stockyards Champions Rodeo, the Texas Cowboy Hall of Fame, and multiple Western wear stores.
3) Fort Worth Water Gardens
Fort Worth Water Gardens is an urban architectural wonder, and a beautiful watery oasis when the Texas days get hot. Visit this free and fun attraction, located near the Convention Center. This modernist design of terraced waterfalls can be explored by steps that lead up and down the garden. In the center of the gardens is the Active Pool, where you can stand in the center and soak up the mist from the fountains.
4) Kimbell Art Museum
The city shows its cultural depth with the Kimbell Art Museum, which includes modern, European, and world art. With rotating exhibits such as the current Queen Nefertari's Egypt, there is always something to learn at the Kimbell Art Museum. The permanent collection's highlights include a large Joan Miro sculpture, Henri Matisse's L'Aisle, and Piet Mondrian's Abstraction. The museum is open every day but Monday and masks are mandatory to enter.
5) Fort Worth Japanese Garden 
Fort Worth Japanese Garden offers a tranquil reprieve. With 7.5 acres to explore, the Japanese Garden is a joint project of Fort Worth's sister city of Nagaoka, Japan. The garden is most beautiful in the springtime, with the height of blooms. Throughout the garden enjoy cherry trees, Japanese maples, charming bridges, and a multitude of koi fish.
6) Bass Performance Hall
Opera may not be the first thing that comes to mind when you think of this city, however, Bass Performance Hall was recognized by Travel + Leisure magazine as one of the Top 10 opera houses in the world. This unexpected opera hall is not only home to opera, but also to Broadway plays, the Fort Worth Symphony Orchestra, and the Texas Ballet. The Maddox-Muse center is an additional performance and rehearsal space, allowing a wide range of performance arts to thrive in the Fort Worth community.
7) National Cowgirl Museum and Hall of Fame 
You don't want to miss the National Cowgirl Museum and Hall of Fame, a tribute to the female pioneers of the West. Founded by a woman, the museum celebrates self-reliance and tenacity in females of the West, past, present, and future. You'll find names like Sacagawea, Georgia O'Keefe, and Annie Oakley here, as well as multiple exhibits exploring women's contributions to the West. While at the museum, be sure to stop by The Shop at the Cowgirl where you can take home inspiring female-centric memorabilia.
8) Texas Motor Speedway
NASCAR and IndyCar fans will rejoice in a visit to the Texas Motor Speedway, where you can catch races on the 1.5-mile track. 2021 season tickets are now on sale and can be purchased individually or in a make-your-own ticket package. The track also has onsite camping if you're planning on making a trip solely to soak up the Texas Motor Speedway fun.
9) Modern Art Museum of Fort Worth
The Modern Art Museum houses an impressive collection of modern and contemporary art from around the world. The stunning building was designed by architect Tadao Ando and opened to the public in 2002. In addition to showcasing art, the museum also hosts a variety of lectures, movie screenings, and visiting exhibits, enriching the overall climate of the museum. The museum is open every day but Monday and has a generous free day each Friday.
10) Burger's Lake
Burger's Lake is the place to head when Texas summers get steamy. A clean lake with sandy beaches, Burger's Lake is a favorite with the locals for good reason. A slide and diving board make this more than just a swimming hole, and the beaches are manned with lifeguards to ensure safety. Make a day of it and plan on a picnic at one of the 300 tables, or a BBQ with the onsite grills.
11) Billy Bob's Texas
Head to the world's largest honky-tonk, Billy Bob's Texas, to really feel the Texas vibe. Located within the Stockyard area, Billy Bob's Texas is Texas-size fun. With live bull-riding, every Friday and Saturday, a full restaurant and multiple bars, and of course, dancing, Billy Bob's Texas is something you'll only find in Texas. With frequent live music, Billy Bob's will keep you out 'til the cows come home.
12) AT&T Stadium 
Tour where the Dallas Cowboys play their home games or even catch a game itself. The world's largest domed stadium, the AT&T Stadium is known for its large retractable roof. Daily tours make it easy to hop on and learn more about what makes this stadium, and the Dallas Cowboys, unique. In addition to sports events, the stadium also hosts musical acts like the upcoming country star, Kenney Chesney.
13) JFK Tribute 
The JFK Tribute is a larger-than-life bronze sculpture of JFK in Fort Worth's General Worth Square. Though JFK was not from Fort Worth, the tribute marks JFK's 1963 impromptu speech on the steps of then-Hotel Texas. A nice destination for a walk, the JFK Tribute is surrounded by JFK quotes that give appreciation to the 35th president of the United States.
14) Fort Worth Zoo
The Zoo is historic, founded in 1909. The zoo has gone on to expand into what it is today; a zoo committed to bridging the connection between humans and animals. Exhibits at the zoo include an African Savannah, Parrot Paradise, and World of Primates, to name a few. Additional attractions include ZooKeeper Chats, Wild Encounters, and the Yellow Rose Express Train.
15) Trinity Park 
A staple for any local, Trinity Park is a sprawling 252-acre park that includes 40 miles of paved hiking and biking path. The park hugs the Clear Fork Trinity River, making for a scenic experience. In addition to hiking and biking, you can also find playgrounds, picnic tables, as well as the opportunity to fish or kayak the river. Check out the Trinity Trails website, listed below, to see more events and opportunities within Trinity Park.
16) Cowtown Coliseum
Every Saturday night during the summer, Cowtown Coliseum hosts rodeos. Located within the city Stockyards, Cowtown Coliseum can host nearly 3,500 people at once (with 50% seating capacity during Covid)! This staple showcases rodeo as well as music and sporting events. Even if you're not coming for an event, the Coliseum is still open daily to walk through.
17) SeaQuest Fort Worth
SeaQuest is a modern aquarium located within the shopping complex of Ridgemar Mall. A great outing for kids, view colorful fish and marine life as well as exploring interactive exhibits. Get hands-on with animals like tortoises, sloths, and Honey the kinkajou (a tropical rainforest mammal). Additional attractions include a Seaside Spa Session for Mom and Dad or the chance to Swim With Flapjack and Friends (for an additional cost).
18) Amon Carter Museum of American Art
Yes, this is the third art museum on this list, which is a testament to just how invested in art the community is. The Amon Carter Museum is always free, making that reason alone enough to visit, and hosts a rich collection of nineteenth-and twentieth-century paintings and sculptures. Located in the epicenter of the Cultural District, visiting the Amon Carter Museum of American Art should be on everyone's list. The art specifically showcases American art and the exhibits span some 200 years of artwork.
19) Fort Worth Nature Center & Refuge
Take a break from the hustle and bustle of the city at Fort Worth Nature Center & Refuge. Ten miles outside of the city, you'll find extensive hiking trails and the chance to breathe some fresh air. A resident bison and prairie dog colony are fun to check out, as well as the ongoing educational opportunities that the Center provides. Winter hours are daily 8 am to 5 pm, and switch to an earlier 7 am to 5 pm in the summer months.
20) Cowtown Cattlepen Maze 
Race your way through the Cowtown Cattlepen Maze as you attempt to navigate this winding and ever-changing puzzle. Designed to look like the cattle pens from the Old West, the Cattlemen Maze pits you against the clock, as well as other contestants as you look for checkpoints that can lead to a prize. To get ready ahead of time, you can view the maze from a second-floor observation deck that overlooks the maze.
Conclusion
A lot of bit Wild West, a little bit high brow, Fort Worth does not disappoint when it comes to things to do. This historic town is known as "Where the West Begins," is charming in so many ways. Whether you're looking for family fun or a night out at honky-tonk, you'll find it here. With this list of things to do in Fort Worth, map out your upcoming itinerary!