10 BEST Hotels in Houston, Texas [2022 UPDATED]
By

Marina Yoveva
Rest from your journey in some of the best hotels in Houston and then embrace the diversity of the city's magnetism. Whether it's at the Space Centre, or at the District Museum Walk where you can watch a free show at the Miller Outdoor Theatre and marvel over Picasso at the Menil Collection. Shop curator-approved wares at the Vintage Stores on 19th Street. Or take a trip to Galveston for a Meditteranean enjoyment of beaches and sunsets.  Go watch cowboys in action at the rodeos – a must-visit in Houston. Get healthy at Discovery Green where yoga and Thai Chi are on offer, and the lake is available to kayak. Foods of the world are served at strings of restaurants. Southern soul-food downtown, Eastern fare, and cuisine from all over the world at the many restaurants.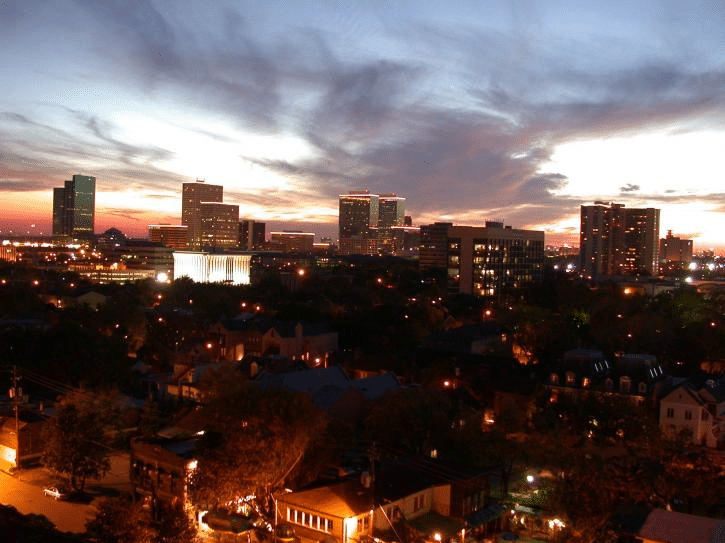 Read Also: Top 20 Things to do in Houston
1. Hotel Za-Za
The openness of contemporary living was created at Hotel Za-Za in Memorial City. It has modern art in the vast living areas and a resort-sized pool. It boasts a huge business center with wi-fi, as well as a spa and fitness area. The Tipping Point Restaurant and Terrace serves scrumptious food, making it an easy choice for the top 10 best hotels in Houston. There are top-notch eateries nearby to use after visits to the Museum District, Houston Zoo and Reliant stadium.
2. Hotel Alessandra
Pamper yourself at elite Hotel Alessandra, which is situated in the Green Street shopping and entertainment area. They offer a spa, pool, Wi-fi and ballroom and meeting place.  It's near to George R. Brown Convention Center, Toyota Center, and Discovery Green. The mega-park showcase yoga, Tai Chi and kayaking on the lake.  Its restaurants have Southern soul-food, healthy fare, and European cuisine.
3. Comfort Suites 
For a family-bonding place at its best, come and stay at Comfort Suites in North-West Houston where kids stay for free. Unrestricted Wi-fi, free breakfast, and a pool will give the care-givers more time to rest. Fill the hungry tummies with Texas steak at the many wholesome fares served at the top-rated steakhouses. Then take the kids to the National Funeral Museum which is not too far from the hotel.
4. Holiday Express Inn and Suites – Medical Centre
Walk to the Astrodome from Holiday Inn Express Houston after enjoying a free breakfast, wi-fi, and parking. Their air-conditioned rooms are room-serviced and the pool area houses a fitness gym. The 24-hour front-desk staff arranges free -shuttle services.  Close-by is Chinatown and James Turrell's Twilight Epiphany Skyscape. For those with eastern taste, Thai restaurants are in abundance in the surroundings. If you're looking for a hotel that is centrally located, affordable and has all of the basics then this is one of the best hotels in Houston for you. 
5. Cambria Hotel
You can enjoy a brand new setting at downtown Houston's Cambria Hotel.  Children don't pay, there's valet parking and their business center has internet access (that alone was enough for us to include it in our list of the best hotels in Houston). It's located near the Theatre District and close to the Space Centre, Discovery Green and Kemah Boardwalk, which is on the shores of Texas Gulf Coast at Galveston Bay and Clear Bay,  and has an array of restaurants. 
6. Holiday Inn Express and Suites – Highway 290 Cypres
s
The whole family can relax at the Cypress Holiday Inn Express and Suites and get the best of Houston nearby. Children stay cost-less in serviced family-rooms and can enjoy the pool;  wi-fi and breakfast are free. They have a business- and a fitness center. The area's well-known superlative Asian restaurants are a must-try and try to visit the many monuments, such as Fallen Warriors and Bear Creek War Statue
7. Holiday Inn Express & Suites – Willowbrook
Relax in a solar-paneled heated indoor pool at the new Holiday Inn Express in Willowbrook that keeps the environment green. Share your room with your under-18s and they stay for free and the pre-teens won't be tabbed for food. You can use the conference with unsurpassed office facilities and wi-fi for 24 hours, then wind down in the cocktail lounge, but make time to visit the Downtown Aquarium and Galveston Island.
8. Rose Garden Suites
Situated near momentous attractions, the Rose Garden Suites offers a relaxing stay with free Wi-fi and its restaurant with other ones just a stroll away. Try out the top in Cajun-seafood and Mexican fare there. Allocate time to visit the Shri Radha Krishna Temple and Teo-Chew Temple.  You're also close to all of Houston's monuments, such as the James Turrel's Epiphany Skyscape.
9. America's Best Value Inn & Suites – NW
Indulge in offered coffee and continental breakfast at America's Best Value Inn & Suites, North-West in Houston. As a business class-hotel, they also give you free hi-speed wi-fi and parking. Their bedrooms are fully-equipped for all domestic uses, such as a hairdryer, coffeemaker, iron, and ironing board.  Plan your sight-seeing for Galveston beaches and dining at the 34 greatest restaurants in the proximity.
10. America's Best Value Inn & Suites – Willowbrook
The hotel is near the Beltway of State Highway 29,  so it's within reach of most tourist attractions, such as Mercer Botanic Gardens, Minute Maid Park and NRG Park Stadium. A kitchenette and black-out curtains in the rooms create that homely effect. Chinese and Mexican cuisine is on the doorstep, as well as a pub. The nearby Get Air supplies some trampoline and rope-climbing fun.
Conclusion:
Well, that concludes our list of the 10 best hotels in Houston. Whether you are coming to visit Houston for the first time or are just a regular, these are the hotels that will help make your stay a memorable one! Make sure to consider what you will be doing throughout your trip (i.e. activities, traveling with family, sightseeing, etc…) as that will largely determine which hotel will be best for you.