20 BEST Restaurants in Lubbock, Texas [2022 UPDATED]
By

Marina Yoveva
Founded in 1876, Lubbock is a city well known for its education and health-care facilities as well as its economic nature. It also hosts quite a number of events annually. For this reason, the city is usually packed with visitors over certain durations of time when there are festivals being held. The City also attracts a lot of tourists seeing as it is home to museums and archives which keep its history alive.
Lubbock has birthed musical legends who have opened doors in the entertainment industry. With all these buzzing activities that go on in this prestigious city, you definitely need places to take it all in, unwind and get fed while at it. To help you find the tastiest food, we have curated the following list of the 20 best restaurants in Lubbock.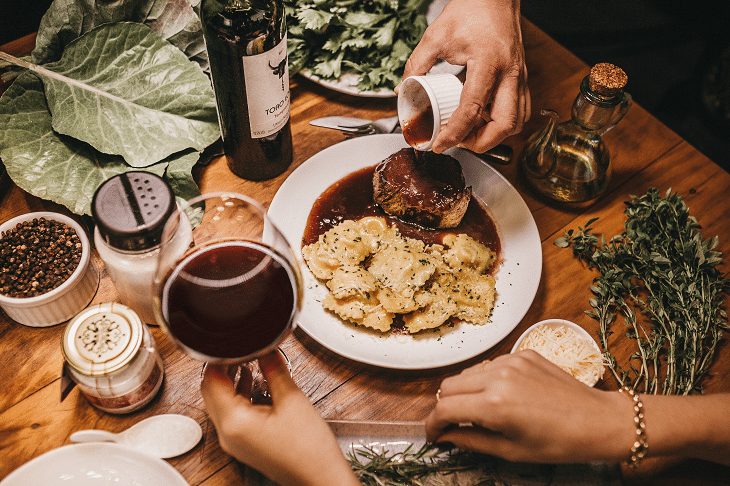 1. Cast Iron Grill
Located directly opposite Buddy Holly Centre is this exquisite restaurant. A convenient place for you if you were attending an event there. Saving you the hustle of looking for a parking space for your car. It mainly serves breakfast and lunch meals. Take it from me, their chicken fried steak and pies are to die for. Their services are not disappointing at all.
2. The Shack
This is a restaurant that is more than meets the eye. From the outside, it looks old and abandoned but is very cozy on the inside. If you ask me, it is definitely worth the drive. They have a particularly different way of service as you order and pay for meals at the counter before sitting down. Somebody, later on, brings you your meal. Ensure that you have tried out the loaded potato salad.
3. One Guy Pizza
For nothing but the best Pizzas in Lubbock, this is the place to go. Most customers who go here are those who are in town for events and games like the Tech Football game. Their variety of pizzas secludes them from every other restaurant. Everyone is accommodated according to their preferences. My personal favorite would be the sausage pizza and calzone.
4. Pecan Grill at the Overton Hotel
The Pecan is a Grill and Bar combined with the Overton Hotel. Clients hereby enjoy the best of both worlds. For their accommodation is incredible! They have so many breakfast choices. If you like Candied pecans then you must try them. For breakfast try the perfectly cooked omelet, you will not regret it. 
5. La Diosa Cellars
As the name suggests, this restaurant is very particular about their wines. Lubbock is a city-based near wineries thus, wine lovers are taken care of in restaurants such as this one. The servants are quite efficient too as they explain and break down meals as well as how they can be paired with a variety of wines. I would recommend a brunch meal of pork tenderloin anytime.
6. Italian Garden
If you are in search of the best Italian restaurant in Lubbock, look no further. Yes, other types of food are served here, but why not sample some Italian as it is their specialty? Don't forget to choose the most suitable wine for accompaniment! Be sure to sample their famous pink sauce with any of your preferred meals. Believe you me, there's no better Italian restaurant in Lubbock.
7. Abuelo's
Saya restaurant famously known for the Mexican food it serves, Abuelo's is a chilled restaurant that has such a good ambiance. Conducive for a personal conversation and intimate dinners. You will not regret making this your first choice for wining and dining. The quality service of your attendants is also a plus on their side. The food is not anything short of delicious. The enchiladas with spinach are particularly my favorite.
8. 50th Street Caboose
Finally! A restaurant that is based on fun and kids enjoy. Just as the name suggests, this is a restaurant that is designed with a few twists to enhance the proven Caboose system. They mainly do Traditional American dishes and Mexican food. If you have taken your kids there, the burgers are the ideal meals for them for they will have so much energy to utilize in the games.
9. Orlando's Italian Restaurant
This restaurant is distinguished by the fact that they serve Tex-Italian food. Pizza and Italian are their main cuisines. The cheese dip I would recommend to you anytime! They serve garlic bread with every order. Sunday is a great day to visit the restaurant as it is all you can eat spaghetti and soup. If you are not in the mood of going out, guess what! Orlando's does orders too.
10. Ruby's Country Store and Bar-B-Q
This is more of a country type of restaurant. It's dishes mainly consists of meat. Such meals include the baby back ribs, BBQ sandwiches, and brisket. The aroma actually meets you at the door. It is said that BBQ is the BBQ sauce. And their sauce is one that will keep you going back for more. They have a drive-through thus, you pick up your order ones you get to the window. Some servants check in on you as you wait for your turn.
11. Triple J Chophouse & Brew
Not only does this restaurant have excellent food it also crafts the best beers. It is the only brewpub in Lubbock. Although they mainly serve steaks they have a vegetarian option which is also just as terrific. The environment is great and chills for a relaxing cold beer. It has a nice Western atmosphere. Sample a mouth-watering filet mignon, you'll thank me later.
12. Pancake House
This restaurant is located down the road from Texas Tech University. Making it more popular with the students from the same institution. The best place to experience a great Southern breakfast. The meals are inexpensive and the services are superb. Regardless of the fact that it is most ever packed, their food and services are exemplary. My favorite is definitely the red velvet pancakes, be sure to sample them, you will not regret it.
13. Spanky's
You have not enjoyed delicious fried cheese and burgers if you have not tasted the ones served in this restaurant. Lubbock being a sports hub city, most weekends are crowded with visitors who are there for games. This here is the ideal restaurant for such people. It is within the city vicinity and has an ambiance that is incredible for indulging and socializing. Even with the crowded clients, service is quite good.
14. Taqueria Jalisco 
This is a restaurant that mainly serves Mexican dishes as well as Latin food. It has a lovely atmosphere, conducive for lunch or dinner dates. The decor seems to have been made to particularly match the Mexican cuisines, making it one of the best restaurants in Lubbock. The food you are served is satisfactory in quantity just as it is in quality. Take it from me, the uniqueness of this restaurant, you have to experience it firsthand to know the extent of its services.
15. The plaza restaurant
One of the items that attract somebody to a restaurant is their menu. This restaurant's menu is so extensive. Never will you run out of options of dishes to sample! Their main meal is Mexican food although they have more types of food that they serve. They have a vegetarian option of which, if it's your preference you will definitely enjoy it. For this reason, it is normally packed therefore considered as one of the best restaurants in Lubbock. 
16. Double Nickel Steak House
If you are craving a well-made and juicy steak then this is the restaurant to meet every of your appetite desire. Being the main meal that is offered here, it is the favorite of many locals. Its affordability also attracts quite a number of clients. Considering the quality of their food and services they are considered one of the best restaurants in Lubbock.
17. Twisted Root Burger Co
Though this is a restaurant that has many different meals on its menu, people mostly go here for their famous burgers. One of the different varieties of burgers is the vegetarian burger which is just as delicious. Their services are likewise exceptional. Wouldn't you give just about anything for quality food and service in a great environment after a game? Stop by and you will not regret it.
18. Texas Roadhouse
Now, this is a good place to have a steak if you are ever in town. Green beans and veggies are some of their other meals which they do really well. Sides from the steak meals are also prepared adequately and are delicious too. Large groups are catered for quite well. You will be surprised when you are provided with a private room to house the group for the service is amazing.
19. The Funky Door
This is a restaurant that is quite invested in its collection of wines. For this reason, they ensure that the quality of their food matches the standard of the wines they offer. It is a sophisticated and modern restaurant ranking among the best restaurants in Lubbock. Their services are off the charts for they make sure that they have given you value for your money.  
20. Bryan's Steaks
Like many of their neighboring restaurants, Bryan's Steaks mainly serve steaks although it also offers other meals on its menu as well as sides for the steak meals. Their unique quality is that they serve lots of food at a reasonable price. A feature that stands out about this restaurant is that they only take cash. So just be ready as you visit them.
Conclusion 
When you visit Lubbock be sure not to leave having not experienced any of these exquisite restaurants. Whether it's a business, touring, entertainment or educational visit ensure that you have made the most out of your visit. Let this guide lead your decision-making. Enjoy every moment of your visit and do not stress about finding restaurants to catch your breath in. For students, this guide will be quite resourceful when it comes to ranging the location and distance of the variety of restaurants. The ambiance of these restaurants is excellent and so relaxing that they slow down the bustles of your everyday life. So take a day or two and explore!
Comment below and share this post with friends!
SEE MORE POSTS