20 BEST Things to do in Virginia Beach [2022 UPDATED]
By

Marina Yoveva
Virginia Beach, Virginia, is both a beautiful and historic coastal Atlantic town. Settled by English colonists in 1607, Virginia Beach appeals to those interested in the United States' cultural background and is home to stunning beaches. Walk the iconic Virginia Beach Boardwalk that stretches three miles long, or check out First Landing State Park. With unique museums like The Virginia Aquarium & Marine Science Center or the Military Aviation Museum, there are more than enough things to do in Virginia Beach indoors and out. Whatever your impetus for visiting, there is no way you'll be bored in this gorgeous tourist destination. Read on to explore our top list of things to do in Virginia Beach, and get ready to embark on your vacation!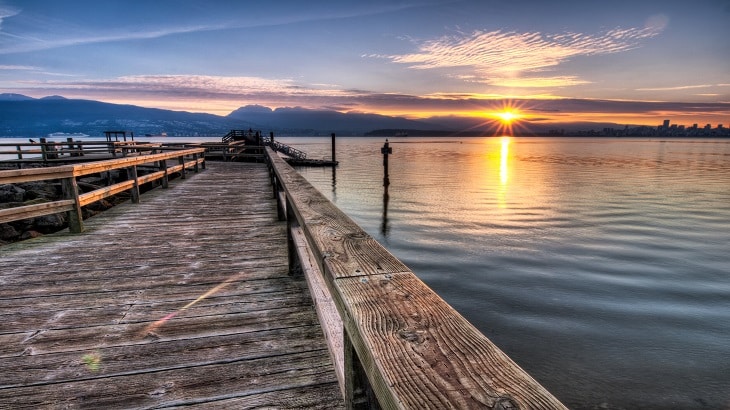 1) Virginia Beach Boardwalk 
At the top of the list is the Virginia Beach Boardwalk, the heart of the city. From 2nd to 40th Street, the Virginia Beach Boardwalk hugs the coastline and includes a separate concrete walk for bikers and rollerblades. Peppered with restaurants and shops along the way, you can take a stroll or make it your destination for getting some cardio. Summer months are certainly more lively, with entertainment along the promenade and more people out, however, Virginia Beach Boardwalk is available year-round.
2) Sandbridge Beach
A well-loved beach amongst locals and tourists alike, Sandbridge Beach is a secluded beach south of the Oceanfront District. A great place to get the feel for the true Virginia coastline (think sand dunes and natural grasses), Sandbridge Beach is the perfect locale to do some fishing, bird-watching, or stroll along the shore. Close to False Cape State Park, you could conceivably pair the two destinations together to make a great day trip.
3) First Landing State Park 
Another natural wonder to explore, First Landing State Park is listed on the National Register of Historic Places as Seashore State Park Historic District. First Landing State Park has so much to offer, including swimming, fishing, hiking, biking, and the opportunity to picnic. With 2,888 acres of land, 1.25 miles of beach, and 19 miles of interpretive trail, First Landing State Park is an outdoorsman's dream. Onsite there are also camping and cabin rentals if you're looking to extend your experience at First Landing State Park.
4) Military Aviation Museum
The Military Aviation Museum is a unique museum best known for WWI and WWII aircraft that still fly. The Military Aviation Museum is one of America's largest collections of historic airplanes from the last century. The museum is open daily from 9 am – 5 pm, and the WWI Hangar is open for visitors daily from 10 am – 4 pm.
5) Virginia Museum of Contemporary Art (MOCA)
Located in the Oceanfront District, the Virginia Museum of Contemporary Art (MOCA) offers the chance to get cultured while in Virginia Beach. Known for modern art, MOCA features rotating exhibits of painting, sculpture, photography, glass, and video. The museum has an active calendar of events such as their Coffee + Conversation series with artists, or the Looking to Learn: Art and Storytime program for children. MOCA is open Thursday – Sunday.
6) Virginia Aquarium & Marine Science Center
A true star of Virginia Beach is the Virginia Aquarium & Marine Science Center which contains over 800,000 gallons of fresh and saltwater displays. Their beautiful collection of marine life includes live exhibits of sharks, Komodo dragons, seals, and a variety of turtles. Enjoy the walk-through tunnel to feel immersed in an aquatic world, or take a specialty boat trip with the aquarium to get out on the real water. The aquarium is open daily from 9 am – 5 pm, with advanced reservations required.
7) Old Beach Farmers Market 
This year-round farmer's market showcases the best of Virginia produces and craftmanship. Easily accessible in the epicenter of Virginia Beach's resort area, Old Beach Farmers Market sells everything from fresh eggs to Atlantic-caught seafood. Come to get inspiration for your next healthy meal, or enjoy a plate out at Beach n' Seafood or Princess Anne Country Grill. Each vendor has slightly different hours, so check ahead on the website to hone in on the stands you wish to frequent.
8) Virginia Beach Surf & Rescue Museum
The Virginia Beach Surf & Rescue Museum pays tribute to the maritime heritage of the area. Though the museum is closed during the winter months, it is possible to schedule a private tour or to learn virtually. The building itself is a historic gem and is on the National Register of Historic Places. Exhibits (which can also be accessed virtually) include Women in Surf Rescue and Learn the Facts Not on the Plaques. In warmer months, the gift shop is a great addition and features local artists.
9) King Neptune Statue on the Boardwalk
The King Neptune Statue on the Boardwalk is an iconic symbol, and a fun Insta-worthy shot. Designed and sculpted by Paul DiPasquale, this larger-than-life bronze representation of King Neptune fittingly guards the entrance to Neptune Park. The entire statue stands about 34 feet high, and he is surrounded by starfish, fish, and two dolphins. The statute was created as part of the Neptune Festival which happens annually in September.
10) False Cape State Park 
An ecological haven, False Cape State Park is located on Currituck Banks Peninsula, a one-mile-wide barrier spit tucked between Back Bay and the Atlantic Ocean. With opportunities for hiking, biking, and boating, False Cape State Park is open daily from 8 am to 7 pm. One of the last remaining undeveloped areas along the Atlantic coast, False Cape State Park is also home to the Back Bay National Wildlife Refuge. If you're lucky, you stand the chance to see rare wildlife such as foxes and wild horses.
11) Virginia Beach Fishing Pier 
Jutting out into the Atlantic Ocean is the Virginia Beach Fishing Pier, a fun place to visit even if you're not planning on doing any casting for fish. The wood fishing pier, of course, is the place to go if you want to rent a rod or get some tackle. However, the seasonal wooden-pier is also home to Ocean Eddie's Seafood Restaurant which serves up some mean crab cakes and chowder during the summer months.
12) Atlantic Wildfowl Heritage Museum/DeWitt Cottage
Built in 1895, the Atlantic Wildfowl Heritage Museum, also known as DeWitt Cottage, is dedicated to the exploration of decoy art. With hunting memorabilia, stunning watercolors, and acrylics of fowl scenery, as well as interactive computer exhibits, this is a must-see for any bird enthusiast, or anyone looking for a good rainy-day activity. The L-shaped brick cottage sits oceanfront and is worth the visit alone.
13) Virginia Legends Walk
A free activity, the Virginia Legends Walk pays tribute to stars born in Virginia. Be surprised to learn that names like Patsy Cline, Edgar Allen Poe, and Ella Fitzgerald all hail from Virginia state. A self-guided tour, the Virginia Legends Walk starts at the 13th Street Park between Atlantic Avenue and Pacific Avenue. Nominations are taken yearly to keep this celebratory walk contemporary.
14) Live! On Atlantic
Easy on the pocketbook, this free summer concert series on Atlantic Avenue is a breezy way to feel like you're really experiencing the Virginia Beach lifestyle. Though the heart of the series occurs during the summer months, Live! On Atlantic has an ongoing event page that can cue you into winter festivities like the Holiday Lights at the Beach which ran over the Christmas season. With multiple participating stages, Live! On Atlantic is an awesome way to unwind.
15) Adventureworks Wetland Ziplines
Set on the grounds of the Virginia Aquarium & Marine Science Center, Adventureworks Zipline is a thrilling way to spend an afternoon. The Canopy Zip Tour is a popular way to see the trees and runs approximately 90 minutes for an affordable $49. Zipline tours are available for ages 6 years and up and there is no group policy (individuals and couples are encouraged to try). Open seven days a week, Adventureworks Wetland Ziplines is an exhilarating experience to remember.
16) Mount Trashmore 
Yes, this park literally is a mound of trash converted to green space. However, you'll quickly forget this fact as you explore the lovely 165-acre park which is now a beloved recreation area. The park has two man-made mountains, two lakes, a multipurpose trail, and playgrounds. You can fish in the lakes, break a sweat getting a workout, or just sit and watch the clouds go by. A stellar example of reimagined space, you've got to check out Mount Trashmore.
17) Virginia Beach Sportsplex
Sports lovers unite at the Virginia Beach Sportsplex has tennis courts, football fields, and track and field facilities. The Sportsplex Stadium has an impressive 6,000 seat stadium capacity, and hosts events like running races and field hockey games. The Sportsplex was the first soccer-specific stadium built in the country and continues to host soccer games. Check the website for upcoming events.
18) Navy Seal Monument
The Navy Seal Monument has a backdrop of the Atlantic Ocean and pays tribute to service members who have lost their lives. A life-size statue of a SEAL is a dramatic remembrance to men and women who have been part of the NAVY Seal mission, especially those who were predecessors to the SEALS from Virginia Beach in 1942. Part of the Oceanfront Bike Path, the Navy Seal Monument makes a great destination for a reflective walk any time of the day.
19) Neptune's Park
As mentioned previously, Neptune's Park is the home of King Neptune and plays a central role in a free summer concert series. Always a fun place to play, Neptune's Park sits oceanside and is part of the 31 Ocean Corridor, a hip area with restaurants and shops. Several hotels surround Neptune's Park, so if you're looking for accommodation, you can't go wrong when close to this major Virginia Beach landmark.
20) International Sand Sculpting Competition
If you're able to visit during the Neptune Festival in September, you'll be wowed to see the International Sand Sculpting Competition. The signature event of the Neptune Festival, competitors come from near and far to make stunning sculptures only from the sand. A huge tent filled with sand gives artists the space they need, free of wind to blow their sculptures away, and they are given three days to complete their unique idea. The results are absolutely amazing, and picture-worthy. The event has now grown into the most prestigious sand-building competition in the United States.
Conclusion
Beaches are at the top of the list when it comes to attractions, however, there are so many additional things to do. From outdoor excursions to fun festivals, historic monuments, and museums, to vibrant restaurants and nightlife, Virginia Beach has everything you need for a getaway. With this list of things to do in Virginia Beach, you're ready to set out on your ever-memorable vacation to Virginia Beach!