Warning
: DOMElement::setAttribute(): ID wpgmza_tolls_167 already defined in
/home/sweetspi/exploreist.com/wp-content/plugins/wp-google-maps-pro/includes/class.directions-box.php
on line
126
Welcome to Seattle. The Paramount Theater is a performing arts venue located at 9th Avenue and Pine Street in Seattle, Washington, 911 Pine Street. The Seattle Theater holds 3,000 seats and has been delegated onto the National Register of Historic Places. Past entertainers at the Paramount Theater include Pink Floyd (1971), The Grateful Dead (1972), Bob Marley & The Wailers (1978), and Madonna also rocked the walls on The Virgin Tour (1985). With all of these great names, the area had to keep up with the times and provide its patrons with a wide variety of high-quality eateries.
There will surely be a favored option in these 19 restaurants near Paramount Theater Seattle that will thoroughly please your palette. The restaurants will provide you with almost anything your heart desires, including excellent service, food, and location. Take a few minutes and look over these delightful establishments that are awaiting your presence. Bring your friends and family, make a reservation, and have a super evening dining before you head out and find something to do in the city.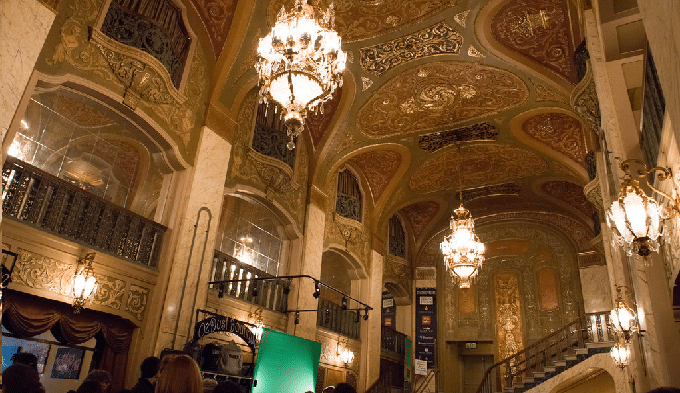 1. Petra Bistro
The bistro specializes in Middle Eastern, Greek, and Mediterranean cuisine. Petra is rated as the #2 spot for Mediterranean food in the Seattle area and won the Certificate of Excellence Award in 2016 – 2019. Clients rave over the menu, including Baba Ghanouje, Labnie, and Petra Fries. You'll also be surprised on Saturday nights with a belly dancing entertainment spree, plus the fantastic decor and music ambiance is held as outstanding.
2. Dough Zone
This spot is an outstanding Asian restaurant and is one of the Restaurants Near Paramount Theater In Seattle. Enjoy lunch or dinner and take a walk for about 0.6 miles from the Seattle Waterfront. You can order online and have your food delivered. Try the house special, Q-Bao, which is a delicious pan-fried bun filled with pork or Xiao Long Bao \ AKA Soup Dumplings, which were introduced in the late 1900s.
3. Tavern Law
You will be delighted at this International bar/pub for an evening of dining and drinks. Enjoy its outdoor seating in its excellent location across the street from the Ferrari of Seattle Car Dealership. You will love its ambiance and friendly staff. If you want to go to the speakeasy upstairs, be sure to make reservations. The staff will have you seated and ready to dine and relax.
4. The Carlile Room
It's a must to check out this delightful restaurant that acquired the Certificate of Excellence 2017-2019 with its fabulous food, service, and excellent value for the area. The American cuisine can rally to your dieting options, including vegan, vegetarian, and gluten-free options. Stop by for dinner, brunch, or lunch and enjoy its happy hour 4 PM to 6 PM every day or until 5 PM on show nights. As a bonus, happy hour is also 10 PM to Midnight on Friday and Saturday!
5. Ruth's – Chris Steak House
This delightful American cuisine is just a short 0.1 mile from the Paramount Theater. It offers you a vegetarian-friendly menu, including happy hour from 4-6 PM every day of the week with a 9-11 PM for Monday through Saturday. Enjoy a sizzling signature plate and award-winning wine list. Visit the website for booking your next fun event, including catering, satellite conferencing, or private dining excellence.
6. Daawat Indian Grill
If you like Indian food you will be happy to know that one of the Restaurants Near Paramount Theater In Seattle specializes in this kind of food. The Indian cuisine for lunch and dinner offer gluten-free, vegan, and vegetarian-friendly choices. Bring your family for lunch or dinner to enjoy house-made soup and freshly baked goods. A buffet is served on Monday through Saturday from 11 AM until 3 PM. You can also order your favorite foods online or book a table in advance so you won't need to wait for seating.
7. Dragonfish Asian Cafe
If you are craving a vegetarian-friendly, Asian cuisine, stop by and enjoy a bit of sushi. Taste some of the favorites like Caramel Ginger Chicken or Lime Rickey Shrimp for breakfast, lunch, and dinner delicacies. You will be just one short block north of the Convention center and on the same street as the Paramount Hotel in Seattle. If you are driving, park in a garage at Pacific Place Mall or the WA State Convention Center Garage.
8. Urbane in the Hyatt at Olive 8
The American cuisine is located just 0.1 miles from Seattle Theater Group- Paramount. Enjoy the contemporary, American-local cuisine in a vegetarian-friendly setting with gluten-free choices for dining. Sit back and indulge in a local craft draft or a creative cocktail to take in the view of the city from the floor to ceiling windows or dine in the seasonal outdoor patio.
9. Caffe Ladro
You'll find this the #28 Coffee & Tea location in the Seattle area rated 4.5 out of 5 for excellence. Choose from takeout or seating for breakfast and lunch in one of the Restaurants Near Paramount Theater In Seattle. Choose from coffee, including Espresso, Cappuccino, Americano, or a Cold Brew. You can also enjoy a Frozen Latte, Frozen Chai, or other items, including hot or iced tea, hot chocolate, and much more. Indulge in a portion of Almond Cranberry Cake or Almond Biscotti. Are you hungry yet?
10. Trace Seattle
Stop by and enjoy their array of American, Asian, and seafood dishes, including gluten-free and vegetarian-friendly options for breakfast, lunch, or dinner. You are just a short 0.4 miles from the Seattle waterfront. Enjoy the welcoming, bright atmosphere and a menu that highlights local ingredients, fusing with their talented Hawaii-born chef dishing out fresh flavors from the Pacific Northwest!
11. NYC Deli Market
The Deli Market is just off of the Grand Hyatt Seattle lobby. You are only 0.1 miles from Seattle Theater Group Paramount, making it an excellent stop for your craving of American Deli specialties. The Deli achieved the Certificate of Excellence 2016-2017 with a 4.5 out of 5 ratings. The Market is also vegetarian-friendly, offering breakfast, lunch, and brunch, including takeout and reservations.
12. Cafe Yumm!
If you are in search of a quick bite in one of the Restaurants Near Paramount Theater In Seattle, you have found the spot! Choose from delicious sandwiches, wraps, Bentos, soup, salad, and skewers. Order a specialty of a Yumm Bowl, which consists of delicious original Yumm Sauce and deluxe toppings. Have a delicious cookie for dessert. You can also use the cafe for your catering needs if you have the need!
13. The Cheesecake Factory
As you can imagine, the Cheesecake Factory is #14 in all of the dessert options in Seattle, and it also received the Certificate of Excellence in 2016-2017. Its International, American cuisine provides you with other vegan and vegetarian options, including a Shrimp Creole, Skinnylicious Pasta, Santorini Farro Salad, or an Island Grilled Chicken. Stop by for lunch, brunch, dinner, or late-night options. You will not be disappointed!
14. Tribeca
Visit Tribeca and have some fun with sharable plates consisting of Housemade Pasta, Neapolitan Pizza, and so much more! Watch from the dining area as they prepare your fresh food items. If you are looking for a group setting, Tribeca can seat up to 18 together on a long dining table or up to 125 in a reception area. Party time at Tribeca is something – not to miss!
15. Din Tai Fung
If Chinese is your favorite, you'll want to visit the unique environment offered at Din Tai Fung. If you're seeking a venue for a banquet, consider using one of the private areas. It is rated as the 31 Chinese restaurants in Seattle and 39th in all of the 2,711 restaurants in Seattle. Enjoy lunch or dinner and enquire about the vegan and vegetarian-friendly options for your dining excellence.
16. Pike Place Chowder
The American fast food, seafood, and soup atmosphere have a bit of something for everyone. Its location is merely 0.2 miles from the Paramount Theatre. Pike Place claims their New England Clam Chowder is the most popular dish in America. You can also choose from fish tacos, salads, rolls, sandwiches, combo meals, beverages, and much more, including a delightful Seafood Bisque!
17. Blueacre Seafood
You'll find this fabulous American seafood restaurant available for your dining needs for lunch, dinner, and late-night cravings. Also offered are excellent gluten-free, vegan, and vegetarian-friendly menu options. Lunchtime features Alaskan Razor Clam Chowder or Hearts of Romaine Caesar Salad as an appetizer. Entrees include your choice of an Alaskan Ling Cod or a Handmade Vegetable Ravioli. Desserts include a Chocolate Pecan Pie, plus so much more!
18. Stateside
You will find Stateside ranked as the #2 International restaurant in the Seattle area. It received the Certificate of Excellence award in 2016-2019, ranking high in service, food, value, and its atmosphere. The global cuisine has been inspired by extensive exploring, traveling and cooking abroad in Asia and Europe. Call for reservations and enjoy the full bar or bring the kids with a highchair available if needed.
19. Terra Plata
The concept of the restaurant is terra Plata or "earth to plate." They specialize in American vegan and vegetarian options for lunch, brunch, or dinner. Make a reservation to ensure a quick sit down meal. Here are some of the delicious treats that are awaiting you; home-made potato chips, Moroccan olives, beef carpaccio, Medjool dates, roasted grapes, and so much more to reach ecstasy.
Conclusion
Whether you choose American or other cuisines, you should find a good mixture of restaurants near Paramount Theater Seattle – The city is awaiting your arrival with an array of foods for breakfast, lunch, and dinner. If you enjoy the nightlife, you have several options in the area. You can keep busy while you're in the area, including a bistro, steak house, as well as Indian, Asian, and Chinese options. The theater is at 911 Pine Street, and many restaurants are under one mile away for your dining enjoyment and pleasure. Enjoy Broadway productions, including themes of Fiddler On the Roof or entertainment, including Bill Maher on his live stand- up tour!