20 BEST Restaurants in Tacoma, Washington [2022 UPDATED]
By

Marina Yoveva
Tacoma is a port city that is found in Washington in the United States of America. It is a beautiful city, as it has the most favorable weather conditions suitable for vacations and holiday treats. Tacoma is also known by the name, "the City of Destiny" because it was selected as the main western station for the Northern Pacific Railroad. Not only is it known as the City of Destiny, but it is also known for its amazing restaurants and other attraction sites such as the museum, schools and a Union station.
Among the schools, Stadium High School is where 10 Things I hate about you was filmed. This is why you need to schedule for holiday treats to the city. Tacoma will add on to your holiday memories, the city has so much that you can choose from for site viewing. During your trips, make a point of stopping by the restaurants. So why not have a glimpse of some of the best restaurants in Tacoma.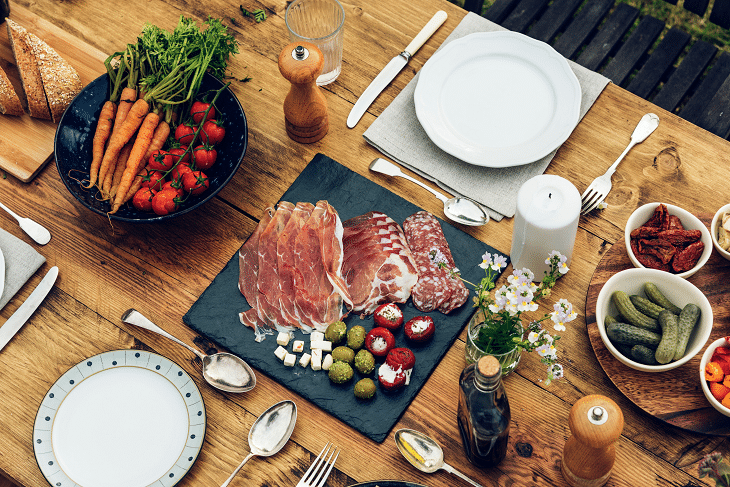 1. Over the Moon Cafe
Among the best restaurants in Tacoma, this is the best restaurant to stop over for a romantic set-up. Not only is the food delicious, from the starters, but this is also definitely the place to cool off at. If you want to give your spouse a well-deserved romantic treat, or perhaps you want to give your girls a treat and enjoy your meals as you sample their different types of food. 
2. Duke's Chowder House
This is the restaurant that has the most amazing ambiance. An atmosphere suitable enough for you to enjoy the seafood. Their service is known to be the best. Their different kinds of seafood are delectable, from how the food is prepared to how it is served will have you want to create space for more. It is ideal for you and your family.
3. Lobster Shop
If you are a vegan, this is the restaurant to be at. Not only is it vegan-friendly, but it is also an ideal place for you to have your business meetings and other special events. It has a beautiful scenic view, making your time spent at the restaurant worth-while. Their services are exquisite. You can also have your romantic dinner from this amazing restaurant.
4. Indochine Asian Dining Lounge
This restaurant is considerate to the vegans and also to the people who have gluten-free foods. All their meals are well prepared and served perfectly. The restaurant has enough space to accommodate big events, such as birthdays. It is also ideal for you to have all your business meetings and romantic dates. It is one of the best restaurants in the city that is recommended by most.
5. Anthony's At Point Defiance
Restaurants with waterfronts are known to be among the best that have the best scenic views. This restaurant has vegan-friendly meals too. If you prefer going to restaurants that have outdoor seating areas, secured parking the Anthony's is the best place to have a meal at. This is why having your meals and soup at this place is a good and to-do plan. 
6. Harbor Lights
Among the waterfront restaurants, this specific restaurant is not only vegetarian-friendly but also offers the vegans a variety of options to choose from. Their sea-food is categorized to be among the best sea-food served in the city. The restaurant also has facilities such as wheelchairs for the physically challenged. Consider having your meals at a place that is comfortable for everyone regardless of their age.
7. Stanley & Seafort's Steak Chop & Fishhouse
This restaurant is famous for the offers it has during its Happy hours. Other than their tasty sea-food, their meat is one of the best. The restaurant offers take-out and also has private dining areas for those who prefer to have their meals privately. It is the perfect place to have surprise events such as proposals and birthdays making the trips worth-while to remember.
8. C I Shenanigan's Seafood & Chop House
This restaurant is a must stopover type since you can perfectly have the beautiful views of the Olympic mountains and Commencement Bay. Their meals are accommodating to everyone, that includes the vegan and the ones that have gluten-free meals. Its atmosphere is the best and while having your meals, you can enjoy live music which is also food to the soul.
9. The Rock Wood Fired Pizza
If you are with your family, which includes the children, then this is the restaurant for you. They have the full kids' menu. Other than their amazing famous pizza, they also have different types of food. If you were on a journey and would love to catch up with the local news or some football, you can comfortably do so from the Rock Wood Fired Pizza restaurant.
10. Famous Dave's Bar-B-Que
During your trips, you might have had a full day and just before you get a place to sleep, you need to have your dinner, even when it is really late. Famous Dave's Bar-B-Que also has a television that you can use as a form of entertainment. However, if you are considering to have a take out, you need to consider this restaurant.
11. BJ's Restaurant & Brewhouse
During your trips, as you brunch, you need not worry about the parking. Late breakfast never tasted as good as an early brunch from this restaurant. A good restaurant will ensure that they have the wheelchair seats, high chairs available. This restaurant offers the best of their services and prepares the best meals. They also have different meals for vegans and those that have gluten-free meals.
12. McMenamins Elks Temple
If you are doing an early morning drive around Tacoma, consider having your breakfast at this beautiful restaurant. It has a good atmosphere, the perfect environment to just meditate and enjoy your meals from. The bar is also beautiful. During your trips, this restaurant is the most suitable to start your day at. The way they serve their guests is also extraordinary. Making leaving the place difficult for travelers.
13. Thekoi Japanese Cuisine
This particular restaurant is a landmark on the downtown side of Tacoma. It is known for its Asian meals. The tastiest of meals served in the region. Also rated to be one of the most suitable places for romantic dates or dinners. The ambiance of the restaurant is soothing, hence boosts the romantic moods. No need to struggle to look for a place to dine with your better half.
14. The Melting Pot
This restaurant serves their meals dinner as sweet and savory and their famous power lunch. Consider stopping over a restaurant that offers the two-course and three-course meals. Adding on to their satisfying their meals, they offer valet parking services. If you want private dining just for you and your partner or family, The Melting Pot is the place to definitely have a stopover at.
15. Gateway to India
Looking for a restaurant that has Indian cuisine, Gateway to India is the restaurant that you might be looking for. They have meals that are also friendly for the vegans. The restaurant has the best atmosphere for all its clients. Serving their meals hot and tasty, their staff ensures that all their guests are well attended to. Good food and great service make traveling moments memorable.
16. Cliff House Restaurant
Enjoy your meals while watching the scenic Mount Rainier. The restaurant is strategically at a place in the city that lets you enjoy the scenic view of the mountain. Their amazing local cuisine and seafood are affordable to all travelers. Their menu has a variety of meals that will leave you craving for more and hunger to try out their other meals.
17. Rhein Haus
This restaurant is famous for the fact that on Tuesday they do not charge anything on the kids' food. They have the early weekday specials. This is one of the reasons why this restaurant is mostly full, because of their amazing deals. Their meals are also savory. They offer German cuisine. Getting a restaurant that has some weekday offers is hard, but this one makes its exceptions.
18. Steel Creek American Whiskey Co.
It is among the restaurants that you can call in earlier and make reservations so that you may secure some space for you and your family or friends in order to have some meal. The prices of their meals and drinks are affordable. They have great services and also has a bar area just in case you want to have a chilled evening.
19. Texas De Brazil
For you to add some great moments during your visit to the city of Tacoma, you need to stop by this restaurant and have a taste of their different cuisines. They have the steakhouse, Brazilian, Latin, Spanish and South American cuisines. Have a taste of the different meals with your friends or family, while you enjoy your time while having some drinks.
20. Zeeks Pizza
Right in the middle of the city of Tacoma, is where you will find Zeeks Pizza. It has amazing services. They also do deliveries to the areas that are surrounding the restaurant. You can enjoy some drinks with your family or friends while having an amazing pizza. If you have a large crowd, the delivery service will best suit you. So the family trips become fun with food deliveries, especially pizza. Among the best restaurants in Tacoma, this is one stands out because of their pizza deliveries.
Conclusion
Tacoma is a medium-sized city that has a variety of places to visit. A day's visit around the city will not be enough. You need to plan well for your trip around the city. Learn about the history of the city. From the museums to the different mountains. There are many restaurants in Tacoma. For a trip to be successful, you need to know the city's different types of food. The best restaurants that you need to add to all your trips while in Tacoma are restaurants worth your time. Get to enjoy the different cuisines from the best restaurants in Tacoma. Visit a restaurant a day.
Comment below and share this post!
SEE MORE POSTS