20 BEST Restaurants in Green Bay, WI [2022 UPDATED]
By

Samantha Schoville
Green Bay, Wisconsin, though known mostly as home to the Green Bay Packers, also brings a wealth of dining options, fit to feed a king. Set next to the Fox River, Green Bay hugs the bottom of Lake Michigan and is a cultural and historical gem in the state. With a thriving restaurant scene from the upscale to the down-home, Green Bay, WI, has something for all palates and pocketbooks. Friendly locals and Midwestern portions set at reasonable prices are all additional reasons to love dining in Green Bay. Read on below to check out the best restaurants in Green Bay, Wisconsin to get your taste buds tempted, and your culinary bucket list checked off.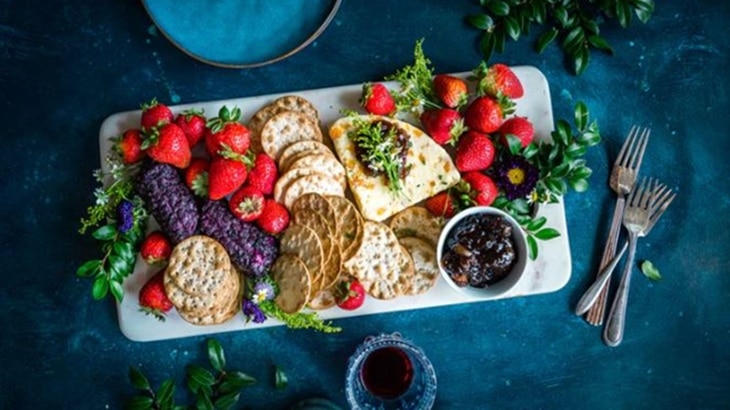 1. Taverne in the Sky
Starting off our list of the best restaurants in Green Bay is Taverne in the Sky, which has a reputation for high-end dining with an elegant aesthetic to match. Overlook legendary Lambeau Field from high above, as you dine on local fare such as sturgeon, a Wisconsin cheese platter, or wild rice soup. A sleek ambiance and flexible fare with vegetarian-friendly options make this an ideal date night or special occasion restaurant.
2. á'Bravo
á'Bravo is a trendy farm-to-table restaurant capitalizing on all the agriculture wealth that Wisconsin has to offer. From comfort food such as lobster mac & cheese to health-minded spaghetti squash and meatballs, á'Bravo takes a contemporary twist on classics. Enjoy a special brunch menu where specials include wild salmon and eggs, a berry salad, and sweet potato cakes. If you aim to eat well but also are carb-conscious, then á'Bravo is for you.
3. Chives Restaurant
French American cuisine awaits at Chives Restaurant, with wine pairings to match. Highlights of the menu include jumbo lump crab cakes, French onion soup, and classic steak fritte. Whether you are celebrating a special occasion, or simply want a classy lunch, Chives Restaurant has the food and atmosphere to wow. A daily vegetarian creation makes this spot worth the destination for veggie lovers.
4. Chefusion
Known for creative drinks and superb American cuisine for vegans, vegetarians, and carnivores alike, Chefusion should be on everyone's list when visiting Green Bay. Frequent live music showcases on weekends, and Tuesday highlights small plates, with Wednesday being "Wine and Dine" night. Fresh ingredients, a friendly staff, and innovative plates make Chefusion a hit and easily one of the best restaurants in Green Bay.
5. Rustique Pizzeria
With the warmth of an old home, Rustique Pizzeria provides both ambiance and delicious thin-crust pizza. Brick-oven pizzas with gluten-free options are fresh and sizzling with flavor. Classic pizzas such as the margarita can be found alongside creative titles such as Fun Guy, which is loaded with a variety of mushrooms. Try their take on the state drink—The Old Fashioned—done with pecan whiskey.
6. The Pancake Place
Nothing says "breakfast" like pancakes. The Pancake Place is a Mecca of pancakes with options such as Oreo pancakes, Hawaiian pancakes with ham and pineapple, or chocolate chip and nut pancakes. These are just to name a few! But if eggs are more your thing for breakfast, fear not. The Pancake Place also has a long list of mouth-watering omelets as well as homemade stuffed hashbrowns.
7. Plae Bistro
A neighborhood bistro focusing on healthy food, Plae Bistro is meant to be a place to linger. Enjoy contemporary American food like grilled apple and pear salad, wagyu truffle burger, or pan-seared Norwegian salmon. Come for the enticing cocktails that include a champagne margarita, salted caramel Russian, and an extensive list of mules. Attention to detail in the preparation and flavorful ingredients make Plae Bistro top-notch.
8. White Dog Black Cat Cafe
Quirky but endearing, this Broadway-district gem is a delicious choice. White Dog Black Cat Cafe has been in business for 14 years and is a perfect place to enjoy a meal out at an affordable price. Come for a unique sandwich like the Muffaletta, or the Hungry Cat Burger—a ½ burger served between two grilled cheese sandwiches! Enjoy a Wisconsin staple; Friday night fish, with delicious cocktail options to boot!
9. Titletown Brewing Company
Most things in Wisconsin involve a beer in hand, which makes heading to a brewery while visiting this Germanic state part of the experience. Titletown Brewing Company (named after the Packers, of course), is the place to go for all things cheesy and fried. Try their take on poutine, a Quebecois classic of french fries loaded with rich beef, topped with melted cheese curds. If that doesn't fill you to the brim, try their flatbreads and sandwiches. Oh yes, and don't forget their signature beer, Boathouse, a Bohemian-style Pilsner.
10. Mackinaw's Grill & Spirits
Enjoy the rustic character of Mackinaw's Grill & Spirits, where the ambiance brings you to the woods of Wisconsin. Versed in all-things steak, Mackinaw's Grill & Spirits also touts craft beer, comfort food, and a Sunday brunch. A special gluten-free menu makes ordering easy for those with dietary restrictions, and nightly specials add to the fun of the establishment. Enjoy live music on Fridays and Saturdays for local tunes that will make you feel like you've headed to the cabin for the weekend.
11. Grapevine Cafe
A hidden gem for breakfast-lovers, Grapevine Cafe is known for daily quiches, eggs Benedict, and homemade muffins, with a bottomless pot of coffee. Well-made Bloody Marys and a side gift shop are all additional reasons to add Grapevine Cafe of your dining options while visiting Green Bay. Quick service even on a busy day ensure a table will be yours in no time.
12. 1919 Kitchen & Tap
High-vaulted ceilings and trendy decor await at this gastropub set inside of Lambeau Field. The name is a nod to the history of the Packers, which began in 1919. Unique dishes such as elk stroganoff and pretzel-crusted walleye set 1919 Kitchen & Tap apart. Drink from 1919's extensive wine and beer list or grab a crafted cocktail with options such as Cinnamon Cider and BBQ Bloody Mary. Whether you're pregaming it or simply want a night out with friends, 1919 Kitchen & Tap is a clear winner.
13. Restaurant at St. Brendan's Irish Inn
Cozy Celtic decor and contemporary Irish pub food are the signatures of St. Brendan's Irish Inn. Root soup, Shepards Pie, and a famous Guinness pot roast are all classics not to be missed when dining. Affordable drink prices ($3.5 for a beer, $6 for a glass of wine), make the experience relaxing. Weekends do get quite busy, so be prepared to wait or call for a reservation.
14. Republic Chophouse
A classic steakhouse, Republic Chophouse is a perfect choice for a special night out. A rich wood bar and low lighting suggest an air of sophistication. Republic Chophouse has a commitment to quality which shows in its artisan-aged beef, a hand-picked wine list, and changing menu. Save room for dessert with knock-out dessert options like red velvet cake and tiramisu.
15. 1951 West
Set in the Comfort Suites Green Bay, 1951 West is known for incredible Sunday brunch, and a great buffet. Come for unique menu options like wild berry salad, or the old favorites such as a prime rib. 1951 West offers specials during Restaurant Week and nightly specials including a Tuesday night pasta bar and Friday night fish. With a relaxing atmosphere and down-home food, feel at ease at 1951 West.
16. Heartland Pizza Company
Pizza is always a good idea and Heartland Pizza Company perfects their pie. With renowned thin-crust and vegan and gluten-free options, Heartland Pizza Company should be your go-to when looking for pizza in Green Bay. Delicious toppings like The Farmer, with shaved brussel sprouts, roasted squash, and bleu cheese, set Heartland Pizza apart. Save room for the homemade ice cream they make in-house. Be sure to sign up for their birthday club, and receive a free pizza on your special day!
17. Al's Hamburger Shop
A no-frills, all burger-approach makes Al's Hamburger Shop endearing and beloved. A small diner, Al's is a retro hole-in-the-wall burger shop known for juicy burgers and friendly staff. Keep it local by ordering curds (cheese curds, that is!) for an appetizer. Some people even say that Al's serves the best burgers in all of Green Bay, but you will have to be the judge of that.
18. Prime Quarter Steak House
Green Bay has no shortage of steak houses, but Prime Quarter Steak House delivers its mission of providing delicious steak. Standing apart from the crowd, Prime Quarter Steak House offers the chance for the patron to grill their own steak, making it a relaxing atmosphere. Enjoy the all-you-can-eat salad bar, Texas toast, and baked potato as sides. No doubt, you will not leave hungry from this cowboy-style steakhouse.
19. Margarita's of Green Bay
Finally, a Mexican restaurant graces this Northern locale, complete with "Green Bay's Happiest Hour!" Enjoy (of course) the city's best margarita, while chowing down on some Mexican staples like enchiladas, Macho Chimichangas, and flautas. Make no mistake, these portions are huge and leave the option for leftovers to take home. With over 50 margarita varieties, it's no wonder people keep coming back to this watering hole.
20. Vintage Cantina
Last (but not least), on our list of best restaurants in Green Bay is Vintage Cantina, your go-to taco place. Set in an old building, but with a trendy decor, the vibe is laid-back and easy-going. Try the fried avocado taco to mix up your usual assumptions of tacos, or classic nachos. Margaritas are fresh and flavorful, and guacamole is made by hand. If you love a new take on beloved Mexican food, try Vintage Cantina.
Conclusion
Green Bay's dining scene truly impresses the out-of-towner with attention to ingredients and variety in dining. Whatever you are seeking in ambiance, price, or cuisine, Green Bay has something to offer. From a burger and beer before a Packers game, to a high-end night out complete with steaks and craft cocktails, Green Bay has developed its dining scene positively. There is no way to be hungry for long with all of these bustling restaurants at your fingertips. Check out these delicious options when visiting this iconic Wisconsin city along Lake Michigan's shore. You will only leave satisfied with this round-up of the best restaurants in Green Bay.
SEE MORE POSTS