20 BEST Things to do in Phoenix, AZ [2022 UPDATED]
By

Samantha Schoville
Phoenix, Arizona, is a sun-soaked city in the American southwest. The capital of Arizona, snowbirds, and travelers of every variety flock to Phoenix for its warm environment, a multitude of spas and golf courses, as well as vibrant food and nightlife. Surrounded by natural wonders appealing to outdoor enthusiasts, Phoenix is also a wonderful launching point for hiking, biking, and camping trips. Whatever your reason for visiting The Valley of the Sun, you'll adore this city rich in culture and exciting activities. Read on to discover things to do in Phoenix, and start planning your golden getaway to this southwestern gem!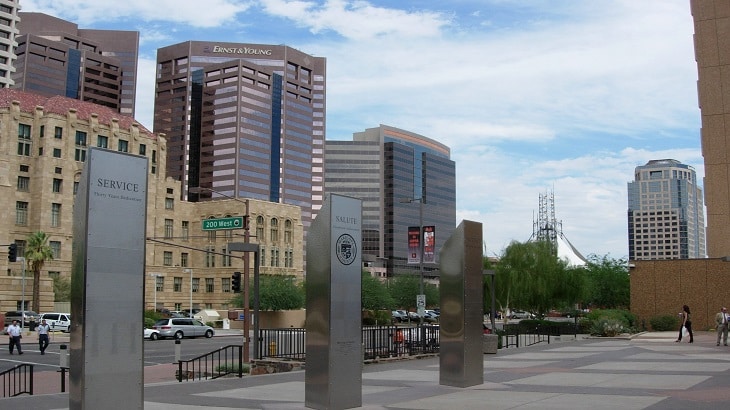 1) Musical Instrument Museum
A surprise cultural wonder, the Musical Instrument Museum of Phoenix is the world's largest museum dedicated solely to musical instruments.  With over 15,000 unique musical instruments gathered domestically and internationally, revel in the sheer beauty of these instruments. Awarded the 2019 "Best Museum to Take an Out-of-Towner" by NewsTimes, the Musical Instrument Museum's hallmarks include the Geographic Galleries and a hands-on Experience Gallery for children. The Musical Instrument Museum is also a great place to catch a live performance; there are always ongoing events that include family-friendly Signature Events. Details for events can be found on the website.
2) Desert Botanical Garden
Get immersed in desert flora at the Desert Botanical Garden, home to 55 acres of cactus, trees, and flowers from all around the world. A vibrant destination, the Desert Botanical Garden is perfect for any age and has a number of exciting opportunities to explore. From approachable trails (all trails are a mile or less) to dining at Gertrude's, the Garden's cafe, there's something for everyone at the Desert Botanical Garden. Ongoing events like Music in the Garden or Dog Days at the Garden make this a favorite with locals and tourists alike.
3) Camelback Mountain
One of the quintessential hikes around Phoenix, Camelback Mountain is about a 1.25-mile hike to the summit, which can be quite challenging if you're not used to the elevation. The hike climbs in feet from 1,424 ft above sea level to 2,704 ft, and hikers should expect to budget about two to three hours. A popular mountain, weekends can get quite busy and parking is limited. However, the views from Camelback Mountain are worth every minute, and a rewarding hike can always be celebrated by a good meal once you get back into Phoneix.
4) Heard Museum
Heard Museum is the place to go for Native American art. Exhibiting regional and tribal art, the Heard Museum is one of the nation's leading museums dedicated to Native American art. With permanent and rotating exhibits, there is always something new to explore at the Heard Museum. Current exhibits include The Gift of Navajo Weaving, the permanent American Indian Veterans National Memorial, and the ongoing exhibit Around the World. The museum also has a nice museum shop that ranges in prices, as well as the Courtyard Cafe where you can grab a bite to eat while museum-ing.
5) South Mountain Park
The largest municipal park in the United States, South Mountain Park is a favorite amongst locals. Great for hiking, biking, photography, and horseriding, South Mountain Park is an impressive 16,000 acres. Comprised of three beloved mountain ranges, Ma Ha Tauk, Gila, and Guadalupe, South Mountain Park's highest point is Dobbins Lookout, at 2,330 feet. Given the size of the park, there are a number of trailheads, so be sure to check out the website to see what each trailhead offers. Entrance hours to the park are 5 am to 7 pm daily.
6) Wrigley Mansion
The former home of William Wrigley Jr., who once owned the Chicago Cubs and is best known for his chewing gum, the Wrigley Mansion is a vast Italianate mansion. Built as a 50th-wedding anniversary present, this expansive home is now a fine dining venue and private event space. Though the mansion is operating with limited capacity due to Covid, you can make reservations online to visit the onsite restaurant which is best known for Sunday brunch, and its James Beard Award-winning chef, Chef Christopher Gross. Besides delicious food, the best part of Wrigley Mansion is the impressive views of the surrounding mountains and of the city of Phoenix below.
7) Piestewa Peak
Clearly, the Phoenix area has no shortage of places to get fresh air and exercise, and Piestewa Peak is another stand-out when looking for hiking trails. The second highest point in the Phoenix Mountains, Piestewa Peak has a 1.2-mile long summit that can take anywhere from a half-hour to an hour, depending on fitness level. Second in popularity to Camel Mountain, Piestewa Peak also has no water along the trail, so be sure to pack plenty of hydration and snacks for your ascent.
8) Chase Field 
Located in downtown Phoenix, Chase Field is home to the MLB team, the Arizona Diamondbacks. Ready for any weather, Chase Field has a retractable roof (with AC when it is closed) as well as an onsite swimming pool, ready to combat the intense summer heat that occurs in Phoenix. Come for a game, grab a bite to eat at one of the many venues onsite, and get ready to have an all-around comfortable and fun experience at Chase Field. Unfortunately, Chase Field tours are currently suspended until further notice due to Covid.
9) Phoenix Art Museum 
The Phoenix Art Museum is the largest art museum in the Southwestern United States. With a range of genres from American, Asian, European, Latin American, Western American, modern, and contemporary art, the Phoenix Art Museum is home to some 19,000 works. With events that include Pay What You Wish Wednesdays to lectures and workshops, the Phoenix Art Museum adds a rich addition to the culture of Phoenix. The museum is closed Mondays and Tuesdays, and currently has certain senior-only hours, so plan ahead.
10) Phoenix Zoo
One of the largest non-profit zoos in the United States, the Phoenix Zoo offers the chance to see animals as well as experiences at Stingray Bay, Giraffe Encounter, Monkey Village, Safari Train, and the 4-D Theater. The zoo is an impressive 125 acres, and animals include 3,000 different varieties of animals on exhibit. Explore different trails within the zoo that are thematic, such as the African Trail where you can see highlights like the African painted dog and the Southern white rhino. The zoo is soon to expand its hours to 9 am to 5 pm daily, and tickets for adults go for $25, children, $17.
11) Dobbins Lookout at South Mountain Park 
The highest elevation point in South Mountain Park, Dobbins Lookout is a favorite for good reason. You don't need to be an athlete for this summit; Dobbins Lookout can be reached by car, any time of the day. It's sunset, however, that has everyone swooning—catch sweeping views of the city and spectacular colors and the day fades into night. One of the best free things to do in Phoenix, Dobbins Lookout is a no-fail.
12) Mystery Castle
Take a walk on the quirky side at Mystery Castle, a "man-made monument to enduring love." A three-story castle made of stone, adobe, and automobile parts, the Mystery Castle was made by Boyce Gully as a present for his daughter. Though he passed before they could inhabit the unusual abode, the Mystery Castle still stands today, and you can come to take a tour to revel in its strange beauty.  The Mystery Castle is located in the foothills of South Mountain Park, and tours are offered Thursday through Sunday weekly.
13) Taliesin West
Just outside Phoenix in Scottsdale, lies Taliesin West, the winter home and school of famous architect Frank Lloyd Wright. For anyone interested in Frank Lloyd Wright's colorful past, or simply architecture itself, you cannot miss Taliesin West. A UNESCO World Heritage site and National Historic Landmark, explore the world of Taliesin with a Guided Insight Tour for $40. You can also take a self-guided tour with headphones, channeling the voice of Frank Lloyd Wright himself with the "Guided by Wright" tour.
14) Roosevelt Row 
Discover one of the hippest parts of Phoenix at Roosevelt Row, a neighborhood that prides itself on colorful murals and locally-created art. A fun mix of restaurants, shops, and galleries, Roosevelt Row's signature event is the First Friday self-guided art tour, the first Friday of every month. The Phoenix Farmers Market is also in Roosevelt Row and happens Saturdays, starting at 8 am.
15) Old Town Scottsdale 
A fun place to do some shopping, Old Town Scottsdale is the place to go if you're looking for Southwestern art or turquoise jewelry. Walk the quaint streets, meandering, before you dine at one of Old Town's beloved restaurants such as Citizen Public House or the James Beard Award-winning, Charleen Badman's FnB. Historic highlights of Old Town Scottsdale include the Scottsdale Historical Museum, where you can go to learn more about Scottsdale's past.
16) Arizona Science Center 
In the epicenter of downtown Phoenix is the Arizona Science Center, home to some 300 exhibits dedicated to promoting science. Interactive experiences and hands-on exhibits make this an approachable museum for people of all walks of life. Attractions at the museum include a planetarium, theater, and astronaut exhibit. The CREATE Makerspace is another gem, with 6,500 square feet of space to create and experiment at.
17) Heritage Square 
Immerse yourself in history and culture in Heritage Square, a trendy part of Phoenix known for 19th-century homes as well as cocktail bars. The well-known Rosson House Museum is located in Heritage Square and serves as a museum to learn more about the original foundation of now-Phoenix. The square dates back to the 1800s and is lined with beautiful Victorian homes. Ongoing events make this a great place to visit for some nightlife, or simply to walk around.
18) Pueblo Grande Museum
To learn more about the Native Hohokam culture that dates back some 1,500 years ago, visit the Pueblo Grande Museum. The pre-Columbian archaeological sites and ruins are located within the heart of Phoenix. Accessible by the Sky Train and the Light Rail, the museum is open seven days a week from October through April. Visit the three main galleries, which include the Pueblo Grande village site, an area dedicated to children discovering archeology, and a changing gallery.
19) Japanese Friendship Garden of Phoenix
The Japanese Friendship Garden of Phoenix offers a tranquil refuge from the classic urbanity of Phoenix. The garden, named RoHoEn, is a project between Phoenix and the sister city of Himeji, Japan. This beautiful oasis captures the essence of Japanese gardens with a 12-foot waterfall, koi pond, and a tea garden. Unique opportunities to experience Japanese culture include public tea ceremonies held once a month, October through July.
20) Downtown Phoenix Farmers Market 
Experience a taste of Phoenix at the Downtown Phoenix Farmer's Market held every Saturday from 8 am to 1 pm. Shop for seasonal produce, local goods, and freshly prepared goods. The Downtown Phoenix Farmers Market also hosts a variety of events, such as the PHX Pheast a celebration of local food. The Downtown Phoenix Farmers Market is a fun place for all ages to sample a bit of Arizona's homegrown goods.
Conclusion
There's clearly no shortage of things to do in Phoenix, Arizona! Combining the best of the natural world with that of a rich cultural city, Phoenix has a little something for everyone. With sunshine year-round, Phoenix is ready to host you whenever the chance allows. With this list of things to do in Phoenix, you're well on your way to an unforgettable experience!