20 BEST Things to do in Key West, FL [2022 UPDATED]
By

Marina Yoveva
Key West is Florida's southernmost point of the state and is a string of islands just 90 miles from Cuba. Otherworldly in their beachy vibe, the islands are namely connected by a chain of bridges. Beloved by tourists and locals alike, past famous residents have included Ernest Hemingway, President Harry S. Truman, poet Shel Silverstein, and playwright Tennesse Williams.
It's no secret why people love Key West; with gorgeous white beaches, fresh seafood, and all-around island energy, Key West is the thing daiquiri dreams are made of. If you're headed there, read up on the wonderful things to do while you visit to get ready for your tropical getaway. Scroll on to discover all that is waiting for you in sunny Key West, Florida!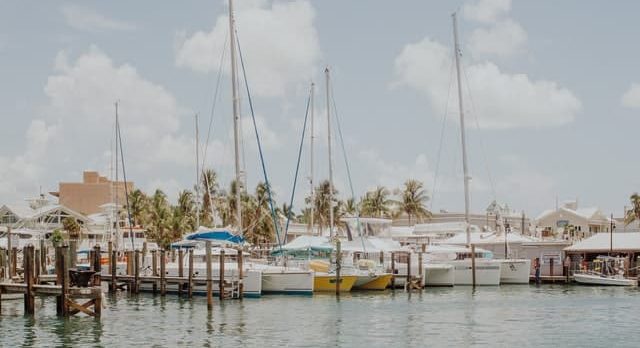 1) Dry Tortugas National Park
Dry Tortugas National Park fuses the best of history and nature in Florida. Accessible only by boat or plane, Dry Tortugas National Park takes a bit of planning to get to but is worth the effort. Explore the seven small islands encompassed in this 100-square mile park, which is also home to the 19th century Fort Jefferson. People flock to Dry Tortugas to go snorkeling, boating, and swimming, as well as to camp. Dry Tortugas National Park is also an excellent place to bird watch, with various bird species that fly through the area.
2) The Ernest Hemingway Home and Museum
Explore the former home of Ernest Hemingway, where he resided for some ten years. Learn more about Hemingway's time in Key West, where he wrote such classic books as Farewell to Arms and Death in the Afternoon. The architecture alone is worth seeing, and this historic home is nestled in the heart of Old Town Key West. Hemingway lived there from 1928 to 1939 and was married to his second wife, journalist Pauline Pfeiffer during the time. If you want to get in the mood for your visit to Hemingway's Home, read his novel, To Have and Have Not, which was inspired by local Key West black-market smugglers.
3) Key West Butterfly and Nature Conservatory
The Butterfly and Nature Conservatory may be described as butterfly therapy. Immerse yourself in a world of butterflies and tropical plants, and leave your worries behind. Though it only takes about 30 minutes to walk through, if you stop along the way and ask questions from the willing staff, there is a lot to be learned. The Learning Center highlights the lifecycle of the monarch butterfly, a tremendous creature that migrates some 3,000 miles each year.
4) Mallory Square
Key West sunsets are one of the most charming parts of this region, and Mallory Square is the place to be to view nature's splendor. Set against the waterfront, Mallory Square is comprised of shops and restaurants and hosts nighttime events to maximize the beauty of the end of the day. The Key West Sunset Celebration happens nightly, beginning two hours before the sunset. Join the party that touts magicians, jugglers, clowns, and music. A party since the 1960s put Mallory Square on your list.
5) Duval Street
Also, jutting off of Mallory Square, Duval Street is another place to grab a bite to eat, check out local music, and overall feel the pulse of Key West. Known for hole-in-the-wall bars that offer a boisterous atmosphere, unique shops, and art galleries, you will adore the quaint feel of Duval Street. Check out events such as a pretend running of the bulls during Hemingway Days or the 10-day Fantasy Fest in October, both of which celebrate the local culture of Key West. Duval Street is also a wonderful place to try a slice of key lime pie at Kermit's Key Lime Shoppe.
6) Harry S. Truman Little White House
Visit the winter refuge of Harry S. Truman, which has been turned into Florida's only presidential museum. Beyond Harry S. Truman frequenting the home, notable visitors have included inventor Thomas Edison and six other American presidents. The home has been used as a retreat, something akin to Camp David for U.S. presidents, and a visit to the Little White House allows one to learn the depth of this home's history. The museum is open daily from 10 am – 4 pm, and guides are highly knowledgable, willing to answer any pertinent questions.
7) The Overseas Highway
Running 113 miles from Miami to the end of the Florida Keys, The Overseas Highway is also known as "The Highway That Goes to the Sea." Most likely, if you are driving at all while in The Keys, you will encounter this man-made wonder, which was once a railroad route. A total of 42 bridges connect the mainland to the islands, and one of the highlights is the Seven Mile Bridge at Marathon. Catch breathtaking views, and enjoy stops along the way, such as great restaurants, quirky stores, and sights such as the African Queen in Key Largo.
8) Fort Zachary Taylor Historic State Park
Whether you've come for the Civil War-era fort or simply for the pristine beaches, Fort Zachary Taylor Historic State Park is an excellent day adventure. An affordable $4 per vehicle to enter, Fort Taylor offers the largest cache of Civil War armament globally and is the southernmost state park in the United States. Come on the third weekend of every month to catch historical reenactments or plan for an outdoor adventure such as snorkeling. Though the park is currently open, there is a mask-mandate as well as social distancing expectation.
9) U.S. Coast Guard Cutter Ingham Maritime Museum
If you're a military history buff, head to the US Coast Guard Cutter Ingham Maritime Museum. Known for receiving two Presidential Unit Citations for extraordinary heroism, the CGC Maritime Museum is also a National Historic Landmark. The museum is open Tuesdays to Saturdays from 10 am – 4 pm, and admission is $10 for adults, $5 for children 6-12 years of age. The ship itself is totally intact and makes for a great real-life learning opportunity for kids of all ages.
10) Mel Fisher Maritime Heritage Museum
Another incredible museum you should not miss is the Mel Fischer Maritime Heritage Museum. Get ready to learn about shipwrecks from the 17th century, the Trans-Atlantic slave trade, and overall imagine what life at sea must have been like. Three new exhibits are reason alone to head to the Maritime Heritage Museum, focusing on Spanish Coins in the New World, the Real Pirates of the Caribbean, and the Science of Shipwrecks. The museum has adjusted its policies during Covid and requires guests to make online reservations and wear masks and social distance while visiting.
11) Key West Lighthouse and Keeper's Quarters Museum
The first lighthouse in Key West, built-in 1825, Key West Lighthouse has a fascinating history. The original keeper, Michael Mabrity, died in 1832, and his wife, Barbara, took over his duties, serving for 32 years. The Great Havana Hurricane of 1846 destroyed the lighthouse, and a new lighthouse was fully constructed in 1848. Walk up the 88 steps of the lighthouse to the top of the light, and explore the keeper's quarters. The lighthouse is currently open Monday-Saturday, from 10 am – 4 pm.
12) Southernmost Point
Head to the Southernmost Point in the Continental USA, and catch a spectacular sunset while you're at it. A giant buoy marks the point, making for a great photo op. You can see Cuba if your eyes are perfect (Cuba's some 90 miles south). A fun "been there" place to check off your Key West travel list, there is something special about the Southernmost Point.
13) Key West First Legal Rum Distillery
Key West and rum go together like beaches and sunsets, so a trip to the First Legal Rum Distillery makes perfect sense. The distillery offers free daily tours, every twenty minutes from 12 pm – 5 pm, and private mojito classes (temporarily suspended) are a fun way to take some skills home with you. Enjoy free rum samples, buy rum directly, or simply grab a Key West souvenir for the road. You'll learn the difference between cheap rum and quality rum and what makes this Florida gem unique.
14) Key West Garden Club
A visit to Key West Garden Club in West Martello is a gorgeous way to spend an afternoon immersed in tropical plants. The West Martello Tower, where the gardens are located, is a National Historic Site from the Civil War era. Free to park and free to enter, the Key West Garden Club is located on the ocean's edge. Garden highlights include a Prehistoric Garden, Native Garden, and Garden by the Sea. Guided tours are available only on Monday mornings and can be arranged through the website.
15) Key West Historic Seaport
The Key West Historic Seaport is a wonderful area to eat some fresh seafood, do some boutique shopping, or embark on a watery adventure. Located along the harbor walk, which sits waterfront, many of Key West's hotels can be found here, making it a great base to work from. Used as a safe stopping point by sea captains hundreds of years ago, you'll find the best blend of old and new in the Historic Seaport. Don't miss the Conch Republic Seafood Company, a chance to ride on a sailboat, or to go dolphin watching; all opportunities available at Historic Seaport.
16) The Basilica of St. Mary Star of the Sea
A place of solitude and reflection, come to The Basilica of St. Mary Star of the Sea for some downtime. St. Mary Star of the Sea is a working congregation, so you can come for a garden mass or simply come as a tourist for a walking tour. The first Catholic parish established in South Florida, the basilica was constructed in 1852. The church was destroyed in 1901 in a fire and rebuilt in 1905. Modern-day grounds include a lovely garden to walk through, the basilica itself, and a grotto depicting the appearance of Our Lady to St. Bernadette in Lourdes, France.
17) Key West Aquarium
Key West is teeming with natural marine life, so a dedicated aquarium is only natural. Though you may have the opportunity to see life underwater while swimming and snorkeling when you're here, a visit to the Aquarium will enrich your understanding of life underwater in the area. The aquarium does continue to be open during Covid, with safeguards in measure. You can also access the aquarium online with many learning opportunities. Learn all about sharks, jellyfish, sea turtles, and alligators at the Key West Aquarium—all animals that can be found in the area. 
18) Smathers Beach
The largest public beach in Key West, Smathers Beach is nearly a mile long of white sand beach. Come just to get tan and go for a swim, or take advantage of one of the sports vendors on the beach, which offers parasailing, kayaking, and glass-bottom tours. A quiet beach, Smathers Beach never sees enough waves for surfers, but that can be a plus for people who like beach life on the low-key. The beach is well-kept and gets refreshed beach sand from the Bahamas every other year, as tropical storms frequently pull the native sand away.
19) Audubon House & Tropical Gardens
Though we've included a fair amount of gardens on this list, the Audubon House & Tropical Gardens is a stunner for its collection of orchids and bromeliads. Yes, this house is connected to that Audubon, so expect to see prints and originals of bird painter John James Audubon. A great way to learn more about the flora and fauna of this part of the country, the Audobon House is also a splendor in and of itself. Built in the American Classic Revival architectural style of the mid-1800s, a stop to Audubon House & Tropical Gardens is an all-around win.
20) Higgs Beach
One more public beach for the list, because, well, isn't that why you've come here? Higgs Beach is a much more intimate beach than the spacious Smathers Beach and has a pier to walk out on. The beach is also a dog park, so if you're traveling with your furry friend, feel free to bring him along. In addition to all of these aspects, Higgs Beach has monuments paying tribute to an 1800s African slave cemetery. Gorgeous turquoise waters is a trademark of Higgs Beach, which sits on the Atlantic Ocean. Sunbath, snorkel, take the kids to the playground, or play beach volleyball—it's all waiting for you at Higgs Beach.
Conclusion
Clearly, Key West is a no-fail spot to vacation at. With sunshine year-round, a range of historical, natural, and cultural things to do in Key West, it's hard not to love it. Like many who come to this beautiful place, be prepared that you may get "hooked" on this Florida enclave that charms in every way. With this list of things to do in Key West, be in the know of where to go, and get ready for your sun-soaked adventure!
SEE MORE POSTS